FALSE FLAGS & the END of Secularism in Turkey
Verse of the Day
John 12:25  He that loveth his life shall lose it; and he that hateth his life in this world shall keep it unto life eternal.

Commentary
It's becoming clear that the failed coup attempt in Turkey was a false flag. What exactly does that mean? A false flag is "a horrific, staged event – blamed on a political enemy and used as a pretext to start a war or enact draconian laws in the name of national security." The term comes from naval warfare, where one ship would attempt to deceive another by raising a flag other than its own, or hiding its own flag in order to get close enough to inflict a blow or capture an enemy ship.
With the success of Erdogan's false flag, the entire situation in the Middle East will be changed as he moves toward total Islamization of Turkey and works toward creation of the caliphate he long has envisioned. This will mean trouble for Europe, as the first video below clearly reveals. But it also will mean trouble for Israel, who until recently has had a decent relationship with Turkey. After the Gaza flotilla incident, tensions mounted, but recently the two countries had reached a working agreement. This now appears to be in jeopardy.
This whole situation bears watching closely since it could be the game-changer for the Middle East which eventually ignites the war we know is coming. Some of the reasons for that are discussed in the videos, which we'd urge you to watch.
May the Holy God of Israel bless and protect you.
The Coming Middle East War
FALSE FLAGS & the END of Secularism in Turkey 07/8/16  This is a terrific, short video that explains the complexities of the situation in Turkey and what that means for the future. It discusses who the winners of the failed coup are, and who the losers are. It appears that Europe will pay a heavy price for what may have been a false flag event, staged by Erdogan to consolidate power. The purge resulting from it gives him a chance to proceed with plans for an Islamic caliphate.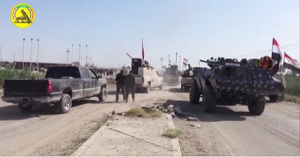 Middle East Strategic Outlook 07/21/16  This article gives a good overview of where the Middle East is heading.
All the signs are of war, war and more war. The Islamization of Turkey is going to change the dynamic is a big way because Erdogan wants to head a caliphate.
"It may be expected that in the coming months, the Syrian efforts to implement "ethnic cleansing" of Sunnis in the north will continue and even escalate, resulting in a growing stream of refugees into Turkey, Lebanon and Jordan. This will continue to destabilize these countries and to pose a challenge to a weakened Europe.
The overt American support for the Iranian involvement in Iraq will also serve to rally Sunnis to an anti-American position, while actually exacerbating the main problem — the sectarian divide. Therefore, the American involvement in the Fallujah campaign will not buy it Sunni gratitude.
Iran is entering a new stage of war in Syria which evokes the situation that the Soviet Union found itself in in Afghanistan in 1985. Like the Soviet Union in that stage of the Afghan war, Iran has achieved no decisive victory, but has incurred significant domestic opposition to the war and has no additional resources that could tip the scales.
The explanation put forward by the American administration that the attacks reflect the Islamic State's "despair" in the face of its defeats in Syria and Iraq over the last months is specious. International terrorism "to strike fear in the hearts of Allah's enemies" has been a hallmark of the Islamic State since its beginning and it does not need the excuse of military defeat in Syria and Iraq to continue to carry out such attacks."
The ISIS Coup In Turkey  This Infowars video touches on different areas of the failed coup attempt than the video above. It details the relationship between Erdogan and ISIS and posits that this is a strengthening of ties between the country and the terrorist group. It also looks at Obama's "response" to these events. It seems likely that he will move to support Erdogan in his attempt to create a caliphate, just as he supported the Muslim Brotherhood in Egypt.
American Politics
Paul Nehlen Calls for Removal of Paul Ryan's 'Dishonest' TV Ads Funded by 'Open Borders Blood Money' 07/21/16  This is a tremendous time in which we live because God is exposing all of the lies and corruption in Washington. He is laying open the Republican establishment for all to see.
It is now up to the people to clean house of this corruption, or we have no one to blame but ourselves. What a message to Congress if the Speaker of the House is voted out by the people! God is so good to give us an opportunity as this.
I am going to follow this race very closely and will keep you posted on what is happening.
Proverbs 29:12  If a ruler hearken to lies, all his servants are wicked.

"At a press conference held in front of Kenosha News, Wisconsin businessman Paul Nehlen demanded that House Speaker Paul Ryan take down his deceptive Wisconsin TV ads, in which Ryan claims he's trying to keep Islamic terrorists from entering the country.
Nehlen blasted Paul Ryan for using "open borders blood money" from his globalist donors to fund the ad, which seemed designed to "dupe" Wisconsin voters into thinking that Ryan wants to curb Muslim migration.
"I'm here today to discuss Paul Ryan's latest lie to the people of Wisconsin on behalf of furthering the interests of his donors," Nehlen said to reporters from one of the biggest newspapers in Wisconsin's first congressional district. "[Ryan's] ad is a dishonest disgrace. It flies in the face of everything Ryan has done throughout his lifelong career in Washington. I am here today to call on Ryan to take the TV ad down immediately."
Nehlen explained that far from working to keep Islamic terrorists out of the country, Ryan voted to expand Islamic migration into the United States. Ryan voted to fund visas for nearly 300,000 permanent and temporary Muslim migrants in a single year."
Hard Left/ Homosexuality/ Transgendered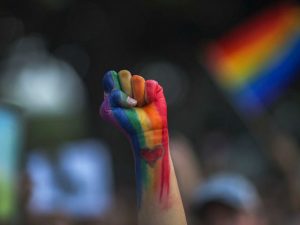 California: 1st State To Teach LGBT Curriculum — to Second Graders 07/19/16  There is no protection of the children. Americans are dying in their courage. En mass we are turning our children over to the reprobates to turn the children into reprobates.
They want to steal the innocence right out of the children and fill them with fornication.
No Christian can submit their children to this, because the public schools now belong to satan. Where is the courage of men? Where are the pastors? I really do think that Christians have to leave this state, because the wrath of God is hovering over it.
Christians can't feed their children into this wicked system since the Lord will hold them accountable. This is serious. Who do we fear: the Lord or corrupt man?
2 Timothy 3:1 This know also, that in the last days perilous times shall come. For men shall be lovers of their own selves, covetous, boasters, proud, blasphemers, disobedient to parents, unthankful, unholy, Without natural affection, trucebreakers, false accusers, incontinent, fierce, despisers of those that are good, Traitors, heady, highminded, lovers of pleasures more than lovers of God; Having a form of godliness, but denying the power thereof: from such turn away.

"California is the first state to adopt the LGBT rights agenda formally into its public schools, as part of a new history and social studies curriculum that will reach children as young as the second grade.
"This is a big win for our students," said California Superintendent of Public Instruction Tom Torlakson in a statement. "This document will improve the teaching and learning of history and social science. It will give our students access to the latest historical research and help them learn about the diversity of our state and the contributions of people and groups who may not have received the appropriate recognition in the past."
However, Peter Wood, president of the National Association of Scholars (NAS), tells Breitbart News the new framework is the height of political correctness.
"The whole idea that social science or history could be taught in a manner that does not reflect adversely on groups of people is absurd," he observes, adding:
People acting as groups or as members of groups often do discreditable things, and even more often do things that later generations condemn even if those actions seemed right at the time. Any accurate account of history or social science has to reflect that reality and it is a deep disservice to students to give them a whitewashed story. The California framework is identity politics leaning so far left that it has fallen in the Pacific Ocean of educational incompetence."
As America Has Done to Israel
Netanyahu Furious at US Ambassador's 'Unacceptable and Untrue' Allegations Against Israel 07/21/16  This is more anti-Israel rhetoric from the Obama administration. He has done everything possible to build up the Muslim groups that hate Israel.
"The US ambassador to Israel criticized Israeli policy in Judea and Samaria at a high-profile security conference Monday, a rare public rebuke that drew an angry response from Prime Minister Benjamin Netanyahu.
Ambassador Dan Shapiro said that Washington was "concerned and perplexed" over Israel's strategy of building "West Bank settlements." Speaking to the annual conference of the Institute for National Security Studies, a top Israeli think tank, he claimed that Israel's "continued expansion of settlements" raises questions about Israel's intentions and its stated commitment to establishing an independent Palestinian state. Shapiro added that Israel had also legalized some outposts despite pledges to the United States not to do so.
As Israel's closest friend, the United States is steadfast in its support for Israel, but it was also its role to call Israel out on its errors, Shapiro said. He alleged that Israel restricts Palestinian economic development in the PA-run territories and bemoaned what he called an inadequate response to "settler" violence.
"Too much vigilantism goes unchecked, and at times there seem to be two standards of adherence to the rule of law: one for Israelis and another for Palestinians," he said."
Israel
Bill Gates: Israeli Technology is 'Improving the World' 07/21/16  It truly is amazing what Israel has done in the high-tech field with a population of only 6 million people. This is all part of God's blessing of Israel, now that it once again is a nation. I can't imagine what high-tech will come into play if Israel is involved in an all-out war.
"Gates also acknowledged long-standing rumors that major components of Microsoft's Windows operating system were developed in Israel, which the company confirmed, though he did not identify which ones.
"I have been very impressed with what they have done in the past 25 years, and I can't wait to see what they come up with in the next 25," he added.
Microsoft's annual Think Next event originated in Israel and has since expanded to other Microsoft locations, including in India, China, and the United States. "This event is held in the framework of Microsoft's efforts to promote high-tech in Israel, and especially in the start-up sector, where Microsoft holds various promotion and cooperation activities with some 1,000 startups," the Times wrote."
World War 3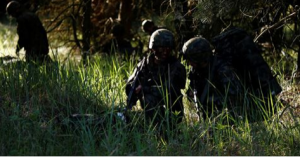 'If NATO encroaches on nuclear Russia, it will be punished' 07/22/16  This is yet more war rhetoric from Russia about the NATO buildup in Europe which is aimed toward Russia.
"The expert was referring to a massive build-up of intermediate-range nuclear missiles in Europe that could have easily led to an unintended nuclear war. The missiles had a very short approach time that left almost no time for an attacked side to react, making automatic retaliation the only possible reaction to a decapitating nuclear barrage. The situation was defused by a ban on intermediate-range missiles signed in 1987.
The current buildup of NATO forces on Russia's border is not unlike the installation of Pershing and SS-20 missiles three decades ago, at least in terms of the misguided justification for deploying them, Karaganov said.
"Fears in countries like Poland, Lithuania and Latvia are to be allayed by NATO stationing weapons there. But that doesn't help them; we interpret that as a provocation. In a crisis, we will destroy exactly these weapons. Russia will never again fight on its own territory," he said.
"The help offered by NATO is not symbolic help for the Baltic states. It is a provocation. If NATO initiates an encroachment – against a nuclear power like ourselves – it will be punished," he stressed.
Part of the problem is the breakdown in communications, as evidenced by the work – or lack thereof – of the NATO-Russia Council, which was created to resolve differences between the alliance and Russia, but is "no longer a legitimate body," according to Karaganov."

Titus 1:15-16  Unto the pure all things are pure: but unto them that are defiled and unbelieving is nothing pure; but even their mind and conscience is defiled.
They profess that they know God; but in works they deny him, being abominable, and disobedient, and unto every good work reprobate.