Farrakhan-Linked Group to Lead National School Walkout March 14 Against Guns
Verse of the Day
2 Timothy 3:13 But evil men and seducers shall wax worse and worse, deceiving, and being deceived.


Commentary
I can't stress enough how fast the American Hard Left is descending into hell. All of sudden, Farrakhan is now on the radar screen and they love him. Obama ran from him, but now many blacks and Muslims are running to him. They are embracing Farrakhan as a leader. He is a racist white-hater who would have no problem with white people being murdered, and he absolutely hates the Jews. The Jews in America better start being very concerned because the Democratic Party is FAST turning against them. We can actually see this happening as it is out in the open.
In the midst of the Hard Left turning in totalitarianism, the politicians are talking about gun control! Fasten your seat belt, this is coming to a head really fast. I have to give credit where it is due, and this break down of the races goes to B. Hussein Obama. Once again, this is not going to end well.
May the Holy God of Israel bless and protect you.
John 8:36 If the Son therefore shall make you free, ye shall be free indeed.
Islam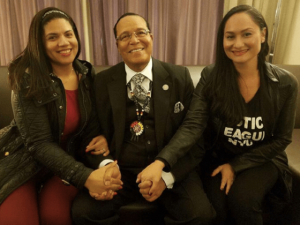 Farrakhan-Linked Group to Lead National School Walkout March 14 Against Guns 03/05/18 
Daniel 12:10  Many shall be purified, and made white, and tried; but the wicked shall do wickedly: and none of the wicked shall understand; but the wise shall understand.

"The Women's March is not only an avowedly political organization, but it is also led by radicals such as co-president Tamika D. Mallory, who attended an antisemitic speech by Farrakhan last weekend in which he specifically praised her from the podium. Farrakhan declared that "the Jews have control over agencies of government," among other inflammatory remarks.
It was not the first time Mallory had heard him speak, either: she has repeatedly attended his events. On one occasion, she posed with him for a photograph and referred to him as the "GOAT" ("greatest of all time").
Other Women's March leaders have also expressed admiration for Farrakhan; co-chair Carmen Perez called him an "inspirational individual."
And co-chair Linda Sarsour, an anti-Israel firebrand who called for a "jihad" against the Trump administration, and who says women who protest radical Islam should have their vaginas taken away, also praised Farrakhan in the past.
Mallory, Perez, and Sarsour refuse to distance the Women's March from Farrakhan, which has earned them rebukes from the Anti-Defamation League as well as "progressive" Jewish groups, who note the Women's March would never tolerate the kind of bigotry against any other group that it is willing to defend when Farrakhan attacks Jews.
And yet the Farrakhan-linked Women's March will be leading millions of children out of the classroom and into the streets, thanks to the PTA and local school boards across the country. The Sacramento Bee even acknowledges the role of the Women's March in leading the March 14 protest, but fails to note the group's radical political ties."
Imams are spewing hate in mosques across the U.S. with impunity 03/05/18  It is very clear that underneath the Muslim peace facade is a real hatred for the Jews, and it is easy to see many of them merge with Farrakhan. The American Jews had better open their eyes to what is happening because this movement is gaining steam and once they give their minds over to Farrakhan and these Jew-hating Imams, it is all over.
I can see many of these liberal Jews joining us for self defense. The real hard core will stay with the Dems and suffer greatly. This is all coming together very fast.
"Muslim clerics are threatening the lives of Jews from the pulpits of American mosques, and they are doing it with virtual impunity, say former US law-enforcement officials who worry that the rhetoric could lead to violent attacks.
Over the past six months, at least five prominent US imams have been caught on tape preaching violence against Jews in sermons at mosques across America. Yet these radical preachers inciting anti-Semitic violence aren't prosecuted or even permanently banished by the leadership of their mosques.
"It's outrageous they aren't immediately removed and investigated for what may be solicitation [to commit a crime of violence]," was the view of veteran FBI Special Agent John Guandolo, who now runs a counterterrorism consulting firm, Understanding the Threat LLC.
Jewish people already are disproportionately targeted for hate crimes in America, but recent sermons could fan the flames of anti-Semitism. In November, the FBI released new data showing there were more Jewish victims of anti-religious hate crimes in 2016 (the last reported year) than victims of all other religious groups combined."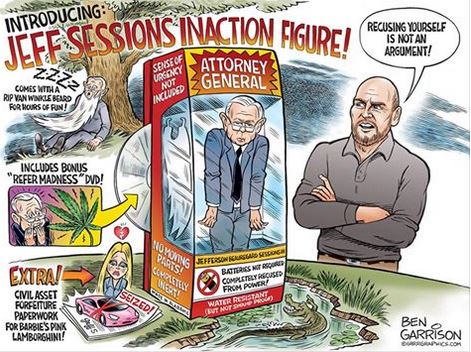 How many more revelations of the DC swamp's crimes with NO action can we stand? This goes on and on with NO one arrested for crimes that we see with our eyes, yet the investigation of President Trump continues and there is no crime. Does Mueller have something on Sessions?
Hard Left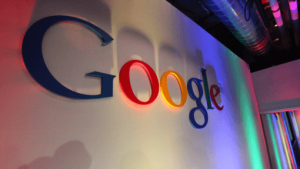 Trump's Win is the Reichstag Fire of Internet Censorship 03/05/18  This is a great article showing how desperate the Hard Left is to destroy us and create their hellish culture in America. They are like Iran, that will not stop until it is at war with Israel, so the Hard Left will not stop until they are physically stopped.
They are out in the open about taking away our rights. Notice how both the First and Second Amendments are under attack by them at the same time! The Hard Left right now is testing our mettle. This is not going to end well.
Proverbs 24:10  If thou faint in the day of adversity, thy strength is small.

"Trump's election victory was the Reichstag fire of internet censorship. The fury and conspiracy theories that followed were not just about bringing down President Trump, but ending free speech online.
It's no coincidence that the central conspiracy theory surrounding the 2016 election involves free speech or that the solution is internet censorship. The claim that Russian trolls and bots rigged the election has zero actual evidence behind it. But it's a convenient tool for not only delegitimizing Trump, but the very idea of a free and open internet where anyone can say anything they choose.
Senator Ben Cardin, Rep. Jerry Nadler and other members of Congress compared the election influence conspiracy to Pearl Harbor. Rep. Jim Himes went even further, suggesting that it had eclipsed 9/11 by claiming that it, "is up there with Pearl Harbor in terms of its seriousness as a challenge to this country."
What they're really saying is that Democrats losing an election is worse than the murder of 3,000 people. It's why they will oppose a terror state travel ban until Islamic terrorists start voting Republican."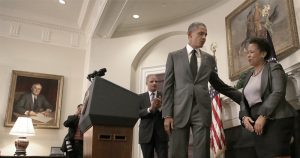 Trump: Obama Crimes "Bigger Than Watergate 03/10/18  President Trump is getting more aggressive and outspoken about the attempted coup of his presidency. He is calling out the crimes of the Hillary/Obama Crime Cartel. This has to lead to prosecution because when these crimes are so out in the open, how can it just go away?
Where is AG Sessions? How long can this go on?
1 Thessalonians 1:10  And to wait for his Son from heaven, whom he raised from the dead, even Jesus, which delivered us from the wrath to come.

"The Obama administration's crimes during the 2016 election are "bigger than Watergate," President Trump tweeted on Monday.
In particular, the Obama administration had illegally surveilled the Trump campaign for no reason other than to boost Hillary Clinton, the president pointed out, adding that that was zero indication of wrongdoing to warrant a scandal-plagued investigation.
The investigation had relied on a warrant obtained with the notorious and hyper-partisan Steele dossier, which was funded by the Hillary Clinton campaign and the DNC via Fusion GPS, to justify its surveillance of the Trump campaign.
Trump also indicated that the activities of the Russian nationals recently indicted by Special Counsel Robert Mueller occurred under Obama's watch, yet nothing was done to stop them until it was politically convenient."
Hard Left/ Anarchy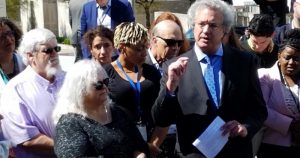 SPLC's Cohen, Rep Lewis Suggest More Martyrs Needed For Their 'Movement': This is a real threat 03/05/18  The Hard Left wants to take their rebellion against America to a new level with the use of martyrs! They are saying this publicly. How far away can a civil war be?
Proverbs 24:21  My son, fear thou the LORD and the king: and meddle not with them that are given to change (rebellion):

"The Southern Poverty Law Center's Richard Cohen and Rep John Lewis (D-GA) Saturday in Selma appeared to suggest their followers could be rewarded if they martyred themselves to further their far-left "movement."
It sounds like they're telling their followers they can achieve infamy and be enshrined in stone if they martyr themselves, does it not? That strikes me as pretty heated rhetoric in this political climate, no?"
Jerusalem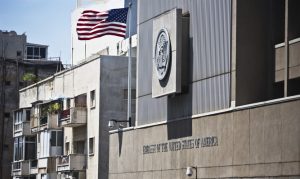 Muslim cleric: Embassy move 'a declaration of war' 03/05/18  The article didn't mention it, but it appears that the Muslims are calling for the war against Israel to start on May 14!
Zechariah 12:6  In that day will I make the governors of Judah like an hearth of fire among the wood, and like a torch of fire in a sheaf; and they shall devour all the people round about, on the right hand and on the left: and Jerusalem shall be inhabited again in her own place, even in Jerusalem.

"Ali al-Qaradaghi, secretary-general of the Association of Muslim Scholars headed by Sheikh Yusuf al-Qaradawi, is calling for an uprising of peoples and governments against the American administration's announcement of its intention to move the U.S. embassy from Tel Aviv to Jerusalem this May.
"We call for a Palestinian, Arab, Islamic, and popular uprising against this American aggression against the direction of the first prayer (the Al-Aqsa Mosque) and Muhammad's place of worship," said Qaradaghi in an official statement.
He stressed that the issue of the city of Al-Quds (the Arabic name for Jerusalem -ed.) is an issue of concern to the entire Muslim nation, and renouncing it or harming it is a mark of Cain that Allah, history, and future generations will not be able to atone for.
Moving the U.S. embassy to Jerusalem, continued Qaradaghi, is "a declaration of war against the Muslims and a step that will establish the illegal occupation."
Israel/ Iran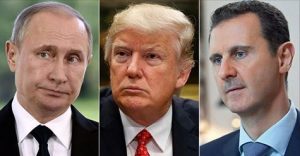 Danger in the north: PM Netanyahu must push Trump to act 03/05/18  This is a very good and thorough article giving the big picture of how developments in Syria are heading toward war.
Jeremiah 51:20-21  Thou art my battle axe and weapons of war: for with thee will I break in pieces the nations, and with thee will I destroy kingdoms; And with thee will I break in pieces the horse and his rider; and with thee will I break in pieces the chariot and his rider;

"Analysis: With the war in Syria winding down, all regional actors are stirring the pot: Iran is building bases, Russia is looking for money, Erdoğan is drawing the border and Kurds are on the hunt for a state; the only one absent is the US president, and the biggest casualty from that abstention is Israel; with all due respect to the Jerusalem embassy, it's time for Netanyahu to bang on the desk in Washington."
World War 3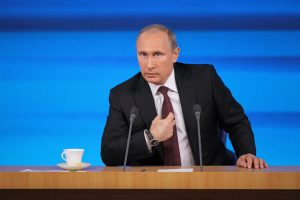 Will the US Be Able to Stop Russia's New Arsenal of Missile Defense-Piercing Nukes? 03/05/18  I've already posted on this, but this has additional information.
Luke 21:10  Then said he unto them, Nation shall rise against nation, and kingdom against kingdom

"Russia could soon be able to conduct nuclear strikes all over the world without any chance of being intercepted, President Vladamir Putin said Thursday (March 1).
Speaking on Russian television as part of his annual address, Putin announced a new class of weapons delivery systems designed to sneak past NATO's American-built ballistic missile defenses. As Putin spoke, computer-generated graphics and video footage playing behind him showed the capabilities of a new hypersonic missile, an underwater drone and a cruise missile with "unlimited range" designed to avoid detection systems.
Experts in nuclear weapons and their politics said the move was far from a shock, given a years-long deterioration of global arms reduction efforts and the recent Trump administration announcement that the United States plans to deploy its own new nuclear tech. [7 Technologies That Transformed Warfare]"
Science: Image of the Beast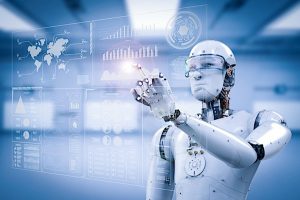 Will the dead rise as robotic clones? 03/05/18
Genesis 2:17  But of the tree of the knowledge of good and evil, thou shalt not eat of it: for in the day that thou eatest thereof thou shalt surely die.
Romans 5:12  Wherefore, as by one man sin entered into the world, and death by sin; and so death passed upon all men, for that all have sinned:

I believe the Image of the Beast will be a prototype cyborg with which the antichrist will promise the people eternal life. This will be an incentive for the masses to receive the Mark of the Beast and worship him! The promise will be that they never will die because their minds will be transferred to cyborgs!

Revelation 13:14  And deceiveth them that dwell on the earth by the means of those miracles which he had power to do in the sight of the beast; saying to them that dwell on the earth, that they should make an image to the beast, which had the wound by a sword, and did live. (15) And he had power to give life unto the image of the beast, that the image of the beast should both speak, and cause that as many as would not worship the image of the beast should be killed.

"Scientists in Sweden are attempting to make digital copies of the mind files of dead people to permit communication between the dead and living using artificial intelligence through robotics.
Volunteer families are currently being sought for the project, according to a report in International Business Times.
Dr. Michio Kaku, who studied theoretical physics and studying the strong force, the weak force, gravity and electromagnetism says it is possible to create an exact robotic replica of a dead person if their personality has been downloaded into a computer as an avatar.
These avatars would contain memories and personality that will help to communicate with relatives as if they were still alive. Kaku said that they would, in effect, become immortal."

John 3:17  For God sent not his Son into the world to condemn the world; but that the world through him might be saved.