FGM-Linked Muslim Sect Given First Chance to Lay Flowers at London Attack Vigil
Verse of the Day
Revelation 11:15  And the seventh angel sounded; and there were great voices in heaven, saying, The kingdoms of this world are become the kingdoms of our Lord, and of his Christ; and he shall reign for ever and ever.
Commentary
What a disgrace that the female genital mutilation (FGM) Muslim cult can openly function in Great Britain! The more we learn, the more we find out how far gone Great Britain is. The reason it is so important to watch what is happening in GB is that the Hard Left has the same plans for America.
May the Holy God of Israel bless and protect you.
Revelation 16:7  And I heard another out of the altar say, Even so, Lord God Almighty, true and righteous are thy judgments.
Islam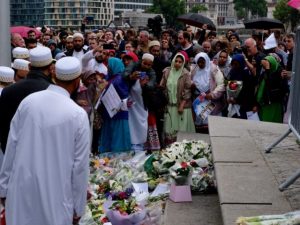 FGM-Linked Muslim Sect Given First Chance to Lay Flowers at London Attack Vigil 06/06/17
"Thousands of Londoners gathered Monday in a park near London's Tower Bridge to express grief over the deaths of those killed by radical Islamic terrorists on Saturday evening.
The vigil, led by London mayor Sadiq Khan, saw a procession of Muslims given the opportunity to first, and separately, lay flowers at the scene.
While the group of men first laid flowers, other Britons and attendees were held behind barriers.
The group is believed to have been from the Bohra sect of Islam, perhaps best known for their adherence to the barbaric practice of female genital mutilation."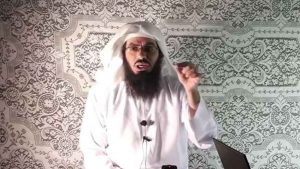 ISLAMIC PREACHER IN MICHIGAN HELPED RADICALIZE LONDON BRIDGE TERRORISTS 06/06/17  The Muslim terrorist sleeper cells are here in America just like they are in Europe, yet the Hard Left wants more Muslims in America without caring about vetting. The Muslims are very weak in America, but even small numbers can do a lot of damage. I really do believe that the day is coming when we are going to be at war with the Muslims, and they will bring the fight to us.
I have posted several research polls that found about 25 percent of the Muslims believe in force to advance Islam, and over 50 percent want Sharia law! This is a recipe for an insurrection.
Psalm 83:13-18  O my God, make them like a wheel; as the stubble before the wind. (14,15) As the fire burneth a wood, and as the flame setteth the mountains on fire; So persecute them with thy tempest, and make them afraid with thy storm. (16) Fill their faces with shame; that they may seek thy name, O LORD.
(17,18) Let them be confounded and troubled for ever; yea, let them be put to shame, and perish: That men may know that thou, whose name alone is JEHOVAH, art the most high over all the earth.

"One of the London terrorist attackers, British police revealed Monday, was Khuram Shazad Butt, 27, a British citizen born in Pakistan who had been investigated by police and MI5. A second attacker was Rachid Redouane, 30, also known as Rachid Elkhdar, and according to police a Moroccan or Libyan. At this writing, police have not revealed the name of the third attacker, but it is now apparent where he got his motivation to kill.
According to Daily Caller reporter Saagar Enjeti, Ahmad Musa Jibril, an Islamic preacher in Michigan, helped radicalize the attacker. Jibril was "well known on YouTube for preaching sermons that appear to lionize Islamic terrorists fighting in Syria."
He is a U.S. citizen of Palestinian descent who earned a degree in Islamic law from Saudi Arabia. As Enjeti notes, Jibril appears to have problems adhering to U.S. criminal law as "a convicted fraudster who at one time owed nearly a quarter of a million dollars in restitution to the U.S. government, and served nearly 7 years in prison."
According to Newsweek, "Jibril preaches a Salafist version of Islam, one of the most conservative strands of the religion and the ideology from which members of the Islamic State militant group (ISIS) and Al-Qaeda derive their beliefs." Based in Detroit, Jibril enjoys "a substantial following" online, with nearly a quarter million "likes" on Facebook, more than 40,000 on Twitter, and 16,000 subscribers on YouTube. He is described as a "subtle, careful, and nuanced preacher" and that comes across in videos like this one."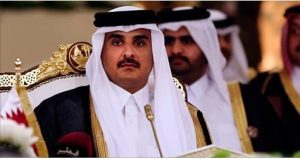 As Gulf states cut ties with Qatar, Trump team debates Muslim Brotherhood terror designation 06/06/17  This is a really good article showing what is going on behind the scenes with the Muslim Brotherhood. The MB is a very dangerous stealth organization that is trying to infiltrate all levels of America with Islam. Trump must have them designated as a terrorist organization, so they can be stopped in America.
Ephesians 5:11  And have no fellowship with the unfruitful works of darkness, but rather reprove them.

"There's a battle inside the Trump administration over what to do about the Muslim Brotherhood, the group at the center of Monday's pivotal decision by Saudi Arabia, Egypt, the United Arab Emirates and Bahrain to cut ties with Qatar over allegations it supports terrorism, experts familiar with the situation say.
The debate reaches deep inside Washington politics, where Qatar has poured money in recent years, deepening a rift in American policy circles over what to do about the Muslim Brotherhood. The immensely influential group has long been considered a supporter of terrorism by several key American allies including Egypt, Saudi Arabia and the United Arab Emirates.
The camps inside the White House, according to sources, break down to two groups: On one side is a political group led by Chief Strategist Steve Bannon and the other side is led by National Security Adviser H.R. McMaster and Defense Secretary Jim Mattis. Generals McMaster and Mattis are said to be concerned about America's deep military commitment to Qatar, where the U.S. operates a key airbase; Bannon is said to want to push for an official designation of the Muslim Brotherhood as a Foreign Terrorist Organization."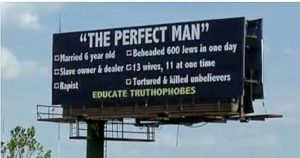 Muslim Groups Unhappy With Indianapolis 'Perfect Man' Billboard 06/06/17  Notice how no one claimed that the bullet points on this billboard were not true. They are true, but Islam can't function in the light of truth. Instead they claim it is bigoted! So telling the truth about Muhammad is now being bigoted. When Islam is brought out into the light, the Muslims have no defense.
John 3:19-21  And this is the condemnation, that light is come into the world, and men loved darkness rather than light, because their deeds were evil. (20) For every one that doeth evil hateth the light, neither cometh to the light, lest his deeds should be reproved.(21) But he that doeth truth cometh to the light, that his deeds may be made manifest, that they are wrought in God.

"A billboard in Indianapolis, IN is stirring controversy among local Muslim groups, says a Fox 59 report.

The billboard, seen going southbound I-465 near the Washington Street exit mocks the prophet Mohammed as "The Perfect Man."

The billboard then lists six bullet points about Mohammed to describe him. The points include: "Married a 6-year-old," "Slave owner & dealer," "rapist," "Beheaded 600 Jews in one day," "13 wives, 11 at one time" and "Tortured & killed unbelievers."

"I was a little disappointed when I saw that," Farial Khatri of the Islamic Society of North America told Fox 59.

"We do support free speech, but we do realize this is also rooted in bigotry," Kahtri added."
World War 3/ North Korea
Analysts Sound New Alarms on North Korea Missile Threat 06/05/17  The last update about the coming war with North Korea.
"Klingner estimates that North Korea has 16 to 20 nuclear weapons. "And then, of course, the question or the debate is how far along they are," he said. "I think it is pretty clear they've weaponized and miniaturized the warhead, that right now the Nodong medium-range ballistic missile is already nuclear capable." This means U.S. allies Japan and South Korea are under a nuclear threat today, he stressed. "It is not theoretical, it is not several years in the future as some analysts or experts will tell you."
The threats posed by North Korea are wide ranging, Klingner noted. "They've got, we estimate, 5,000 tons of chemical warfare agents." And it has a sophisticated army of cyber warriors. "They are, perhaps, in the top five or top three countries in the world for cyber attack capabilities."
Missile attacks are, it seems, what worries U.S. policy makers the most. A rising concern are submarine-launched ballistic missiles because of the immediate risk they create for South Korea. "The North Korean subs can come out on the east or west coast and threaten South Korea," Klingner said."
As the World Has Done to Israel – Venezuela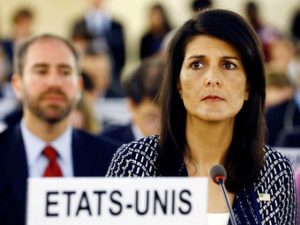 Nikki Haley Grills U.N. Human Rights Council on Venezuela, 'Chronic' Anti-Israel Bias 06/06/17  I have posted many times about how Venezuela was so anti-Israel. Venezuela wanted to divide Israel and create a terrorist Palestinian state, and now look at the condition of this nation! God's judgment rests on it, and the country is falling under anarchy, fighting and terrorism just like it wanted for Israel. It is amazing that Haley should compare Venezuela and Israel!
Obadiah 1:15  For the day of the LORD is near upon all the heathen: as thou hast done Ito Israel), it shall be done unto thee: thy reward shall return upon thine own head.

"While Haley told the Council that the U.S. is "looking carefully" at U.S. participation in the body, she refrained from giving an outright ultimatum in her address. She did point to a side event on human rights abuses in Venezuela and warned the socialist country that it should step away from the Council if it cannot end its abuses.
"If Venezuela cannot, then it should voluntarily step down from its seat on the Human Rights Council until it can get its own house in order," she said. "Being a member of this council is a privilege, and no country who is a human right violator should be allowed a seat at the table."
She then drew a contrast with the way the Council treated Venezuela and the way it treated Israel.
"It's hard to accept that this Council has never considered a resolution on Venezuela, and yet it adopted five biased resolutions in March against a single country–Israel," she said. "It is essential that this Council address its chronic anti-Israel bias if it is to have any credibility."
Hard Left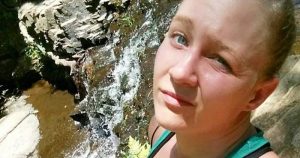 Jailed NSA Leaker Reality Winner: 'Being White is Terrorism' 06/06/17  This is very interesting, how a 25 year old with a weak mind followed the Hollywood propaganda and ended up hating America and the fact that she was white. She even would support Iran over America! The problem is that there are now huge numbers of our youth who think like her! Her mindset is perfect for a revolution because she can be easily led. The seeds of the French Revolution are planted in America, and soon all of us might need to protect our nation from American-haters like this woman.
"Reality Leigh Winner, the 25-year-old federal contractor who was arrested on Saturday for leaking classified information to the media, is a #Resistance activist who believes "being white is terrorism."
Winner reportedly confessed to leaking a top secret NSA document on purported Russian hacking to an unnamed news organization, believed to be The Intercept.
Her social media profiles show she's a thoroughly brainwashed, far-left #Resistance activist who said Donald Trump is an "orange fascist" and "the most dangerous" person in the country. She's an ethnomasochist who believes "being white is terrorism." She was a huge supporter of the Black Lives Matter movement. She considered herself part of The Resistance™.
She was radicalized by John Oliver, The Daily Show, Stephen Colbert, Michael Moore and others. She said Leonardo DiCaprio's propaganda film "Before The Flood" changed her entire outlook on life and said she's now "#waitingtodie" from climate change and doesn't want to have kids.
She replied to the Foreign Minister of Iran saying she'd "stand with" Iran over America if Trump declared war:
The most remarkable part of this story is how our nation's standards have collapsed to the point where 25-year-old female social justice warriors are given access to classified information.
It's also tragic how this beautiful, young girl was radicalized by Hollywood and the entertainment industry into hating herself simply because she was born white"
Hard Left/ Christian Apostasy/ Transgendered
United Methodist Church Conference Ordains First 'Nonbinary Trans' Provisional Deacon 06/06/17  What's next, shamans standing in pulpits? What now!
Genesis 5:1-2  This is the book of the generations of Adam. In the day that God created man, in the likeness of God made he him; Male and female created he them;

"A regional body of the United Methodist Church has ordained a transgender individual who does not identify as male or female to the position of provisional deacon.
The Northern Illinois Conference commissioned M Barclay, who serves as director of communications for the pro-LGBT advocacy group Reconciling Ministries Network, as a provisional deacon on Sunday.
"For so long, I've longed to be a pastoral presence in the world — and certainly you can do that without a collar — but we have ordination for a reason, and part of that is that I can publicly identify as a pastor now,"
"I know it's not particularly common in The United Methodist Church, but I intend to wear a collar every single day because for a person like me to navigate society in a collar provides some profound and urgently needed pastoral opportunities, particularly for queer and trans people."
Christianity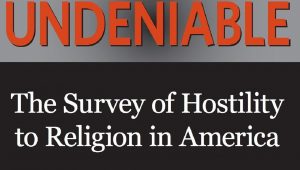 Record 1,200 government attacks on faith, religion, 'dangerous' hostility 06/05/17  Where are the pastors in this battle? There are a few engaged against the Hard Left, but every real pastor in America should be leading the church into the battle. The Hard Left HATES us and wants to destroy the Church because we believe in sin, which condemns them. They seethe against us but not against the Muslims who want to kill them! Where are the pastors, running to protect God's sheep from the Hard Left wolves?
John 3:19  And this is the condemnation, that light is come into the world, and men loved darkness rather than light, because their deeds were evil. (20) For every one that doeth evil hateth the light, neither cometh to the light, lest his deeds should be reproved.

"Attacks on religion in America, driven mostly by government-endorsed political correctness sparked by programs like Obamacare, is expanding in "dangerous" fashion and even threatens military pastors and churches, according to a report on the hostility.
In Undeniable, The Survey of Hostility to Religion in America, the First Liberty Institute documented over 1,200 cases and concluded, "Quantitatively and qualitatively, the hostility is undeniable. And it is dangerous."
President Trump has promised to curb the legal assault on religious organizations that claim a higher power than the government on issues such as providing birth control under Obamacare, and the report provides evidence that his White House can use to mount its counter attack.
"Hostility to religion in America is rising like floodwaters, as proven by the increased numbers of cases and attacks documented in this report. This flood is engulfing ordinary citizens who simply try to live normal lives according to their faith and conscience," said Kelly Shackelford, president of the First Liberty Institute in a memo opening the 326-page report.
"It is eroding the bedrock on which stand vital American institutions such as government, education, the military, business, houses of worship, and charity. It has the potential to wash away the ground that supports our other rights, including freedom of speech, press, assembly, and government by consent of the people," he added in the 2016 report made available for free to the public."
Miscellaneous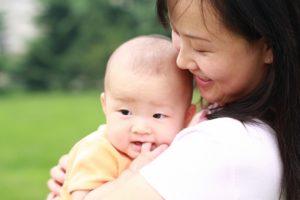 Largest Japanese population decline on record 06/07/17  This might not seem like an interesting article, but I've posted it to show what happens to a nation that disobeys God's word about having children: it dies. Like the Europeans, the Japanese people refuse to have children. The Muslims are flooding into Europe to fill the population void, but Japan does not allow immigration. This results in a slow death of the nation. Right now more people are dying every year than children being born. This trend can't be reversed.
Japan has reached the point of no return and is dying. The women refuse to have children, so Japan now is doomed to a slow but sure demographic death of a continual old age population with a dying culture. This is all because the Japanese violated God's command:
Genesis 1:28  And God blessed them, and God said unto them, Be fruitful, and multiply, and replenish the earth

"The annual number of babies born in Japan fell below 1 million for the first time in 2016, while over 1.3 million people died. This resulted in the largest population decline on record according to a government survey released on Friday.
The country's total fertility rate was 1.44 per women, down 0.01 point. As of October 1 2016, there were 126.93 million people in Japan, down 162,000 from a year earlier and the sixth straight year in which the population declined.
These figures are worrying for Japanese society. Fewer young people means fewer workers to support the growing number of retirees and strains the pension and health care system. Empty houses are also a growing problem in some areas.
Unfortunately, efforts to encourage mothers to have more children are not having much effect. The latest figures show that Japanese mothers are getting older and women choosing to marry much later in life after establishing careers contributes to the lack of births. There were 13,911 fewer births to women in their 20s in 2016 and 14,962 fewer births to women in their 30s. However, there were 1,009 more births to women in their 40s. "

Philippians 4:8  Finally, brethren, whatsoever things are true, whatsoever things are honest, whatsoever things are just, whatsoever things are pure, whatsoever things are lovely, whatsoever things are of good report; if there be any virtue, and if there be any praise, think on these things.