France: No-Go Zones Now in Heart of Big Cities
                      Verse of the Day
Obadiah 1:15  For the day of the LORD is near upon all the heathen: as thou hast done, it shall be done unto thee: thy reward shall return upon thine own head.
Commentary
France led the way against Israel to divide the land, including Jerusalem, and has pushed the creation of a Muslim terrorist state with Israel. Now look at what has happened to France and HOW FAST IT IS HAPPENING! God's judgment on France is accelerating and the end of France is not going to be good. It really does appear that the God of Israel has turned France over to the Muslims for its destruction. God is bringing down France and all of Europe right before our eyes.
May the Holy God of Israel bless and protect you.
Hebrews 11:9,10 By faith he sojourned in the land of promise, as in a strange country, dwelling in tabernacles with Isaac and Jacob, the heirs with him of the same promise: For he looked for a city which hath foundations, whose builder and maker is God.
As France Has Done to Israel
France: No-Go Zones Now in Heart of Big Cities 06/05/17
"There are several hundred square meters of pavement abandoned to men alone; women are no longer considered entitled to be there. Cafés, bars and restaurants are prohibited to them, as are the sidewalks, the subway station and the public squares." – Le Parisien.
"For more than a year, the Chapelle-Pajol district (10th-18th arrondissements) has completely changed its face: groups of dozens of lone men, street vendors, aliens, migrants and smugglers harass women and hold the streets." – Le Parisien.
In the heart of Paris, Bordeaux, Toulouse, Marseille, Grenoble, Avignon, districts here and there have been "privatized" by a mix of drug traffickers, Salafist zealots and Islamic youth gangs. The main victims are women. They are – Muslim and non-Muslim — sexually harassed; some are sexually assaulted. The politicians, as usual, are fully informed of the situation imposed upon women."
Israel/ The Coming Middle East War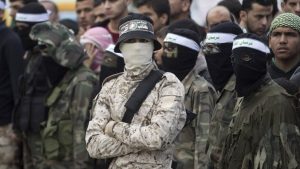 With an army of 27,000, Hamas terror chief Deif readies Gaza for war 06/05/17  This is a really good article, and I learned a lot of information about Hamas and the social conditions of the people living on the Gaza Strip. This will be the last war for Hamas. Israel will totally destroy it forever, and the name of Hamas will disappear.
Jeremiah 51:20-21  Thou art my battle axe and weapons of war: for with thee will I break in pieces the nations, and with thee will I destroy kingdoms; And with thee will I break in pieces the horse and his rider; and with thee will I break in pieces the chariot and his rider;

"Even as Hamas tries to avoid a conflict now, it is preparing intensively for the next war. And there are some who believe its position today is stronger than it was in the summer of 2014.
Hamas is built like an army in every way. It has at its disposal 27,000 armed men divided into six regional brigades, with 25 battalions and 106 companies.
Of this military array, 2,500 armed men are members of the Nuhba, Hamas's elite unit. A third of these troops are intended to be sent to carry out attacks inside Israeli territory. These gunmen are supposed to strike from the sea (the naval commandos), from the air (using flying ATVs or motorized gliders, for example), and, of course, from the ground, mainly via cross-border tunnels, from which they would emerge to raid an Israeli residential community or army base in order to kidnap and kill.
The tunnels are the main focus of Hamas's military efforts. Hamas invests even more in "defensive" tunnels — those it uses inside the Gaza Strip — than in the attack tunnels that are designed to penetrate into Israeli territory. It has tunnels inside Gaza thought to be dozens of kilometers long: an actual city beneath the Strip that will enable the entire rocket operation, as well as Hamas's command and control echelons, to continue to function even during severe aerial bombardment by Israel."
Jerusalem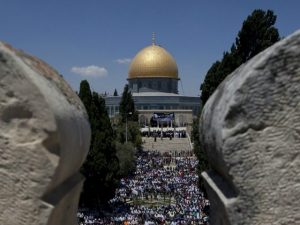 Top Palestinian Official: 'The Temple Mount Is Ours' 06/05/17  In the end, any peace deal would come down to the Temple Mount, which the Muslims say is theirs. Will the Israelis give it up? Will the Palestinians give up the Western Wall to Israel? The hard core Muslims, like Hamas and ISIS, will give nothing up. In the end, I see no peace over Jerusalem until the Second Coming of Jesus Christ.
Luke 21:24  And they shall fall by the edge of the sword, and shall be led away captive into all nations: and Jerusalem shall be trodden down of the Gentiles, until the times of the Gentiles be fulfilled.

"Rajoub continued by saying that the Temple Mount, Judaism's holiest site, must be handed over to the Palestinians in any future deal.
"The Temple Mount is ours, it's not yours, you need to stop talking about it," Rajoub said. "The status quo since 1967, which was set by Moshe Dayan, I think we both need to aim for that," he said, referring to an arrangement made by then-Defense Minister Dayan after the Six Day War that stipulated the Temple Mount would remain under the auspices of the Islamic Waqf. The arrangement, which is in place until today, allows Jews to visit the site at certain hours but they are forbidden from praying there."
World War 3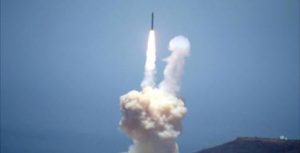 US missile defense test triggers alarm in Russia, China as North Korea issues new warnings 06/03/17  Everyone is getting ready for war. This war is going to set the stage for the rise of the antichrist and all end-time prophecy leading to the Day of the Lord and the Second Coming of Jesus Christ.
Zechariah 14:1-2  Behold, the day of the LORD cometh, and thy spoil shall be divided in the midst of thee. For I will gather all nations against Jerusalem to battle;

"The Pentagon's successful interceptor missile defense test this week is seen as a step toward reducing the nuclear risk from North Korea, but now China and Russia are seeing the U.S. technology as a threat.
Regardless, North Korean state newspaper Rodong Sinmun said Thursday that its military was "ready to conduct an ICBM test-fire at any time."
During Tuesday's test, the U.S. military intercepted a mock intercontinental ballistic missile target fired from Vandenberg Air Force Base in California during a test of its Ground-based Midcourse Defense, or GMD, system.
Besides California, the U.S. also has the GMD system deployed at Fort Greely in Alaska. The interceptor test took place a day after the North Korean regime fired its ninth ballistic missile test this year.
Tuesday was only the 10th successful test out of 17 conducted since 1999. This week's test also was the first live-fire test against a simulated ICBM target.
The test is seen as a sign the U.S. military is making progress to combat the mainland U.S. threat from North Korea. Still, the use of numerous decoy missiles or countermeasures by an enemy could overwhelm or confuse the interceptor system and render it useless."
Hard Left/ Islam
Trump Slams London Mayor: 'Stop Being Politically Correct' 06/04/17  I will not listen to any more nonsense about Islam being a peaceful religion! They are at war with us. Polls have shown that 25% of Muslims in the USA believe that it is alright to use violence to advance Islam, and over 50% believe in Sharia law.
No more Muslims should be allowed into America. I agree 100% with President Trump about extreme vetting of all the Muslims coming into America. They are an invading army and not immigrants.
Proverbs 8:36  But he that sinneth against me wrongeth his own soul: all they that hate me love death.

"President Donald Trump tweeted on Sunday about a militant attack in London which killed seven people, quoting London Mayor Sadiq Khan telling Britons not to be alarmed, in what appeared to be a criticism of Khan's response to the incident.
"At least 7 dead and 48 wounded in terror attack and Mayor of London says there is "no reason to be alarmed!" Trump tweeted.
Earlier Khan had said Britons should not be alarmed to see a higher police presence on the streets of London following the incident.
Last year Khan was elected mayor of the city to become the first Muslim to head a major Western capital."
Islam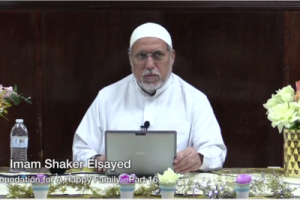 Imam at Virginia's Dar al-Hijrah mosque endorses female genital mutilation 06/04/17  What a sad joke this is from the Imam. He makes females out be sexually supercharged so that they need to be mutilated to be brought under control! What utter nonsense.
I can tell you who needed to be brought under control: Muhammad! He had 12 wives and one was 9 years old. He then forced his step-son to divorce his beautiful wife so he could have her! All this was alright because Muhammad was a "prophet" but females need to be mutilated and their reasoning is false!
"Female genital mutilation (FGM) can be an effective tool to prevent promiscuity among girls, the imam at a prominent northern Virginia mosque claimed in a recent lecture flagged by the Middle East Media Research Institute (MEMRI).

Without it, "hyper-sexuality takes over the entire society and a woman is not satisfied with one person or two or three," said Dar al-Hijrah Islamic Center Imam Shaker Elsayed in a May 19 talk, "Foundation of a Happy Family." Only tip of a girl's clitoris should be cut, he said, otherwise it creates "serious harm in the sexual life of the child when she grows up. And this is why the West thinks of alkhikah as sexual mutilation…"

The video remains posted on the Falls Church, Va. mosque's YouTube channel.

Muslim societies which prohibit FGM are making a mistake "to prohibit the tradition and they end up causing a lot of damage on the other extreme side of the sexual life of a woman," Elsayed said."
Islam – Jihad

Accept Islamic Terror as the New Normal? 06/04/17  Muhammad was a master in the use of terror, which is one of the reasons why Islam was so successful in conquering vast areas of the world and keeping the people enslaved to it. Islam is based on fear and terror and right now the weak-minded Europeans, who stand for nothing, are being brought under Islamic fear!
As the Muslims apply fear, the Europeans are conceding more and more to the them. The Muslims now are trying to subjugate Europe right before your eyes. They are terrorizing European women to break their will and make them fear Muslims. The next step will be to offer them safety to become a Muslim! When was the last time you heard a report of a Muslim raping a Muslim woman? They rape the infidel who has no rights because they believe that allah hates them. I believe that Islam is a curse upon the entire earth.
1 John 4:9  In this was manifested the love of God toward us, because that God sent his only begotten Son into the world, that we might live through him.

"After terror attacks, we often hear from Western media and politicians that we must accept terrorist attacks as the "new normal." For Western citizens, this phrase is dangerous.
Islam's doctrine of jihad, expansion and dawah (Islamic outreach, proselytizing) rely heavily on the use of both terror and luring. Targhib wal tarhib is an Islamic doctrine that means "seducing (luring) and terrorizing" as a tool for dawah, to conquer nations and force citizens to submit to Islamic law, sharia. It amounts to manipulating the instinctive parts of the human brain with extreme opposing pressures of pleasure and pain — rewarding, then severely punishing — to brainwash people into complying with Islam.
Most ordinary Muslims are not even aware of this doctrine, but Islamic books have been written about it. Mainstream Muslim sheikhs such as Salman Al Awda have discussed it on Al Jazeera TV. On a show called "Sharia and Life," Al Awda recommended using extremes "to exaggerate… reward and punishment, morally and materially… in both directions". "The use of terror under this doctrine,"' he said, "is a legitimate sharia obligation."
People in the West think of terror as something that Islamic jihadists inflict on non-Muslims, and it is. But terror is also the mechanism for ensuring compliance within Islam. Under Islamic law, jihadists who evade performing jihad are to be killed. Terror is thus the threat that keeps jihadists on their missions, and that make ordinary Muslims obey sharia."
How killer father-of-two tricked his neighbours into thinking he was a 'nice guy' by playing football with children while secretly harbouring a destructive hatred and frequently changing his appearance 06/04/17
Genesis 6:11  The earth also was corrupt before God, and the earth was filled with violence.
If you want to know all about the most recent Muslim terror act at London Bridge, this article is loaded with details and pictures. What you get out of this article is how a sleeper cell works. They drew NO suspicions prior to the attack, so you never know which Muslims in America are part of a sleeper cell.
Islam/ Christianity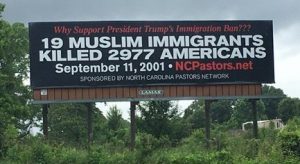 North Carolina Pastors' 9/11 Billboard 06/04/17  America needs thousands of pastors and church leaders to stand up against Islam through leadership, action and prayer! Silence is deadly because it always allows Islam to advance in the nation like cancer going through a body.
Ezekiel 33:3-4  If when he seeth the sword come upon the land, he blow the trumpet, and warn the people; then whosoever heareth the sound of the trumpet, and taketh not warning; if the sword come, and take him away, his blood shall be upon his own head.

"The Billboard has a very simple message and it is in perfect agreement with Sidi Haji Abdrahaman's explanation, Islam is the motivation for 9-11 and for Manchester, UK, and St. Petersburg, and Paris, and Nice and Orlando and San Bernardino, and Garland Texas, and Chattanooga, and Ft. Hood and so forth and so on.
The list could go on and on but the Truth is that the People committing these terrorist acts all claimed to be Muslim and claimed to be acting out of a zeal and dedication for their Religion and their prophet Muhammad. The West must come to grips with the absolute fact that untold millions of Muslims around the World really believe that their religion instructs them to fight armed jihad against all non-Muslims.
We can argue for years whether or not that view represents true Islam, but in the meantime the millions of Muslims Worldwide who hold this view continue to fight and kill non-Muslims on a daily basis because they believe it is the highest calling of their Faith and the only assurance of Paradise after death (See Quran 9.111, 2.207, 4.74, 61:10-12; Sahih Al-Bukhari 52:54 etc)."
After Middle East, Will Islamists Uproot Christians in Europe? 06/04/17  What the Muslims did to the Christians in Iraq and Syria, they want to do to the Europeans. They want to destroy Christianity in Europe. They see the church is so weak and the politicians are so cowardly that it is a green light for them to attack.
Europe is now on life support, near death. No matter what heinous crimes the Muslim terrorists commit, the politicians, along with a significant percent of the population, find an excuse not to condemn Islam! And the leaders continue to bring more Muslims into their countries! It is too late for Europe because it has such a large Muslim population that they can't stop the takeover without bloodshed.
The Europeans rejected the Lord and his word the Bible, they hate Israel and try to destroy that nation, so now the Lord for their "reward" is giving them a full dose of allah and the Muslims. The epitaph for Europe will be "Suicide by Muslim."
Revelation 16:7  And I heard another out of the altar say, Even so, Lord God Almighty, true and righteous are thy judgments.

"It is impossible for any observer to deny that Christianity is descending into a terminal crisis in Europe. Catholic leaders in the Netherlands estimate that two-thirds of their 1,600 churches will be out of use in a decade, and that 700 Dutch Protestant churches will be closed within four years. The Church of England closes around 20 churches a year. The Catholic Church in Germany has closed about 515 churches over the last ten years. You find the same scenario everywhere in Europe.
"I have often heard from Muslims that their goal is to conquer Europe with two weapons: their faith and their birthrate," said the Maronite patriarch of Antioch, Cardinal Bechara Boutros Rai. "So when they come to Europe and see the empty churches, and find the unbelief of Europeans, they immediately think that they will fill that void".
This is one of the most tragic ironies of our time: that Christians in Europe, including Pope Francis, have a lot to learn from Christians in Egypt, Syria and Iraq.
After another ISIS jihadist slit the throat of an 85-year-old priest, Father Jacques Hamel, during a Catholic mass in France, no rally was called to protest his murder. No secular personality or newspaper said, "We are all Christians". The entire Christian establishment refused to write the word "Islam".
Make no mistake; these Islamists are very clear in their goal: eradicating Christians not only from Mosul, as they did in 2014, but also uprooting Christians from Manchester, where churches are already converted to Islam. The pumped-up forces who drove Christians out of their ancestral lands rightly thought: Why not continue in the West the work begun so well in the East?"

Philippians 4:4  Rejoice in the Lord always: and again I say, Rejoice.