Frankfurt, Germany, Makes History by Being First City Where Natives Are Minority
                              Verse of the Day
 Isaiah 1:7  Your country is desolate, your cities are burned with fire: your land, strangers devour it in your presence, and it is desolate, as overthrown by strangers.
Commentary
The Muslims will take this city to consolidate power and use it as a base to spread to other German cities. They will take over the government and institute Sharia law. Europe is falling so fast to the Muslims that I can hardly keep up with it! Wow. What is coming to Germany and Europe is the cities burning and desolation. Muslims will try and take over.
May the Holy God of Israel bless and protect you.
Zechariah 14:9 And the LORD shall be king over all the earth: in that day shall there be one LORD, and his name one.
Hard Left/ Islam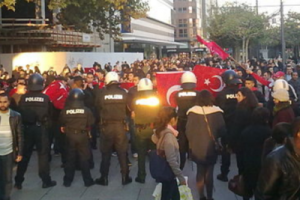 Frankfurt, Germany, Makes History by Being First City Where Natives Are Minority 06/30/17
"Frankfurt, Germany, used to be populated predominantly by Germans — but now, thanks to Angela Merkel's open door welcome to all-things-refugee, particularly from Muslim dominated nations, the city's turned a corner on its normal demographics. Now, for the first time in history, more than half of its residents are migrants.
This is a huge shift. And it's what Islam teaches — to spread the faith and culture and political system by blood or by birth. Islam has expanded throughout history by either war and killing, or by populating new areas, building mosques and taking over the culture and local governments.
So goes Europe."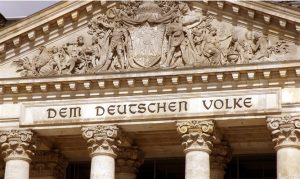 German court: Sharia police may patrol streets 06/30/17  The Germans don't want God's law over them, so now they are getting Sharia law! Recently I've posted many articles about the collapse of Europe and how Islam is taking control. Look what has happened to all of these countries when they mocked God and turned from him!
I hardly can keep up with how fast Islam is taking over Europe. It seems these nations have no will to fight and are defeated. What we see happening to Europe should be a warning not to play games with God's word.
Isaiah 40:15  Behold, the nations are as a drop of a bucket, and are counted as the small dust of the balance: behold, he taketh up the isles as a very little thing.

"A court in Germany has authorized a group of self-appointed Sharia police to continue enforcing Islamic law in the city of Wuppertal. The law they were cleared of vioilating outlaws uniforms that are threatening, such as those of Hitler's brownshirts.
The issue has been brewing ever since 2014, when German politicians reacted strongly to reports of young Salafists conducting nightly "Sharia police" patrols in the city, ordering people to stop various activities, according to the International Business Times.
The men were photographed wearing orange hi-visibility jackets emblazoned with the words "Sharia police" on the back.
They reportedly approached passersby near nightclubs and gambling houses to deter them from un-islamic activities such as drinking alcohol and gambling."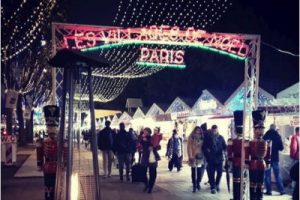 In the name of secularism, Paris cancels the Christmas market, but in the name of diversity, it celebrates Ramadan 06/30/17  Paris now is actually promoting Islamic holidays while at the same time suppressing Christmas. France wanted Israel to divide Jerusalem and make it partly under Muslim control, and now look at Paris!
France is in a full swing being given over to Islam. All of Europe is like this. Country after country is falling to the Muslims. There is no way to stop this because they under the judgment of the Lord.
Proverbs 28:5  Evil men understand not judgment: but they that seek the LORD understand all things.

"Paris City Hall officials have celebrated Ramadan, a Muslim religious holiday, for the last 15 years, and to avoid breaking the secularist law of separation of Church and State, the City Mayor lied and said Ramadan is a cultural event, a exotic custom. But Paris does not celebrate Easter, and no longer places Christmas trees and Christmas cribs in city halls.
Now Anne Hidalgo, the Socialist Mayor Paris, decided to pull the plug on the Christmas Market that takes place on Champs-Elysées since 2008.
The bill that is going to be voted during the next Council of Paris on July 3, cancels the Christmas Market, which was located on the lower part of the Champs Elysée between the Marcel Dassault roundabout and Place de la Concorde during Christmas. Again, the City Council plays with words to justify its desire to give greater importance to diversity, and pretext a "cultural dimension in harmony with this exceptional site" to explain the cancelation. The Mayor said that she wants to offer "visitors and Parisians an attractive and innovative events to enhance the Champs-Elysées in a cultural and aesthetic dimension in harmony with this exceptional site."
The Christmas Market, in December, just before Christmas holidays, is no longer "in harmony with this exceptional site"?
Iran/ Israel/ The Coming Middle East War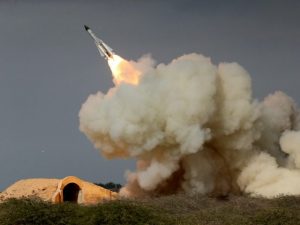 Iran Uses Star Of David As Missile Test Target 06/29/17  The Lord is just waiting for Iran and the rest of the Muslim world to attack Israel. I firmly believe the Lord is going to use this war to break the back of Islam. It will die over Jerusalem.
Zechariah 12:6  In that day will I make the governors of Judah like an hearth of fire among the wood, and like a torch of fire in a sheaf; and they shall devour all the people round about, on the right hand and on the left: and Jerusalem shall be inhabited again in her own place, even in Jerusalem.

"Iran recently used a Star of David as a target for a ballistic missile test, Israel's envoy to the UN said Wednesday, releasing satellite images of the site to the United Nations Security Council.
The Star of David was used as a target for a mid-range "Qiam" ballistic missile test in December last year, a statement from the Permanent Mission of Israel to the United Nations said.
"This use of the Star of David as target practice is hateful and unacceptable," Israel's Ambassador to the UN Danny Danon said to the Council.
A grainy image shows the Jewish symbol and next to it an impact crater can be seen."
The Coming Middle East War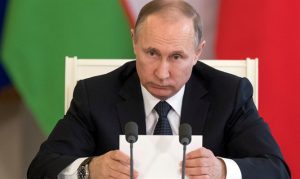 Putin is drowning in Syria 06/29/17  The Russians have been very quiet of late in Syria. ISIS still seems to have plenty of fight left. This has to be a huge drain on the Russian economy, which is very weak. The move into Syria seems like a very bad move, and now Russia has to deal with Iran in Syria.
"Russian President Vladimir Putin's Syrian gambit was a fatal mistake that may soon destroy Russia and Putin himself. Putin's strategy in Syria makes the Titanic look watertight.
It's gotten so bad for Putin in the Syrian quicksand that a Russian analyst, Leonid Issaev, who actually lives in Russia, just published an article in al-Jazeera entitled, "Russia is at a dead-end in Syria, Russia is struggling and failing to find a way out of the Syrian quagmire." Mr. Issaev's thesis is that "the Kremlin's gamble to use the conflict in Syria to normalize relations with the West after the disaster in Ukraine is not paying off. Moscow is appearing to be stuck in Syria, entangled in Damascus' and Tehran's desperate plots."
For a Russian analyst living in Russia to openly declare Putin's Syria policy a "dead-end" without fearing for his life shows how truly dire the Syrian situation is for Putin."
Hard Left/ ProLife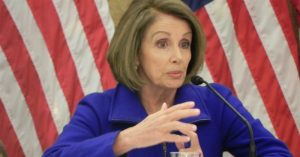 Nancy Pelosi: Republicans' Efforts to Defund Planned Parenthood 'Dishonor God' 06/30/17  I truly marvel how the reprobates are enamored with child killing. Actually, there are two issues which are fundamental to the Hard Left mind: abortion and homosexuality. It seems their entire world revolves around these two sins. Her god is Molech, who devours children.
Leviticus 18:21  And thou shalt not let any of thy seed pass through the fire to Molech, neither shalt thou profane the name of thy God: I am the LORD.

"House Minority Leader Nancy Pelosi recently criticized Republicans' efforts to defund Planned Parenthood, even going so far as to say such efforts "dishonor the God who made us."
LifeNews.com reports that Pelosi is a Democrat and a Catholic. She also is a firm supporter of abortion and Planned Parenthood.
Recently, in comments about the proposed GOP healthcare bill which aims to repeal the Affordable Care Act and defund Planned Parenthood, Pelosi seemed to equate caring for God's creation with supporting Planned Parenthood.
"I know my colleagues are people of faith," Pelosi said. "They tell us that all the time. So, this is God's creation, we have a real responsibility to it…to minister to the needs of God's creation is an act of worship. To ignore those needs is to dishonor the God who made us…"
She also called on Republican legislators to "examine their consciences and look into their hearts" before they vote so they can "make a decision in favor of what is right."
'Death Panel': European Court Says Terminal Baby Must Die Despite Parents Funding Extra Care 06/30/17  This is exactly where Obamacare was heading. The Hard Left are heartless as they oversee the murder of 1.5 million babies in the US every year. They even run to defend partial birth abortion where the baby's head is crushed while still in the mother!
These are very dangerous people which have the same murdering spirit as the Nazis. The Nazis actually started their murdering spree by killing sick and disabled children! These Hard Left killers are following the same road. Remember the Nazis starting by killing children and then graduated to killing Jews and political prisoners!
(Editor's note: For more on this topic and how the battle is progressing in North America, see my article, "Death on Demand: The Right to Life Is Becoming a Duty to Die in Post-Christian Culture")
Romans 1:28  And even as they did not like to retain God in their knowledge, God gave them over to a reprobate mind, to do those things which are not convenient; Being filled with all unrighteousness, fornication, wickedness, covetousness, maliciousness; full of envy, murder, debate, deceit, malignity; whisperers, Backbiters, haters of God, despiteful, proud, boasters, inventors of evil things, disobedient to parents, Without understanding, covenantbreakers, without natural affection, implacable, unmerciful:

"A European court has ruled that the parents of a critically ill baby cannot privately pay for him to go to the United States for "experimental treatment", and the child must stay in a British hospital to "die with dignity".
The parents of 10-month-old Charlie Gard are reported to be "utterly distraught" after the European Court of Human Rights (ECHR) denied them a final effort to save their dying son.
After losing a battle in the UK's Supreme Court, they had appealed to the court in France to fight the decision of British doctors at Great Ormond Street Children's Hospital, who argued the baby could not be saved in the U.S. and must "die with dignity".
World War 3/ North Korea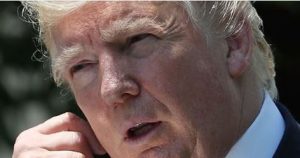 Trump: Patience With North Korea Is 'Over' 06/30/17  This a major sign that war with NK is very close. This either triggers or will be part of WW3. The US can't let NK develop nuclear weapons that can reach America. China wants this war to gain the advantage in Asia. NK can do a lot of damage for China.
"President Donald Trump declared that the U.S. has run out of patience with North Korea over its nuclear drive Friday as he welcomed South Korea's new leader Moon Jae-in to talks at the White House.
While Moon has been arguing for greater engagement with Pyongyang as the best way to put the brakes on its nuclear and ballistic missile programs, Trump made clear that he was in no mood to pursue diplomacy with a regime he accused of having no respect for human life.
And while Moon announced that Trump had accepted an offer to visit Seoul later this year, the leaders failed to map out any kind of joint strategy on how best to deal with the threat posed by the North Korean leadership.
"Together, we are facing the threat of the reckless and brutal regime in North Korea. The nuclear and ballistic missile programs of that regime require a determined response," said Trump."
Military option for North Korea being prepared for Trump, McMaster says 06/29/17  This is propaganda because the US military already has a military option prepared. I guess this is a message to NK that war is now on the table. Kim Jong Un stated that he is moving to accelerate the nuclear weapons program along with the missile testing.
Can we allow NK to build a nuclear weapons system that can reach the US? Also, China has done nothing to curtail NK. I said the Chinese would do nothing because NK is a great asset against the US; China can use NK to degrade and weaken our military. China then has a great advantage in war over America.
If America goes to war with NK, war with China will follow. This war will be WW3, but it is going to be so destructive that people will think it is Armageddon, which it is not.
Luke 21:9-10  But when ye shall hear of wars and commotions, be not terrified: for these things must first come to pass; but the end is not by and by. (10) Then said he unto them, Nation shall rise against nation, and kingdom against kingdom:

"The Trump administration is considering a wider range of strategies on how to deal with North Korea, including the military option, Trump's national security adviser said Wednesday.
"The threat is much more immediate now and so it's clear that we can't repeat the same approach – failed approach of the past," H.R. McMaster, the adviser, said during a security conference with Homeland Security Chief John Kelly. He said it would be insanity to continue to do the same thing the U.S. has done for years and expect a different result.
McMaster's comments come a day before Trump is scheduled to meet with South Korean President Moon Jae-in. South Korea's new leader vowed to stand firmly with Trump against North Korea, downplaying his past advocacy for a softer approach toward the isolated regime.
"Together we will achieve the dismantlement of North Korea's nuclear program, peace on the Korean Peninsula and eventually peace in Northeast Asia," Moon said."
World War 3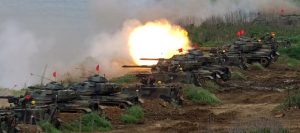 China demands that US cancels arms sale to Taiwan 06/30/17  It is very clear that this military deal with Taiwan, coupled with President Trump saying that his patience is over with North Korea, is a sign that war is fast approaching.
The President would not do this if China was cooperating with us against NK. This is a sign that he has given up on China, and he now is moving to deal directly with NK.
Selling the arms to Taiwan is really a shot across the bow of China because in a war, Taiwan can do great damage to China. The time for war is fast approaching.
"Beijing has strongly protested a U.S. plan to sell $1.4 billion worth of arms to Taiwan and demanded that the deal be canceled.
Chinese foreign ministry spokesman Lu Kang on Friday said Washington should immediately stop the sale to avoid harming relations with Beijing. He said the deal would severely damage China's sovereignty and security interests and runs contrary to Washington's commitment to a "one-China" policy.
The U.S. State Department approved the arms sales on Thursday, the first such deal with Taiwan since President Trump took office. Taiwan has welcomed the agreement, which is expected to enhance the island's self-defense capability."

Psalm 9:17  The wicked shall be turned into hell, and all the nations that forget God.