God's Final Judgment on America (Updated)
                           Psalm 107:33-34
He turneth rivers into a wilderness, and the watersprings into dry ground; A fruitful land into barrenness, for the wickedness of them that dwell therein.
Commentary
As I looked over the news on June 24, I saw all of these headlines and they were so obvious that I could easily link them. I fully expect massive earthquakes and volcanic eruptions to soon strike America with such destruction that regions never will recover. God has warned, but very few of his people have been listening.
I believe that America's rebellion against God is so deep and overwhelming that the nation is facing God's crushing judgment, from which there is no way out. Th rebellion is open in God's face, with homosexuality and all sorts of other activity that makes homosexuality look tame. This includes biological men being able to shower, etc. with women!
There is no shame in America anymore, along with a hardened mocking of God and his Word. God's judgments are starting to fall all around us for everyone to see, but yet, for the most part, the Church remains silent!
If the church of Jesus Christ will not defend God's institution of marriage between a man and woman, then the Lord will, which means the end of America as we know it.
Revelation 16:4-5 And the third angel poured out his vial upon the rivers and fountains of waters; and they became blood. And I heard the angel of the waters say, Thou art righteous, O Lord, which art, and wast, and shalt be, because thou hast judged thus.
Please see my teaching on when homosexuality and related sins trigger God's judgment on a nation: Homosexuality versus God's Holiness  America is now beyond this trigger point.
*The Worst Period For Floods AND The Worst Period For Fires In U.S. History* 06/27/16 In my ministry I was able to document all the major disasters and tie them to some national sin or touching Israel. I felt that the day would come when God's judgment become more general and continues. I now obvious that this day has arrived.

There ar so many disasters hitting with such frequency that I can't tie them all with national sin. June is "Gay Pride Month", so this entire month is national sin, so it is as if the nation now is just sinful all the time!
"As you read this article, the state of California is being ravaged by gigantic wildfires that are raging wildly out of control, and West Virginia is dealing with a "500 year flood".  Since last September, the U.S. has been hit by a series of 11 historic floods.  Never before in American history have we seen so many major floods within such a compressed space of time.  And just as the Shemitah year ended last September, massive wildfires began erupting all over the country. Thanks to that unprecedented outbreak of large fires, 2015 ended up being the worst year for wildfires in all of U.S. history.  And since 2016 began, things have continued to get worse.  As far as the total number of acres burned is concerned, we are more than a million acres ahead of the pace that was set last year. "
 Homosexuality
Obama Designates Gay Bar As Latest National Monument 06/24/16

"President Barack Obama announced his decision to designate the site of the Stonewall Uprising for gay rights in New York City as a national monument.

The Stonewall Inn was a gay bar that was raided by the New York City police department to enforce a law making it illegal to sell alcoholic drinks to homosexuals. Gay Americans rioted in response, organizing activists and rallies across the country in support of gay rights in America. In a YouTube video, Obama recalled the 1969 riots, praising the gay rights activists that reacted to the Stonewall arrests.

"Stonewall will be our first national monument to tell the story of the struggle for LGBT rights," Obama said. "I believe our national parks should reflect the full story of our country — the richness and diversity and uniquely American spirit that has always defined us. That we are stronger together, that out of many we are one."
Financial Armageddon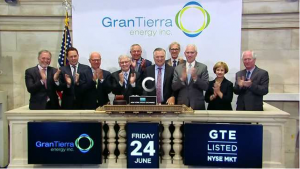 Worst day in 10 months as Wall Street reacts to 'Brexit' 06/24/16 The worst day for the stock market came while Obama was exalting homosexuality! Look at the timing of all of these events.
"The Dow Jones industrial average .DJI fell 611.21 points, or 3.39 percent, to 17,399.86, the S&P 500 .SPX lost 76.02 points, or 3.6 percent, to 2,037.3, and the Nasdaq Composite .IXIC dropped 202.06 points, or 4.12 percent, to 4,707.98."
Earthquakes – Volcanoes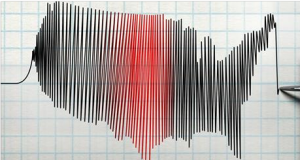 Is Middle America Due For a Huge Earthquake? 06/25/16  Notice the constant drumbeat of mega-quakes coming to America! The reports keep coming about the Northwest, California and now the New Madrid fault line in the Middle of the country!
"If it does break, I believe it will be connected with some sinful national event that will easily demonstrate a connection between the two events.
"In 2009, the Mid-America Earthquake Center at the University of Illinois released a report simulating the fallout from another 1811-1812-style earthquake in a region that today includes Memphis, St. Louis, Nashville, and a Mississippi River lined with industry, people, and levees. The language used to describe the resulting destruction in the study was surprisingly intemperate.
"All hell will break loose," the study's lead author Amr Elnashai pronounced. The report's nightmare vision is best quoted in full:
Nearly 715,000 buildings are damaged in the eight-state study region. About 42,000 search and rescue personnel working in 1,500 teams are required to respond to the earthquakes. Damage to critical infrastructure (essential facilities, transportation, and utility lifelines) is substantial in the 140 impacted counties near the rupture zone, including 3,500 damaged bridges and nearly 425,000 breaks and leaks to both local and interstate pipelines. Approximately 2.6 million households are without power after the earthquake. Nearly 86,000 injuries and fatalities result from damage to infrastructure. Nearly 130 hospitals are damaged and most are located in the impacted counties near the rupture zone. There is extensive damage and substantial travel delays in both Memphis, Tennessee, and St. Louis, Missouri, thus hampering search and rescue as well as evacuation. Moreover roughly 15 major bridges are unusable. Three days after the earthquake, 7.2 million people are still displaced and 2 million people seek temporary shelter. Direct economic losses for the eight states total nearly $300 billion, while indirect losses may be at least twice this amount."
Fires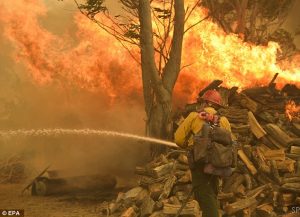 'It's one of the most devastating I've ever seen': California wildfire kills an elderly couple, destroys 80 homes, threatens 1,500 more and triggers evacuation 06/24/16  Although the massive fires continue to burn in California and the West, there is little coverage in the US media. The Europeans still are reporting on it.
The fires might let up at the end of the month since Obama declared June as "Gay Pride Month."
"A deadly wildfire that roared through dry brush and trees in the mountains of central California gave residents little time to flee as flames burned dozens of homes to the ground, propane tanks exploded, and smoke obscured the path to safety.
An elderly couple trying to flee from the flames were overcome with smoke outside of their house and killed, Kern County Sheriff Donny Youngblood said.
Their bodies were found Friday near Lake Isabella, a popular recreation area east of Bakersfield that was ravaged by wind-whipped flames, said Phil Neufeld, a county fire spokesman.
At least 80 houses were destroyed in the southern Sierra Nevada as the fire burned out of control across nearly 47 square miles, leveling neighborhoods and forcing thousands of people to flee from fast-moving flames."
Floods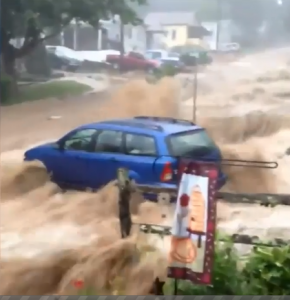 West Virginia Flooding Kills 24; Federal Disaster Declared 06/26/16 Yet another record disaster during "Gay Pride Month."
"At least 24 people have died and a federal disaster has been declared in West Virginia after heavy rains flooded several towns, prompting search and rescue operations. Both Virginia and West Virginia have declared states of emergency due to the devastating event that has been described as "complete chaos." "Roads destroyed, bridges out, homes burned down, washed off foundations," said Greenbrier County Sheriff Jan Cahill. "Multiple sections of highway just missing. Pavement just peeled off like a banana. I've never seen anything like that."

 West Virginia climatologist Kevin Law told USA Today that this is the third-deadliest flooding event on record for the state. A November 1985 flood that killed 38 ranked second-worst, and the 1972 Buffalo Creek flood that killed 125 was the worst in state history, the report also said.

Gov. Tomblin expanded a state of emergency to 44 counties as heavy rain continued into the evening, WSAZ.com reported. Tomblin also authorized the deployment of the West Virginia National Guard to assist local emergency responders. Some areas of the state are "probably looking at flooding that's going to be the worst in 100 years," said the governor's communications director Chris Stadelman."
Leviticus 18:24-25 Defile not ye yourselves in any of these things: for in all these the nations are defiled which I cast out before you: And the land is defiled: therefore I do visit the iniquity thereof upon it, and the land itself vomiteth out her inhabitants.