Gov. Cuomo: 'I Don't Care' About Your Religion — 'You Have to Follow the Rules of the State
Verse of the Day
2 Timothy 3:13 But evil men and seducers shall wax worse and worse, deceiving, and being deceived.
Commentary
He sent the sick elderly into the old age homes killing thousands. He let the terrorists run wild in NYC and never called in the National Guard! He never said a word when the BLM terrorists marched without masks! However, when it comes to people meeting in churches, he is a tyrant.
We clearly see these demon-dems for what they are. God hating tyrants who are trying to rule over us contrary to the Constitution.
Looking for the Blessed Hope, the coming of Jesus Christ for his believers.
Hebrews 9:28 So Christ was once offered to bear the sins of many; and unto them that look for him shall he appear the second time without sin unto salvation.
GOV CUOMO VS US CONSTITUTION AND CHURCH
"Friday, New York Gov. Andrew Cuomo (D) responded to religious groups filing separate federal lawsuits against him over his new restrictions limiting attendance at religious gatherings amid a spike in cases in some New York City neighborhoods.
Cuomo told "CNN Newsroom" acknowledged that it is a "complicated" situation because of different cultural aspects, but said that everyone has to "follow the rules," no matter their religion.
"They are not following the rules. We know what happens when you don't follow the rules: the infection rate goes up," Cuomo advised. "And it just proves our point from the get-go. We know how to control the virus, but you have to control the virus. You have to be disciplined. And when you don't follow the rules, it goes up. And that's what's happening in these very small clusters. Now, these are religious groups, it tends to get more complicated, frankly, because of some cultural aspects. But that's what we're seeing in New York."
IT IS SIN OR GOD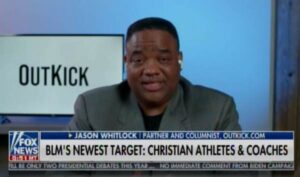 ""You've Got to Usher Out God to Usher in Immorality – And That's What's Happening" – Jason Whitlock on Godless BLM Movement in Sports (VIDEO)"
He nailed that what is happening is spiritual. As God's light is rejected, then darkness replaces it. This is happening the sports world right before our eyes.
"Jason Whitlock told Laura this is what the Black Lives Matter movement is about. They must remove God to usher in their immorality. And they must usher out God in order to hold the state supreme. This has been repeated over and over in every failed socialist state in the past 100 years.
Jason Whitlock: This has been the intent from Black Lives Matter from the very beginning. We're seeing it reshape right before our eyes the hostility toward Christianity is overtaking the sports world and Kurt Beathard is paying the price… It's a calculated, not an organic deal. This has been underway for years… You've got to usher out God to usher in immorality."
COMMUNISTS VS THE PATRIOTS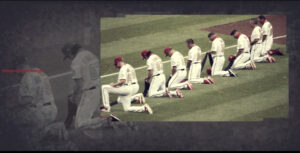 "BLM ties to Marxist groups spotlighted in new video"
This is a great article and video showing at the core of BLM which wants to destroy America, are Communist lesbians! There is even some devil worship thrown in! There couldn't be anything more hellish than this group.
This is a huge sign of how weak the church is in America that a group like this could have such power. Remember, they hate us as much as the Nazis did the Jews. We need an outpouring of the Holy Spirit to break the power of the Hard Left Communists.
"A new video by researcher Trevor Loudon presents evidence that Black Lives Matter is tied to foreign communist and terrorist organizations through its three co-founders. Patrisse Cullors has boasted in an interview of being a "trained Marxist," along with Alicia Garza. The third co-founder, Opel Tometi, is a known supporter of Venezuelan dictator Nicolas Maduro.
Tometi and Garza are involved with a German revolutionary organization called Rosa Luxembourg Stiftung, which was established by former East German communist leaders to build a new wave of international socialist revolutions.ll three co-founders, points out the video presentation by an initiative called Choose Freedom, are part of a socialist organization called Liberation Road."
WHERE THE COMMUNIST ARE HEADING (VIDEO)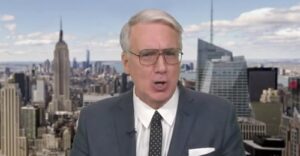 "Olbermann's Latest Rant Against Trump Uses Language We Haven't Heard Since Germany in the 1930s"
This is the real hatred for us from the Hard Left Communists. This is the same hatred the Nazis had for the Jews.
"Keith Olbermann's latest rant against Trump and Trump supporters goes over the line with shocking proposals and language not heard since Germany in the 1930s."
HARD LEFT MURDERING SPIRIT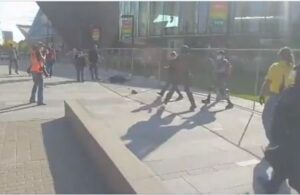 "Shooting at Denver Protests — ANTIFA TERRORIST SHOOTS PATRIOT PROTESTER DEAD! — Two Suspects in Custody –VIDEO"
It is very possible that after the President is reelected the dem terrorists might go into full sedition mode. If this happens, these people will have to be crushed.
"There was a shooting today in Denver, Colorado as patriots and Antifa-BLM mobs faced off. The shooting was caught on video.
According to police the shooting took place near the Art Museum. The suspect was immediately arrested."
THE DEEP SWAMP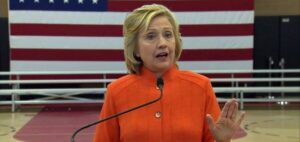 "Mike Pompeo: We have Hillary's deleted emails"
This is wonderful, but what is going to happen when all the emails are released. Is she going to be prosecuted? So far, after three years of investigation, one minor lawyer for the FBI plead guilty!
"Secretary of State Mike Pompeo said Friday the State Department has Hillary Clinton's deleted emails and could release them before the election.
"We've got the emails, we're getting them out. We'll get all of this information out so the American people can see them," Pompeo said in an interview with Fox News' Dana Perino. Earlier Friday, President Trump called for the release of emails from the private server Clinton used while she was secretary of state, including for classified information."
CHINA VS USA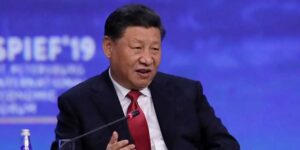 "China wants 'to kill millions of Americans,' analyst warns"
In the last six months, China threatened war with India, Taiwan, Hong Kong, and over the South China Sea. China's aggression towards Taiwan seems to be real preparing for war.
"China has been sending fighter aircraft and bombers into Taiwan's airspace this month while the ruling Communist Party is issuing threats. "The U.S. and Taiwan must not misjudge the situation, or believe the exercise is a bluff. Should they continue to make provocations, a war will inevitably break out," the Communist Party's Global Times newspaper said in a Sept. 18 editorial. "They are rehearsals on taking over Taiwan."
Gordon Chang, author of "The Coming Collapse of China" and a senior fellow at the Gatestone Institute wrote on Tuesday that Hu Xijin, the editor of the Global Times, also has "ominously" written that China is "morally justified" to war against Taiwan."
JERUSALEM JERUSALEM JERUSALEM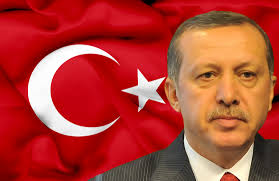 "Turkish President Recep Tayyip Erdoğan on Thursday implied that Jerusalem belongs to Turkey, referring to the Ottoman Empire's control over the city for much of the modern era.
In this city that we had to leave in tears during the First World War, it is still possible to come across traces of the Ottoman resistance. So Jerusalem is our city, a city from us," he told Turkish lawmakers during a major policy speech in Ankara. "Our first qibla [direction of prayer in Islam] al-Aqsa and the Dome of the Rock in Jerusalem are the symbolic mosques of our faith. In addition, this city is home to the holy places of Christianity and Judaism."
If you like our ministry, please consider making a donation to keep us going. May the Holy God of Israel bless you!
Revelation 22:20 He which testifieth these things saith, Surely I come quickly. Amen. Even so, come, Lord Jesus.