HALF-MAD: Pew Study 56.3% of Young White Liberal Women Diagnosed Mentally Ill
Verse of the Day
Romans 1:28

And even as they did not like to retain God in their knowledge, God gave them over to a reprobate mind, to do those things which are not convenient;

Being filled with all unrighteousness, fornication, wickedness, covetousness, maliciousness; full of envy, murder, debate, deceit, malignity; whisperers, Backbiters, haters of God, despiteful, proud, boasters, inventors of evil things, disobedient to parents, Without understanding, covenantbreakers, without natural affection, implacable, unmerciful:
Commentary
This is just fantastic. The information presented and the analyzing is fantastic. The sinful mind of the Hard Left is literally driving them insane. God is not in their thinking, and they are acting out the results of a reprobate mind. They are extremely dangerous and will act out their delusions. They really fit the mental diagnosis of neurotic. The following fits this mind:
THE FRUIT OF A REPROBATE MIND (VIDEO)
From article:"A neurotic personality has little natural buffer against stress. You see everyday situations as far worse than they really are, and then blame yourself for your extreme pessimism and negativity. You might constantly feel:

Neurotic behaviors also can stem from mental health problems. A neurotic personality may make you more prone to get what researchers call "internalizing disorders," such as:

Generalized anxiety disorder

Obsessive-compulsive disorder

Post traumatic stress disorder

Antisocial personality disorder"
WORLD WAR 3: UKRAINE AND RUSSIA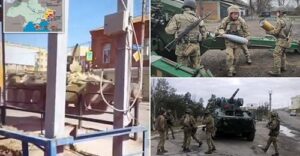 "Russia is threatening us with destruction': Ukraine warns Putin he will 'bear very painful consequences' if soldiers cross the border after President Biden CANCELS deployment of US warships despite Moscow's military build-up"
What I'm posting is real, but the USA MSM is silent! Is this a bluff on the part of Putin, I don't know, but the threat of war is 100% real. Remember, immediately after Biden was inaugurated, the Ukraine became aggressive towards reclaiming the states which seceded to Russia. This was backed by the EU. This action triggered Russia's actions towards war.
"Ukraine has warned Russia that it will bear 'very painful' consequences if it invades as Vladimir Putin continues to mass his forces in eastern Europe. Dmytro Kuleba, the country's foreign minister, said today that Moscow is 'openly' threatening Ukraine with 'destruction' by stationing 80,000 troops along its border – with more arriving every day – calling on western allies to provide more practical support and warning that 'words are not enough'.
He spoke following a meeting with the foreign ministers of Lithuania, Latvia and Estonia – NATO allies in the region – saying 'the four of us condemn the exacerbation of the situation by Russia.' 'The world is on the side of Ukraine and international law, and this is one of the elements of restraining Russia from reckless actions,' he added."
WORLD WAR 3: UKRAINE UPDATE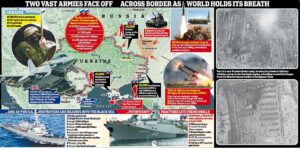 "Vladimir Putin is ready to roll: Secret Ukrainian government report says Russia will deploy ANOTHER 30,000 troops and will amass more than 7,000 tanks, armoured vehicles and artillery guns for 'invasion'"
It doesn't make sense for Russia to engage into an all-out war with NATO over Ukraine; however, Putin could use this situation as leverage for the Ukraine to give up on the three states that left for "peace". This could be Putin's objective in what is happening.
"Ukraine fears more than 100,000 Russian troops will be in place on its borders, ready to invade, by the end of the month.
A Ukrainian government report, obtained by the Daily Mail, estimates the Kremlin will deploy up to 30,000 extra soldiers, accompanied by more tanks and rocket systems, in support of 80,000 Russian troops already awaiting orders to advance. The figures are based on intelligence intercepts and satellite photographs as troops and equipment travel hundreds of miles across Russia to amass around its neighbour."
WORLD WAR 3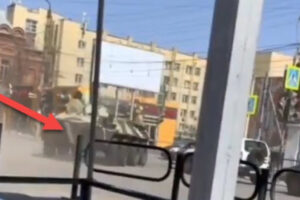 "Update: Looming War – Ukraine-Russia" I've been following Hal Turner's new site for many years. He has excellent sources, and on many news reports he is way out in front on the events. This is the case with the events unfolding in the Ukraine. His reports are 100% accurate. He is now reporting the war is inevitable!
Remember, the Deep State and the NWO want Russia taken down, but President Trump blocked this. These criminals lied about Russia and Trump to demonize both of them, and right after Biden was inaugurated, we are looking at the war they wanted.
What is really, really frightening is the NWO criminals are looking to depopulate the earth and what better way then a world war? If they turned the virus loose on us, and then flowed along with the genetic experiment, they are capable of doing anything evil!
I really hope this blows over. I don't think, short of nuclear war, NATO can defeat Russia and definitely not without the US military.
If you like our ministry, please consider making a donation to keep us going. May the Holy God of Israel bless you!
Revelation 22:20 He which testifieth these things saith, Surely I come quickly. Amen. Even so, come, Lord Jesus.