Hard Left Psychiatrist: Trump's 'mental impairment' a 'state of emergency'
Verse of the Day
2 Timothy 1:7  For God hath not given us the spirit of fear; but of power, and of love, and of a sound mind.
Commentary
It appears that the Hard Left is setting up President Trump with a mental disorder to have him removed from office. They will try and use the 25th Amendment to do it. This is being led by the ungodly psychiatrists who almost use voodoo in their practices. They are nothing more than drug dealers, destroying the lives of so many people, including our youth. I call them the Babylonians.
The psychiatrists were used by both the Nazis and Communists to advance their agendas. Anyone who stood against the Nazis and Communists were declared to have a mental disorder. They were arrested and thrown in prison, in mental hospitals or killed. The Babylonians were a driving force for these totalitarian regimes, and now they are revving up for the Hard Left reprobates in America. The psychiatrists are very dangerous and can be used for political purposes.
Here is the situation. The vast majority of psychiatrists are Hard Left; therefore to them, the President's agenda makes him insane, along with everyone who supports him! This agenda-driven view of mental health is just like what happened in Nazi Germany. The Babylonians are dangerous beyond anything you can imagine. They are a major force in the destructive actions of the Hard Left reprobate mindset.
May the Holy God of Israel bless and protect you.
Colossians 3:1 If ye then be risen with Christ, seek those things which are above, where Christ sitteth on the right hand of God.  Set your affection on things above, not on things on the earth. For ye are dead, and your life is hid with Christ in God. When Christ, who is our life, shall appear, then shall ye also appear with him in glory.
Hard Left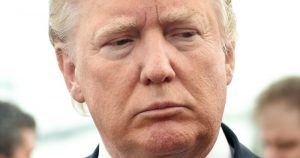 Yale prof: Trump's 'mental impairment' a 'state of emergency' 05/31/17
Twenty-Fifth Amendment to the Constitution
Section 4.
Whenever the Vice President and a majority of either the principal officers of the executive departments or of such other body as Congress may by law provide, transmit to the President pro tempore of the Senate and the Speaker of the House of Representatives their written declaration that the President is unable to discharge the powers and duties of his office, the Vice President shall immediately assume the powers and duties of the office as Acting President.
Thereafter, when the President transmits to the President pro tempore of the Senate and the Speaker of the House of Representatives his written declaration that no inability exists, he shall resume the powers and duties of his office unless the Vice President and a majority of either the principal officers of the executive department or of such other body as Congress may by law provide, transmit within four days to the President pro tempore of the Senate and the Speaker of the House of Representatives their written declaration that the President is unable to discharge the powers and duties of his office. Thereupon Congress shall decide the issue, assembling within forty-eight hours for that purpose if not in session. If the Congress, within twenty-one days after receipt of the latter written declaration, or, if Congress is not in session, within twenty-one days after Congress is required to assemble, determines by two-thirds vote of both Houses that the President is unable to discharge the powers and duties of his office, the Vice President shall continue to discharge the same as Acting President; otherwise, the President shall resume the powers and duties of his office.
"A Yale University professor of psychiatry has continued to push the ethical boundaries of her field by once again saying President Trump's "mental impairment" makes him unfit for office.
Professor Bandy Lee, an instructor in Yale's Department of Psychiatry, sat down with Chauncey DeVegato discuss her controversial approach to the President, saying that the "situation has come to such a critical level" that she had no choice but to "speak out."
"In fact, a state of emergency exists and we could no longer hold back," she added, arguing that the "highest ethical principles" of her field actually mandate that she speak out.
"We have an obligation to because many lives and our survival may be at stake," she continued, discussing an April conference she organized for like-minded colleagues called "Duty to Warn," the name of which references a psychologist's immunity from legal repercussions when disclosing information about a client who exhibits violent behavior.
As Campus Reform previously reported, the conference claimed to have an "ethical responsibility" to inform the American public about Trump's "dangerous mental illness," a defense Lee reiterated in her interview with DeVega."
Professors Claim Marine Corps Suffers from 'Toxic Masculinity,' 'Fraternity' Culture 05/31/17  I've often said that the Hard Left is the most destructive force on earth. Now this mind is set on destroying the US Marines! This mindset is now ready to destroy one of the finest forces ever. They want to feminize the Marines! The North Korean, Russian, and Chinese military must be laughing at America.
Exactly what the reprobates are attacking is what made the Marines such an effective and feared fighting force! When the Hard Left reprobates are finished, what is going to be left of America? To allow women into the Marines, the military had to lower their physical standards. This is insanity because women are not built for strength like men. This puts both the men and women in danger because they weaken the unit. Real men will find it difficult to join the Marines if it is feminized.
Isaiah 3:1-4  For, behold, the Lord, the LORD of hosts, doth take away from Jerusalem and from Judah the stay and the staff, the whole stay of bread, and the whole stay of water, (2) The mighty man, and the man of war, the judge, and the prophet, and the prudent, and the ancient, (3) The captain of fifty, and the honourable man, and the counsellor, and the cunning artificer, and the eloquent orator. (4) And I will give children to be their princes, and babes shall rule over them.

"Marines are so masculine it's "toxic," a Marine college professor declared in an interview with Vox.com.
"Women are more unwelcome in the Marines than in any other branch of military service," Vox writes: "The Obama administration opened the door for women to serve in combat roles. The unhappiest service about that order? The Marine Corps."
Prof. James Joyner of Marine Command and Staff College blames the problems arising from the introduction of females into the Marines on the Corps' 'toxic masculinity culture."
Another professor faults Marines for acting like frat boys: "The corps acts like a fraternity, according to Emerald Archer, an expert on women's advancement at Mount St. Mary's University in California. Many Marines, she said, believe that integrating women would ruin that brotherhood."
Even advertising for female recruits has reinforced the fraternity mindset, Vox claims: "The ad, titled 'Battle Up,' was meant to let women know they're welcome in the Marine Corps. But it also inadvertently refocused attention on the service's well-earned reputation for being a fraternity that often marginalizes or mistreats female troops."
The struggle to integrate women into the Marine Corps in nothing less than a battle for the institution's very "soul," Vox concludes: "So as the service tries to win battles around the world, the most important fight may be the one closest to home: the battle for the soul of the Marine Corps."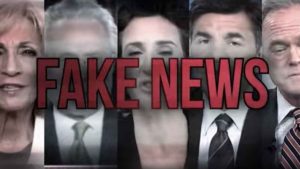 THE MEDIA'S FAKE NEWS MACHINE ROLLS ON TO TEXAS 05/30/17  What I found so interesting was the Congressman's description of what happened. The two Demoncrats went crazy when they found out that Congressman Rinaldi called ICE on the illegal aliens harassing him!
"Congressman Matt Rinaldi
Today, Representative Poncho Nevarez threatened my life on the House floor after I called ICE on several illegal immigrants who held signs in the gallery which said "I am illegal and here to stay." Several Democrats encouraged the protestors to disobey law enforcement. When I told the Democrats I called ICE, Representative Ramon Romero physically assaulted me, and other Democrats were held back by colleagues.
During that time Poncho told me that he would "get me on the way to my car." He later approached me and reiterated that "I had to leave at some point, and he would get me." I made it clear that if he attempted to, in his words, "get me," I would shoot him in self defense. I am currently under DPS protection. Several of my colleagues heard the threats made and witnessed Ramon assaulting me."
Hard Left/ Islam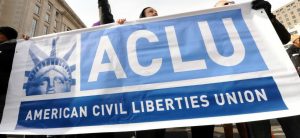 ACLU Opposes Maine Bill Criminalizing Female Genital Mutilation 05/31/17
Now the Hard Left is trying to protect the Muslim abuse of young girls by female genital mutilation. As I've said before many times, the Hard Left mind is the most destructive force on earth. Now this mind is lining up with Islam to go after a female sexual organ for NO medical reasons. It is solely to diminish the female and bring her under control. We are watching real evil rise in America, as the reprobates are teaming up with the Muslims.
Isaiah 59:7  Their feet run to evil, and they make haste to shed innocent blood: their thoughts are thoughts of iniquity; wasting and destruction are in their paths

"The American Civil Liberties Union launched a vocal opposition this week against a Maine bill criminalizing female genital mutilation (FGM), Mainely Media reports.
Republican Rep. Heather Sirocki is sponsoring the bill, saying that it would classify performing FGM as a Class B crime in the state, punishable by up to 10 years in prison and a $20,000 fine. The bill would also punish the parent or guardian of the victim.
However, the Maine ACLU staunchly opposes the protection. ACLU spokesman Oamshri Amarasingham said that the risk of mutilation isn't worth expanding Maine's criminal code. The Maine Coalition Against Sexual Assault also supported the ACLU, arguing that FGM is not happening in Maine.
Sirocki, however, pointed to a 2012 report from the Center for Disease Control, which found 500,000 victims of FGM in the US. Furthermore, the U.S. Immigration and Customs Enforcement found that 400 individuals have been arrested and 785 deported for FGM violations nationwide since 2003."
University of San Francisco to deify an Arab mass murderer 05/30/17  Day after day, I am showing you how one university after another is being turned over by the Lord to the Muslims. Higher American education is starting to look like that of the Europeans. This is going to affect politics, and soon you should see the Demoncrat Party start to turn completely against Israel. Parts of America are falling fast to the Hard Left and the Muslims. This is direct judgment on the nation for rejecting God and his word.
Romans 1:28  And even as they did not like to retain God in their knowledge, God gave them over to a reprobate mind, to do those things which are not convenient;

"University of San Francisco, a Jesuit school, no less, is presenting a lecture event on June 2, that will feature Aarab Barghouti as the guest speaker. Marwan, his father, is currently serving five life sentences in prison in Israel for specific murders, but bears responsibility for the murders of over 100 men, women and children in terrorist attacks in the Jewish state, some of them U.S. citizens.
"Only Israeli propaganda presents him as a terrorist," Aarab, the terrorist murderer's youngest son, is quoted as saying. "Nelson Mandela was also portrayed as a terrorist. He spent 27 years in prison. And then he became a hero and was awarded the Nobel Peace Prize. My father is a terrorist exactly like Nelson Mandela. To the Israelis I want to say: If you admire Mandela, you should know that my father is repeating Mandela's story. And if you do not esteem Mandela, I don't care what you think. I am certain that one day the Israelis will reach the conclusion that the only solution is peace, and you will never have another partner like him. One day, the Israelis will see who Marwan Barghouti is."
Hard Left/ Homosexuality
City: You can't sell blueberries unless you affirm gay marriage 06/01/17  I want you to see how vicious the Hard Left is. Their goal is to destroy Christianity and Christians. They hate us as much as the Nazis hated the Jews. If they get their way, they will act out on their hatred for us. They are ruthless and will never be satisfied until they destroy us.
This attack is just a small example of the future for America if the Hard Left is totally in charge. They are ruthless, just like the Nazis.
Romans 1:28-31  And even as they did not like to retain God in their knowledge, God gave them over to a reprobate mind, to do those things which are not convenient; (29) Being filled with all unrighteousness, fornication, wickedness, covetousness, maliciousness; full of envy, murder, debate, deceit, malignity; whisperers, (30) Backbiters, haters of God, despiteful, proud, boasters, inventors of evil things, disobedient to parents, (31) Without understanding, covenantbreakers, without natural affection, implacable, unmerciful:

"And for the past seven years, Steve Tennes and his family have sold their produce at the farmer's market owned by the city of East Lansing. But this year – city officials told the devout Catholic family that their blueberries and sweet corn were not welcome at the farmer's market – and neither were they.
Last year, someone posted a message on Country Mill's Facebook page inquiring about whether they hosted same-sex weddings at the farm.
Tennes told the individual they did not permit same-sex marriages on the farm because of the family's Catholic belief that marriage is a sacramental union between one man and one woman.
City officials later discovered the Facebook posting and began immediate action to remove Country Mill from the Farmer's Market – alleging the family had violated the city's discrimination ordinance.
"It was brought to our attention that The Country Mill's general business practices do not comply with East Lansing's Civil Rights ordinances and public policy against discrimination as set forth in Chapter 22 of the City Code and outlined in the 2017 Market Vendor Guidelines, as such, The Country Mill's presence as a vendor his prohibited by the City's Farmer's Market Vendor Guidelines," read a letter the city sent to the family.
It also did not seem to matter to city leaders that the farm is located 22 miles outside the city limits – and had absolutely nothing to do with the business of selling blueberries at the farmer's market."
World War 3/ North Korea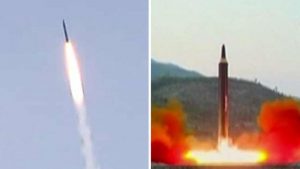 'SUCCESSFULLY' INTERCEPTED: Pentagon confirms it shot down ICBM-type target over Pacific Ocean with eyes on North Korea tensions 05/30/17   It appears that everyone is getting ready for WW3.
Micah 4:3  And he shall judge among many people, and rebuke strong nations afar off; and they shall beat their swords into plowshares, and their spears into pruninghooks: nation shall not lift up a sword against nation, neither shall they learn war any more.

"The U.S. military successfully shot down a mock nuclear warhead simulating the speed and range of a potential North Korean intercontinental ballistic missile, the Pentagon's Missile Defense Agency said Tuesday.
In a statement, the agency said an unarmed rocket launched from the Marshall Islands in the Pacific Ocean was "destroyed" by a ground-based interceptor launched from Vandenberg Air Force Base in Southern California as it traveled outside Earth's atmosphere.
The successful test was the first of its kind in nearly three years.
It came two days after North Korea tested a SCUD-type ballistic missile that landed in Japan's maritime economic zone in the Sea of Japan."
Israel/ The Coming Middle East War
Israel braces for its latest battlefront: the sea 05/30/17  There is not much written about the Israeli navy, so this article gives some good information.
"Amid a quiet-yet-massive arms race between Israel and Hezbollah, both sides are preparing for the possibility of a war branching out to sea.
The new reality for Israel's navy is that Hezbollah and Hamas are more than terrorist organizations—they represent new kinds of armies, and in Hezbollah's case, an army with advanced state-level weaponry.
The navy is also acquiring systems for defending itself—and others—against incoming rockets and missiles, former Israeli Navy Chief Vice Admiral Eliezer Marum told JNS.org. "The navy can deal with these threats," he said. "It has solutions for them now, should war break out. The situation is improving. Our ships can defend themselves, and protect the gas rigs."
Dealing with this threat involves not just defending Israel, but going on the offensive, Marum argued.
During a war, he said, Israel would need to destroy rockets and missiles "before they are fired. It does not matter who takes them out—the ground forces, the air force or the navy." If a Hezbollah missile "hits Haifa port, everyone will be affected," said Marum.
Even more important than offense, he said, is deterrence—making it crystal clear to Hezbollah what the price would be for firing any of these projectiles in Israel's direction."
Islam/ Christianity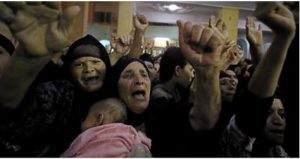 29 Slaughtered Coptic Christians, Including Children, Were Asked by IS to Deny Faith in Jesus but Refused 05/30/17  This has happened throughout history to Christians in lands under Muslim control. This is not new. The world does not seem to care about these people being murdered under Islam. May these people be blessed in the presence of the Lord Jesus.
Revelation 2:10  Fear none of those things which thou shalt suffer: behold, the devil shall cast some of you into prison, that ye may be tried; and ye shall have tribulation ten days: be thou faithful unto death, and I will give thee a crown of life.

"According to a chaplain, Friday's massacre of 29 Coptic Christians who were on their way to a monastery in Egypt occurred after Islamic radicals marched them off the bus one by one and asked them to deny their faith in Jesus Christ.
A priest identified as Father Rashed, a chaplain for one of the groups comforting the survivors of the attack, said in an article in Breitbart News on Sunday that 10 masked Islamic State militants did not simply open fire on the bus on its way to the Monastery of Saint Samuel the Confessor.
Instead, the IS radicals apparently stopped the bus, made the victims walk out, and asked each of them, including the children, whether they were Christians.
Rashed explained that the victims "were asked to renounce their Christian faith and profess belief in Islam, but all of them — even the children — refused. Each was killed in cold blood with a gunshot to the head or the throat."

Ephesians 2:10  For we are his workmanship, created in Christ Jesus unto good works, which God hath before ordained that we should walk in them.