Harvard Study Concludes Attending Prayer Services Leads to Longer Life
                      Verse of the Day
 Psalm 122:6 Pray for the peace of Jerusalem: they shall prosper that love thee.
Commentary
I wanted to post some good news, and this is how prayer effects our health. A massive study of 75,000 people over 16 years proved the health benefits of praying to the Lord.
We need prayer now more than ever as the nations sink deeper into sin and rebellion against God. The nations are in turmoil which will only get worse as we approach the Day of the Lord and the Second Coming of Jesus Christ. If this is so, how much sooner is the coming of the Lord Jesus for his bride, the Church!
May the Holy God of Israel bless and protect you.
Matthew 26:40-41 And he cometh unto the disciples, and findeth them asleep, and saith unto Peter, What, could ye not watch with me one hour? Watch and pray, that ye enter not into temptation: the spirit indeed is willing, but the flesh is weak.
Christianity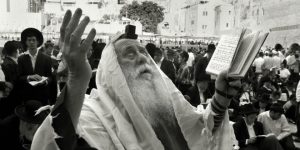 Harvard Study Concludes Attending Prayer Services Leads to Longer Life 06/26/16  I have a radio prayer show every Monday, Tuesday and Thursday. Wednesday is the Songs of Beulah land and prayer.
We have been praying for years and seen incredible answers to prayer. All are welcome. I post the invitation on this blog for each program.
James 5:16  Confess your faults one to another, and pray one for another, that ye may be healed. The effectual fervent prayer of a righteous man availeth much.

"A recent study published in the June issue of JAMA Internal Medicine indicates that women who attend religious services regularly may live longer than those who don't. In the study, four Harvard University researchers analyzed data collected from questionnaires given to 75,534 women over 16 years, between 1996 and 2012, documenting 13 537 deaths.
The results were conclusive. Attending services more than one time per week brought a 33 percent lower risk of premature death. More prayer created a greater effect. Attending less than once a week brought a 13 percent lower risk of premature death, and communal prayer twice a week brought a 26 percent lower risk of premature death.
"After multivariable adjustment for major lifestyle factors, risk factors, and attendance at religious services in 1992, attending a religious service more than once per week was associated with 33% lower all-cause mortality compared with women who had never attended religious services," the study concluded.
Another benefit the study discovered was that those who attended services were less likely to suffer from depression, were more optimistic, and less likely to smoke.
Perhaps the most surprising aspect of the study was a suggestion it made to medical practitioners.
"Frequent attendance at religious services was associated with significantly lower risk of all-cause, cardiovascular, and cancer mortality among women. Religion and spirituality may be an underappreciated resource that physicians could explore with their patients, as appropriate."
Of the 75,534 women who submitted to the survey, the majority were Christian and 1,700 were Jewish. The women answered questionnaires about their diet, lifestyle, and health every two years, and about their religious service attendance every four years.
"Because of the [comparably] small number it would be difficult to look at them separately and see if the results differ [for Jews]," the study's senior author, Tyler VanderWeele, an epidemiology professor at Harvard's T.H. Chan School of Public Health, told JTA."
Hard Left in the Military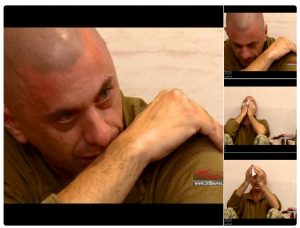 The US Military is Coming Apart at the Seams 06/26/16  Always remember that the reprobate mind is the most destructive force on earth. It is more destructive than Islam is. At some point Islam bottoms out, but the reprobates are locked into the total destruction of anything over which they gain control.
When you think of the reprobate mind in America, think of the French Revolution with all of its horrors.
The US military is a perfect example of this. It is being destroyed by Obama and his ilk. The nation does not seem to care about this since there is no outcry, and now the move is for the transgendered and women being drafted, then placed into combat units, even when they failed all the physical tests! This does not even touch on how the fighting ability of equipment is being destroyed.
I dread the thought of war with Russia, China or North Korea with this rabble now in charge and Obama leading. May God have mercy on the military, because it is ripe for judgment.
"The idea of allowing transgenders to serve in the military is another catastrophic social engineering concept courtesy of the Marxinist-Leninists in the White House and their dutiful minions in the DoD.
As US Defense Watch has reported before, Gender Identity Disorder is labeled as a mental illness, no matter what left wing advocates believe. Dr. Paul R. McHugh, the former psychiatrist-in-chief for Johns Hopkins Hospital and its current Distinguished Service Professor of Psychiatry, said that transgenderism is a "mental disorder" that merits treatment, that sex change is "biologically impossible," and that people who promote sexual reassignment surgery are collaborating with and promoting a mental disorder.
The Pentagon is therefore authorizing personnel with mental disorders to remain on active duty and it is inviting civilians with the illness to enlist as well! Furthermore, the military is going to waste millions in gender reassignment surgeries, when the military is drowning in budgetary and readiness quandaries.
Transgenderism is not looked upon as normal behavior by a majority of Americans, and like open homosexuality, it is another distraction from the military's mission and most importantly, another reason for the military's sinking morale.
What Obama and Carter and Mabus and the rest of the left wing social engineers don't understand is that men join the military because it is looked upon as a male rite of passage, something macho, a maker of men. Or it used to be. When the military becomes saturated with confused men who wear dresses and homosexuals; normal, red-blooded men will simply not want to serve.
Obama's social engineering is destroying the warrior spirit, discipline and morale of the US military. What could be a better example than the disgraceful conduct of the US Navy in the Persian Gulf last January, when Lieutenant David Nartker surrendered his men and boats to the Iranians without firing a shot, then proceeded to violate the Code of Conduct by groveling to the Iranians on worldwide TV, while one of his sailors was openly weeping on camera. Thankfully, someone in the Navy realized that action had to be taken against the sailors and officer involved."
World War 3
Robots, swarming drones and 'Iron Man': Welcome to the new arms race 06/24/16  Reading this article made me think that these coming weapons are what will be used during the Tribulation period. This article makes your head spin about what is coming. Man is really, really good at designing weapons to kill.
Isaiah 2:4  And he shall judge among the nations, and shall rebuke many people: and they shall beat their swords into plowshares, and their spears into pruninghooks: nation shall not lift up sword against nation, neither shall they learn war any more.

"The Pentagon hopes that this is the dawn of a third technological revolution, even if the conditions are markedly different. Instead of trying to offset the advantages of a single, traditional adversary, the Pentagon faces challenges on multiple fronts, including large, technologically advanced nations such as Russia and China, smaller, aspiring powers such as North Korea, and independent non-state actors such as the Islamic State.
As part of the earlier offset campaigns the Pentagon adopted military capabilities that emerged from its own labs. But big advances in robotics, biotechnology and computing are coming out of the commercial sector, much of which wants little to do with the Pentagon.
At DARPA, the Third Offset is viewed differently from the previous offset strategies, which gave the United States a firm lead over its adversaries for decades. This time, the effort is seen as much more dynamic, using technologies that evolve quickly over time, said Arati Prabhakar, the agency's director. Sometimes that will come through software that's easy to upgrade. Or through artificial intelligence, so that machines will be able to learn and adapt on their own.
"Where are the breakthroughs going to come from?" she said. "A theme is if you combine access to leading-edge commercial technology and deeply integrate it with DOD [Department of Defense] secret sauce, that's where you get phenomenal advancements in capabilities."
One example is DARPA's 132-foot-long autonomous ship. From the outside, it looks like another military ship. But without a crew, it can venture into hostile territory without the risk of human casualties, and it is "designed to go many thousands of nautical miles and has a tiny fraction of the operating cost of a destroyer," Prabhakar said.
Hard Left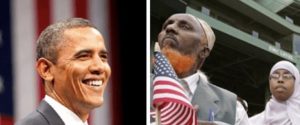 Obama Changed U.S. Citizenship Oath Specifically To Accommodate Sharia And Islamic Law 06/25/16  Obama has put America under Sharia law to allow the hard core Muslims into America. He is diabolically evil and there is no doubt that he is God's judgment on America for our nation's rejection and rebellion against God.
The Muslims are pouring into America for judgment, and the Hard Left is going along with it.
"Obama has pledged to fundamentally change the United States, and has found success over the years by ramming through laws that nobody has read, creating laws through regulation, and ignoring the Constitution through executive orders.
The United States Citizenship and Immigration Service (USCIS) has announced another change, courtesy of the Obama Administration.
Those that are requesting to become US citizens, through naturalization, are required to take an Oath of Allegiance. Part of that oath reads,
"…That I will support and defend the Constitution and laws of the United States of America against all enemies, foreign and domestic; that I will bear true faith and allegiance to the same; that I will bear arms on behalf of the United States when required by the law; that I will perform noncombatant services in the Armed Forces of the United States when required by the law…"
The Obama Administration is changing that wording to exempt people from combat, and non-combat services in support of the United States if, a person can demonstrate opposition to the clause,
"…based on religious training and belief or deeply held moral or ethical code."
Major beneficiaries to this clause are those that follow the Muslim teachings, more specifically Sharia Law, that allow for any practicing Muslim to lie about their allegiance to any organization or country as long as it furthers the Muslim faith. The teachings also restrict a practicing Muslim from bearing arms against another practicing Muslims.
As the United States is currently at war with radical Muslims throughout the world who use Sharia Law as an excuse to slaughter hundreds of thousands of innocent men, women, and children who do not share their fascist beliefs, it is somewhat peculiar that the Obama Administration would add a change to the Oath of Allegiance that specifically benefits Muslims who follow Shariah Law."
Islam – Jihad – Caliphate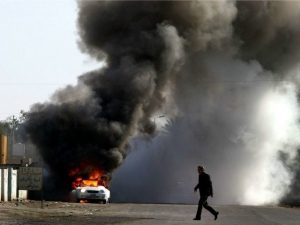 Alarm Bells In Jordan Over Possible Islamic State Onslaught" 06/25/16  According to the Bible, Jordan is going to be a major player against Israel in the end times. That is why I watch this nation very closely, and believe it is going to fall to ISIS or some group like it.
"The killing of six Jordanian Border Policemen near the Jordanian-Syrian-Iraqi border on Tuesday was "in all likelihood just the beginning" and a possible Islamic State attack on Jordan, warned an Arab intelligence source speaking to Breitbart Jerusalem.
The troops were killed after several car bombs exploded near their post, eyewitnesses said, in an attack authorities suspect was carried out by the Islamic State or an affiliated group.
Tuesday's attack didn't catch the Jordanian authorities by surprise, as they expected IS would try to compensate for setbacks in Iraq and Syria by instigating anarchy in Jordan."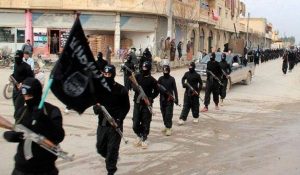 Islamic State expands beyond Iraq-Syria base with six armies on three world regions 06/25/16  Despite all of the talk about destroying ISIS, it keeps expanding and causing carnage throughout the world.
"The Islamic State terrorist group has created at least six functioning armies outside its Iraq-Syria base that threaten governments in Africa, the Middle East and Afghanistan, according to a new report to Congress.
Rather than shrinking, the Islamic State — also known as ISIL and ISIS — is metastasizing globally by attracting waves of henchmen in Libya, Egypt, Nigeria, Saudi Arabia, Yemen and Afghanistan, the Congressional Research Service said in a June 14 report for lawmakers.
The fact that six irregular Islamic State armies are operating in three world regions, not to mention various cells in Europe and the U.S., is in contrast to the Obama administration's generally upbeat reports on containing the violent group.
In another break from that positive White House message, CIA Director John Brennan told the Senate intelligence committee last week that, while the Islamic State has lost territory in Iraq and Syria, as well as thousands of fighters in those two countries, its ability to direct or inspire terrorist attacks remains robust.
"Our efforts have not reduced the group's terrorism capability and global reach," Mr. Brennan said.
The Islamic State's ability to operate terrorist franchises across multiple regions presents formidable challenges to stretched U.S. forces now focused on the group's Iraq-Syria base."
Jerusalem – Temple
Priests Re-learn How to Bring Ancient Harvest Bread Offering to Temple 06/26/16  Notice how this activity regarding the building of the third temple coincides with all of the prophetic events happening throughout the world! The prophetic picture really is coming into focus.
There is no doubt in my mind that the power of Islam must be broken before the this temple can be built. That is why I write about the huge wars coming to the Middle East, WW3, and the end of Islam. This temple will be built, and then the antichrist will go into it and proclaim that he is God:
2 Thessalonians 2:4 Who opposeth and exalteth himself above all that is called God, or that is worshipped; so that he as God sitteth in the temple of God, shewing himself that he is God.

"On Monday, a reenactment of a special Temple service was held in Jerusalem on the Armon Hanatziv Promenade. To a casual observer, it resembled a country fair. Families gathered for a pleasant afternoon, children gawked at displays of goats and produce, while the main event, a bake-off, featured two very unusual looking loaves of bread. It became clear this was not your normal gathering of farmers when bearded men in flowing white robes began to blow on long silver trumpets.
This full-dress reenactment of the Omer offering was an essential part of preparing for the rebuilding of the Jewish Temple, bringing it closer in the most practical ways."
Christianity
Noah's Ark in Kentucky Theme Park Is Replica of Biblical Proportions 06/24/16  Just like in the original "days of Noah" so in our day there is another one! This replica is the exact size of the original ark. As we are getting ready for the Second Coming of Christ, there is a full size Ark once again on the earth!
Matthew 24:37  But as the days of Noah were, so shall also the coming of the Son of man be.

"Noah's Ark is coming to life in Kentucky, where a full-scale replica is under construction.
The replica is planned to be completed by the July 7 opening of the Bible-based theme park Ark Encounter in Williamstown, Kentucky, ABC News reported.
The ark, which has a $100 million price tag, is designed to match the dimensions described in the Bible: 510 feet long, 85 feet wide, and 51 feet high.
"It's making the Bible come alive, really," creator Ken Ham told ABC. "By building Noah's Ark, we're saying, 'This really happened. This is plausible.'"
The massive biblical museum is located on 800 acres and will offer interpretations of the worldwide flood that Bible historians say happened between four and five millennia ago, Nooga.com reported."
1Thess 5:23 And the very God of peace sanctify you wholly; and I pray God your whole spirit and soul and body be preserved blameless unto the coming of our Lord Jesus Christ.