Has Britain avoided a 'European superstate'? France and Germany 'draw up plans to morph EU countries into one'
                    Verse of the Day
Revelation 13:7-8 And it was given unto him to make war with the saints, and to overcome them: and power was given him over all kindreds, and tongues, and nations. And all that dwell upon the earth shall worship him, whose names are not written in the book of life of the Lamb slain from the foundation of the world.
Commentary
What the Brexit vote showed was that the European states were ready to create a superstate! I don't think that they can create this super state before WW3. After WW3, the time will be ripe because the people will want it. The coming war is going to create the conditions to fulfill the end-time prophecy about a one world government, economy and religion. This war will bring the antichrist to power. It will lead directly to Armageddon and the Second Coming of Jesus Christ with his bride.
I really do not think that this war is too far way. Russia and China are ready. North Korea always seems ready. NATO says it is ready for the war, so one spark could ignite it.
No matter what transpires, keep your spiritual eyes focused directly on the Lord Jesus and his coming for us. This will keep you from fear.
May the Holy God of Israel bless and protect you.
Hebrews 10:25 Not forsaking the assembling of ourselves together, as the manner of some is; but exhorting one another: and so much the more, as ye see the day approaching.
New World Order – World Government/ World War 3

Has Britain avoided a 'European superstate'? France and Germany 'draw up plans to morph EU countries into one with control over members' armies and economies' 06/29/16  Brexit exposed the one-worlders' plans! They were desperate to create a monster in Europe through the European Union, but the British vote defeated this. They want all power into the hands of this superstate. They had this planned all along!
Look at how quickly they now want to create a European superstate without NATO! They have been exposed. I see Europe degenerating before our eyes. As it comes apart, many countries are not going to go along with this power grab by France and Germany!
This could affect NATO unity and greatly weaken Europe before Russia. This is a great benefit to Russia. If I was Putin, I would not press things right now and let this play out to see if Europe implodes. If Europe does implode, then the Russia army might be able to just walk to the English Channel! Wow, are these exciting times.
"France and Germany reported to have drawn up 'superstate plan'
It would mean members give up armies and economic power to the EU
Report 'leaked' in Poland where it has been branded 'not the solution'
Leaders of Germany, France and Italy said EU was 'indispensable' tonight "
Hard Left in the Military
Schriever Air Force Base colonel wants adultery case tossed, claims law discriminates against heterosexuals 06/29/16  Look at the disgrace of the once-vaunted US military. Look at the high standards now being torn down.
The US military under Obama and the Hard Left officers are turning our military into rabble. It will not take too much longer until the US military will be completely under the control of the reprobates, and be a great danger to the American people. It will be turned into very dangerous rabble with reprobate officers.
This is the dream of the Hard Left because this rabble will do whatever they are told to do without any idea of right and wrong.
"Lawyers for a Schriever Air Force Base colonel argued Monday that a half-dozen adultery charges against him should be thrown out because the military's law banning extramarital sex discriminates against heterosexuals.
Col. Eugene Marcus Caughey is headed for an August court-martial on charges of rape, assault, taking a dirty selfie and the adultery counts. He was in court Monday for a formal reading of the charges and to argue pretrial motions.
Maj. Keith Meister, one of three attorneys defending Caughey, told Air Force judge Col. Wes Moore that the military's definition of adultery as sex between a man and a woman hasn't keep place with its definition of marriage, which now includes same-sex couples. That's because the military's adultery law requires "sexual intercourse" as an element of guilt, which the Pentagon defines as an act between a man and a woman.
"A homosexual man or woman couldn't commit adultery as defined," Meister argued."
Navy investigation finds US sailors captured in Iran were unprepared 06/30/16  This flows from Obama right down to these sailors. I write about the military turning into a rabble, and this is exactly what I said was coming. Remember, the Hard Left reprobate mind destroys everything that it touches.
The big issues right now are the transgendered in the military and not getting ready for war. If Clinton is elected, the military will be a rabble. We have a slight chance to turn it around with Trump, but the moral corruption is so deep and the military so demoralized, I doubt that it can turned it around.
The US military is in big trouble, just like the rest of America. This is so sad, and to think that just 8 years ago the US military was the finest in the world.
"Weak leadership, poor judgment, a lack of "warfighting toughness" and a litany of errors led to the embarrassing capture and detention by Iran of 10 U.S. sailors in the Persian Gulf in January, according to a Navy investigation released Thursday.
Six officers and three enlisted sailors have been disciplined or face disciplinary action.
The trouble began even before the sailors left port in Kuwait aboard two 50-foot boats on a short-notice, 300-mile journey to Bahrain. They were delayed, unprepared, poorly supervised and ill-suited for the mission, the report saId."
Hard Left/ Islam

THE AMERICA-HATING OBAMA 'HOMELAND SECURITY' APPOINTEE 06/30/16  NOTE: This site gives great information but sometimes there are lewd pictures which are found on the bottom. Please be aware of this when reading the article.
Once again, an appointment like this woman shows the real heart of Obama. He hates America and is doing everything he can to destroy us. And he certainly feels the same way about Israel.
"In addition, this multi-talented woman is also a self-described "online activis[t]" whose mission is "to elevate the voices of those who are often not heard." Her Twitter posts are rife with allegations of — (what else?) — American racism and "Islamophobia." Some examples:
"I can't deal with people saying America is the best nation in the world. Be critical. Be conscious. Don't be idiots."
On April 15, 2013, Alawa responded to activist Pamela Geller's assertion that the Boston Marathon bombings of that day were acts of "jihad" by tweeting: "go fuck yourself."
"We are living in a country that deems it 'freedom of speech' to spew absolutely hateful ish [slang for 'sh**'] about Muslims."
"9/11 is your day to pull out your flag themed clothing, and my day [as a Muslim] to look behind my back as I walk home."
"… I can't wait until [the television program] @TheBachelor has a man or woman be the star of the show that isn't pure white. Or 'prettily mixed.' Because, Ya know, @TheBachelor, white people in America? They're not gonna be dominant majority for much longer."
On April 23, 2015, Alwai tweeted: "How the hell is the shit @PamelaGeller is spewing 'free speech'? it's straight up warmongering hate speech. It's xenophobia."
"THE US HAS NEVER BEEN A UTOPIA UNLESS YOU WERE A STRAIGHT WHITE MALE THAT OWNED LAND. straight up period go home shut up."
"Being American [after 9/11] meant you were white. And my immigrant self started fighting for the right to be just as American."
In September 2015—the day after Secretary of State John Kerry had announced that the U.S. was planning to accept some 185,000 Syrian refugees during 2016-17—Alawa mocked the "Salty white tears all over my newsfeed." Her implication was that many white people opposed the plan because they were anti-Muslim bigots."
Islam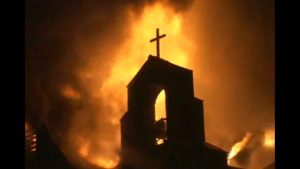 WILL THE TERRORIZATION OF EGYPT'S CHRISTIANS 'NEVER STOP'? 06/29/16  This can happen at anytime to Christians in a Muslim country. Under Sharia law they have no rights. I could post articles like this everyday.
In a real sense, we all should be Islamophobes, since they want to kill us because of our faith in Jesus Christ.
John 15:18  If the world hate you, ye know that it hated me before it hated you.

"In a chronically familiar scene, angry, rioting Muslims in Egypt burned down around 80 Christian homes on June 17. In the words of one of the victims, Moses Zarif,
On Friday afternoon, after noon prayers, a large number of Muslims gathered in the front of the new house of my cousin because a rumor had spread in the village that it would be turned into a church. They were chanting slogans against us: "By no means will there be a church here" and "Egypt will remain Islamic!"
According to the report, rioting Muslims beat the two cousins, attacked the building, destroyed all construction materials, and threw rocks at any Christian trying to intervene. Then they "turned their wrath on the Christian homes adjacent to the building, hurled rocks, looted houses and set fire to any Christian property in their wake."
When the local priest heard what was happening, he rushed to the scene — only to be attacked while in his car; the Muslims climbed on it, stomped on it, and damaged it."
Muslim in Eastern Uganda Burns 9-Year-Old Son for Accepting Christ, Sources Say 06/29/16  I posted this article just to keep you aware of the horrors of Islam which are conducted on a regular basis throughout the Muslim world. This is a brutal religion that relies on fear, intimidation and violence to keep it going.
Islam has a date with destiny with the Holy God of Israel, who will destroy it as the Muslims try to destroy Israel and make Jerusalem the capital of a caliphate.
Matthew 18:6  But whoso shall offend one of these little ones which believe in me, it were better for him that a millstone were hanged about his neck, and that he were drowned in the depth of the sea.

"The Muslim father of a 9-year-old boy in eastern Uganda who put his faith in Christ this month tied his son to a tree and burned him, sources said.
Nassif Malagara of the Kakira Parish area, Kisozi Sub-County, Kamuli District decided to become a Christian after a neighbor took him to visit a church in another village, undisclosed for security reasons, on June 5.
"At the end of the service, Nassif remained behind and then followed me to the church's pastry room and requested that he wanted to receive Jesus as his personal savior," the pastor of the church told Morning Star News. "I was a bit hesitant, but after his continuous press, I then prayed with him, and he left."
"He started beating me up with sticks, but I managed to escape to a nearby bush," Nassif said. "My father then followed me and got hold of me back to the homestead, where he tied me up to a banana tree. He went into the house and came back with a hot piece of wood. The banana tree had dry leaves, which caught fire and caused serious burns on my body."
Neighbors heard his screams for help and rescued him, he said, and took him to Kamuli Hospital. The hospital's Walwawo Zubari told Morning Star News that Nassif had burns on several parts of his body."
American Politics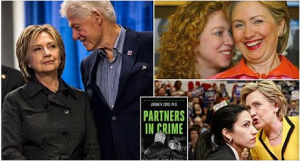 Slush funds to pay 'personal consultant' Huma Abedin, a $34,000 a night Caribbean holiday for daughter Chelsea and payoffs to silence Bill's sex accusers – How Hillary has used donations to the Clinton Foundation as her 'personal piggy bank' 06/30/16  The British papers are running with this while I expect that there will be little coverage in America.
The Clintons are truly organized crime at the highest level and are totally corrupt.
In America's present spiritual condition we deserve her as president, and only by God's mercy we will not get her. She would be God's final judgment on America.
"Jerome Corsi claims in his book, Partners in Crime, that the Clinton Foundation is 'a vast, criminal conspiracy' and 'a slush fund for grifters'
The money that was donated to help earthquake victims in India and Haiti and HIV/AIDs sufferers has mostly enriched the Clintons, Corsi claims
The Clinton family also schemed to monetize the White House
Hillary used her position as Secretary of State to leverage lucrative deals for the Foundation as well as six-figure speaking fees for Bill Clinton
The scheme engineered through the Foundation has enriched the Clintons by hundreds of millions of dollars
It also added $2billion to the Clinton Foundation and raised $1billion for Hillary's second run for the presidency
Corsi claims that the Clinton Foundation is 'a philanthropic foundation the Clintons appear to use as a personal piggy bank'
Corsi is a political commentator and author of two New York Times bestsellers that criticized the Democratic party."
American Politics/ Pro-Life
GOP Gubernatorial Candidate Chris Sununu Casts Deciding Vote To Fund Planned Parenthood in New Hampshire 06/30/16  This is a great example of why I detest the Republican Party. He voted for PP, knowing full well what it did with the dead babies' bodies! How do you describe someone like him: without integrity?
"Chris Sununu, a GOP gubernatorial candidate in New Hampshire and member of the state Executive Council, surprised fellow Republicans by voting to approve $549,000 in funding to Planned Parenthood.
Sununu's vote for a contract that includes even retroactive funding for Planned Parenthood in the state, is a reversal of his vote last year following the release of a series of videos exposing the abortion business' apparent practice of selling the body parts of babies it aborts on the open market. At that time, Sununu helped to kill a measure in the state to provide the funds."

Daniel 7:5-7 And behold another beast, a second, like to a bear, and it raised up itself on one side, and it had three ribs in the mouth of it between the teeth of it: and they said thus unto it, Arise, devour much flesh.
After this I beheld, and lo another, like a leopard, which had upon the back of it four wings of a fowl; the beast had also four heads; and dominion was given to it.
After this I saw in the night visions, and behold a fourth beast, dreadful and terrible, and strong exceedingly; and it had great iron teeth: it devoured and brake in pieces, and stamped the residue with the feet of it: and it was diverse from all the beasts that were before it; and it had ten horns.