"Hillary Clinton has 1 Year to Live," says Medical School Professor
Verse of the Day
 Proverbs 14:34 Righteousness exalteth a nation: but sin is a reproach to any people.

Commentary
I was riveted watching this video below, in the first article. It appears that she is suffering from Subcortical Vascular Dementia, which is fatal. Once diagnosed, the life span is 3-5 years and she was diagnosed in 2013. This means that she is heading into the final and fatal stage of this disease. If this diagnosis is correct, she does not have much longer to live. At the end, the decline is very rapid. There is no doubt that she is a very sick woman.
There is great irony that the severity of her illness was manifested publicly on 9/11 because the Benghazi incident took place on 9/11 in 2012! In our opinion, this was God's judgment for what she did with Benghazi and all of the lies that she promoted.
May the Holy God of Israel bless and protect you.
Isaiah 9:6-7 For unto us a child is born, unto us a son is given: and the government shall be upon his shoulder: and his name shall be called Wonderful, Counsellor, The mighty God, The everlasting Father, The Prince of Peace. Of the increase of his government and peace there shall be no end, upon the throne of David, and upon his kingdom, to order it, and to establish it with judgment and with justice from henceforth even for ever. The zeal of the LORD of hosts will perform this.
American Politics
HILLARY'S HEALTH! (MUST WATCH)
****Hillary Clinton has 1 Year to Live," says Medical School Professor (Video)**** 09/09/16 
"Hillary Clinton might actually have 1 year to live based on medical records that were leaked indicating she has a disease called Subcortical Vascular Dementia. While many videos have been made about her health, all of them have missed the severity of her illness. She could die very soon, since Vascular Dementia is progressive and has a 3-5 year life expectancy.
Clinton actually has a severe form of the disease that impacts the subcortex region of the brain, which includes the brainstem. This might explain why Clinton is dry-coughing so much. The brainstem controls primitive functions of the body like breathing, heart rate, and blood pressure. When there is ischemia to this region, B/P, HR, and breathing won't function correctly. Hillary's cough is so noticeable because she can't seem to get over it. Most people only need a couple of coughs and they are able to overcome what is in their throat. But not Hillary. Hillary has tried to explain that she has an "allergic cough." This is completely false and a lie. Based on her medical records, it is related to her Vascular Dementia, which she is dying of.
She could rapidly decline if circulation is weak to the brainstem. I am very concerned about Hillary, and if her VaD diagnosis is true, she would likely face increasing difficulties over the next few months."
Hillary Clinton Abruptly Leaves 9/11 Memorial Ceremony Early, Reports Say She Fainted on Way to Van 09/11/16  Recently, I have posted some articles/vudeos about Clinton's failing health. One in particular about her not having long to live because of brain damage is above.
As I watch her during the campaign, she looks worse and worse, and just yesterday she had another coughing fit. I think that she will be forced to drop out of the race, or she possibly could die before the election.
If she is unable to continue as a candidate, this will be the first time in US history and it will create an incredible legal challenge! What will happens since early voting already is taking place in North Carolina!
Titus 2:13 Looking for that blessed hope, and the glorious appearing of the great God and our Saviour Jesus Christ;

"Democratic presidential nominee Hillary Rodham Clinton reportedly fainted on the way to her van after she abruptly left the 9/11 memorial ceremony at Ground Zero of the attack on the 15th anniversary, having to be helped into her vehicle by a protective detail.
Several reports have surfaced since Clinton abruptly left the 9/11 memorial ceremony that she had a medical emergency and fainted on the way to her car. Her U.S. Secret Service protective detail actually had to help carry her into her car, according to a Fox News report from Rick Leventhal."
Sick Hillary Clinton Has Rolling Hospital Bed Backstage At Rally 09/08/16  After watching, this you have to wonder if Hillary will make it to the election. If she does win, how is she ever going to survive four years?
Trump Rallies Evangelicals: Our Faith Will Lead the Country back to Unity 09/09/16  If he supports us and Israel, once again God can bless America, so we don't end up judged as Sodom and Gomorrah was! There is a ray of hope. We need to keep praying,

Psalm 144:15  Happy is that people, that is in such a case: yea, happy is that people, whose God is the LORD.

See short video of Trump's speech: We will cherish, defend our Christian heritage
"Donald Trump called for the roughly 1,500 people who gathered at the Values Voter Summit to help unite the divided nation.
"You have to get out and vote!" Trump told the ballroom filled with faith motivated voters, suggesting they didn't get out and vote in the 2012 presidential election. "If you do, we're going to win by a lot."
He thanked evangelicals for supporting him during the GOP primary.
"It will be our faith in God and his teachings, in each other, that will lead us back to unity," the Republican nominee stated while speaking at the Omni Shoreham Hotel. "It's that spirit of giving that we will need…to rebuild this country."
Hard Left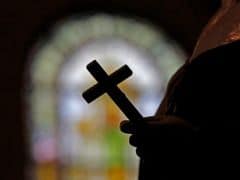 Civil Rights Commission: 'Religious Liberty,' 'Religious Freedom' Code Words for Intolerance, Homophobia, and 'Christian Supremacy' 09/09/16  This is a clear reputation of the Bible and a direct attack on Christianity.
Every evil in America is blamed on Christianity! Notice how they want to protect Islam, while at the same time demonizing Christianity! They don't intend to stop with this report. If they can get their way, they will move to destroy Christians. They simply hate us. If you ever doubted me, the reprobates just put it in writing for you!
"A new report by the United States Commission on Civil Rights supports the majority on the federal commission, who say that efforts to protect religious liberty and freedom are really a way for individuals and entities to discriminate against people who don't share their beliefs.
"The phrases 'religious liberty' and 'religious freedom' will stand for nothing except hypocrisy so long as they remain code words for discrimination, intolerance, racism, sexism, homophobia, Islamophobia, Christian supremacy or any form of intolerance," Martin Castro, chairman of the commission, said in a statement included in the 296-page report.
"Religious liberty was never intended to give one religion dominion over other religions, or a veto power over the civil rights and civil liberties of others," Castro said. "However, today, as in the past, religion is being used as both a weapon and a shield by those seeking to deny others equality."
In Colorado, a county revolts against legalized marijuana 09/09/16  This is a really good article about what is happening in Colorado since the state legalized recreational marijuana. It is only going to get worse as the drug destroys the minds of the youth.
A drug like this could turn this state into a "third world" type nation. When used recreationally, this drug puts people's minds directly in satan's realm.
"A registered Republican, she expressed worry about rising crime and what she saw as a sharp uptick in homelessness. "I don't mean your typical down-and-out guy in his 60s with a bottle," she said. "I'm talking 20-somethings. And that's what really struck me: What are they doing here?"
Pro-Life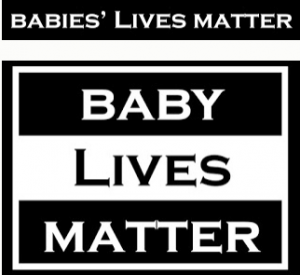 "Baby Lives Matter" & "Babies' Lives Matter" t-shirts, stickers, etc. 09/12/16  In a clever play on the "Black Lives Matter" meme, Ken Ammi of True FreeThinker (whose work we often feature in the Image and 666 blogs) has launched a line of pro-life T-shirts and stickers. We hope everyone will check out his message and support the pro-life cause.
"You can also use the hashtags #BabyLivesMatter and #BabiesLivesMatter so as to keep bringing attention to the infant holocaust."
Islam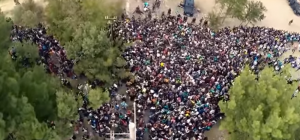 Migrant Gangs Sexually Assault German Women…Again! 09/08/16  This is just an update to show the Muslim assault on European women has not subsided! This is going to be an ongoing problem for the Europeans. They hate the Jews and Israel, well now they have Muslims and allah to deal with.
"In what many news outlets are calling a "copycat" sexual assault attack on German women, police are investigating many reports of sexual assaults by migrants.
The most recent attacks bear an eerie resemblance to the sexual assaults carried out by multiple migrants during last year's New Year's Eve in Cologne, Germany.
The most recent incidents of rape and sexual assault at the hands of migrants came during last weekend's "Essen Original" festival in the town of Essen. The typically family-friendly festival has been celebrated for over 20 years without incident."
Islam/ The Coming Middle East War
Shiite alliance against Saudis grows tighter 09/08/16  There is no doubt that the Islamic civil war is coming. This is background information on the buildup toward this war.
"In his annual message addressed to pilgrims on Sept. 5, Iran's Supreme Leader Ayatollah Ali Khamenei attacked the Saudi alliance and described the Saudi leaders as strife instigators in the region. He blamed them for the chaos and destruction across the Muslim world, naming Iraq, Syria, Bahrain, Yemen and Libya as affected areas.
Iran had made an announcement about forming a Shiite liberation army to face Saudi and Israeli threats, as Iran believes the two countries are allies. On Aug. 18, Brig. Gen. Mohammad Ali Falaki, a commander of the Iranian Islamic Revolutionary Guard Corps (IRGC) who spearheaded several operations in Syria, announced the formation of a Shiite liberation army including men of different nationalities — Iraqis, Afghans and Lebanese, among others.
He said that Gen. Qasem Soleimani, the head of Iran's elite Quds Force, will lead the army whose forces are currently fighting in Iraq, Syria and Yemen. Soleimani hopes to open new fronts in other regions in the Middle East."
World War 3
With each test, N. Korea inches closer to being able to send a nuclear-tipped missile to the U.S. 09/09/16  This is a huge step for North Korea in its quest to develop a nuclear weapon capable to hitting the US. Kim Jong Un's dream is to be able to strike the US with a nuke!
We are a very sinful nation and NK just might be God's rod-of-judgment against a totally rebellious America. Will the nation turn back to the Lord and be spared? Where is the Church?
"North Korea has taken a key step toward its goal of developing a nuclear-tipped missile capable of reaching the mainland United States, analysts said Friday after Kim Jong Un ordered yet another nuclear test.
The test, which Pyongyang said was a "nuclear warhead explosion," appeared to be North Korea's biggest yet.
"It's a clear indication of progress towards developing a miniaturized nuclear warhead for North Korea's ballistic missiles," said Alison Evans, a North Korea analyst at IHS Markit, a consultancy.
"We estimate that North Korea has an inventory of 15 or 20 nuclear weapons and that they could be put on a truck or a short-range missile. But what North Korea is aiming for is to put them on an intercontinental ballistic missile," she said."

Jeremiah 33:2-3 Thus saith the LORD the maker thereof, the LORD that formed it, to establish it; the LORD is his name; Call unto me, and I will answer thee, and show thee great and mighty things, which thou knowest not.