How Democrats Brought a Muslim Child Molester to America
Verse of the Day
Titus 2:13  Looking for that blessed hope, and the glorious appearing of the great God and our Saviour Jesus Christ;
Commentary
This is all part of the surreal mindset, the reprobate mind, to which a huge section of America has been turned over. It seems that these people are annoyed that the Muslim was found to be a child molester, rather than be upset that he is a criminal molester of a 12 year old girl, which is legal under Islam!
May the Holy God of Israel bless and protect you.
Hebrews 9:28  So Christ was once offered to bear the sins of many; and unto them that look for him shall he appear the second time without sin unto salvation.
Hard Left/ Pedophilia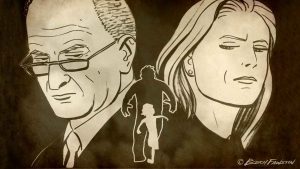 HOW DEMOCRATS BROUGHT A MUSLIM CHILD MOLESTER TO AMERICA 03/09/17
"After Hussain was arrested for abusing a little girl, Shapiro bailed him out and hosted him at his house. Shapiro is a vocal opponent of President Trump. President Trump had tried to keep the likes of Hussain out of America. The president had tried to protect a little girl in Saranac Lake from being molested.
Rich Shapiro instead tried to protect Hussain from being photographed by putting his hands in front of the camera. And that too is the choice we all face. Some of us protect little girls. Others protect the likes of Hussain. "I think it could have provided an opportunity for cultural enrichment for our local community," Jim Tucker of Paul Smith's College had objected when Hussain's visa was denied.
Tucker was one of those thanked for their help in getting Hussain into this country. And Tucker would go on defending Hussain even after everything that happened. It's hard to give up on your cultural enrichment.
The welcome wagon for Hussain's brand of cultural enrichment had been rolled out as soon as he arrived. Fred Mazzeo, the owner of the Porcupine, a local inn, picked them up at the airport and hosted them. He took a selfie with them in the car on the way from the airport.
"That's SL mojo and that is the kind of mojo that makes SL special," Mayor Clyde Rabideau cheered. The inn was where the Muslim guest allegedly repaid the generosity of the people of Saranac Lake by molesting one of their daughters. It takes a special kind of mojo to do that."
American Politics
CIA And The Trump Tower Wire Tactic 03/09/17  Make sure that you watch this video because it is loaded with great information about what is going on with the CIA vs. President Trump.
This has the possibility of taking down Obama and all of those around him. Normally, I would say that there would be no chance to get Obama, Lynch, etc., but the Lord is with Trump and this might all be part of draining the Washington, DC swamp.
Luke 12:3  Therefore whatsoever ye have spoken in darkness shall be heard in the light; and that which ye have spoken in the ear in closets shall be proclaimed upon the housetops.
Hard Left/ Islam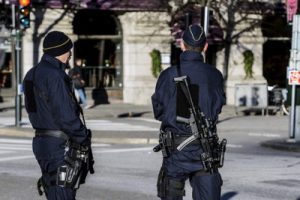 Sweden: Muslim classmates gang rape 14-year-old girl in school, remain enrolled because "rapists are victims too," says principal 03/10/17  I watch Sweden very closely as this nation is leading the way for suicide by Muslims. The reprobates' minds in Sweden are here in America also, but there is push back in America, while there appears to be none in Sweden. The Hard Left is in full control of Sweden and look at the result.
When you read the article, you will see the Hard Left mind comes to the conclusion that the rapist is a victim also because he received a harsh prison sentence!!!
Ephesians 4:17-18 This I say therefore, and testify in the Lord, that ye henceforth walk not as other Gentiles walk, in the vanity of their mind, Having the understanding darkened, being alienated from the life of God through the ignorance that is in them, because of the blindness of their heart:

"A 14-year-old Swedish girl who was sexually abused in her school by two boys is now receiving her education at another school, while the attackers remain enrolled at their current school. One of them, a 16-year-old carrying the Arab name Ajuub, suffers from an "impaired ability to understand what is right and wrong," the verdict stated. He was therefore punished mildly. Other school kids' parents, as well as the principal, are now unhappy with the situation.
The gang rape was committed on the 30th of May last year at the restrooms of a school in Skane, in the south of Sweden. Both boys, Ajuub plus an unnamed 15-year-old, raped the victim vaginally as well as orally. They were sentenced in December, Sydsvenskan reports. Ajuub was convicted to 100 hours of youth service plus 24 meetings with a social worker "in order to learn to make better decisions," while the 15-year-old is considered by Swedish law to be too young to be held criminally responsible and has thus been set free.
The first few days following the sex assault, the girl, called Tindra, was too afraid to tell her mother about the ordeal, not daring to go back to school again. Apparently, the youngest assailant had spread rumours about the victim for several months, calling her "a whore that sells sex for money." He also threatened the girl with violence.
'Rapist is a victim too'
The school principal, who wishes to remain anonymous, says he "struggles" with the case and thinks about it "every day and every hour." He'd furthermore like a "dialogue with the government" on the issue.
When addressing parents' concerns, the principal says he didn't feel the need to officially notify them since:
"there is no obligation for a school to go out and announce that there's a student who has been convicted of rape."
He then suddenly starts talking about "taking the whole picture into account," and the interview takes an even odder twist:
"All three youths involved were our students here and all three are, in a way, victims in this case. The boy who was convicted has gotten a pretty harsh punishment, which turns him into a victim as well."
Islam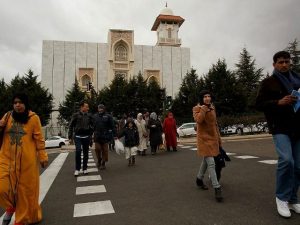 Muslims Call for Marriage to Christian Women to 'Strengthen' Islam in Spain 03/08/17  This comes from Muhammad, for the Muslim men to marry non-Muslim women. The men then use force to raise the children as Muslims and thus gain control of a society by sheer numbers.
The Western women now are so weak-minded that I think many will go along with "marrying" a Muslim. They were feminists, but God is giving the West over to Islam, so many might do this. This is mind boggling to go from a feminist to marrying a Muslim! The real Muslims will never allow their daughters to marry an infidel, and this is one of the roots of Muslim honor killing of their females.
Revelation 1:7  Behold, he cometh with clouds; and every eye shall see him, and they also which pierced him: and all kindreds of the earth shall wail because of him. Even so, Amen.

"Hundreds of posters displayed in a migrant-dominated part of Barcelona are urging Muslim men to marry Spanish women in a bid to spread Islam, and inviting members of the community to an "information meeting".
The posters, which are derogatory about Christians but call on 'Brothers' to marry women of the religion to "strengthen" Islam, have been plastered through the neighbourhood of El Raval. Official data collected in 2014 found that 56.7 per cent of residents in El Raval were born abroad.
"It is permissible and encouraged that the Muslim man marries honest and chaste women who belong to the People of the Book. Even though they have distorted and altered the tradition, they are still suitable for marriage."
Hard Left/ Israel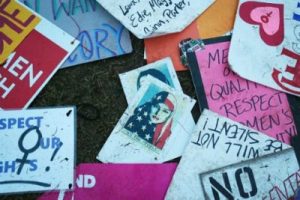 Women's Strike Platform Calls for Israel's Destruction 03/10/17  You can tell right away that this "Women's March" is evil because part of their agenda was to attack Israel. This is the tip-off that there is evil at its root, and it is against the Lord.
Look at how easily the Hard Left mind can be brought in line against Israel! It is just natural to the reprobate mind to be against whatever God is for! These are easily manipulated people who are dangerous because they can be whipped into a howling mob.
Psalm 2:1  Why do the heathen rage, and the people imagine a vain thing? The kings of the earth set themselves, and the rulers take counsel together, against the LORD, and against his anointed, saying, Let us break their bands asunder, and cast away their cords from us. He that sitteth in the heavens shall laugh: the Lord shall have them in derision.

"The leaders of the "women marches" are Jew-hating, terror-linked operatives. What rights are these women fighting for? The rights of oppressed women in the Muslim world? It is never mentioned. On the contrary, the terror-tied leader Muslim activist, Linda Sarsour, is a pro-sharia Jew-hater. And these marches are calling for the destruction of Israel. These left-wing marches sound like the Bund rallies in the run-up to World War II.
The International Women's Strike, a grassroots organization connected to the Women's March on Washington, is using Wednesday as an "international day of action" to support "resistance not just against Trump and his misogynist policies, but also against the conditions that produced Trump, namely the decades long economic inequality, racial and sexual violence, and imperial wars abroad." Among the Women's Strike's stated goals to help make this a reality is "the decolonization of Palestine."
The Women's Strike platform described the "decolonization of Palestine" as being part of "the beating heart of this new feminist movement. We want to dismantle all walls, from prison walls to border walls, from Mexico to Palestine."
"Decolonization of Palestine" is often used as a euphemism for the destruction of the existing state of Israel."
As the World Has Done to Israel
This Region of the World Is Being Hit by the Worst Economic Collapse It Has Ever Experienced 03/09/17  Both Brazil and Venezuela viciously attacked Israel, and as I warned, these nations have fallen under God's curse. I also said the same about Sweden.
Now we clearly can see the curse of God hovering over Brazil and Venezuela. They are being slowly destroyed with no remedy! Now diseases are starting to rum rampant across these countries.
Obadiah 1:15  For the day of the LORD is near upon all the heathen: as thou hast done, it shall be done unto thee: thy reward shall return upon thine own head.

"The ninth-largest economy in the entire world is currently experiencing "its longest and deepest recession in recorded history," and in a country right next door, people are being encouraged to label their trash so that the thousands upon thousands of desperately hungry people that are digging through trash bins on the streets can find discarded food more easily. Of course the two nations that I am talking about are Brazil and Venezuela.
The Brazilian economy was once the seventh-largest on the globe, but after shrinking for eight consecutive quarters, it has now fallen to ninth place. And in Venezuela, the economic collapse has gotten so bad that more than 70 percent of the population lost weight last year due to a severe lack of food. Most of us living in the northern hemisphere don't think that anything like this could happen to us anytime soon, but the truth is that trouble signs are already starting to erupt all around us. It is just a matter of time before the things currently happening in Brazil and Venezuela start happening here, but unfortunately, most people are not heeding the warnings.
Just a few years ago, the Brazilian economy was absolutely roaring, and it was being hailed as a model for the rest of the world to follow. But now Brazil's GDP has been imploding for two years in a row, and this downturn is being described as "the worst recession in recorded history" for that South American nation:"
World War 3/ North Korea
Korea, US kickoff annual exercise 03/09/17  The United States is moving overwhelming firepower to South Korea as the threat by North Korea becomes extremely dangerous. The firepower includes B-1 and B-52 heavy bombers, along with F-35 fighters. This shows just how serious the situation has become.
Isaiah 2:4  And he shall judge among the nations, and shall rebuke many people: and they shall beat their swords into plowshares, and their spears into pruninghooks: nation shall not lift up sword against nation, neither shall they learn war any more.

"Washington is expected to deploy a series of strategic assets from the U.S. as well as from military bases in Guam and Japan.
The USS Carl Vinson, a Nimitz-class supercarrier, will join the Foal Eagle exercise after departing from San Diego, Calif., on March 5, and will participate in another drill in the Asia-Pacific region afterward.
The nuclear-powered aircraft carrier will carry 24 F/A-18 Super Hornet fighter jets, 10 air tankers, 10 S-3 Viking anti-submarine warfare aircraft, six SH-3H Sea King anti-submarine helicopters, four EA-6B Prowler tactical jamming aircraft and four E-2 Hawkeye early-warning aircraft.
It will be accompanied by the guided-missile cruiser USS Lake Champlain (CG-57) and two Arleigh Burke-class guided-missile destroyers — USS Michael Murphy (DDG-112) and USS Wayne E. Meyer (DDG-108).
From the U.S. Marine Corps in Japan, F-35B stealth fighters will be deployed to the peninsula for the first time. "An F-35B is capable of evading anti-aircraft radar and making preemptive strikes," the official said. The official speculated that strategic bombers at Andersen Air Force Base in Guam, such as B-1Bs and B-52s, may join the exercise as well."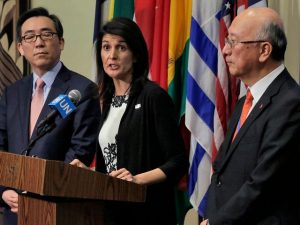 U.N. Ambassador Haley: U.S. 'Not Ruling Anything Out' in Response to North Korea 03/010/17  This was so refreshing, to read the truth being spoken at the UN. Ambassador Haley spoke the truth to the Russians and Chinese, saying the only reason for putting our THAAD system in South Korea was because of North Korea's move towards nuclear weapons. The UN is not used to hearing truth.
Micah 4:3  And he shall judge among many people, and rebuke strong nations afar off; and they shall beat their swords into plowshares, and their spears into pruninghooks: nation shall not lift up a sword against nation, neither shall they learn war any more.

"U.N. Ambassador Nikki Haley said on Wednesday that the United States is "considering every option that's on the table" in response to North Korea's provocative launch of ballistic missiles at Japan on Monday.
"We're not ruling anything out," said Haley at a press conference on North Korea attended by Japanese Ambassador Koro Bessho and South Korean Ambassador Cho Tae-vul.
ABC News quotes Haley urging all U.N. members to "increase their strengths" to compel "the attention of North Korea as we go forward," and warned the outlaw state's actions put the entire "global community" in danger.
She dealt with Chinese and Russian criticism of America's decision to deploy a THAAD missile system to South Korea by asking, "Tell me why we wouldn't do the THAAD in light of twenty-four ballistic missiles? In light of two nuclear tests?"
"We are not going to leave South Korea standing there with the threat of North Korea facing them and not help. The reason for THAAD is because of the actions of North Korea," she declared."
World War 3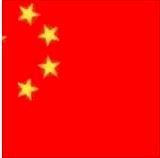 Building up nuclear deterrence best response to THAAD 03/10/17  This news source is considered the outlet for the Chinese government.
The problem is that China did nothing to stop North Korea's nuclear program. Now, they have high tech America weapons on their doorstep and they don't like it. South Korea and Japan want the weapons for defense against NK, so there is no way this can be stopped. This looks like a buildup towards WW3.
"However, the US must pay the price for the THAAD deployment. The THAAD system is key for the US' "rebalance to Asia" strategy and its global anti-missile system so as to contain Russia and China's military capabilities, and secure its dominance in intercontinental ballistic missile deployment. China should take countermeasures to upset such plans.
China is the only nuclear state that has pledged not to use or threaten to use nuclear weapons on non-nuclear states. It has kept a low profile over its nuclear armaments.
However, China has abundant financial capacity to expand its nuclear arsenal and upgrade strategic missiles. The THAAD deployment on China's doorstep has broken the previous strategic balance, and China should counter it with more advanced nuclear warheads and missiles.
We should not only recover losses from THAAD and rebuild the regional balance, but also become more powerful and reliable in nuclear deterrence.
A rapid increase in the number and quality of China's strategic nuclear weapons will be a painful price for the US. This isn't a nuclear arms race. China has no need or intention to engage in an endless arms race. While Beijing strives to safeguard its core interests, Washington pursues global hegemony. Given its growing financial budgets, China isn't worried about a limited "arms race."
Miscellaneous/ Hard Left
Top ten things that make liberals crazy 03/09/17  I find some really good memes that I'll post now and then. If you find any and want to share them, just email me and I'll review them for posting. There are some really great minds that can create memes, and I enjoy looking at them very much. [email protected]
Meme: A meme acts as a unit for carrying cultural ideas, symbols, or practices that can be transmitted from one mind to another through writing, speech, gestures, rituals, or other imitable phenomena with a mimicked theme
Satire: the use of humor, irony, exaggeration, or ridicule to expose and criticize people's stupidity or vices, particularly in the context of contemporary politics and other topical issues.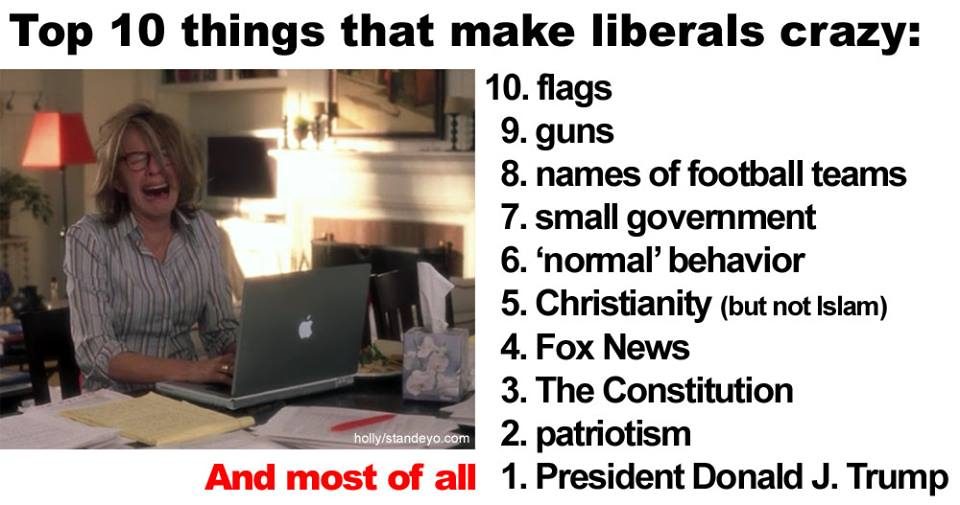 Deuteronomy 6:6-7  And these words, which I command thee this day, shall be in thine heart:
And thou shalt teach them diligently unto thy children, and shalt talk of them when thou sittest in thine house, and when thou walkest by the way, and when thou liest down, and when thou risest up.