How Obama is scheming to sabotage Trump's presidency
Verse of the Day
Proverbs 11:21 Though hand join in hand, the wicked shall not be unpunished: but the seed of the righteous shall be delivered.
Commentary
There was NEVER any doubt in my mind that Obama would try and set up a Fifth Column against America and eventually lead it. He hates America and wants it weakened, so it can be brought into their one world system.
Of course, George Soros is also part of this and I am sure that both of them work together. What they are doing is trying to set the stage for the antichrist. I believe that they don't have knowledge of this, but it is what they are trying to do.
May the Holy God of Israel bless and protect you.
2 Timothy 1:7 For God hath not given us the spirit of fear; but of power, and of love, and of a sound mind.
American Politics/ Hard Left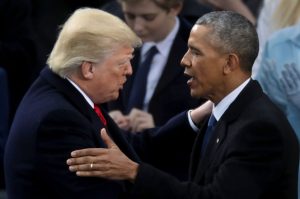 How Obama is scheming to sabotage Trump's presidency 02/11/17
"When former President Barack Obama said he was "heartened" by anti-Trump protests, he was sending a message of approval to his troops. Troops? Yes, Obama has an army of agitators — numbering more than 30,000 — who will fight his Republican successor at every turn of his historic presidency. And Obama will command them from a bunker less than two miles from the White House.
In what's shaping up to be a highly unusual post-presidency, Obama isn't just staying behind in Washington. He's working behind the scenes to set up what will effectively be a shadow government to not only protect his threatened legacy, but to sabotage the incoming administration and its popular "America First" agenda.
He's doing it through a network of leftist nonprofits led by Organizing for Action. Normally you'd expect an organization set up to support a politician and his agenda to close up shop after that candidate leaves office, but not Obama's OFA. Rather, it's gearing up for battle, with a growing war chest and more than 250 offices across the country."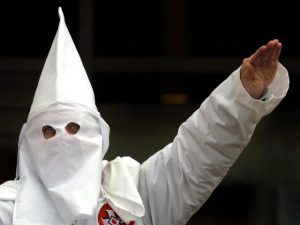 Ted Cruz: 'The Democrats Are the Party of the Ku Klux Klan' 02/11/17  This is a great article about Senator Cruz laying out the Democratic Party's roots in slavery and rebellion. It was 11 Democrat governors who seceded from the Union because of slavery, which started the Civil War. The evil centered in the Democratic Party in 1861 is still in force today.
"While Democrats derided Alabama Sen. Jeff Sessions, calling him a racist, Sen. Ted Cruz reminded America that the "Klan was founded by a great many Democrats."

"The Democrats are the party of the Ku Klux Klan," Cruz (R-Tex.) said in an interview on Fox News on Wednesday. "You look at the most racist. You look at the Dixiecrats; they were Democrats who imposed segregation, imposed Jim Crow laws, who founded the Klan. The Klan was founded by a great many Democrats. Now, the Democrats just accuse anyone they disagree with of being a racist":

Indeed, Sen. Sessions, President Donald Trump's newly confirmed U.S. attorney general, faced a ceaseless barrage of personal attacks from left-wing activists and his Democratic colleagues in Congress. Immediately after Trump picked sessions for attorney general, the left launched a concerted campaign to cast the Alabama senator as a bigot unfit to head the Justice Department.

Senator Cruz's defense of Sessions puts the Democratic party's pernicious past in the national spotlight.

Cruz accused Democrats of imposing "Jim Crow" laws. Every former Confederate state (including Kentucky, Kansas, Wyoming, Missouri, Ohio, Utah, and Oklahoma) had enacted Jim Crow laws, which prohibited everything from interracial marriage to racially integrated public school systems. While Democrats lost the war to keep blacks in slavery, Jim Crow laws in states in the so-called "Solid South" served to place blacks back on a virtual plantation.

Democrats supported slavery and nearly a hundred years of segregation:

Indeed, the closer one looks across the arc of black history, the more ironic it seems that voters would associate civil rights with the Democratic Party. Founded as the anti-slavery party, the Republican Party was responsible for winning passage of the 13th, 14th, and 15th Amendments, the Ku Klux Klan Act of 1871, the Reconstruction Acts, and the 1866, 1875, 1957 and 1960 Civil Rights Acts. In fact, had Democrats not overturned the 1875 Civil Rights Act, the strikingly similar 1964 Civil Rights Act might never have been necessary.

It is no coincidence that more than a hundred years of history are missing from the Democratic party's official website."
Hard Left/ Islam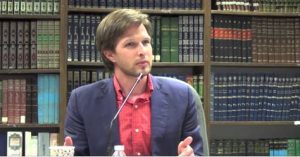 Georgetown Islamic Studies Professor: Slavery OK, So is Non-Consensual Sex 02/11/17  Look at how this Hard Left "professor" is justifying Muslim slavery and rape! These Muslims supporters will justify anything that the Muslims do. This is an amazing article showing the insanity of the Hard Left mindset. They are really stupid.
"A professor at Georgetown University is teaching his students that men do not need consent to have sex with women, and that slavery is justifiable under Islamic teachings.
.Islamic Studies professor Jonathan Brown recently lectured at the International Institute of Islamic Thought, where he shared his alarming beliefs with students in attendance in his lecture, "Islam and the Problem of Slavery." Freelance writer Umar Lee expressed his shock over the 90-minute lecture, which included explicit endorsements of rape and slavery.
Brown himself uploaded the lecture to YouTube.
According to Lee, Brown's lecture was supposed to revolve around slavery in Islam, but the lecturer moved its focus to criticize the United States, United Kingdom and China. Brown described slavery in these non-Muslim societies as brutal, which they were, but lauded the historically inhumane practice in Arab lands and Turkey.
"Indeed, according to Brown, slaves in the Muslim world lived a pretty good life," wrote Lee. "I thought the Muslim community was done with this dishonest North Korean style of propaganda. Obviously not."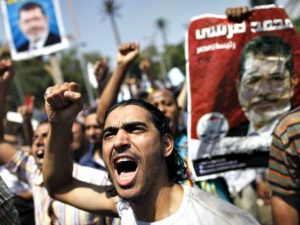 New York Times Lobbies for Muslim Brotherhood 02/10/17  Articles like this show that the Hard Left is really concerned that the American people are waking up to what real Islam is. Articles like this are an attempt to soften the truth about the Muslim Brotherhood and just how dangerous it is. I hope the President very soon designates the Brotherhood as a terrorist organization.
"The New York Times in recent days has run numerous articles and opinion pieces advocating against designating the Muslim Brotherhood a terrorist organization amid reports the Trump administration is debating doing just that.
The Muslim Brotherhood openly seeks to establish a worldwide Islamic caliphate based on Sharia law. While many Brotherhood wings reject the use of violence as a strategic tactic, preferring instead a sophisticated gradualist strategy to achieve their aims, the Brotherhood has spawned terrorist organizations – most notably Hamas – that adhere to its philosophy of a world order based on Islam. The Brotherhood was also a central player in the so-called Arab Spring, revolutions punctuated by violence across the Arab world.
Designating the Brotherhood a terrorist organization would add the U.S. to the growing list of nations to do so, including Muslim countries like Egypt, Saudi Arabia and the UAE.
The Times' propagation of the Brotherhood culminated in an editorial board piece published Thursday titled, "All of Islam Isn't the Enemy."
Hard Left/ Health and Nutrition
TOXIC Psychiatry IS TAKING OVER US Colleges 02/010/17  This is a great video showing how the psychiatrists are destroying the minds of college students! These drugs set the foundation for violence including suicide and murder.
"Psychiatry is being used against the American public in the American school system to destroy future generations.
Judgment/ New World Order – World Government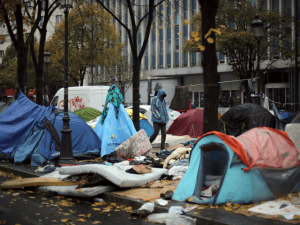 Hungary Will Welcome 'European Refugees' Fleeing Multicultural West 02/11/17  This is amazing. Hungary is opening their nation to Europeans who feel like refugees. They can flee the nations being overrun by Muslims! The world is upside down! The Europeans are starting to feel like refugees in their own nations!
Isaiah 1:7 Your country is desolate, your cities are burned with fire: your land, strangers devour it in your presence, and it is desolate, as overthrown by strangers.

"Hungarian prime minister Viktor Orban says his country will open its arms to west Europeans fleeing mass immigration and "the lords of globalist politics".
"We shall let in true refugees", Mr Orban told a cheering audience: "Germans, Dutch, French and Italians, terrified politicians and journalists who here in Hungary want to find the Europe they have lost in their homelands."
The populist leader has served as the de facto leader of the central and eastern European countries which have resisted the open borders policies of the European Union (EU) and leading member-states in the west of the continent."
Christianity/ Islam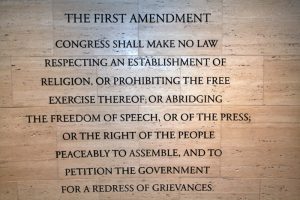 On Defining Religion 02/12/17  This is an excellent article showing how Islam is, at its heart, out to destroy Christianity. It is designed to destroy the Christian faith. This is clearly laid out in the Koran. So in a real sense, it is the spirit of the antichirst.
1 John 4:1 Beloved, believe not every spirit, but try the spirits whether they are of God: because many false prophets are gone out into the world. (2) Hereby know ye the Spirit of God: Every spirit that confesseth that Jesus Christ is come in the flesh is of God: (3) And every spirit that confesseth not that Jesus Christ is come in the flesh is not of God: and this is that spirit of antichrist, whereof ye have heard that it should come; and even now already is it in the world.

"What the West does not understand is that Islam admits that government control is central to Islam and that Muslims must, sooner or later, demand to live under an Islamic government.
The majority of the world does not understand that much of the American media is in a propaganda war against the Trump administration simply because he names Islamic jihad and would prefer to see a strong and prosperous America as a world leader rather than to see a dictatorship — secular or theocratic — as a world leader.
Islam claims to be an Abrahamic religion, but in fact Islam came to the world 600 years after Christ, not to affirm the Bible but to discredit it; not to co-exist with "the people of the book" — Jews and Christians — but to replace them, after accusing them of intentionally falsifying the Bible.
Islam was created as a rebellion against the Bible and its values, and it relies on government enforcement to do so.
Political and legal (sharia) Islam is much more than a religion. Is the First Amendment a suicide pact?"
Science: 666 System
Would YOU let your boss implant you with a microchip? Belgian firm offers to turn staff into cyborgs to replace ID cards 02/11/16  There has been a rash of articles about the advancing of the 666
system. The high tech is now so advanced that chips can be placed in employees for security!
I don't think this is the Mark of the Beast, but the technology is clearly at the point where the controlling device is close. This means that the coming of Jesus for us has to be that much closer!
Revelation 13:16-18 And he causeth all, both small and great, rich and poor, free and bond, to receive a mark in their right hand, or in their foreheads: And that no man might buy or sell, save he that had the mark, or the name of the beast, or the number of his name. Here is wisdom. Let him that hath understanding count the number of the beast: for it is the number of a man; and his number is Six hundred threescore and six.

"In a move that could be lifted straight from science fiction, workers at a Belgian marketing firm are being offered the chance to have microchips implanted in their bodies.
The chips contain personal information and provide access to the company's IT systems and headquarters, replacing existing ID cards.
The controversial devices raise questions about personal security and safety, including whether they may allow the movements of people with implants to be tracked.
NewFusion, a marketing firm in Belgium, is offering the chip to its employees.
The radio-frequency identification (RFID) chips are about the same size as a grain of rice and store personal security information which can be transmitted over short distances to special receivers."
Science: 666 System/ Mind Control
Big brother' mind reading is inevitable and controls need to be put in place now, experts warn 02/11/17  There is no doubt that tampering with the mind and mind control will be part of the coming 666 system.
Revelation 14:9-10 And the third angel followed them, saying with a loud voice, If any man worship the beast and his image, and receive his mark in his forehead, or in his hand, The same shall drink of the wine of the wrath of God, which is poured out without mixture into the cup of his indignation; and he shall be tormented with fire and brimstone in the presence of the holy angels, and in the presence of the Lamb:

"But now there is a technology that enables us to 'read the mind' with growing accuracy: functional magnetic resonance imaging (fMRI).
It measures brain activity indirectly by tracking changes in blood flow – making it possible for neuroscientists to observe the brain in action.
Because the technology is safe and effective, fMRI has revolutionised our understanding of the human brain.
It has shed light on areas important for speech, movement, memory and many other processes.
More recently, researchers have used fMRI for more elaborate purposes.
One of the most remarkable studies comes from Jack Gallant's lab at the University of California.
His team showed movie trailers to their volunteers and managed to reconstruct these video clips based on the subjects' brain activity, using a machine learning algorithm."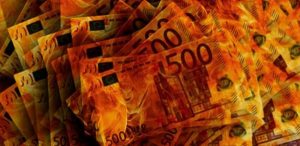 Cash No Longer King: Europe Accelerates Move To Begin Elimination Of Paper Money 02/10/17  The march for eliminating cash is happening all over the world from India to Europe. Once the globalists eliminate cash, the people are under their control and at their mercy. When this is tied in to everything you are connected with, tied to your Social Security number, it is easy to see the total control.
This is exactly the way it is going to be under the rule of the antichrist, everything under his governments control.
Revelation 13:16  And he causeth all, both small and great, rich and poor, free and bond, to receive a mark in their right hand, or in their foreheads: And that no man might buy or sell, save he that had the mark, or the name of the beast, or the number of his name. Here is wisdom. Let him that hath understanding count the number of the beast: for it is the number of a man; and his number is Six hundred threescore and six.

"In the shadow of Donald Trump's spree of controversial actions, the European commission has quietly launched the next offensive in the war on cash. These unelected bureaucrats have boldly asserted their intention to crack down on paper transactions across the E.U. and solidify a trend that has been gaining momentum for years.
The financial uncertainty amplified by Brexit has incentivized governments throughout Europe to seize further control over their banking systems. France and Spain have already criminalized cash transactions above a certain limit, but now the commission has unilaterally established new regulations that will affect the entire union. The fear of physical money flowing out of the trade bloc has manifested a draconian response from the State.
The European Action Plan doesn't mention a specific dollar amount for restrictions, but as expected, their reasoning for the move is to thwart money laundering and the financing of terrorism. Border checks between countries have already been bolstered to help implement these new standards on hard assets. Although these end goals are plausible, there are other clear motivations for governments to target paper money that aren't as noble."

Psalm 50:19  Thou givest thy mouth to evil, and thy tongue frameth deceit.