Ilhan Omar Posts Video Preaching Islam in Church, Gives Thanks to Allah and Progressive Movement
Verse of the Day
2 Timothy 3:13  But evil men and seducers shall wax worse and worse, deceiving, and being deceived.

Commentary
Only apostate churches would ever allow to stand in the pulpit and spew her rhetoric. The is the future of America as the apostate merge with the Muslims. The Muslims will use them all they can to gain control in America.
The future is here. Remember, they are taking the fight to us because the loath and hate us. The root of their hatred is they hate the Lord and his word. We need revival for survival.
Proverbs 1:23 Turn you at my reproof: behold, I will pour out my spirit unto you, I will make known my words unto you.
HARD LEFT AND ISLAM MERGING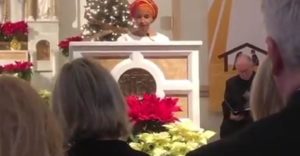 "On Thanksgiving Day, Ilhan Omar Posts Video of Her Preaching Islam From Altar in Church, Gives Thanks to Allah and Progressive Movement"

"Text of Omar's Islamic prayer in church: Allah, put courage into my heart, and take away all that may hinder me in serving you. Free my tongue to proclaim your goodness, that all may understand me.
Give me friends to advise and help me, that by working together our efforts may bear abundant fruit. And, above all, let me constantly remember that my actions are worthless unless they are guided by your hand.

Allah, may everything that I do start well and finish well. Sustain me with your power. And in your power let me drive away (all falsehood, ensuring that truth may always triumph.) A version of the Islamic prayer Omar quoted in English in the church can be found at this link."
HARD LEFT USA HISTORY LIES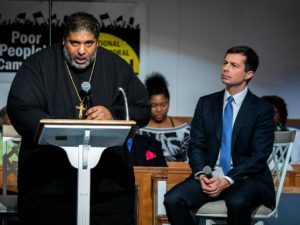 "Pete Buttigieg Nods as Pastor Says Mexican Illegal Aliens Just Reclaiming Stolen Land"
This historical narrative is all lies and nonsense. I can't give the full narrative now, but Mexico refused to recognize as the Rio Grande River as the border with USA, and its army crossed the river and attacked American soldiers. This act is what started the war. Mexico lost the war, and the US gained large portions of the West through the Treaty of Guadalupe Hidalgo in 1848.
In May 1836, Texas and Mexico agreed to The Treaties of Velasco which ended the war between Texas and Mexico. This treaty set the Rio Grande River as the border between the two nations. Later, the Mexicans rejected this treaty and refused the Rio Grande River as the border, and this is what started the war! It was Mexico who started the war and not the USA.
The Hard Left hates America and lies at every opportunity to attack the history of the US; thus to undermine the legitimacy of the nation.
"Mayor Pete Buttigieg on Sunday listened and nodded without disputing a claim from Pastor William Barber that illegal immigrants from Mexico were merely reclaiming land from the United States.

"We call people illegal aliens … Why can't we just own in America that some of the people that are trying to come from Mexico here are coming back to land we stole?" he asked. "And the reason we took the land is because people wanted to keep their slaves?"
WHORE OF BABYLON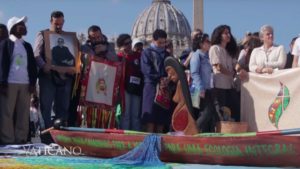 "Could the Pope-Sanctioned Worship of Pachamama be a Sign of the End Times?"
1 John 5:21 Little children, keep yourselves from idols. Amen.
I see this pope setting the stage that the RCC will play a huge role in bringing all the world's religions into paganism which will be the end time religion. It really does look like Rome is going be the setting for the end time religion which the Bible calls the Whore of Babylon!
Revelation 9:20 And the rest of the men which were not killed by these plagues yet repented not of the works of their hands, that they should not worship devils, and idols of gold, and silver, and brass, and stone, and of wood: which neither can see, nor hear, nor walk:

"The Amazon synod has made one thing perfectly clear. That — from the month-long Vatican meetings, ostensibly to discuss the needs of Amazonian Catholics — a star was born: that scantily clad diva Pachamama. Who is Pachamama?

She's been front-page news ever since her debut at the opening of the synod. And now, more than two weeks since the conclusion of the Rome meeting, she's still commanding headlines. So who is she, you ask? Actually, she's more of a what than a who. "Pachamama" is the name of a South American fertility goddess, which, at the opening of the synod, was placed at the center of a prayer circle where participants bowed down and worshipped her."
POLITICAL PEDOPHILES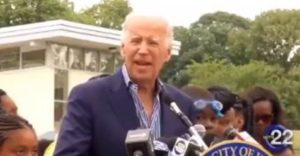 "Joe Biden Stuns Crowd by Talking about Kids Playing with His Hairy Legs and How Much He Loves Children on His Lap and Roaches… WTH? (Video)" Joe Biden lead the charge when he was vice-president, to advance the homosexual "marriage". I said at the time that things were not going to end good for him. Now his corruption is out in the open for all to see, and he might end up guilty for it along with his son.
He has a documented history and handling young girls in public and saying he liked to smell their hair. As his mind starts to fail, what is in his mind will start to manifest. This is exactly what happened to President George Bush Sr. Near the end of his life, he could not keep his hands off the female nurses who were near him.
Now Biden's dealing with children is starting to show. I would not be surprised if the records showed he was with Epstein on the island where they molested children. God is going to expose what Biden truly is, and it is not going to end well for him, especially in eternity!
"While speaking to a black audience Joe Biden suddenly started babbling about children stroking his hairy legs in the pool and how much he loves to have children on his lap. Also something about roaches?

Joe Biden: And by the way I sit on a stand, I got hot, I got hairy legs that turn, that, that, that, turn blond in the sun. And the kids used to come up and reach in and pull and rub my legs, and watch the hairs rise up again. So I learned about roaches. I learned about kids jumping up on my lap. And I love kids jumping on my lap."
THE 666 SURVEILLANCE SYSTEM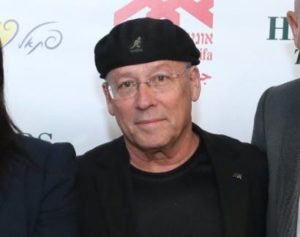 "Israeli Tech Expert Warns: "In Less Than 25 Years, You'll All be Cyborgs" This is a good article about the progress of computing and where it is heading. It is heading towards a human brain chip which will revolutionize man who at this point will be a cyborg.
"Aden estimates that the "real" revolution sill will only come about in 10 or 20 years. "We're not talking about wearable computing anymore, but about implanted computing," Aden warned. "Most dogs already have a small chip implanted inside. How far are we from this terrible phenomenon? Already today a man who loses his eye gets transplanted with a bionic eye. The tendon is capable of holding a cup with a computerized prosthetic hand, to play football or even swim."

Then a bombshell was uttered from his mouth: "All of you will be Cyborgs in less than 25 years. In a while, we will be able to develop a human-brained chip."
TRUMP WORLDWIDE IMPACT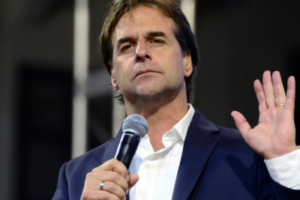 "Uruguay elects Trumpesque (and pro-Israel) Conservative Luis Lacalle Pou to be their next president" This is a great news that the resistance against the New World Order is growing. I hope it spreads throughout Central America. This is very exciting.
"After 15 years of Leftist rule the people of Uruguay have elected conservative Luis Lacalle Pou to be their next president. Uruguay joins Brazil, Chile, Colombia, Paraguay, Guatemala and other Latin American countries who have recently elected conservative governments. President Trump is indeed a global phenomenon."
Abba Father's International Fellowship
Shalom Brother David and John?. Its my prayer that you are all fine in Him. Remember there's nothing good like serving God here on Earth. God bless you for being part of what the Lord He is doing around the World. We are very grateful and our church its growing day by day through the Last Trumpet materials you have been sending to us. Also through your revelation, I myself my relationship with the Lord Has changed and I have seen God begins using me in a special way. God helped me to reach to several people and speak the Word and proof it by the Scriptures and confirming it by the true words that its in Materials you send to us and felt many people loving you and the Ministry for how the Lord used you more 30 years to have this powerful message that its now changing lives around the global. 64 people gave their lives to Christ as I was sharing house to house and person to person. Praise the Lord! one of them ,after sharing the Newsletter, she decided to be baptized and we had to take her the river and Baptized her according the Word of God. I have attached photos of some people whom we shared the Newsletter with them,plus the Postal Receipt and I hope it will be blessings to send to you. Also Consider shipping another Box to me as we have another worker be the end of next week to share?.
In Christ.
Pastor R
God bless you