Impeachment Fever
Verse of the Day
 Proverbs 24:21  My son, fear thou the LORD and the king: and meddle not with them that are given to change:

Commentary
I don't think this is going to end well. The Hard Left minds are breaking under the weight of all the sin they live in and promote. God's judgment is crushing them. Their god is government and God just smashed their god, so now they are going around like the blinded of Sodom just prior to God destroying that wicked city.
The Hard Left in America are now very, very dangerous. If they are not able to remove President Trump then I fully expect massive violence on their part, which will bring awesome judgment on them and America. This is very serious, and getting worse by the day as the hate from the Hard Left grows.
No matter what happens to America, we must live with the Blessed Hope, looking for the coming of the Lord Jesus for his bride!
May the Holy God of Israel bless and protect you.
Jeremiah 23:6 In his days Judah shall be saved, and Israel shall dwell safely: and this is his name whereby he shall be called, THE LORD OUR RIGHTEOUSNESS.
Hard Left/ American Politics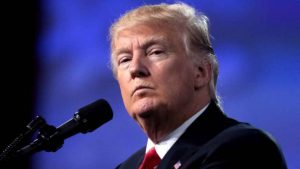 IMPEACHMENT FEVER 05/17/17
1 John 2:11 But he that hateth his brother is in darkness, and walketh in darkness, and knoweth not whither he goeth, because that darkness hath blinded his eyes.

"Democrats and their media allies are whipping themselves into a frenzy in their quest to impeach the duly elected 45th president of the United States and drive him from office.
It is part of the Left's collective mental breakdown. These people still cannot accept that Donald Trump defeated the anointed Hillary Clinton in November so they lash out at the president and his successors, often violently, as we've seen in recent months. This Trump Derangement Syndrome allows left-wingers to justify a growing laundry list of antisocial behavior in the furtherance of their goal. The same people pushing Trump's impeachment sat by silently as Barack Obama, the most despotic, overreaching president since the great proto-fascist Woodrow Wilson, committed impeachable offenses nearly every day.
At the moment, the Left's ire is focused on Trump's unexpected decision last week to fire FBI Director James Comey. Trump explained to Comey in a letter that his employment was being terminated based on the recommendation of the Department of Justice. Both Republicans and Democrats had been furious with Comey in recent years because the unelected official inappropriately injected himself and the FBI into political matters. But now Trump's enemies are claiming his termination of Comey's employment constitutes obstruction of justice because the FBI is investigating far-fetched allegations of collusion between the Trump campaign and Russia."
Hard Left/ Anarchy – Civil War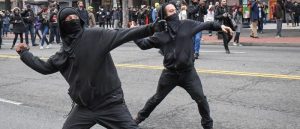 Violence And Intimidation Against Republicans Are Becoming The New Normal 05/16/17  I am serious about what I am saying. We might have to form militias to defend ourselves from the Hard Left thugs. They are quickly heading for bloodshed. They are now being forced out of their delusions, which has resulted in them being unable to cope with reality.
John 8:44  Ye are of your father the devil, and the lusts of your father ye will do. He was a murderer from the beginning, and abode not in the truth, because there is no truth in him. When he speaketh a lie, he speaketh of his own: for he is a liar, and the father of it.

"Violence and intimidation against Republicans are quickly becoming the new normal in an increasingly tense political climate.
In one of the most recent incidents, police in Tennessee charged a woman with felony reckless endangerment on Thursday for allegedly trying to run Republican Congressman David Kustoff off the road after a town hall. The woman, Wendi Wright, was reportedly enraged over Kustoff's support for the American Health Care Act and screamed at the congressman and his aide, striking his car windows and reaching inside the vehicle.
Hard Left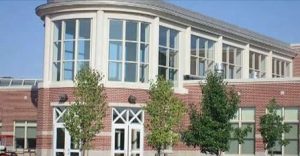 School: Offering to pray for a colleague is unacceptable 05/16/17  This shows just how dangerous America has become for Christians. Even the thought of prayer is too much for the reprobate mind. These are evil people who are now in control of large sections of America. They are ruthless, and always remember that they hate us a much as the Nazis did the Jews. They will act on this hatred.
2 Timothy 3:1-4  This know also, that in the last days perilous times shall come. For men shall be lovers of their own selves, covetous, boasters, proud, blasphemers, disobedient to parents, unthankful, unholy, Without natural affection, trucebreakers, false accusers, incontinent, fierce, despisers of those that are good, Traitors, heady, highminded, lovers of pleasures more than lovers of God;
"A school worker in Augusta, Maine was ordered to stop using religious phrases like "I will pray for you" and "You were in my prayers" because such language is not allowed inside a public school building – even in private conversations with coworkers.
The Augusta School Department launched an investigation of Toni Richardson after they alleged she "imposed some strong religious/spiritual belief system" towards a coworker.
Now, imposing your religion on someone is a serious allegation. Was Ms. Richardson forcing her coworker to convert to Christianity? Did she attempt to baptize him against his will?
It turned out to be nothing of the sort. According to an official memorandum from the school district, Ms. Richardson had told a colleague that she was going to pray for him. It just so happens that Ms. Richardson and the colleague attended the same church."
World War 3/ North Korea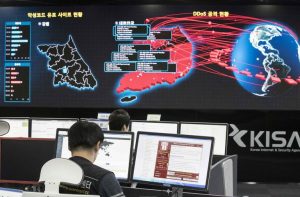 Focus Turns to North Korea Sleeper Cells as Possible Culprits in Cyberattack 05/16/17  This is a very good article which gives tremendous background on cyber warefare.
"They take legitimate jobs as software programmers in the neighbors of their home country, North Korea. When the instructions from Pyongyang come for a hacking assault, they are believed to split into groups of three or six, moving around to avoid detection.
Since the 1980s, the reclusive North has been known to train cadres of digital soldiers to engage in electronic warfare and profiteering exploits against its perceived enemies, most notably South Korea and the United States. In recent years, cybersecurity experts say, the North Koreans have spread these agents across the border into China and other Asian countries to help cloak their identities. The strategy also amounts to war-contingency planning in case the homeland is attacked.
Now, this force of North Korean hacker sleeper cells is under new scrutiny in connection with the ransomware assaults that have roiled much of the world over the past four days. Signs have emerged that suggest North Koreans not only carried out the attacks, but that the targeted victims included China, North Korea's benefactor and enabler."
Health and Nutrition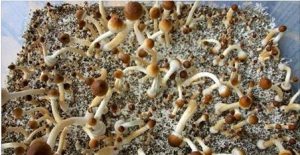 Could psychedelics become an accepted treatment for mental health problems? 05/16/17  Wow, now "mild" dosages of hallucinogenic drugs are being prescribed for mental problems such as depression. The people who take them are putting their minds directly in satan's realm. This is sad to watch, but God offers us his peace.
The real ministry of Jesus Christ enables us to live without depression but with God's peace.
I have a ministry for healing the brokenhearted. It is a broken heart that is at the root of depression. If you would like prayer, email me at [email protected]
(See: Jesus Christ Came to Heal the Brokenhearted)

Philippians 4:6  Be careful (anxious) for nothing; but in every thing by prayer and supplication with thanksgiving let your requests be made known unto God.

"A few years ago, if you were to tell most people suffering from a serious mental health problem that their ills could be cured with a spot of Class A drugs, they might think you've, well, taken something.
Aided by a slew of recent scientific studies, however, the perception of many of many illegal substances – from LSD to ecstasy – as having no medicinal benefit is beginning to change. Earlier this month, for instance, US researchers found that ketamine might reduce rates of depression.
In April, scientists at the University of Sussex and Imperial College, London, discovered what is believed to be the first concrete evidence for psychedelic drugs inducing a heightened state. And at the beginning of the year, articles promoting the idea of 'microdosing' drugs such as LSD and magic mushrooms appeared all over the internet.
If the movement is surprising to some, for Amanda Feilding, Countess of Wemyss and March, it's all a case of I-told-you-so.
"I think we're turning a corner, or have done in the last three or four years. I've always thought that the very best science can shine a telescope on how these things have their effect and work wonders. It's still a very new area, but people are finally paying it the attention it deserves," she says."
Science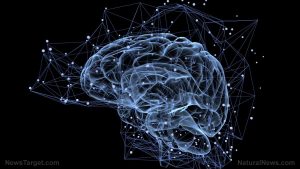 SCIENCE PROPAGANDA: New study claims that people who believe in religion are "brain damaged" 05/16/17  Now the reprobates are using "science" to attack us. It is just like the Nazis used junk science to attack the Jews and others. Nothing has changed because the reprobate mind is predictable.
1 Corinthians 2:16  For who hath known the mind of the Lord, that he may instruct him? But we have the mind of Christ.

"What's worse is that often times, people who do believe in God are criticized, mocked, and painted as societal outcasts. A recent study conducted by Northwestern University in Illinois found that people who suffer from brain injuries are more likely to become religious fundamentalists, suggesting that those who have a strong belief in God have something mentally wrong with them.
The researchers found that damage to the prefrontal cortex, which is the area of the brain that is responsible for functions like planning and perception, impaired peoples' ability to evaluate and reflect upon their own religious beliefs in comparison to the beliefs of others.
In order to arrive at these results, researchers examined 119 people who had suffered brain injuries during the Vietnam War, as well as 30 others whose brains were fully intact and functioning properly. The participants were asked to respond to certain statements, such as "To lead the best, most meaningful life, one must belong to the one, true religion." They found that veterans who had experienced injuries in the prefrontal cortex region of the brain had higher levels of religious fundamentalism than those whose brains were not damaged"
Christian Apostasy/ Islam
Dramatic Fall of Christianity in UK Continues: 26 Christians Abandon Faith for Every One New Convert 05/17/17  What is happening in Britain is happening all over Europe. The people are becoming secular, which is just a step toward becoming Muslims or pagans. The same is happening in America. A political revival will not stop this slide. Only a move of the Holy Spirit can prevent the collapse of the USA.
Psalm 144:15  Happy is that people, that is in such a case: yea, happy is that people, whose God is the LORD.

"The researchers noted that 24.3 million people, or 48.6 percent of the British adult population, identified as "nones" in 2015 and they are predominantly young, white and male.
The nones were found to have different faith backgrounds — 38 percent of people who now say they have no religion were brought up as nones, while 25 percent were brought up as Anglicans, 25 percent as Other Christians, and 11 percent as Catholics, before leaving the faith.
"For every one person brought up with No religion who has become a Christian, twenty-six people brought up as Christians now identify as Nones," the study noted as a key trend.
"It is no secret that a large proportion of the British population consider themselves to have no religion," wrote Stephen Bullivant, professor of Theology and the Sociology of Religion and director of the Benedict XVI Centre for Religion and Society at St. Mary's University.
"This has been a consistent finding of polls, social surveys, and censuses over the past several decades. In fact, the rise of the nonreligious is arguably the story of British religious history over the past half-century."
Christians, including Anglicans, Roman Catholics, and members of other denominations, made up 43 percent of the population in 2015, down from 67 percent in 1983."
Pro Life/ Christianity
Christians Slam 'Demonic' Practice of Turning Frozen Embryo Children Into Jewelry for Parents 05/17/17  Now the reprobates are into making jewelry out of the bodies of frozen embryos! There is no respect for these bodies because the idea that man was created in God's image is gone from society, and the love of money also is driving this. The love of money is a powerful force.
1 Timothy 6:10  For the love of money is the root of all evil: which while some coveted after, they have erred from the faith, and pierced themselves through with many sorrows.

"It was painful, tormenting, a strain on our marriage and just plain hard. Finding this has brought me so much comfort and joy. I finally at peace and my journey complete. My embryos were my babies — frozen in time. When we completed our family, it wasn't in my heart to destroy them," she added.
"Now they are forever with me in a beautiful keepsake."
Amy McGlade, founder of Baby Bee Hummingbirds, said that the company has crafted 4,000 pieces of jewelry using breastmilk, placenta, hair, ashes, or cord stumps since 2014, and 50 with embryos."
Romans 11:33  O the depth of the riches both of the wisdom and knowledge of God! how unsearchable are his judgments, and his ways past finding out!