Incredible Evidence of Dead Sea Coming to Life as Foretold in Ezekiel 47:9
Verse of the Day
 Psalm 27:4  One thing have I asked of the LORD, that will I seek after: that I may dwell in the house of the LORD all the days of my life, to gaze upon the beauty of the LORD and to inquire in his temple.

Commentary
This information about the Dead Sea is an amazing development. It's not just that it's the fulfillment of an incredible prophecy which is beginning, but that the prophecy refers to what will occur during the messianic era, that is, during the thousand year reign of Christ. What does that tell us about where we are on God's timeline, if something which was inconceivable for thousands of years is beginning to come to pass?
God's word will be fulfilled just as the prophets spoke it, but the fact that it's occurring now is what's so dramatic and exciting. Recently these sinkholes have been causing scientists concern because they're the result of the diminishing water levels in the Dead Sea. If you do a search, you'll find plenty of articles about how troubling this has been because the water taken for agricultural use has resulted in these lower water levels, and there has been concern about what that could mean for the long term.
But while scientists panic, God has everything under control, and unknown to them this "troubling development" has been part of his plan to bring about an amazing fulfillment of his word. This should be a sign not only to the Jews, but to the entire world about how trustworthy his word is – and how close we are to the return and reign of the Messiah!
While much of the news is troubling, this should give us hope and renew not only our faith, but our determination to live and work for the Lord as well, while we still have the opportunity to do so. He truly has given us a remarkable sign to encourage and strengthen us.
May the Holy God of  Israel bless and protect you.
Ezekiel 47:8-10  Then said he unto me, These waters issue out toward the east country, and go down into the desert, and go into the sea: which being brought forth into the sea, the waters shall be healed.
(9) And it shall come to pass, that every thing that liveth, which moveth, whithersoever the rivers shall come, shall live: and there shall be a very great multitude of fish, because these waters shall come thither: for they shall be healed; and every thing shall live whither the river cometh.
(10) And it shall come to pass, that the fishers shall stand upon it from Engedi even unto Eneglaim; they shall be a place to spread forth nets; their fish shall be according to their kinds, as the fish of the great sea, exceeding many.
Prophecy/ Israel
Incredible Evidence of Dead Sea Coming to Life as Foretold in Ezekiel 47:9  07/29/16  This article speaks for itself – it's something everyone should read in full because it is so incredible. God's Word will be fulfilled literally, just as the Bible states and this prophecy is beginning to come to life NOW.

"Almost ten times saltier than the ocean, nothing can live in the Dead Sea's hypersaline environment – Or so scientists thought until recently. Scientific research has proved the existence of life at the bottom of the sea, but due to a unique set of circumstances, signs of life have begun appearing on its very shores, precisely as it is written in the Book of Prophets.
A young woman on a nature hike was shocked recently when she discovered freshwater ponds with fish on the shores of the Dead Sea. Samantha Siegel, a Jewish woman living in Jerusalem, often takes trips to the desert and the ancient body of water. On a recent visit, she encountered an incongruous sight with powerful implications: a prophecy appearing before her eyes that seemed to contradict the laws of nature.
The Dead Sea is, as its name implies, dead. More than 400 meters below sea level, it is the lowest point on dry land. No life can exist in its ultra-salty waters and its shores are coated with a thick layer of salt that kills any plant…
The Bible, however, describes a very different picture of the region. Lot looked out on the valley where the Dead Sea is now and saw an incredibly fertile and well-watered region.
The Bible relates that the landscape changed when the fire and brimstone destruction of Sodom and Gomorrah turned the valley into a wasteland. Indeed, people who visit the Dead Sea today would find it difficult to envision a garden in the arid region.
Even more perplexing are the Messianic prophecies that water will flow east from Jerusalem into the Dead Sea, and these bitter waters will fill up with fish and the surrounding desert will be teeming with life.
The water level at the Dead Sea has been receding at the fantastic rate of up to one meter every year. This is due to water being diverted from the Jordan River for agricultural purposes and evaporation caused by the Dead Sea mineral works. The dropping water level has led to sinkholes appearing on the shores of the Dead Sea. On a visit to the arid region, Siegel discovered that many of these pools have been filling up with sweet fresh water, and even more incredibly, fish."
American Politics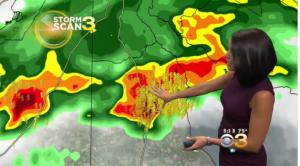 Heavy Rain, Lightning Prompts Evacuations At The DNC 07/28/16  Could this be the hand of God for all of the goings-on at the convention like the pro-Palestinian flags, burning the Israeli flag, the platform supporting abortion and other far left causes, and the utter disdain they have for God? Interesting to watch…
"Wind gusts, heavy rain and lightning have forced people to evacuate the media tents outside of the Wells Fargo Center and take shelter less than an hour before the opening gavel on the final night of the Democratic National Convention.
Officials say that the media tents in the vicinity of the Wells Fargo Center are not designed to fully protect people in the event of a direct lightening strike.
They're strongly recommending that people leave their tents due to lightening that becomes a concern when the strikes are within a six-mile radius of the DNC and evacuate to Lincoln Financial Field nearby…
The area has been under a flash flood watch as of 2 p.m. which will last through 6 p.m. Friday."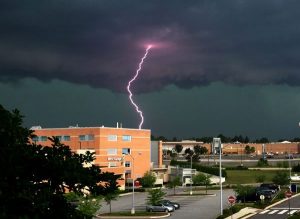 PHOTOS, VIDEO: Storms hit amid the DNC in Philly 
"Action News viewers and the Action Cam caught the scene as powerful storms moved through the region just as the Democratic National Convention got underway at the Wells Fargo Center in South Philadelphia.
The storm rolled in fast and furious, leaving thousands across the area without power, and others stranded in rising flood waters.
Torrential rain pounded streets in Center City Philadelphia…
The same cell struck across the Delaware Valley, toppling trees onto a building in Haverford, Delaware County and onto roads, including one in Upper Makefield, Bucks County."
Clinton Cash – Official Movie Premiere 07/25/16  Bretibart has placed the "Clinton Cash" film on YouTube for all to see. It exposes the corruption behind the Clinton foundation and shows how deep it runs.
"Clinton Cash, is a feature documentary based on the Peter Schweizer book that the New York Times hailed as "The most anticipated and feared book of a presidential cycle."
Clinton Cash investigates how Bill and Hillary Clinton went from being "dead broke" after leaving the White House to amassing a net worth of over $150 million, with over $2 billion in donations to their foundation. This wealth was accumulated during Mrs. Clinton's tenure as US Secretary of State through lucrative speaking fees and contracts paid for by foreign companies and Clinton Foundation donors."
Islam – Jihad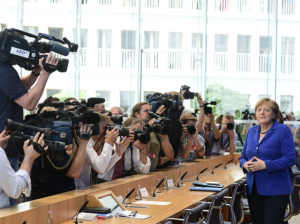 Merkel At Emergency Press Conference: Germany Stands By Mass Migration Policy Despite Terror Attacks 07/28/16  Merkel's statements clearly show both the elite agenda and the delusion of the Hard Left mindset. Despite those in her coalition party calling for a "Trump-like" end to immigration, she is vowing to keep the borders open, remarking that it's the terrorists who want them to close borders. This is either outright lying or severe delusion. Europe is disintegrating under God's judgment.
"After a week of Islamist attacks by migrants and 'refugees', the German Chancellor has admitted terrorists used her open door policy to bring in people to commit violence, but refused to reverse her approach.
Defending her decision to tear up EU asylum rules for Syrian migrants, she said she had "acted in line with my knowledge and conscience" and said Germany would "stick to our principles" and "give shelter to those who deserve it".
The German Chancellor had rushed back from a holiday and was speaking at a press conference that had been hastily brought forward to address the carnage in her country.
She repeated her "We can do this!" catchphrase, which she first uttered at the same conference last year before welcoming 1.5 million mainly young, male, Middle Eastern migrants to Germany.
"As chancellor, I am responsible for, by far, most decisions. I always have to weigh up if a decision meets our values — which does not mean that there are no risks," she said.
Adding: "The basic principle that Germany stands by [is that] its humanitarian responsibility is the right thing."
She did, however, say that "we will have to redouble efforts to deport people" who commit crimes and pledged that weapons laws across Europe would be sharpened.
She also claimed that terrorists wanted Germany to take in fewer migrants, and said she would not bow to their wishes."
France to form National Guard to counter terrorist threat, Hollande says 07/28/16  The EU is breaking apart under the stress from Muslim immigration and terror attacks. This is part of God's judgment on a continent that has abandoned Him and embraced Islam. At the same time that France is ramping up protection for its citizens, Merkel of Germany is calling for increased immigration.
"French President François Hollande on Thursday confirmed that a National Guard would be formed from existing reserve forces to better protect citizens facing terror attacks.
A "defence council" to be held early next month will hammer out the force's hierarchy and command structure, Hollande's office said in a statement.
The president said parliamentary consultations on the formation of the force would take place in September "so that this force can be created as quickly as possible".
He said he hoped the guard, made up of volunteers from the police, paramilitary police and military, would be operational by early autumn.
Hollande had called on French "patriots" to enlist in the country's operational reserves in the wake of the Bastille Day truck attack in Nice in which 84 people were killed…
France has not had a national guard since 1872."
Hard Left/ Homosexuality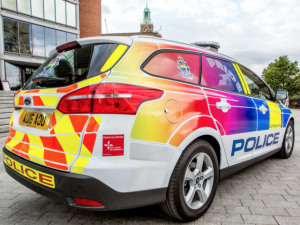 UK Police Launch Rainbow Patrol Car To 'Fight Hate Crime' 07/28/16  Notice how far Britain has come from its Christian roots? When even the police are celebrating the homosexual agenda, their move to depart from the EU through Brexit doesn't hold much hope for turning the country around. And what will this celebration of homosexuality do to the Muslim population of the country? Things are about to heat up dramatically, it seems, as these two favored causes of the hard left come into conflict.
"A British police force has revealed a new rainbow flag decorated patrol car in "a sign of solidarity" with the "LGBT+ community" which will help to "fight hate crime".
"Norfolk & Suffolk Constabularies launch their newest tool to fight hate crime this week, a new Pride car.
"Set to take to the road on the week of Norwich Pride, the car, with its rainbow design, is a sign of solidarity and commitment to the region's LGBT+ community," the force announced on YouTube.
The local police station will also be flying the Gay Pride flag for the first time during the local Pride event, it was announced.
Norfolk Police's deputy chief constable Charlie Hall said in a statement: "It signifies our continued commitment in supporting our diverse communities.
"This sends out a clear message that hate crime will not be tolerated in Norfolk and I'd like to encourage any victims of a hate crime to contact the police."
World War 3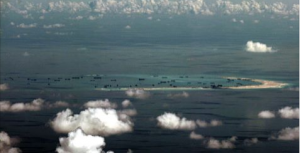 PUTIN THE PRESSURE ON Russia and China to hold joint naval drills in the South China Sea as tensions escalate 97/28/16  With each move tensions mount in the South China Sea and because of that, it's an area to watch very closely because any incident could lead to war. The fact that the Russians and Chinese are working together is also a troubling development for the US.
"China's Defence Ministry insisted the "routine" drills were aimed at strengthening their co-operation and were not aimed at any other country.
But they come at a time of heightened tensions in the region after a UN-backed tribunal ruled this month that China did not have historic rights to the waters.
China rejected the ruling and refused to participate in the case.
"This is a routine exercise between the two armed forces, aimed at strengthening the developing China-Russia strategic cooperative partnership," China's defense ministry spokesman Yang Yujun told a news conference.
"The exercise is not directed against third parties."
 The Coming Middle East War
Iran threatens to shut off Strait of Hormuz 07/28/16  Now that the Iran deal has been completed by the Obama administration, Iran once again is ramping up its threats. They will play a role in the coming conflict in the Middle East, either through their proxies which threaten Israel, or eventually, directly as Scripture prophesies.
"Iran has threatened once again to close the Strait of Hormuz if the nation faces military action by its "enemies."
The Iranian army's Deputy Chief of Staff Brigadier General Ali Shadmani said Tuesday that "If the enemy makes a small mistake, we will shut the Strait of Hormuz, kill their sedition in the bud and endanger the arrogant powers' interests," according to the Fars news agency.
In May the deputy commander of Iran's powerful Revolutionary Guard, Gen. Hossein Salami, warned that Iranian forces would close the strategic gateway to the Persian Gulf to the United States and its allies if they "threaten" the Islamic Republic.
Tehran and Washington have often clashed over the narrow strait, through which nearly a third of all oil traded by sea passes."

Zechariah 14:8  And it shall be in that day, that living waters shall go out from Jerusalem; half of them toward the former sea, and half of them toward the hinder sea: in summer and in winter shall it be.