Jerusalem holy site restrictions spark fatal clashes in Israel
               Verse of the Day
Zechariah 12:3-4  And in that day will I make Jerusalem a burdensome stone for all people: all that burden themselves with it shall be cut in pieces, though all the people of the earth be gathered together against it. (4) In that day, saith the LORD, I will smite every horse with astonishment, and his rider with madness: and I will open mine eyes upon the house of Judah, and will smite every horse of the people with blindness.

Commentary
I want to keep you on the cutting edge of what is happening with the fighting over the Temple Mount. The Bible states that people will go mad over Jerusalem! This suicide attack is gaining traction in Muslim countries. Is this going to lead to the all-out Middle East war?
May the Holy God of Israel bless and protect you.
Zechariah 8:8 And I will bring them, and they shall dwell in the midst of Jerusalem: and they shall be my people, and I will be their God, in truth and in righteousness.
Jerusalem
Jerusalem holy site restrictions spark fatal clashes in Israel 07/21/17
"Violence broke out near a Jerusalem holy site on Friday after Israeli forces restricted entrance to a sensitive shrine following a terror attack by Palestinian militants.
Palestinian officials said three Palestinians died and 390 were injured during clashes in Jerusalem and the West Bank over security measures at the Temple Mount, a shrine that is holy to both Jews and Muslims. The area around the site and other parts of the country became a scene of carnage after Jerusalem imposed metal detectors and turned away Palestinians who were younger than 50 a week after a deadly terror assault in the compound that killed two Israeli police officers."
Thousands protest against Israel in Amman, Istanbul, Beirut 07/21/17
Zechariah 12:6  In that day will I make the governors of Judah like an hearth of fire among the wood, and like a torch of fire in a sheaf; and they shall devour all the people round about, on the right hand and on the left: and Jerusalem shall be inhabited again in her own place, even in Jerusalem.

"Thousands gathered in Amman, Beirut, Istanbul and Kuala Lumpur Friday afternoon in solidarity with Palestinian worshipers who have been protesting the new arrangements, including metal detectors and cameras, since last Friday's shooting.
In the Jordanian capital, thousands protested against Israel and hailed the attack that killed the two officers last week, according to media reports. A makeshift cardboard "missile" with the words "Al-Aqsa is a red line" was reported to have been carried by the crowd.
"With our soul, with our blood, we will sacrifice ourselves for you, Al-Aqsa," they chanted. "We will go to Al-Aqsa in our millions as martyrs," vowed the crowd, whose country is the official custodian of the Temple Mount, as protesters set ablaze and trampled an Israeli flag."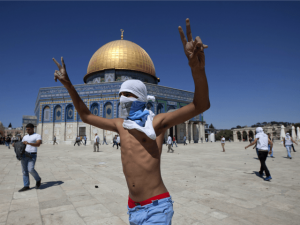 Palestinian Terror Factions in Gaza Threaten Violence Over Temple Mount 07/21/17  Latest update about what is happening at the Temple Mount.
Zechariah 9:10  And I will cut off the chariot from Ephraim, and the horse from Jerusalem, and the battle bow shall be cut off: and he shall speak peace unto the heathen: and his dominion shall be from sea even to sea, and from the river even to the ends of the earth.

"The leaders of Palestinian jihadist factions in the Gaza Strip held a press conference threatening that if Israel continues an "assault" against the Al Aqsa Mosque, "this will result in a response that will change the entire region."
The terrorist groups were referring to the Israeli government's decision to install metal detectors at the entrances to the Mount, the holiest site in Judaism and holy to Islam as well.
Protest leaders, including top Palestinian officials, claim the metal detectors are part of an Israeli conspiracy to hamper Muslim worship at the Temple Mount.
The activists, jihadists and Palestinian officials seemingly failed to note that Israel's new security measures were put into place in direct response to the murderous Palestinian terrorist attack at the Mount last Friday in which three assailants somehow smuggled weapons onto the site. The metal detectors will protect all visitors to the Mount, including Muslim worshipers."
God's Final Judgment/ Immigration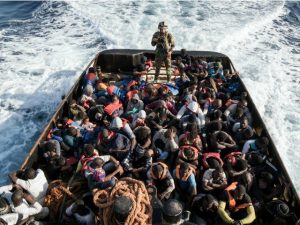 Report: Immigration Crisis Causing 'Unprecedented' Shift in Italy's Demographics 07/21/17  The Italians, just like the rest of the Europeans, don't want children. They aborted their babies in large numbers and used birth control. This resulted in a huge decline in babies and a greatly increasing elderly population. The decline now is irreversible, and Italy is heading toward collapse as a culture and a nation.
Into the mix comes the Muslims, which are going to overcome the Italians. Right now the Muslim population is almost at 10 percent, which is the percentage when the Muslims move to take over a culture. The Italians are having few children, while the Muslims are having many. Italy as we know it is doomed. It is just a matter of time until they are under Sharia Law. They wanted sin and rejected God's word, so now they are getting allah and Sharia Law.
This collapse is happening much faster than I imagined; it is coming very fast with no way to stop it. The final judgment now is hovering over Italy and the rest of Europe. It is happening before your eyes. You are witnessing the Lord moving to destroy an entire culture that rejected and mocked Him and his word.
Proverbs 28:5  Evil men understand not judgment: but they that seek the LORD understand all things.

"A deadly combination of a plummeting birthrate and massive immigration portend that native Italians will make up an increasingly small percentage of Italy's overall population, a new study reports.
Italy's fertility rate is less than half of what it was in 1964, the Centro Machiavelli reported in its study titled "How immigration is changing Italian demographics." It has dropped from 2.7 children per woman to just 1.5 children per woman currently, a figure well below the replacement level for zero population growth of roughly 2.1 children per woman.
As of the first of this year, Italy had over five million foreigners living as residents, a growth of a remarkable 25 percent relative to 2012 and a whopping 270 percent over 2002. At that time, foreigners made up just 2.38 percent of the population while fifteen years later the figure has nearly trebled to 8.33 percent of the population.
Moreover, even the children being born in Italy are over-represented by immigrants, whose birthrate is considerably higher than native Italians, the study revealed. It is "unsurprising," therefore, that Italian regions with the highest fertility rates are no longer in the south, as was ever the case, but in the Italian north and in the Lazio region, where there is a higher concentration of immigrants."
World War 3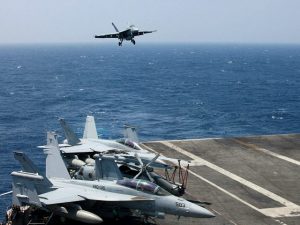 Trump's Pentagon Plans to Challenge Chinese Claims in South China Sea 07/21/17  This is exactly what needs to be done, but the question is, how will China react? China has pressure on its border with India,and now with the USA in the South China Sea!
Colossians 3:4  When Christ, who is our life, shall appear, then shall ye also appear with him in glory.

"President Trump approved a Pentagon plan this year that will require regular challenges to China's excessive maritime claims in the South China Sea, Breitbart News has learned.
Defense Secretary Jim Mattis sent the plan to the White House in April that outlines a schedule for the whole year of when U.S. Navy ships will sail through international waters China illegally claims, according to a U.S. official.
Although the U.S. Navy has routinely conducted these "freedom of navigation operations" all around the world for decades, the Obama administration put a stop on them in the South China Sea from 2012 to 2015, with only a few in 2016, out of concern for upsetting China."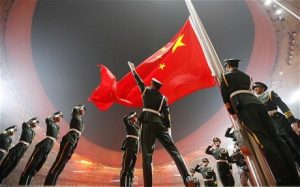 Billions Of Lives Are At Stake As China Threatens India With War 07/21/17  There has been zero coverage of this by the MSM (Mainstream media,) but China and India seem to be gearing up for war. These nations share a border and there are long-simmering disputes over the border. Back in the early 1960's, they both actually fought over the border. China now is very aggressive with its borders, especially with the South China Sea, so this situation also is very dangerous. Nearly everywhere we look there is potential for war.
Isaiah 57:20-21  But the wicked are like the troubled sea, when it cannot rest, whose waters cast up mire and dirt. There is no peace, saith my God, to the wicked.

"The ruling Communist Party of China has issued a stern warning to neighboring India, with which it is engaged in a bitter border dispute that has recently seen Chinese live-fire drills and media speculation of extensive Indian military casualties denied by both sides.
After accusing Indian troops of crossing over the disputed Sikkim border last month, Chinese Communist Party outlet Global Times published a commentary Tuesday urging restraint by both belligerents, but warning that China was prepared to engage India in a battle for the contested land. The piece chalked up the conflict to a greater competition for economic and political dominance between the two leading Asian powers and said that Beijing would amass troops and armaments at the border in anticipation for what could turn into an all-out war."
Hard Left/ Christianity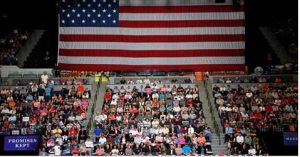 ABC, NBC under fire after smearing Christian organization as a "hate group" 07/22/17
2 Timothy 3:13  But evil men and seducers shall wax worse and worse, deceiving, and being deceived.
It is abundantly clear how much the Hard Left reprobates hates us. Always remember, they hate us as much as the Nazis did the Jews. If the reprobates get complete power they will act on this hatred. These are evil people to their core.
Now this is a great chance for the real church to shine in this darkness. We can stand for the Lord in is this hour of darkness and bring glory to his name and stand for the truth. It is our job not to hide from them or cower, but to run to the battle in the name of Jesus.
If we stand in prayer, God will back us. We will see exciting things happen as the Lord responds to our prayers. So run to the battle against the reprobates.
Ephesians 6:12-13 For we wrestle not against flesh and blood, but against principalities, against powers, against the rulers of the darkness of this world, against spiritual wickedness in high places. (13) Wherefore take unto you the whole armour of God, that ye may be able to withstand in the evil day, and having done all, to stand.

"On Tuesday night, June 11, Attorney General Jeff Sessions gave a speech to the members of the Alliance Defending Freedom (ADF), a religious freedom group. The ADF is assisting the Supreme Court case involving Jack Phillips, a Colorado baker who refused to bake a gay wedding cake.
Major networks are enraged. In headlines for both ABC and NBC, they called the ADF an "anti-LGBT hate group." On what would the networks base that characterization? It's the hysterical assessment of the Southern Poverty Law Center (SPLC).
NBC quoted Democratic National Committee spokesman Joel Kasnetz in his condemnation of Sessions. Kasnetz accused the attorney general of "choosing to spend his time speaking in front of one of the country's leading anti-LGBTQ hate groups."
ABC further quoted Kasnetz as saying, "Sessions' appearance at this event, as the top law enforcement official in the country, brings in to question whether the attorney general intends to protect all Americans."
SPLC is best known for being the left-wing group that targets other groups and individuals in the public eye for "hate speech" — especially conservatives and Christian groups."
Evangelical Advisory Board Pressured Trump Admin to Not Deport Iraqi Christians 07/22/17
Proverbs 19:12  The king's wrath is as the roaring of a lion; but his favour is as dew upon the grass.
This is incredible news, that real Christians have the ear of the President! He is very responsive and moved to protect 100 Iraqi Christians being deported! Despite the dark hour we are living in, God still is working and can bless us! This is just wonderful news.
Proverbs 29:14  The king that faithfully judgeth the poor, his throne shall be established for ever.

"Johnnie Moore, a human rights advocate and a former vice president at Liberty University who is a member of Trump's evangelical advisory board, told CP that last Monday was the first time the evangelical leaders participated in an "all-day workday" at the White House.
Among the issues discussed by the group was the administration's attempt to deport Iraqi Christian and other Iraqi immigrants with unauthorized status back to Iraq, an issue that prominent evangelicals and humanitarians have called "disturbing."
"It was brought up during the work day and discussed openly and a number of us disclosed that this decision — that we know was not a White House decision but a mid-level decision at the Department of Homeland Security — was a decision that we had received a lot of criticism for," Moore, a CP senior editorial advisor, said. "We talked about it openly and we talked about it with administration people in the room."
Science: 666 Surveillance System
The Medical Profession's Digital Revolution Is Here 07/22/17  The advancements are happening so fast in so many fields that one just can't keep up with it. The use of the smart phone in this article reminds me of the tricorder used by Dr. Bones in Star Trek! Remember, there is a huge downside to this incredible increase in knowledge and technology. The downside is that it gives tremendous power to the government, which according to Revelation 13, will be used to control the people.
Daniel 12:4  But thou, O Daniel, shut up the words, and seal the book, even to the time of the end: many shall run to and fro, and knowledge shall be increased.

"The airplane had just taken off when one of the passengers lost consciousness. Eric Topol pulled his smartphone out of his pocket and immediately performed an electrocardiogram (EKG) on the passenger. He used the device to do an ultrasound scan of the man's heart and measured oxygen levels in his blood. He was then able to give the all-clear and the plane could continue its journey. The man had lost consciousness merely due to a temporarily slowed heart rhythm.
Topol is a cardiologist in La Jolla, California, and it wasn't the first time he had encountered such a situation while flying. On one occasion, he used his mobile phone to determine that a passenger had suffered a heart attack and the plane had to land immediately. Of particular interest to Topol, though, is the fact that anyone can perform such an EKG, whether a professor of medicine, a flight attendant or just a simple passenger. All one needs is a $200 sensor and a smartphone with an app that can analyze the heart's rhythm.
Hardly any other object has changed the world to the degree that smartphones have. It has become completely normal to use our mobile devices for shopping and managing our schedules. Political revolutions have been organized by smartphone and you can use one to find a life partner or to plan a funeral. Every single day, 10 times as many smartphones are sold around the world as babies born. And now, smartphones are conquering medical care."

Zechariah 8:22 Yea, many people and strong nations shall come to seek the LORD of hosts in Jerusalem, and to pray before the LORD.