Kent State student group hosts panel asking 'Is Christianity the white man's religion?
Verse of the Day
Romans 1:16 For I am not ashamed of the gospel of Christ: for it is the power of God unto salvation to every one that believeth; to the Jew first, and also to the Greek.
Commentary
Everything with the Hard Left is race, everything. They want to isolate and marginalize us from the rest of society like the Nazis did to the Jews. After this, they will move to take our rights away followed by the physical attacks to murder.They are taking the fight to us because they loath us.
I'm leading in prayer live on FaceBook Saturday nights for revival. This is how we fight the Hard Left. You are invited. You must understand this struggle is heading towards life and death. They loath and despise us and will act on it.
May the Holy God of Israel bless and protect you.
Colossians 3:11 Where there is neither Greek nor Jew, circumcision nor uncircumcision, Barbarian, Scythian, bond nor free: but Christ is all, and in all.
Hard Left: Attacking Christianity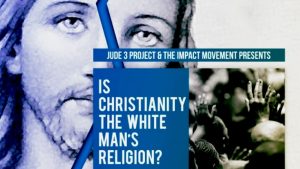 "Kent State student group hosts panel asking 'Is Christianity the white man's religion?'"
Revelation 5:9 And they sung a new song, saying, Thou art worthy to take the book, and to open the seals thereof: for thou wast slain, and hast redeemed us to God by thy blood out of every kindred, and tongue, and people, and nation;
 ""The problems of Christianity" and "white Jesus" were on the agenda during a controversial panel discussion at Ohio's Kent State University on Tuesday

Over 100 students attended the "Is Christianity the White Man's Religion?" event. KSU spokesman, Eric Mansfield, told Fox News the panel was sponsored by a student organization that chose the speakers on the panel and followed all university guidelines.

"Our university values the free expression of differing points of view to promote mutual respect and understanding," Mansfield said.

The event was co-sponsored by KSU's Impact Movement, which supports the African American church, and UHURU Magazine, a derivative of Black United Students. The panel featured Lisa Fields, who founded a group "equipping those of African descent," ShoBaraka, co-founder of the social justice-focused "AND Campaign," and Vince Bantu, professor of missionology at Covenant Theological Seminary.

"Christianity is, in fact, a white man's religion" due to "identity politics" that makes "humans subconsciously assign certain cultures to different groups," Baraka said, according to The Kent Conservative, a student blog."
American Christianity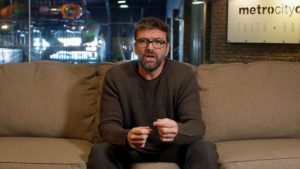 "Pastors Deliver Petitions to Lawmakers in Support of Church Attacked for LGBT Youth Counseling"
This is great news that pastors are rising up against the attack of the state trying to control Christian counseling regarding homosexuality.
In the end, I think the final battle in the American civil war will be over homosexuality. The reprobates will attack the real church for a stand for God's word.
Jude 1:7 Even as Sodom and Gomorrha, and the cities about them in like manner, giving themselves over to fornication, and going after strange flesh, are set forth for an example, suffering the vengeance of eternal fire.

"More than 23,000 people have signed a petition in support of a Michigan church that has come under fire for hosting a counseling event for LGBT youth. Metro City Church hosted a workshop event with Forge Ministries in February centered on counseling minors, especially girls, who have same-sex attraction or questions about gender identity.

A group of Michigan pastors delivered the petitions to legislators on Tuesday in response to Democratic state representatives Darrin Camilleri and Adam Zemke calling for Attorney General Bill Schuette to investigate Metro City to see if the church "committed any unfair, unconscionable or deceptive practices."

"It is alarming that legislators, who have sworn an oath to uphold the Constitution, have attacked the free speech rights and free exercise of religion by a local church congregation, in direct violation of the First Amendment,"

"Moreover, as government officials, for you to dictate what a local church must teach regarding its theology is totalitarian in nature, and is at the heart of what the Establishment Clause of the First Amendment was meant to prevent."
 Hard Left Churches and Islam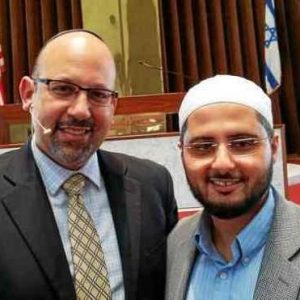 "Michigan churches join Muslim prayers against 'gun violence', stage symbolic school 'walkout'" The apostate church merging with Islam. They are made for each other. What utter corruption and nauseating to God.
Ephesians 5:11 And have no fellowship with the unfruitful works of darkness, but rather reprove them.
""For pastors who sign onto these types of agreements, we are way past the point where they can claim ignorance as an excuse," Haney said. He reminds them that Islam denies the Trinity, denies that Jesus Christ is the Son of God, denies His death by crucifixion, denies his resurrection and denies his future second coming as the Christian Savior.

"If that were all you knew about Islam, it's more than enough," Haney said. "Why would you go into the mosques and pray with the imams [to Allah]?"

The "common word" that forms the basis of the three-faith alliance is that "we all worship Allah," Haney said. He cautions Christians to take Islamic beliefs about Jesus into consideration before coming to the conclusion that Allah is the "same God" they worship."
Hard Left Loves Islam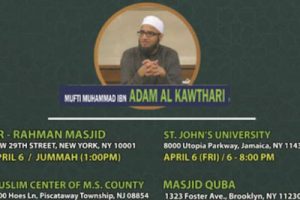 "Muslim cleric who advocates wife-beating, stoning, hatred for non-Muslims speaks at St. John's University" The colleges try and block real Christians from speaking but open the doors for a sharia wife beating Muslim.
God has turned these people over to reprobates minds for everyone to see. They've been judged and have no idea!
Romans 1:28 And even as they did not like to retain God in their knowledge, God gave them over to a reprobate mind, to do those things which are not convenient;

"On April 6, Muhammad ibn Adam Al-Kawthari, a British cleric from the Deobandi movement, a hardline South Asian Islamic sect, will commence a three-day speaking tour, speaking at five mosques in New York and New Jersey, as well as at St Johns University in Queens. His most widely-advertised lecture, at the Quba Institute in New York on April 7, is titled 'Women's Rights in Marriage.'

The hosts call on their audience to come along and "stand up against domestic violence." But, with a dark irony so often a feature of Islamist events in the West, the cleric invited to give the talk on the dangers of domestic violence has previously justified domestic abuse.

Kawthari has written that a husband may hit his wife if she is "slanderous or violates Islamic rulings," as long as it is a last resort and "a light blow that leaves no mark." In addition, he has declared that women should not leave the home, may not refuse their husbands' demands for sex, and should be stoned to death if they commit adultery. In 2016, The Times reported that the Darul Uloom "preaches contempt for non-Muslims and warns of the 'repulsive qualities' of Christian and Jewish women."

Hard Left: Calling for Murder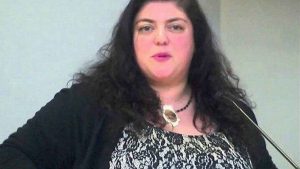 "A CULTURE OF MURDEROUS HATE AT FRESNO STATE" It looks like an entire college has been taken over by a murderous Hard Left spirit. These are dangerous people and they are starting to manifest these violence all over the nation. This hatred is rising very fast and at some point they are going to act on it in a big way.
Romans 1:28-30 And even as they did not like to retain God in their knowledge, God gave them over to a reprobate mind, to do those things which are not convenient; Being filled with all unrighteousness, fornication, wickedness, covetousness, maliciousness; full of envy, murder, debate, deceit, malignity; whisperers, Backbiters, haters of God, despiteful, proud, boasters, inventors of evil things, disobedient to parents,

 "In the winter of last year, Lars Maischak had tweeted, "To save American democracy, Trump must hang. The sooner and the higher, the better. #TheResistance." The next day he inquired, "Has anyone started soliciting money and design drafts for a monument honoring the Trump assassin, yet?"

Toward the end of the week, he proposed the mass murder of Republicans, "Justice = The execution of two Republicans for each deported immigrant." Maischak was a history adjunct at Fresno State whose topics had included, "Marx and Hegel for Historians." President Castro eventually clarified that calls to murder the President of the United States and millions of Republicans, "do not reflect the position of the University."

Castro failed to clearly condemn Maischak's murderous tweets. Instead Maischak took a voluntary leave "conducting research off campus". His university faculty page appears to be active. Now, Randa Jarrar, a tenured Muslim professor in Fresno State's Department of English, responded to Barbara Bush's death by calling the deceased 92-year-old woman a "racist".
 DC Swamp: Progress Being Made
"DOJ Inspector General Refers Andrew McCabe for Criminal Prosecution" All we need is one of the Clinton Crime Cartel members to crack, and this will bust it wide open. If McCabe faces hard time in the big house, he will give up the rest! How can he go to federal prison as a FBI fed? Wow, is he is trouble. He has enough knowledge to put B. Hussein away.
God is going it. He is going to rip open and clean out the DC swamp. He is so good to us. Now we need a spiritual revival to go along with the political one.
"The Department of Justice's (DOJ) Office of the Inspector General (OIG) has referred fired FBI Deputy Director Andrew McCabe to the U.S. Attorney's Office for the District of Columbia for criminal prosecution, multiple reports indicated Thursday.

Inspector General Michael Horowitz's investigation of McCabe's involvement in leaks to the media concluded last month. The final report indicated three instances in which McCabe lied to investigators, prompting Attorney General Jeff Sessions to fire McCabe even before the report was released.

On Thursday, multiple outlets reported that Horowitz's office also made a criminal referral based on McCabe's conduct outlined in the report to the office of U.S. attorney Jessie Liu, the top federal prosecutor in the nation's capital. In contrast to the headline-grabbing criminal referrals made by members of Congress, this type of referral is part of the DOJ's standard operating procedure and stands a much better chance of resulting in actual criminal charges against McCabe."
DC SWAMP: THE CRITTERS ARE NOW IN TROUBLE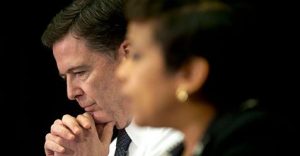 "GOP lawmakers demand criminal probe of Comey, McCabe, Clinton, Lynch" I am very excited about this letter. It appears this is the big breakthrough we have been waiting for. The criminal case was laid out before the public and DOJ. What is AG Sessions going to do? How can he not prosecute these cases because the public is fully aware. It can't be hid.
The tide is turning and now the swamp is in big trouble. It looks like the Lord's huge sludge pumps are now coming online and the swamp is going to be fully drained! Those vicious DC swamp critters and going be dragged out and taken to the big house!
I want to keep you on the cutting edge of what is very important.
Isaiah 59:7 Their feet run to evil, and they make haste to shed innocent blood: their thoughts are thoughts of iniquity; wasting and destruction are in their paths.

 "A group of conservative Republicans sent a criminal referral to the Justice Department Wednesday asking prosecutors to consider bringing charges against former FBI Director James Comey, former Attorney General Loretta Lynch, former Secretary of State Hillary Clinton and others involved in the probe into Mrs. Clinton's emails.

They also complained that the FBI and Justice Department mishandled the so-called "Steele dossier" with salacious and unverified claims about then-candidate Donald Trump.

The 11 GOP lawmakers, led by Florida Rep. Ron DeSantis, said the taint of the two matters is so widespread that it demands investigations of Mr. Comey, Ms. Lynch, Mrs. Clinton, former FBI Deputy Director Andrew McCabe, former Deputy Attorney General Sally Yates, former acting Deputy Attorney General Dana Boenta, FBI Agent Peter Strzok and FBI lawyer Lisa Page. Those latter two were the FBI employees whose text messages revealed some of the sordid inner workings of the Clinton email probe.

"Because we believe that those in positions of high authority should be treated the same as every other American, we want to be sure that the potential violations of law outlined below are vetted appropriately," the lawmakers said in a referral letter."
Hard Left: Loves to Protect Sexual Sin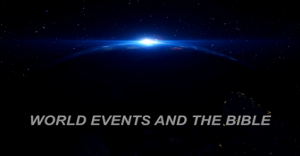 "California Bill Could Ban Sale Of Some Christian Books, Including The Bible" Eventually, the reprobate mind will attack the Bible as hate speech and move to ban it. They loath God and of course his word. They love sin and protect and promote it while the Bible condemns sin. Something has to give, so there is no doubt they want it destroyed.
"Assembly Bill 2943 would make it an "unlawful business practice" to engage in "a transaction intended to result or that results in the sale or lease of goods or services to any consumer" that advertise, offer to engage in, or do engage in "sexual orientation change efforts with an individual."

The bill then defines "sexual orientations change efforts" as "any practices that seek to change an individual's sexual orientation. This includes efforts to change behaviors or gender expressions, or to eliminate or reduce sexual or romantic attractions or feelings toward individuals of the same sex." (Emphasis added.)

This is extraordinarily radical. Christian orthodoxy is simple — regardless of a person's desires (their "orientation"), the standard of right conduct is crystal clear. Sex is reserved for marriage between a man and a woman. When it comes to "gender expression," there is no difference between "sex" and "gender," and the Christian response to gender dysphoria is compassion and treatment, not indulgence and surgical mutilation."
Middle East War
"Russian Missiles Alarm Israel, Stoking Risk of Next Syria Crisis"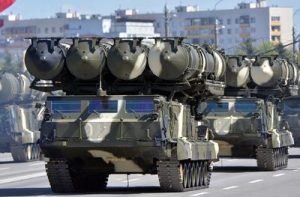 Russia is playing with fire in Syria with a possible confrontation with Israel. As Iran continues to move its military into Syria, Israel must confront them. Russia is putting itself right into the middle of this confrontation.
In the end, if Russia comes against Israel, Russia is going to lose.
Zechariah 12:6 In that day will I make the governors of Judah like an hearth of fire among the wood, and like a torch of fire in a sheaf; and they shall devour all the people round about, on the right hand and on the left: and Jerusalem shall be inhabited again in her own place, even in Jerusalem.

"Angered by last week's U.S. attack on Syria, Russia warned that there would be consequences. Only one of them was spelled out: The Kremlin said it may supply its Syrian ally with state-of-the-art air defenses.

If the prospect rings alarm bells among President Bashar al-Assad's enemies, they're likely to be loudest in Israel, not the U.S. Israel carries out airstrikes in Assad-controlled Syrian territory much more frequently than the U.S., as it seeks to prevent a military buildup near Israeli borders by Assad's other key backer, Iran.

Israeli analysts and former defense officials say there's only one likely response from the Jewish state if the S-300 surface-to-air missile systems are delivered to Syria: An immediate attempt to blow them up.

That would upend the delicate relationship between Israel and Russia, who've kept channels open despite supporting opposite sides in Syria. And it could create another dangerous moment with the potential to escalate the seven-year civil war into a wider conflict."
The 666 Surveillance System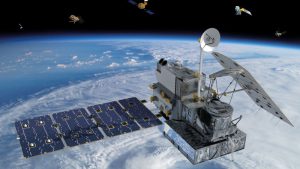 "Bill Gates Backs Plan to Surveil the Entire Planet From Space" All the pieces are falling into place for total world-wide surveillance of the entire earth. This is part of controlling every person on earth under one system which will be headed by the antichirst.
This system is coming together while the events in Israel and Jerusalem are taking place. This shows how in the near future prophetic events are converging to fulfill end time prophecies!
 "EarthNow is a new company looking to provide satellite imagery and live video in virtually real-time. Its unsettling pitch describes a network of satellites that can see any corner of the globe and provide live video with a latency of about a second. And a look at the startup's top investors gives a lot of confidence that this thing is happening.

On Wednesday, EarthNow announced that it will emerge from the Intellectual Ventures ISF Incubator to become a full-scale commercial business. Its first round of investors is comprised of a small group of complimentary powerhouses: AirBus, the SoftBank Group, Bill Gates, and satellite-industry vet Greg Wyler."
DROUGHT IN THE USA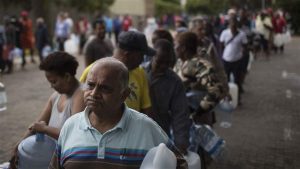 "Drought Returns to Huge Swaths of U.S., Fueling Fears of a Thirsty Future" This is a great article showing the drought in the USA is not going away and could get very serious.
"Less than eight months after Hurricane Harvey pelted the Texas Gulf Coast with torrential rainfall, drought has returned to Texas and other parts of the West, Southwest and Southeast, rekindling old worries for residents who dealt with earlier waves of dry spells and once again forcing state governments to reckon with how to keep the water flowing.

Nearly a third of the continental United States was in drought as of April 10, more than three times the coverage of a year ago. And the specter of a drought-ridden summer has focused renewed urgency on state and local conservation efforts, some of which would fundamentally alter Americans' behavior in how they use water.

In California, for example, officials are considering rules to permanently ban water-wasting actions such as hosing off sidewalks and driveways, washing a vehicle with a hose that doesn't have a shut-off valve, and irrigating ornamental turf on public street medians. The regulations, awaiting a final decision by the California State Water Resources Control Board, were in force as temporary emergency measures during part of a devastating five-year drought but were lifted in 2017 after the drought subsided."
Revelation 22:20 He which testifieth these things saith, Surely I come quickly. Amen. Even so, come, Lord Jesus.