Londonistan: 423 New Mosques; 500 Closed Churches
Verse of the Day
Psalm 9:17 The wicked shall be turned into hell, and all the nations that forget God.

Commentary
As Christianity dies, it is being replaced right before your eyes by Islam. Islam is filling the void of a dying church in Europe. There is no stopping this process because of what Europe did to the Lord. They mocked and rejected God, so now they have allah and all the horrors that go with him. This will happen in America if we don't intercede before the Lord.
This is a serious question. If you were in London would you want to attend a "church" promoting homosexuality? Would you want to attend a church that says allah and the Lord are the same God? There is zero power of God power in these "churches," so why would anyone want to attend? Christianity is dying because the Holy Spirit left decades ago, and now the churches are full of sin and powerless.
May the Holy God of Israel bless and protect you.
Psalm 144:15 Happy is that people, that is in such a case: yea, happy is that people, whose God is the LORD.
Islam/ Christianity
Londonistan: 423 New Mosques; 500 Closed Churches 04/02/17
Acts 1:8  But ye shall receive power, after that the Holy Ghost is come upon you: and ye shall be witnesses unto me both in Jerusalem, and in all Judaea, and in Samaria, and unto the uttermost part of the earth.

"The Hyatt United Church was bought by the Egyptian community to be converted to a mosque. St Peter's Church has been converted into the Madina Mosque. The Brick Lane Mosque was built on a former Methodist church. Not only buildings are converted, but also people. The number of converts to Islam has doubled; often they embrace radical Islam, as with Khalid Masood, the terrorist who struck Westminster.
The Daily Mail published photographs of a church and a mosque a few meters from each other in the heart of London. At the Church of San Giorgio, designed to accommodate 1,230 worshipers, only 12 people gathered to celebrate Mass. At the Church of Santa Maria, there were 20.
The nearby Brune Street Estate mosque has a different problem: overcrowding. Its small room and can contain only 100. On Friday, the faithful must pour into the street to pray. Given the current trends, Christianity in England is becoming a relic, while Islam will be the religion of the future.
In Birmingham, the second-largest British city, where many jihadists live and orchestrate their attacks, an Islamic minaret dominates the sky. There are petitions to allow British mosques to call the Islamic faithful to prayer on loudspeakers three times a day.
By 2020, estimates are that the number of Muslims attending prayers will reach at least 683,000, while the number of Christians attending weekly Mass will drop to 679,000. "The new cultural landscape of English cities has arrived; the homogenised, Christian landscape of state religion is in retreat", said Ceri Peach of Oxford University. While nearly half of British Muslims are under the age of 25, a quarter of Christians are over 65. "In another 20 years there are going to be more active Muslims than there are churchgoers," said Keith Porteous Wood, director of the National Secular Society."
Christianity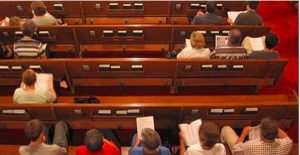 Growing Number of Americans Love Jesus but Don't Go to Church, Barna Finds 04/03/17  This study identified me. My faith in the Lord remains strong, but I had to abandon the church a long time ago. I am on the outside of what we know as the American church. I was tired of the compromise from the pulpits and the lack of zeal for the Lord. I could not stand the use of the modern translations instead of the word of God. I tried to get the pastors involved in pro-life with zero results. There was a precious few who helped at the pregnancy centers, but that was as far as it went. The list could go on and on. When I left, I found a weight off of me and I settled down inside
I have a radio show which is more like a church. I use only the King James Bible. We pray four times a week, along with having Bible study and really good Godly music. So, this filled the void for me and the others who attend. The problem is that many of the churches have succumbed to the Laodicean spirit which is found in Revelation chapter 3. This spirit is so upsetting to the Lord that he states he will spew the people out of his mouth!
Revelation 3:15 I know thy works, that thou art neither cold nor hot: I would thou wert cold or hot. (16) So then because thou art lukewarm, and neither cold nor hot, I will spue thee out of my mouth.
AND
Revelation 3:18 I counsel thee to buy of me gold tried in the fire, that thou mayest be rich; and white raiment, that thou mayest be clothed, and that the shame of thy nakedness do not appear; and anoint thine eyes with eyesalve, that thou mayest see. (19) As many as I love, I rebuke and chasten: be zealous therefore, and repent.

'While an increasing number of Americans are reportedly abandoning the institutional church and its defined boundary markers of religious identity, many Americans still believe in God and practice faith outside its walls
Barna has released a report on the first of a two-part exploration of faith and spirituality outside the church, looking at the "fascinating segment of the American population who, as the saying goes, 'love Jesus but not the church.'"
What's more, their beliefs about God are more orthodox than the general population, even rivaling their church-going counterparts, the study shows.
"For instance, they strongly believe there is only one God (93% compared to U.S. adults: 59% and practicing Christians: 90%); affirm that 'God is the all-powerful, all- knowing, perfect creator of the universe who rules the world today' (94% compared to U.S. adults: 57% and practicing Christians: 85%); and strongly agree that God is everywhere (95% compared to U.S. adults: 65% and practicing Christians: 92%)."
Furthermore, while they might not be comfortable with the church, this group still maintains a very positive view of religion, the study adds."
Islam
Europe Will Become Muslim Eurabia Within 20 Years ABSOLUTELY SHOCKING 04/03/17  This is a good video that shows by sheer population increase the Muslims are going to take over Europe.
The Western culture is that of death, with abortion and not having children. The Muslims are having children, and lots of them.

Europe is now out of time. There is no time left as the Muslims are aggressive and starting to move for a takeover in countries like Sweden and Belgium. The Europeans rejected the Lord and his word, so now they have allah and the Koran. Where are the Western feminists going to go? How about Hillary in a burqua being beaten by Bill as allowed by the Koran!
Proverbs 14:28  In the multitude of people is the king's honour: but in the want of people is the destruction of the prince.
Hard Left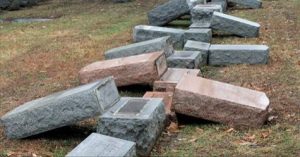 The anti-Semitism of the American Left 04/03/17  The Hard Left tried to pin the recent rash of anti-Semitic attacks on President Trump, but it turns out it came from the Hard Left camp! Truly the MSM are the "fake news." There is no truth in these people.
Hosea 4:1  Hear the word of the LORD, ye children of Israel: for the LORD hath a controversy with the inhabitants of the land, because there is no truth, nor mercy, nor knowledge of God in the land.

"So there you have it. The result of police and intelligence work has reduced the culprits down to a teenage Jew, a black journalist, black teenagers and a Hispanic. How is that for diversity? The profiles of these characters point to diverse types more likely to vote Democrat rather than Republican.There is a problem with the anti-Jewish attitude of African-Americans and Hispanics.
Although no one has yet been arrested for the Jewish graveyard vandalism if the pattern is repeated we are likely to see that the anti-Semitism which is the rationale behind these hate crimes belongs far to the left of the Republican Party. The media, strongly in the Democratic camp, has gone silent. Their investigative reporters have put down their pens refusing to expose where the guilt lies for these acts of Jew-hatred. They were quick to hurl accusations at President Trump. They simply couldn't keep their powder dry until the evidence was in. It follows their failed accusations that Trump colluded with the Russians during the presidential campaign to which there is no evidence.
The truth is that people on the Democratic side of the American political divide are guiltier of acts of Jew-hatred and there is a problem with the anti-Jewish attitude of African-Americans and Hispanics."
Hard Left/ American Politics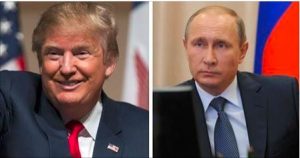 Grassley pressing FBI's McCabe in Trump-Russia dossier case 04/03/17  What a mess in Washington with the Hard Left attacks against the President. What I am going to do is post really good articles that have solid information. This way you can clearly see what is happening and not be overwhelmed by the Hard Left propaganda. Slowly the truth is coming to the surface.
The President has to get his people into place, including in the Attorney General's office. When they are in place, watch him tear into Obama and all his Hard Left drones. When this happens, it is time to cheer. The swamp is really starting to drain.
2 Samuel 8:15  And David reigned over all Israel; and David executed judgment and justice unto all his people.

"The chairman of the Senate Judiciary Committee is poking around for more information on the spurious dossier leaked to the media ahead of President Trump's inauguration – this time, homing in on Andrew McCabe, the second in command at the FBI.
In a March 28 letter, Sen. Charles Grassley, R-Iowa, told FBI Director James Comey he wants a detailed description on the involvement of Deputy Director McCabe in the investigation of Russian ties to Trump associates.
Grassley also wants to know whether McCabe's involvement in the probe "raises the appearance a conflict of interest in light of his wife's ties with Clinton's associates" and whether it would merit McCabe recusing himself from the investigation.
Grassley was referring to McCabe's wife having accepted $700,000 in political contributions facilitated by Hillary Clinton ally Terry McAuliffe, the Virginia governor, for her state Senate run.
As reported by The Washington Examiner, Grassley noted McCabe already is being looked at by the inspector general for his involvement in the Clinton email investigation, despite his wife's ties."
World War 3/ North Korea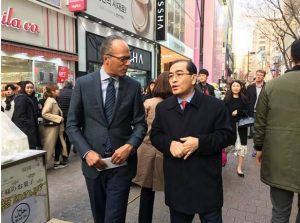 North Korean Defector Tells Lester Holt 'World Should be Ready' 04/03/17  This is one of the best articles I've read about the situation with NK. Please take the time to read it. NK is a ticking time bomb and we are running out of time.
This is my great concern, which I've mentioned several times. If Kim Jong Un has an ICBM that can reach the US with a nuclear weapon, he will use it. The West coast cites are wicked before the Lord. They mock the Lord at every turn with no fear whatsoever. They do everything to destroy God's institution of marriage and kill babies. These cities are beyond ripe for judgment.
Could NK be used of the Lord for judgment against the USA?
Isaiah 1:4-7  Ah sinful nation, a people laden with iniquity, a seed of evildoers, children that are corrupters: they have forsaken the LORD, they have provoked the Holy One of Israel unto anger, they are gone away backward. (5) Why should ye be stricken any more? ye will revolt more and more: the whole head is sick, and the whole heart faint. (6) From the sole of the foot even unto the head there is no soundness in it; but wounds, and bruises, and putrifying sores: they have not been closed, neither bound up, neither mollified with ointment.
(7) Your country is desolate, your cities are burned with fire: your land, strangers devour it in your presence, and it is desolate, as overthrown by strangers.

"A senior North Korean defector has told NBC News that the country's "desperate" dictator is prepared to use nuclear weapons to strike the United States and its allies.
Thae Yong Ho is the most high profile North Korean defector in two decades, meaning he is able to give a rare insight into the secretive, authoritarian regime.
According to Thae, North Korean dictator Kim Jong Un is "desperate in maintaining his rule by relying on his [development of] nuclear weapons and ICBM." He was using an acronym for intercontinental ballistic missiles — a long range rocket that in theory would be capable of hitting the U.S."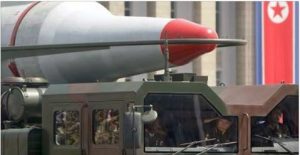 Trump national security aides complete North Korea policy review: official 04/02/17  This is an update to the very dangerous situation with NK. We are definitely out of time.
Revelation 22:20  He which testifieth these things saith, Surely I come quickly. Amen. Even so, come, Lord Jesus.

"President Donald Trump's top national security aides have completed a broad review of U.S. options aimed at countering North Korea's nuclear and missile programs, a senior U.S. official said on Sunday.
The review, which was accelerated to have it done before Trump's summit with Chinese President Xi Jinping this week, includes a range of economic and military measures but leans towards new sanctions and increased pressure on Beijing to rein in its neighbor, the official said.
The list of recommendations was put together by Trump's National Security Council on his orders and was ready for his consideration, the officials said, speaking on condition of anonymity.
It was not immediately clear if the review had reached the Republican president's desk or how quickly he would decide on a course of action, which could be delayed by the slow pace at which the administration is filling key national security jobs. The White House declined comment.
Trump told the Financial Times in an interview published on Sunday that the United States was prepared to respond to North Korean nuclear threats on its own if China fails to pressure Pyongyang."
Ready to blow: Incredible pictures capture US and South Korean Marines training in a 'show of strength' to the North 04/02/17  This article has very interesting pictures about the war games that the US and SK now are going through.
"The annual exercises called Foal Eagle come as tensions with North Korea mount after recent missile and rocket testing in the communist state.
Visiting the headquarters of an army unit last month, the North's leader Kim Jong-Un praised his troops for their 'vigilance against the US and South Korean enemy forces that are making frantic efforts for invasion'.
Kim also ordered the troops to 'set up thorough countermeasures of a merciless strike against the enemy's sudden air assault.'
On Friday US Defense Secretary Jim Mattis said North Korea must be stopped on its path toward being able to threaten the United States with nuclear attack.
Pyongyang is widely seen as behind the murder of Kim's half-brother Kim Jong-Nam in Kuala Lumpur in February by two women using a banned nerve agent.
Washington and Seoul have agreed to deploy the Terminal High Altitude Area Defense (THAAD) missile defence system to counter growing nuclear and missile threats by the North, and the first parts have recently arrived in the South.
The plan has angered Beijing, which fears it will undermine its own ballistic capabilities, with China's foreign ministry saying THAAD 'jeopardises the strategic security interests' in the region and warning of 'consequences' for Seoul and Washington."
Israel/ The Coming Middle East War
Israel unveils latest addition to David's Sling missile defense system 04/02/17  This is the finishing touch on Israeli air defenses. The air defenses are in place for war with Hezbollah, Syria and Iran. The Lord has it in place just in time because war is coming and Israel needs to be ready.
Zechariah 12:6  In that day will I make the governors of Judah like an hearth of fire among the wood, and like a torch of fire in a sheaf; and they shall devour all the people round about, on the right hand and on the left: and Jerusalem shall be inhabited again in her own place, even in Jerusalem.

"Israel unveiled on Sunday the latest addition to its multilevel missile defense system with David's Sling, a joint Israeli-U.S. project designed to intercept medium-range missiles.
David's Sling — which sees Israel's Rafael Advanced Defense Systems collaborating with American defense contractor Raytheon — also produces the Patriot missile system.
The system is designed to shoot down incoming rockets with ranges of 25 to 190 miles (40-300 kilometers), targeting mostly the missiles that were fired by the Lebanese Hezbollah organization toward Israel in recent years. It will make up the middle tier of Israel's multi-layer missile defense capabilities.
The lowest layer is the Iron Dome system, capable of intercepting short-range rockets, small unmanned aerial vehicles and some mortar shells like those that have been fired at Israel from the Gaza Strip or from southern Lebanon. And at the top are the Arrow 2 and Arrow 3 systems, which are intended to engage long-range ballistic missiles. The Arrow was put in use for the first time on March 17, when it intercepted an incoming Syrian anti-aircraft missile."
Health and Nutrition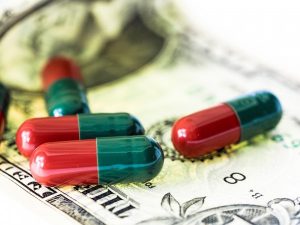 America has collapsed into a PHARMA STATE run by government-protected drug cartels 04/02/17  Many of today's doctors are what I call Babylonians. Their use of drugs, and especially the mind altering ones, is what makes them so dangerous. They have tens of millions addicted to their drugs.
"Much like a "narco state" that's run by narco terrorists, America has now collapsed into a pharma state run by "legal" drug cartels protected by a hopelessly corrupt government.
The evidence is all around you: How the drug cartels control Congress, universities, medical schools, science journals and of course the entire fake news media (previously known as the "mainstream media").
The pharmaceutical industry has more lobbyists in Washington D.C. than any other industry, including the weapons industry. Similarly, Big Pharma is routinely caught committing felony crimes involving price fixing or bribery "kickback" schemes such as the GlaxoSmithKline criminal bribery network that involved over 40,000 U.S. doctors.
Big Pharma is a massive criminal racketeering enterprise with a devastating cost in human lives, suffering and financial bankruptcy. If the parasitic drug cartels are not stopped, they will destroy America by obliterating its financial solvency, human health and even human freedom.
Already, the drug cartels are pushing for mandatory vaccination laws — a form of medical tyranny and violence — that allow the government to forcibly inject you (essentially at gunpoint) with anything the drug companies demand, no matter how dangerous. This includes, by the way, human fetal tissue, DNA from diseased animals, toxic heavy metals, brain-damaging chemicals and other ingredients confirmed by the CDC as being used in vaccines. (See The Truth About Vaccines documentary series for more details.)"

Ephesians 2:18-19  Now therefore ye are no more strangers and foreigners, but fellowcitizens with the saints, and of the household of God;
And are built upon the foundation of the apostles and prophets, Jesus Christ himself being the chief corner stone;