Lutheran, Episcopal and United Church of Christ Clergy: "We Stand With Planned Parenthood" Abortion Biz
Verse of the Day
2 Peter 2:1-2  But there were false prophets also among the people, even as there shall be false teachers among you, who privily shall bring in damnable heresies, even denying the Lord that bought them, and bring upon themselves swift destruction. (2) And many shall follow their pernicious ways; by reason of whom the way of truth shall be evil spoken of.
Commentary
There is nothing like abortion and homosexuality to bring out the Hard Left apostates within the "Church." They are truly the tares among the wheat. What a shock is in store for these apostates when they stand before the Lord Jesus on Judgment Day! They stand in pulpits and justify killing the of babies in the womb and promote homosexuality as a virtue!
May the Holy God of Israel bless and protect you.
1 John 4:4-5 Ye are of God, little children, and have overcome them: because greater is he that is in you, than he that is in the world. (5) They are of the world: therefore speak they of the world, and the world heareth them.
Christian Apostasy/ ProLife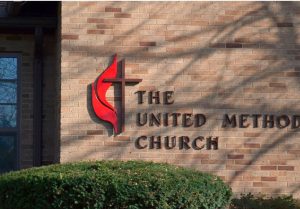 Lutheran, Episcopal and United Church of Christ Clergy: "We Stand With Planned Parenthood" Abortion Biz 03/17/17
"A group of female clergy from Iowa wrote a letter this week to publicly state their support of the abortion chain Planned Parenthood.
The letter, published in the Des Moines Register on Wednesday, included signatures from seven women pastors from the United Church of Christ, United Methodist Church, Evangelical Lutheran Church of America, Episcopal Church, Unitarian Universalist Association, Christian Church (Disciple of Christ) and Unity Church. A note included with the letter said the pastors were not speaking on behalf of their denominations or congregations.
The pastors praised Planned Parenthood's work and blasted a state bill that would defund the abortion group and redirect tax dollars to community health centers that don't provide abortions.
"As clergy and as women, we oppose any action by the Iowa Legislature to restrict a woman's ability to make her own health care and reproductive decisions or to access health care services," they wrote. "Additionally, we support Planned Parenthood of the Heartland and the excellent care it provides for any woman who chooses its health care services."
Israel/ American Politics
Beyond 'apartheid'–U.N. commission pushes legal and propaganda offensive against Israel 03/17/17  Make sure that you read this article. It gives great information about the UN's plan to destroy Israel. The first step is to declare Israel an apartheid state!
God raised up President Trump and Ambassador Haley just at the right time. The UN does not have a bright future.
Joel 3:2  I will also gather all nations, and will bring them down into the valley of Jehoshaphat, and will plead with them there for my people and for my heritage Israel, whom they have scattered among the nations, and parted my land.

"A just-published United Nations report that claims to find Israel guilty of the "crime of apartheid," is only one element of a broader legal and propaganda offensive being pushed by an obscure U.N. regional commission to stigmatize America's close ally and build support for the Palestinian cause, according to documents examined by Fox News.
The offensive has been gestating for at least two years within the U.N.'s Economic and Social Commission for West Asia (ESCWA), whose entire membership are Arab states, and is timed to this year's 50th anniversary of the 1967 war between Arab states and Israel, which resulted in Israel's control of the occupied territories of the West Bank and Gaza.
At least one additional report commissioned by ESCWA, attempting to create an "innovative" and "scientific" methodology for estimated the cost of Israel's 50-year control of the territories, is still in the works, with the aim of demanding billions in reparations for Palestinians.
A third aspect of the strategy is an elaborate proposed propaganda campaign against the Israeli occupation, making use of U.N. institutions and a variety of diplomatic and media channels, to create a new , sympathetic "brand" for Palestinians as victims "that would cause a snowball effect, thus altering public opinion globally in record time," as an ESCWA background paper puts it."
Pedophilia
Navy Seal Insider Reveals Secret Behind Pedophile Roundup 03/17/17 (Video)  This is so exciting to see that the pedophile network in America is being brought down. This is all part of cleaning the DC swamp.
"Legendary Navy SEAL Craig "Sawman" Sawyer reveals how Donald Trump is rounding up all the secret pedophile groups. Help us spread the word about the liberty movement, we're reaching millions help us reach millions more."
Islam/ American Politics
Plaintiff behind Trump travel ban runs Muslim Brotherhood mosque 03/17/17  President Trump needs to crush the Muslim Brotherhood as quickly as possible. He must identify it as a terrorist organization to stop all of its activity in America.
A fifth column is any group of people who undermine a larger group from within, usually in favor of an enemy group or nation. The activities of a fifth column can be overt or clandestine.
"The main plaintiff in the Hawaii case blocking President Trump's revised temporary travel ban is an imam with ties to the Muslim Brotherhood.
The irony is hard to miss: Trump has talked about declaring the Muslim Brotherhood a terrorist organization, and now it is a Brotherhood-backed imam who is playing a key role in blocking his executive order on immigration.
Imam Ismail Elshikh, 39, leads the largest mosque in Hawaii and claims he is suffering "irreparable harm" from the president's executive order, which places a 90-day ban on travel to the U.S. from six countries.
One of those six countries is Syria. Elshikh's mother in law is Syrian and would not be able to visit her family in Hawaii for 90 days if Trump's ban were allowed to go into effect.
Hawaii's Obama-appointed federal judge, Derrick Watson, made sure the ban did not go into effect, striking it down Wednesday while buying Hawaii's claim that it amounts to a "Muslim ban." The state's attorney general, along with co-plaintiff Elshikh, claims the ban would irreparably harm the state's tourism industry and its Muslim families."
American Politics/ Hard Left
Special Report: Trump Trolls Media Again On Illegal Spying 03/17/17 (Video)  This is by Alex Jones, and I so enjoyed watching it. He showed how the President is playing with the corrupted media and breaking them. Alex's language is sometimes a little "rough."
Proverbs 28:1  The wicked flee when no man pursueth: but the righteous are bold as a lion.
World War 3/ North Korea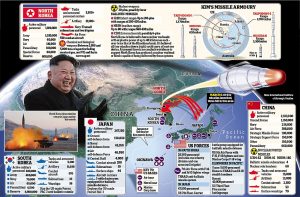 Inching towards nuclear war? It's terrifying. North Korea's use of missiles threatens a new global flashpoint which could suck in South Korea, China, Japan and the US 03/17/17  This article gives a good overall view of what is happening with North Korea.
Revelation 22:20  He which testifieth these things saith, Surely I come quickly. Amen. Even so, come, Lord Jesus.

"President Donald Trump has stated that 'every option was on the table' when it comes to North Korean aggression. While the phrase was meant to reassure, many Japanese, and South Koreans worry that the Americans are contemplating pre-emptive strikes on North Korean military sites — which would indeed place them in the crosshairs of retaliatory attacks.
In unusually graphic language, China, North Korea's reluctant patron, has warned that the communist state and the U.S. are like 'two accelerating trains' speeding towards a head-on crash. The rhetoric may not be misplaced.
If World War III is to break out anywhere, then it will probably be in this febrile region. North Korea is intent on developing nuclear-tipped missiles that can hit the States. Large areas of Japan and all of South Korea are already in range. Its nuclear arsenal numbers some 20 Hiroshima-size atomic bombs."
American Politics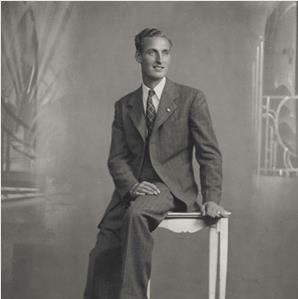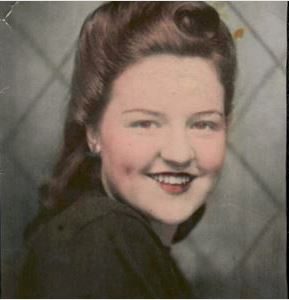 Remarks by President Trump and Vice President Pence at St. Patrick's Day Reception 03/17/17  Along with the Irish ambassador, President Trump made a very nice tribute to the Irish-Americans. Vice President Pence also spoke, and I found it very heart-warming. With all of the political ugliness I found this a change, to read something uplifting.
My dad came from Ireland in 1939. He took the last ocean liner from Europe. It was the last because WW2 started. He fought in WW2 and loved America. My mother was 100% Irish, and she did very well in America. Both of them loved America and the nation was very good to them.
(I've posted pictures of my dad and mom when they were young. The picture of dad was taken one week after he arrived in America. He was 22. My mother was 21.)
God bless you.
"Our strong ties go back throughout American history. Irish-Americans played a vital role in preserving our Union during its hour of greatest need. So true, played a very, very big role. Many distinguished themselves in the American Civil War with their grit and their bravery and their courage, earning the nickname, the "Fighting Irish." And I know a lot about the Irish — they fight. They're tough. (Laughter.) I know a lot. I know more than I'm ever going to tell you. (Laughter.)
Throughout the centuries, hardworking Irish-Americans contributed mightily to America's innovation and to America's prosperity. They often overcame great hardship — really, I mean, it's like the hardship they overcame for us, for our people, is inspiring and really helped a relatively young nation beyond what anyone really understands or knows. So we want to thank you — just an amazing, an amazing history.
President John F. Kennedy, in an address to the Irish Parliament, said that "It is that quality of the Irish — that remarkable combination of hope, confidence, and imagination — that is needed more than ever today." Now, he said that a long time ago, but it's perhaps even more true today. The words of America's first Irish-Catholic President ring just as true.
We hope confidence — and I tell you what we want now is a lot of things, but we need that great Irish confidence — and they are confident people, aren't they, Mike? (Applause.) And I tell you what, we all want it together to grow in the 21st century. And grow we will. As I say, bigger and better and stronger than ever before.
We must have the hope to believe in a better future, the confidence to pursue it, and the imagination to figure out how to get there. A new optimism is sweeping across our nation. You see that when you look at the numbers — the optimism is at the highest level in many, many years. And as America gains renewed strength, Ireland will find us to be an ever-faithful partner and an always loyal friend. We will be there for you, and we will be there for you. (Applause.)
So thank you for being here. I wish you a very, very happy St. Patrick's Day. And God bless you and may God bless Ireland, and Northern Ireland, and may God bless America. Thank you very much. (Applause.) Thank you. Thank you very much."
History/ Christianity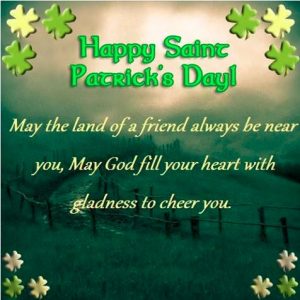 St. Patrick's Breast-Plate (The way he dealt with paganism)  The beautiful prayer of St. Patrick (385-461) popularly known as "St. Patrick's Breast-Plate," was supposed to have been composed by him in preparation for his victory over paganism. He memorized this prayer and continually recited it as he moved through Ireland . When he confronted the Druid priests, he would recite his "Breast Plate." This was St. Patrick's defense against the Druid priests that were out to kill him.
The legend of St. Patrick includes the story of many Druid priests attempting to kill him; however, as they approached, the priests would fall dead or burst into flames. The Irish kings and people witnessed this, which resulted in their mass conversion from paganism to Christianity. This is similar to Elijah confronting the prophets of baal on Mount Carmel .
The following is a literal translation of St. Patrick's Breast-Plate from the old Irish text:
"I bind to myself today
The strong virtue of the Invocation of the Trinity:
I believe the Trinity in the Unity
The Creator of the Universe.

I bind to myself today
The virtue of the Incarnation of Christ with His Baptism,
The virtue of His crucifixion with His burial,
The virtue of His Resurrection with His Ascension,
The virtue of His coming on the Judgment Day.

I bind to myself today
God's Power to guide me,
God's Might to uphold me,
God's Wisdom to teach me,
God's Eye to watch over me,
God's Ear to hear me,
God's Word to give me speech,
God's Hand to guide me,
God's Way to lie before me,
God's Shield to shelter me,
God's Host to secure me,
Against the snares of demons,
Against the seductions of vices,
Against the lusts of nature,
Against everyone who meditates injury to me,
Whether far or near,
Whether few or with many.

I invoke today all these virtues
Against every hostile merciless power
Which may assail my body and my soul,
Against the incantations of false prophets,
Against the black laws of heathenism,
Against the false laws of heresy,
Against the deceits of idolatry,
Against the spells of women, and smiths, and druids,
Against every knowledge that binds the soul of man.

Christ, protect me today
Against every poison, against burning,
Against drowning, against death-wound,
That I may receive abundant reward.

Christ with me, Christ before me,
Christ behind me, Christ within me,
Christ beneath me, Christ above me,
Christ at my right, Christ at my left,
Christ in the fort,
Christ in the chariot seat,
Christ in the heart of everyone who thinks of me,
Christ in the mouth of everyone who speaks to me,
Christ in every eye that sees me,
Christ in every ear that hears me.

I bind to myself today
The strong virtue of an invocation of the Trinity,
I believe the Trinity in the Unity
The Creator of the Universe."
Psalm 38:20  They also that render evil for good are mine adversaries; because I follow the thing that good is.