Massachusetts House Passes Bill Legally Abolishing Biological Sex
                                       Verse of the Day
Hosea 4:6 My people are destroyed for lack of knowledge: because thou hast rejected knowledge, I will also reject thee, that thou shalt be no priest to me: seeing thou hast forgotten the law of thy God, I will also forget thy children.
Commentary
As America morally collapses the children will take the brunt. The older people are grounded in truth and can withstand the reprobates' lies; however, the children are being exposed to things we never dreamed of! Are we going to leave our children in satan's schools, to have their minds' warped and to be devoured by his agents?
How much longer before the Hard Left is so unified that they will begin to actively treat us like the Nazis did the Jews? They are like hybrid Nazi/French Revolutionists, and full of hatred for God or anyone who believes in Him. The light and freedom of America is fast coming to end.
Where is God's church? There is no choice but revival for survival, and NOW!
May the Holy God of Israel bless and protect you.
Revelation 19:7-9 Let us be glad and rejoice, and give honour to him: for the marriage of the Lamb is come, and his wife hath made herself ready. And to her was granted that she should be arrayed in fine linen, clean and white: for the fine linen is the righteousness of saints. And he saith unto me, Write, Blessed are they which are called unto the marriage supper of the Lamb. And he saith unto me, These are the true sayings of God.
Transgender/ Hard Left
Massachusetts House Passes Bill Legally Abolishing Biological Sex 06/07/16  The delusions over America are growing deeper and stronger. How much longer does America have before the Lord?
Luke 17:2  It were better for him that a millstone were hanged about his neck, and he cast into the sea, than that he should offend one of these little ones.

"The Massachusetts House of Representatives voted 116-36 Wednesday to legally demolish the notion of biological sex in favor of "gender identity." A similar bill passed the Massachusetts Senate last month. Gov. Charlie Baker has already said he'll sign the bill.
"The Gender Identity Public Accommodations Bill" (H.4343) provides a three-front advance of transgender "anti-discrimination" laws, reports Conservative Review:
It replaces the word "sex" with "gender identity" in multiple areas of Massachusetts law.
The Massachusetts Commission Against Discrimination must amend rules and policies to comply with this shift from biological sex to "gender identity."
It allows people to use the restroom or locker room that matches their gender identity. Or as the bill puts it, "Any public accommodation … shall grant all persons admission to and the full enjoyment of such public accommodation or other entity consistent with the person's gender identity" (incidentally, making bathrooms sound like amusement parks).
According to Boston.com, the bill does throw a bone to critics and parents concerned that such bathroom bills could be used as cover for predatory men who want to gain access to women's bathrooms. H.4343 contains a provision that the Attorney General's office issue guidance for potential legal action against "any person who asserts gender identity for an improper purpose."
Victory brought eye-popping hyperbole from the bill's co-sponsor, Rep. Byron Rushing. "We are doing the work the founders of our nation intended for us to do," said Rushing, "This is a great day for us and we should be very proud."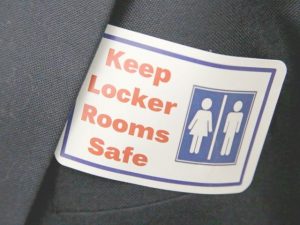 Open Letter to Leaders: Gender Ideology 'Putting Our Children At Risk' 06/06/16  Obama won't listen nor does he care about the children. What he does care about is the Hard Left reprobate agenda.
He is just like a hardcore Nazi or Marxist who will listen to nothing, while his life's goal is to advance the agenda.
"More than 60 leaders concerned about the mental health of American children have signed onto an open letter that asserts the Obama administration's transgender bathroom decree for schools is "putting the nation's children at risk."
The leaders address the Obama administration's recent "Dear Colleague" letter that denigrates the traditional common sense safety and privacy policy that boys must use boys' bathrooms and girls must use girls' bathrooms in school settings. The new policy – steeped in the ideology of gender fluidity – allows boys and girls to use the rest rooms and shower and locker rooms of the sex with which they identify at any given moment.
The letter's signers write:
This controversial and reckless government overreach increases the risk for our children's safety and privacy in deference to an un-tethered notion of rights. This policy rejects the scientific reality of every person's biological sex. To force all Americans to comply with such an extreme and faulty premise – that every person's sex is "assigned" to them, rather than simply identified at birth – is beyond the pale.
The leaders continue that Congress has made no law requiring the Obama administration's decree.
"A 'Dear Colleague' letter is a format increasingly employed by the Obama administration when it seeks to impose a rule without going to the trouble of seeking legal authority or even public hearings," the leaders say, adding:
Typically, recipients of guidance letters from the Civil Rights Division or Office of Civil Rights presume that such letters accurately reflect the law and are almost always cowed into compliance with the terms of the letter. Very few recipients have the courage or resources to challenge such a letter."
World War 3
Russia deploys troops westward as standoff with NATO deepens 06/07/16  This is cutting edge information on what is developing between NATO and Russia.
There is no let-up with all of these events heading toward war.
"Russia is building an army base near its border with Ukraine, the latest in a chain of new military sites along what the Kremlin sees as its frontline in a growing confrontation with NATO.
While there have been no clashes between the former Cold War rivals, Russia is building up forces on its western frontiers at a time when the NATO alliance is staging major military exercises and increasing deployments on its eastern flank.
A Reuters reporter who visited the Russian town of Klintsy, about 50 km (30 miles) from Ukraine, saw a makeshift army camp, large numbers of newly-arrived servicemen and military vehicles.
On the western side of the line, NATO has been rotating troops and equipment in greater numbers to members states that were part of the Soviet-led Warsaw Pact during the Cold War.
The Western alliance, which says it's responding to Russian military intervention in Ukraine, was this week staging one of its biggest exercises in eastern Europe since the end of the Cold War.
To the east, Russia is building up its own forces, saying it needs to protect itself from NATO's eastward advance.
Each side says it is only responding to steps taken by the other, but the build-up risks locking NATO and Russia into a spiral of measure and counter-measure from which it will be difficult to escape."
Nato countries begin largest war game in eastern Europe since cold war 06/06/16  Yet more war games and preparing for WW3 this time by NATO.
"The largest war game in eastern Europe since the end of the cold war has started in Poland, as Nato and partner countries seek to mount a display of strength as a response to concerns about Russia's assertiveness and actions.
The 10-day military exercise, involving 31,000 troops and thousands of vehicles from 24 countries, has been welcomed among Nato's allies in the region, though defence experts warn that any mishap could prompt an offensive reaction from Moscow.
A defence attache at a European embassy in Warsaw said the "nightmare scenario" of the exercise, named Anaconda-2016, would be "a mishap, a miscalculation which the Russians construe, or choose to construe, as an offensive action".
Russian jets routinely breach Nordic countries' airspace and in April they spectacularly "buzzed" the USS Donald Cook in the Baltic Sea.
The exercise, which US and Polish officials formally launched near Warsaw, is billed as a test of cooperation between allied commands and troops in responding to military, chemical and cyber threats."
Israel and the Middle East War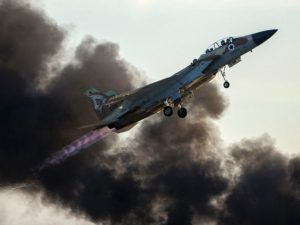 Report: Israel Bombed Syrian, Hezbollah Targets Over Weekend 06/08/16  This explains why Netanyahu just rushed to Moscow to meet with Putin, (see article just below) and why Israel called for a unity government. Israel might be expecting war with Hezbullah and Lebanon.
Netanyahu also made the statement in Moscow that he would not allow Iran or Hezbollah on the Golan Heights. Israel backed this statement up with military action.
"Israeli Air Force jets attacked a missile storage facility in Syria over the weekend, targeting a number of military sites said to be housing advanced weaponry, according to Syrian Internet publication Al Wasil Time on Tuesday.
The attack took place near the embattled city of Homs and reportedly caused extensive damage to the facility.
The report added that Syrian defense systems identified Israeli aircraft within their airspace but refrained from firing.
Ynetnews.com has more:
According to the claims, the attack took place two days ago after midnight during which the IAF took out Hezbollah weapons caches in areas also containing antennas for Syrian radar systems, in addition to an air defense battalion that secures the area. The same official also claimed that the attack only inflicted damage on the caches and not on the other facilities. He said that explosions could be heard and that the fire could be seen from afar."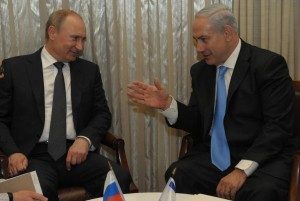 Netanyahu-Putin Relations Reflect Moscow's Push for Regional Influence, Jerusalem's Need for Alternative to America 06/07/16  Just keeping you on the cutting edge of what is happening with Israel and the Middle East.
In the long run, Russia is going to be Israel's greatest enemy, as found in Ezekiel 38. It is kind of eerily quiet right now in the Middle East, not that it couldn't change tomorrow.
"This week, Netanyahu's trip is being touted as one whose purpose is to mark the 25th anniversary of diplomatic ties between Israel and Russia. "And that is part of it," said Magen, "as is Putin's desire to retain a cultural connection with the many Russians who live in Israel today. But his interest in being a major player where resolving the Palestinian-Israeli conflict is concerned is core to his realpolitik, which is why it has good reason to welcome Netanyahu."
Russia, said Magen, "is in trouble. It thought it would be able to 'sell' the Americans and Europeans all kinds of regional achievements. Meanwhile, Israel has its own issue with the United States, and flaunting its increased ties with Moscow is a way of saying, 'America, where have you been? Ok, if you're not doing your part, I have to do it alone, with the help of Russia.'"
Another shared interest, according to Magen, has to do with neither side's desire for Iran to become a regional hegemon. In addition, he said, Russia has put forth its vision for Syria – dividing the country into Swiss-like cantons, creating a federal government with autonomous provinces.
In a symbolic gesture of strengthening ties, Russia announced last week that it would return to Israel a tank that Syrian forces captured in 1982 during the Battle of Sultan Yacoub in the First Lebanon War."
In Russian media blitz, PM warns Israel won't let Iran open Golan front 06/07/16  Iran wants to use Syria to attack Israel. I think that Iran will do all it can to start a war with Israel. Israel is very clear that the Golan is a flashpoint for war with Iran.
Israel will not let Iran use the Hezbollah terror group to turn the Syrian side of the Golan Heights border into a new front, Prime Minister Benjamin Netanyahu told Russian media outlets in comments published Tuesday.
"We have a red line, a boundary that we will not allow to be broken. Iran will not be allowed, using Hezbollah, to use Syrian territory to attack us and open up another terrorist front against us in the Golan," Netanyahu told TASS ahead of a meeting with Putin on Tuesday afternoon — their fourth round of talks in recent months.
"We have made a point of staying out of the Syrian conflict, with two exceptions: treating wounded Syrians on a humanitarian basis and preventing Iran from using Syria to attack Israel or to transfer sophisticated weapons to Hezbollah," Netanyhau noted. "We don't know what will come of Syria, but in any arrangement, it cannot be an Iranian base for terrorism and aggression," he told Interfax."
Earthquakes/ History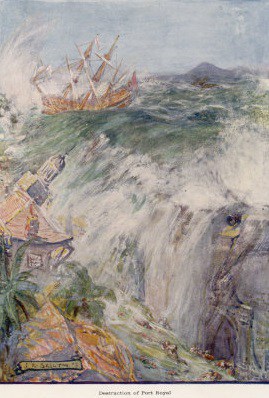 Earthquake sank Port Royal "…the earth opened and swallowed up people before my face… They are so wicked, I fear God…will utterly destroy all by this dreadful Judgment…" 06/07/16  Today is the 324th anniversary of the destruction of Port Royal. This city was considered the wickedest city on earth until it was totally destroyed by an earthquake and disappeared under the ocean.
Leviticus 18:25  And the land is defiled: therefore I do visit the iniquity thereof upon it, and the land itself vomiteth out her inhabitants.

"Many of the Caribbean's thousand pirates and smugglers operated from there, with half of the 200 ships a year passing through the harbor transporting slaves, liquor, and other contraband trade to Spanish America.
Drinking, gaming houses, slave trading, brothels, taverns and grog shops, attracted "pirates, cutthroats, whores and some of the vilest persons in the whole of the world."
Port Royal was called "the richest and wickedest city in the world" or "the Sodom of the New World."
Suddenly, JUNE 7, 1692, an earthquake and tsunami sank Port Royal under the sea, followed by violent aftershocks.
Over 2,000 drowned. Graves were opened and bodies washed about.
The sea inundated the town's wharf, "with all those goodly brick houses upon it…and two entire streets beyond that."
Enormous waves tossed ships from the harbor into buildings, and in many places the ground opened up and "swallow'd up multitudes of people together."
Miscellaneous
Romanian Pentecostal Teen Overwhelms 'America's Got Talent' Judges 06/07/16  What a truly amazing voice and you will be blessed listening to her.
She is a real believer in the Lord.
"Laura hails from Chicago, Illinois, the daughter of Romanian-American parents and active members of the Romanian Pentecostal community. When Laura was 6, she watched Snow White, and sang along.

Recognizing talent, Laura's mother helped her select songs to sing, first at church, then at other talent venues, including the Apollo Theater amateur night, which she won.

Laura was about 8 years old when she first sang publicly at her home church, Elim Romanian Pentecostal in Chicago. She has been singing worship songs, Christian pop and opera nonstop ever since then. Laura has been featured at Romanian Pentecostal national conventions, a commemoration service for Romanian martyred Pastor Richard Wurmbrand and the Logos School of Music, where she sang "Shine on Us" at Moody Church in Chicago.

How does this unpretentious 13-year-old describe herself? On Laura's Facebook page she wrote: "Hi! My name is Laura. This is a list of things about me: 1. I love to sing; 2. I love to help others; 3. I love to praise the Lord!; 4. I'm happy to be a Christian. These are some things about me!"

Judges 5:8  They chose new gods; then was war in the gates: was there a shield or spear seen among forty thousand in Israel?