'Mysticore' is the new norm: The Rise of the AntiChrist's Religion
Verse of the Day
Revelation 9:20 And the rest of the men which were not killed by these plagues yet repented not of the works of their hands, that they should not worship devils, and idols of gold, and silver, and brass, and stone, and of wood: which neither can see, nor hear, nor walk:
Commentary
The lead article is about the growth of paganism and satanism in America. The religion of the end times before the Second Coming of Jesus Christ is going to be paganism. It is not going to be Islam. As the power of the Church ebbs away from America and the West, paganism is surging. This is the spirit of the antichrist laying the groundwork for the coming of the antichrist, the man of sin.

Make sure you also watch the video with the Muslim teacher instructing her young students about killing those who leave Islam, along with homosexuals. This is real Islam right out of the Koran being brought to the light for all to see.
May the Holy God of Israel bless and protect you.
1 John 1:5-7 This then is the message which we have heard of him, and declare unto you, that God is light, and in him is no darkness at all. If we say that we have fellowship with him, and walk in darkness, we lie, and do not the truth: But if we walk in the light, as he is in the light, we have fellowship one with another, and the blood of Jesus Christ his Son cleanseth us from all sin.
One-World Religion: Paganism
'Mysticore' is the new norm: Inside the trend that's casting its spell over the culture 08/28/16  For a much more in-depth analysis of how magick and satanism got such a foothold in Western culture, see our recent article: The Age of Aleister Crowley – How Deep is the Rabbit Hole? (I have found this article extremely revealing about the modern music and entertainment industry's roots being satanic through Crowley, but please pray before reading this as Crowley was so evil that some of the article can be very disturbing.) 
Revelation 9:20  And the rest of the men which were not killed by these plagues yet repented not of the works of their hands, that they should not worship devils, and idols of gold, and silver, and brass, and stone, and of wood: which neither can see, nor hear, nor walk:

"Welcome to the season of the witch. Recently, the Brooklyn Academy of Music hosted a Witches Brew film festival, which included the acclaimed new film "The Witch."
Lately it isn't uncommon to see glossy magazines like Nylon with headlines that start "The Witches' Guide to…", while new publications like Sabat, an aesthetically driven magazine that explores contemporary witchcraft, are attracting attention from readers and design snobs alike.
Stores specializing in metaphysical sundries (think ritual candles, blended oils, sacred herbs) like Spellbound Sky and House of Intuition in Los Angeles, while not brand-new, are suddenly crowded. In Brooklyn, Witches of Bushwick has evolved from a venue on the underground party circuit to a social collective that celebrates witchcraft as a feminist art and collaborates with fashion companies like Chromat. Of course, for those who prefer whipping up potions at home, several new witch- and occult-themed subscription boxes deliver the magical arts to the doorstep.
Not just witches are enjoying a cultural renaissance, though. All manner of magic is in the air, as the New Age movement's lighter granola-and-Zen fare has given way to the practice of a more modern mysticism, where conversations about conjuring, personal shamans and powerful potions can be intense as they are ubiquitous.
While social media and feminism have brought witchcraft to the fore, the new kaleidoscopic array of spell casting, ritual observing (from pagan holidays to full moons) and crystal charging draws from traditional mysticism, magic and paganism. Served buffet style to an eager audience of open-minded converts, it's shining a white light on everything from fashion and health to politics."


Islam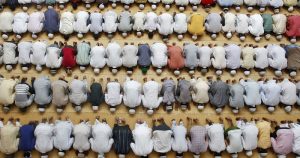 Leaked Video: Muslim Teacher Tells Kids to Kill Gays 08/29/16  Make sure that you listen to the video. She is teaching real Islam to children and they are told to kill for allah! They are to kill anyone who leaves Islam or is a homosexual!
Here's the link to the video: https://mobile.twitter.com/UKPegida/status/764934078462320640/video/1
"A shocking video shows a female Islamic scholar teaching young British children how to kill gays and non-Muslims who reject Islam.
A video that was secretly recorded inside a Muslim school in the UK has gained recent attention on Twitter despite being on YouTube for months.
The radical Islamic woman first illustrates what happens when a person decides to leave Islam."What are we going to do?" asks the woman in broken English. "We kill him. Kill."
"The ones who reject Islam?" a British student asks. "Yeah," the teacher says. "Kill him. You have to kill him. Do you understand? We're talking about Islam."
World War 3
China gears up for missile warfare with US 08/28/16  China is ready for war with America right now. It will upgrade its missiles until the war starts. And guess who gave them the technology (in exchange for campaign contributions)?
"China's military is developing offensive and now defensive missiles in preparation for a future missile-dominated conflict with the United States.
Beijing's arsenal of ballistic and cruise missiles has been growing steadily for decades as new systems were fielded in an array of ranges – short, medium and intercontinental. Several long-range cruise missiles, capable of carrying nuclear or conventional payloads also are deployed.
And one of China's most secret missile programs is a revolutionary hypersonic strike vehicle that skims the upper atmosphere and can maneuver in a bid to defeat U.S. strategic defenses.
China for years has denounced U.S. missile defenses as destabilizing. But for the first time last month, the Chinese Defense Ministry confirmed the military is developing a new long-range anti-missile system."
The Coming Middle East War – Turkey

Turkey is accused of 'expanding its occupation of Syria' as dozens of civilians are killed during the country's push to oust ISIS while reducing the territory of the US-backed Kurds 08/29/16  If you are following what is happening Turkey, then this is a great article.
I follow what is happening, and my head is spinning. Turkey is now fighting against the Kurds whom we supposedly  are backing! What is going on in Syria? It is a mess to try and follow.
"Turkey has been accused of 'expanding its occupation' inside Syria amid reports dozens of civilians have been killed during the country's push to oust ISIS.

Rebels backed by Turkey have driven US-allied Kurdish forces from a number of towns and villages in northern Syria with Ankara looking to push the militants east of the Euphrates River.

At least 35 civilians have died in the clashes and the Kurdish Democratic Union Party has condemned what it said was international silence regarding 'Turkish occupation' of Syria.

It comes after images emerged of Turkish tanks approaching the Syrian border and operating in its neighbour's territory.

The dramatic escalation of Turkey's involvement in the Syrian civil war last week aimed to help the Syrian rebels drive ISIS out of the border town of Jarablus."
The Coming Middle East War – Iran
Iranian general: We formed Shiite army to fight in Iraq, Syria and Yemen 08/29/16  Iran always wants to threaten Israel. I think Iran is going to lose in the coming civil war against the Sunnis. It does not really matter because whoever wins will form the caliphate to attack Israel and take Jerusalem.
Either way Iran is doomed – with the coming civil are or war with Israel.
"Retired General Mohammad Ali Falaki, who is currently one of the Iranian forces leaders in Syria, has recently revealed that Iran has formed a "Shiite Liberation Army" led by Quds Force commander, General Qassem Soleimani.
The Quds Force also known as Pasdaran in Persian is a special forces unit of Iran's Revolutionary Guards Corps (IRGC) and is responsible for the Islamic Republic's extraterritorial operation.
"The Shiite Liberation Army is currently fighting on three fronts – Iraq, Syria and Yemen," he told Mashregh news agency, which is close to the IRGC, in an interview published on Thursday.
Falaki, who is leading part of the IRGC fight in Syria to give support to Syrian President Bashar al-Assad's regime, advised that it was "not wise to directly involve Iranian forces into the Syrian conflict."
Eradicating Israel
Falaki said that the main objective behind the formation of the first nucleus of the 'Shiite Liberation Army' is to "eradicate Israel after 23 years, especially that these battalions are now on Israeli borders."
Iran deploys long-range missiles to Fordo nuclear site 08/29/16  I am sure this is to defend against an Israeli attack. There is nothing Iran can do to stop Israel if the time comes. Israel has the most advanced electronics in the world and can defeat any defense system.
With the Russians in Syria, I am sure that Israel has a great opportunity to deciliter all of its electronics. Iran will not defeat Israel in this coming war.
"Tehran has deployed a recently delivered Russian-made long-range missile system to central Iran to protect its Fordo nuclear facility, state television said Sunday.
Protecting nuclear facilities is paramount "in all circumstances" General Farzad Esmaili, the commander of Iran's air defences, told the IRIB channel.
"Today, Iran's sky is one of the most secure in the region," he added."
Hard Left/ Christianity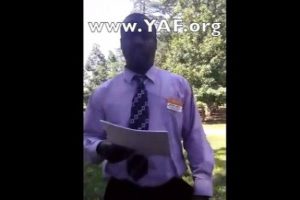 Clemson University Administrator Stops Man From Praying on Campus "This isn't a free speech area." 08/29/16  Notice now that the Hard Left is in power they want to shut down free speech!. They used free speech to gain power, but now they are using this power to shut down anything they oppose.
If we don't stop them, they will move to completely destroy all of our rights. These people are evil to the core.
Proverbs 12:20 Deceit is in the heart of them that imagine evil: but to the counsellors of peace is joy.

"If you haven't been following higher education news, you may not be aware that this sort of thing is happening on college campuses all over America.
Schools are designating certain areas as "free speech zones" and in some cases even restricting those areas to certain times of day.
Before you get too angry at the administrator in this video, remember that he wasn't the one who created this policy, he's just charged with the awful task of enforcing it.
These ridiculous policies are created by higher level administrators in closed meetings."
Pestilence/ Science – Days of Noah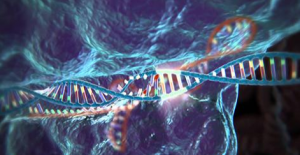 Accessible Synthetic Biology Raises New Concerns for DIY Biological Warfare 08/28/16  Pestilence: "a contagious or infectious epidemic disease that is virulent and devastating; especially "bubonic plague"
For years I thought that when the Bible mentioned pestilence, it was about natural plagues such as the bubonic plague. I now believe that man's evil mind might be behind the coming pestilences. Man now has the ability to create pestilence, which I believe will be used as a form of warfare. These people are so evil that they might use it for population reduction!
The mass death of people in the end times could very well be created by man's evil mind! Think of ISIS creating pestilences and unleashing them on the infidel! This could happen in the near future.
Luke 21:11 And great earthquakes shall be in divers places, and famines, and pestilences; and fearful sights and great signs shall there be from heaven.

"The monopoly on biology once held by governments and universities has been broken. Only a few years ago, the production of a bioweapon took the resources and expertise of a nation-state.
Now a few dedicated terrorists could, theoretically, manipulate lethal pathogens in a DIY lab built with cheap equipment bought legally online, making the disease more potent and resistant to antidotes or vaccines.
History abounds with examples of the terrifying potential of bioweapons. Bubonic plague-infected bodies were dumped in enemy wells in the Middle Ages, or catapulted over enemy walls during siege. Blankets infected with smallpox were given to Native Americans by British Colonialists, with devastating results.
Most extreme were the experiments by Imperial Japan's infamous Unit 731. During WWII, Japan dropped ceramic "bombs" filled with bubonic plague-infected fleas over Chinese cities, which killed hundreds of thousands of civilians, including nearly 20% of the airmen who unleashed the pestilence."
Science – Transhumanism
10 Biohackers Who Turned Into Superhumans" ((Video) 08/28/16  This is all part of destroying man being made in the image of God and getting people ready for the end time rebellion against God.
See my blog:  Image of the Beast
Earthquakes and Volcanoes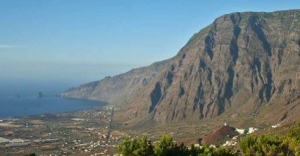 Iceland's Katla volcano hit by unusually large earthquakes 08/29/16  This volcano is extremely dangerous for Europe. It last erupted in the late 1700s and wrecked havoc all throughout Europe, but it was especially damaging to Scotland. All of the crops died and huge numbers of people died.
I think of how Scotland is now so anti-Jew and antu-Israeli. Remember, the ash from this volcano is pointed right at Scotland!
"Two unusually large earthquakes hit one of Iceland's biggest volcanoes early on Monday, raising concerns of a possible eruption, the Icelandic Met Office said.
The Katla volcano has not erupted properly since 1918 and scientists say it is overdue to do so, although an eruption could still be decades away.
"It is quite a dynamic situation now, in the next hours and days following this, but as we speak at the moment we do not see any signs that there is an imminent hazardous unrest about to happen," Matthew Roberts, a natural hazards scientist at the Icelandic Met Office, said."

Leviticus 19:31 Regard not them that have familiar spirits, neither seek after wizards, to be defiled by them: I [am] the LORD your God.