No Prison Time for Hillary If…
Verse of the Day
 Proverbs 21:12 The righteous man wisely considereth the house of the wicked: but God overthroweth the wicked for their wickedness.

Commentary
It really does seem that God has Hillary in his cross-hairs of judgment. The judgment is coming from every direction with no way for her to stop it. I would say the Lord is going to crush her and the totally corrupt organization that she heads. My prayer is that God will expose all levels of this corruption and bring down all who are involved, even those in the Republican Party.
I also pray the the judgment is so great and the pressure so unbearable that it will give Hillary and others the need to repent and turn to Christ as their Savior.
May the Holy God of Israel bless and protect you.
2 Timothy 4:8 Henceforth there is laid up for me a crown of righteousness, which the Lord, the righteous judge, shall give me at that day: and not to me only, but unto all them also that love his appearing.
American Politics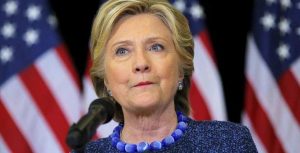 No Prison Time for Hillary If… 10/31/16  This is a great article showing the trouble Hillary is in. I really like the ideas the author brings out. The quote is longer than usual because he clearly lays out what's ahead for Hillary in light of the most recent revelations about the email scandal.

"This time it's bad. The FBI has Hillary dead to rights. She's been caught in a "Dikileaks scandal." Weiner did her in. Who knew?
How bad is it? It's so bad that the FBI Director made the decision to announce this investigation 11 days before a presidential election. It's that bad. Even Carl Bernstein has come to the same conclusion- he says this could not have happened unless the FBI has uncovered a bombshell against Hillary.
How bad is it? A reporter for The Chicago Tribune just asked her to step down for the good of the nation. How bad is it? Wikileaks promises a shocking bombshell this week that makes this scandal pale by comparison.
Remember John Gotti- the so-called 'Teflon Don." The government tried to nail him for years, with no success. They needed his best friend and partner in crime to turn on him to finally nail Gotti. When Sammy "the bull" Gravano testified against Gotti, it was over. Gotti went to prison for life.
Well Hillary has a Sammy "the Bull" Gravano in her life. It's Huma Abedin. Huma is her chief of staff, girl Friday and BFF. If Huma turns, it's all over for Hillary. Like Gotti, she could spend the rest of her life in prison- because the email violations are only the tip of the iceberg."
Huma knows all the dirt. Huma knows the secret machinations of The Clinton Foundation. She knows dates, times, bribe amounts, from whom and what the people who bribed the Clintons got in return. Huma knows everything.
And Huma is between a rock and a hard place- otherwise known as Anthony Weiner (excuse the pun). Because Huma is in divorce proceedings with Anthony Weiner. I'm betting that Huma had no idea Weiner was making copies of all of her and Hillary's emails- as leverage in the divorce proceedings.
When the FBI raided Weiner's home and grabbed his computer, they got it all. I'm betting Hillary and Huma were blind-sided.
Weiner is fighting for his life. What's his future? Who will ever hire him, for anything? How will he survive financially? So Weiner has no choice- he will turn against Huma and Hillary to save his own skin. He faces many years in prison for sex crimes against a minor. His only "get out of jail card" is to turn "states evidence" against Huma and Hillary.
Then Huma's only choice is to turn against Hillary. Or face decades in prison."

Smoking Gun In Massive Election Fraud Discovered By Investigators 10/31/16 
"Bev Harris of http://blackboxvoting.org joins the Alex Jones show to reveal the motherload of voting fraud and how it being done. Help us spread the word about the liberty movement, we're reaching millions help us reach millions more."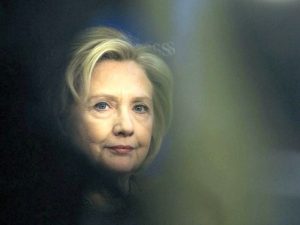 Top 7 Charges Hillary Clinton Could Face While President 11/01/16  I'd take just one charge sticking to her.
"What scandals might the American people find themselves dealing with in Hillary Clinton's Administration if she slides into the presidential home plate, trailing a cloud of controversy?
Let us be honest about who suffers from presidential misbehavior—it's the American people who pay the price, including the literal price of the expensive investigations. The odds of justice actually catching up with Hillary Clinton dwindle to almost zero if she gains the White House. She might have to sacrifice an aide here and there, but if the political system of 1998 couldn't remove her husband from office for blatant perjury, it's hard to imagine what could possibly bring The First Woman President down in the even more corrupt and confused political system of 2017.
That being said, here are a few lingering legal headaches Clinton could face:"
 Islam
Publicly shamed and caned… for standing too close to her boyfriend: Woman becomes the latest to suffer the ordeal under Indonesia's strict Islamic rules 11/01/16  Do we want this in America? I think of Muhammad and what he did with women and this is a total joke. People are getting killed because of Sharia law.
"The 20-year-old was accused of becoming too close to her boyfriend
It was deemed she had broken Sharia law and had to undergo a flogging
She was brought to public stage where a cane was lashed across her back
The woman is the latest victim to be publicly flogged in Banda Aceh"
France: rapidly becoming Islamic 10/31/16  The harder the French act against Israel, the faster the Lord turns this nation over to Islam for its destruction. The destruction of the French culture is now accelerating rapidly.
"French Catholicism is now witnessing a tragic decline, caught between two fires: state secularism and political Islam.
Le Figaro wondered if Islam can already be considered "France's prime religion".
Muslim countries are generously funding France's mosques, covering an average of 50% of total costs.
"Avignon is no longer the city of the Popes, but of the Salafis. … They [Muslim extremists] urge us to rewrite the history of France in the light of the 'contribution of the Islamic civilization'" — Philippe De Villiers, author of Will the Church Bells Ring Tomorrow?
The trend indicates that in France, there are currently three young practicing Muslims for every young practicing Catholic.
"It is conceivable that Islam is overtaking Catholicism". — Osservatore Romano, the Vatican official daily newspaper."
Nigerian Middle Belt state: 800+ Christians killed, 800+ injured, 100+ churches destroyed 10/31/16  I just want to bring to your attention that the slaughter of Nigerian Christians continues. This is non-stop by the Muslims.
"Nigeria's Middle Belt is the scene of ever-continuing attacks on Christian farmers by mainly Muslim Hausa-Fulani herdsmen, including this past week where attacks have occurred in both Kaduna and Benue states. Now a recent report about another state in the Middle Belt, Nasarawa, shows that it too has been the scene of serious violence against Christians. In the period January 2013–May 2016, 826 Christians were killed and 878 injured. There were 102 churches destroyed or damaged."
German Streets Descend into Lawlessness "We are losing control of the streets 11/01/16  This was planned so the powers that want to destroy Europe can bring it under Soros' New World Order. They want chaos so they can step in with authoritarian controls.  These are incredibly evil people and they want this to happen in America. It will if Hillary is elected.
"During the first six months of 2016, migrants committed 142,500 crimes, according to the Federal Criminal Police Office. This is equivalent to 780 crimes committed by migrants every day, an increase of nearly 40% over 2015. The data includes only those crimes in which a suspect has been caught.

Thousands of migrants who entered the country as "asylum seekers" or "refugees" have gone missing. They are, presumably, economic migrants who entered Germany on false pretenses. Many are thought to be engaging in robbery and criminal violence.

Local police in many parts of the country admit that they are stretched to the limit and are unable to maintain law and order.

"Drug trafficking takes place right before our eyes. If we intervene, we are threatened, spat on, insulted. Sometimes someone whips out a knife. They are always the same people. They are ruthless, fearless and have no problems with robbing even the elderly." — Private security guard.

According to Freddi Lohse of the German Police Union in Hamburg, many migrant offenders view the leniency of the German justice system as a green light to continue delinquent behavior. "They are used to tougher consequences in their home countries," he said. "They have no respect for us."

"It cannot be that offenders continue to fill the police files, hurt us physically, insult us, whatever, and there are no consequences. Many cases are closed or offenders are released on probation or whatever. Yes, what is happening in the courts today is a joke."
Islam/Christianity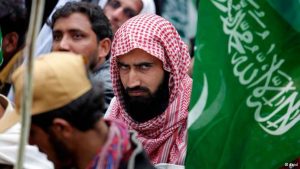 FORCE AND FANATICISM: WAHHABISM IN SAUDI ARABIA AND BEYOND 11/01/16   When reading this article, think of the following Bible verse.
John 3:16  For God so loved the world, that he gave his only begotten Son, that whosoever believeth in him should not perish, but have everlasting life.

"This position appears to be based on the author's own cultural presuppositions. Thus he "felt confused and puzzled" to hear of Wahhabi intolerance, including the "attempt to propagate their beliefs by force," prompting him to wonder:
Can you force someone to love God?…. In all the conversations I had with ulema, imams, Mutawa [religious police] and Saudis generally there was never a mention of "love," the idea that God loved me, just frightful talk of hell, burning and future pain if I did not believe and accept the Wahhabi faith."
Had Valentine engaged in a critical reading of Islamic doctrine and history—as opposed to projecting his Christian notion of God onto Islam—he would've known that Muhammad, followed by countless caliphs and sultans throughout the centuries, did "propagate their beliefs by force" (the overwhelming majority of today's Muslim world was taken from non-Muslims "by force") and that although Islam attributes 99 characteristics to God, "love" is not one of them."
The Coming Middle East War
Hezbollah Ally Elected Lebanon's President, Threatens Israel in Inaugural Address 11/01/16  With this election, it appears that Lebanon will be 100 percent behind Hezbollah in the coming war. Israel already has warned Lebanon not to support Hezbollah, so this means the total destruction of Lebanon.
"Lebanon's newest president, a retired general who is firmly allied with the Iran-backed terrorist organization Hezbollah, threatened Israel in his inaugural address in Beirut on Monday, The Times of Israel reported.
Michel Aoun secured 83 votes in parliament, comfortably exceeding the majority required to win the presidency in the 128-seat chamber. His election ended a two-year political standoff in the country, during which the presidency remained vacant. The turning point came when former Prime Minister Sa'ad Hariri, leader of the mainly Sunni Future Movement, agreed to support Aoun, apparently in return for being re-appointed prime minister."
Earthquakes/ Volcanoes
Major Earthquake in Italy — BBC interview mentions Dutchsinse FORECASTING 10/31/16  Dutch Sinse's warning was reported to the mayor of the city hit by the quake! This was picked up the BBC! Dutch is now getting world recognition which he deserves.