North Korean ballistic missile launch FAILS
Verse of the Day
Ecclesiastes 3:8 A time to love, and a time to hate; a time of war, and a time of peace.

Commentary
God spared us from the start of WW3. If the launch was successful, President Trump might have had the missile shot down or attacked North Korea's missile program. God has blessed us with more time before WW3 starts. Please make good use of this time.
May the Holy God of Israel bless and protect you.
Isaiah 2:4 And he shall judge among the nations, and shall rebuke many people: and they shall beat their swords into plowshares, and their spears into pruninghooks: nation shall not lift up sword against nation, neither shall they learn war any more.
World War 3/ North Korea
North Korean ballistic missile launch FAILS: Kim Jong-un launches new 'game changer missile' hours after it was introduced at a military parade – but it BLOWS UP almost immediately in embarrassing failure" 04/15/17 
Revelation 9:15  And the four angels were loosed, which were prepared for an hour, and a day, and a month, and a year, for to slay the third part of men.

"North Korea has attempted to fire a missile it introduced just hours ago at a military parade – but the launch was an embarrassing failure after the weapon blew up almost immediately.
It is thought to be one of the country's new 'game-changer' intercontinental ballistic missiles (ICBM) which was revealed to the world in a display of military might yesterday.
The South Korean defence ministry said it had detected a failed launch from Sinpo – where North Korea's biggest submarine base is located.
According to a military official the weapon is 'presumed to be a new ICBM' as it is longer than the existing KN-08 or KN-14 missiles.
The South Korean defence ministry said in a statement: 'North Korea attempted to test an unidentified type of missile from Sinpo area in the South Hamkyong Province this morning, but we suspect the launch has failed.'"
We will pulverize the headquarters of evil and ruthlessly ravage US troops': North Korea makes menacing boast it will take on Donald Trump with 'merciless' strikes on South Korea and US bases as China warns of 'war at any moment'" 04/14/17  This is the latest update about a possible war with North Korea. Tomorrow is the day NK is supposed to set off a nuclear weapon, and the President said it would start a war.
No matter how you look at this, there is not much time before the war comes.
"Vice Minister Han Song Ryol accused Trump of building up a 'vicious cycle' of tensions on the Korean Peninsula and pointed to his 'aggressive tweets'
The military said it would target US bases and 'headquarters of evils' including the South Korean presidential Blue House if it was attacked
Han blamed the US and Trump for growing tensions, citing military exercises with South Korea and the deployment of a US aircraft carrier to the peninsula
Han ominously warned the US the state would 'go to war if they choose' and vowed to continue accumulating nuclear arms
Chinese Foreign Minister Wang Yi said anyone provoking conflict would 'pay the price'
Pyongyang is preparing to mark its national 'Day of the Sun' tomorrow to commemorate the birth anniversary of its founding president Kim Il Sung
US officials told NBC the US was prepared to launch a pre-emptive strike to halt a nuclear test, but a member of the Trump administration denied the report
US Vice President Mike Pence will travel to South Korea on Sunday in what his aides said was a sign of the U.S. commitment to its ally"
American Politics
Congressman Says Corruption in Washington Is 'Worse Than You Think' 04/14/17  What an eyeopener this article is! The article is about a courageous Congressman who exposes the corruption within the DC establishment. For example, for a Congressman to be on a committee he has to pay $450,000 to the Republican Congressional Committee. Apparently, there is no end to the number of schemes in the Washington swamp!
1 Timothy 6:10 For the love of money is the root of all evil: which while some coveted after, they have erred from the faith, and pierced themselves through with many sorrows.

"Corruption on Capitol Hill is "worse than you think," according to Colorado Rep. Ken Buck.
"When you first get here, you think that you are in some sort of fairy-tale novel," Buck, a Republican, said. "They wine and dine you and they show you just exactly what it's like if you play the game. It's a wonderful life."
Things quickly change, however, if "you don't play the game." "If you don't play the game … it becomes a much less conformable existence here," Buck said.
During the time he served on the House Judiciary Committee, Buck said he had to pay periodic dues of $200,000 to the National Republican Congressional Committee, the campaign committee of the House of Representatives. Now, as a member of the House Rules Committee, Buck's periodic dues are $450,000.
The obligation to pay dues, Buck said, forces members of Congress to hold fundraising receptions and encourages corrupt influences from special interest organizations who attend the fundraisers."
Islam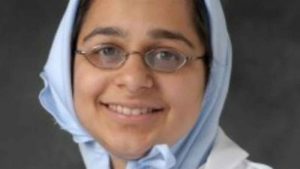 MUTILATING LITTLE GIRLS IN MICHIGAN'S LITTLE PALESTINE 04/14/17  This is very difficult to read without having your anger reach the boiling point. This is real Islam, now operating in America. What we read happening throughout Islam is here in America. Why is it they want to mutilate the young females? It must be demons driving these people to mutilate these little girls. Look at the curse that comes with Islam. How many girls already have been mutilated in America by this insane religion!
"The 7-year-old girl had been told that she was going to Detroit for a "special" girls' trip. Instead her special trip turned into a nightmare. After the Muslim doctor allegedly mutilated her, she warned the child not to talk about what was done to her.
Then it was back to Minnesota. The other little girl drew a picture of the room. And she drew an X on the examining room table to show where her blood had spilled. With pain radiating all the way down her body, the Muslim doctor who had abused her told her that she was fine.
And her parents told her not to tell. It was early February. The temperature on that terrible day in Livonia fell as low as 12 degrees. By the next day, she was back in Minnesota, likely the "Little Mogadishu" in Minneapolis, where temperatures had cratered to 9 degrees. The abused little girl could hardly walk. And in her pain and anguish, she left behind one of her gloves. The glove had her name on it. When the house of horrors in Livonia was finally raided, that solitary child's glove was still there like a gruesome trophy."
Hard Left in the Military
Chaplain group: Army's diversity directive an 'assault' on religious beliefs 04/13/17  The Hard Left is rooted deeply into certain parts of the military. It is going to take a big effort and time to get them out. These people hate Christianity and will do everything they can to drive Christians out of the military, or at least into the closet.
This is a real cultural battle, and the reprobates are so hardened against God that they will never give up.
Romans 1:28  And even as they did not like to retain God in their knowledge, God gave them over to a reprobate mind, to do those things which are not convenient;

"The Chaplain Alliance for Religious Liberty, which advocates for freedom of religious expression in uniform, sent a letter dated Feb. 24 to acting Army Secretary Robert Speer criticizing an Army directive titled "Promoting Diversity and Inclusion."
The group zeroed in on a section calling for the Army Training and Doctrine Command and the Deputy Chief of Staff to "develop a plan to expand training on implicit or unconscious bias" aimed at solders in senior leadership and management positions, recruitment and other areas.
Ron Crews, a retired Army chaplain and executive director of the group, believes the training is meant to discourage troops with religious teachings from expressing their views, calling it an assault on soldiers who hold biblical beliefs that marriage and sexual relationships should only be between men and women.
"We believe it is code for those who hold orthodox beliefs about sexual matters," Crews said. Those beliefs include that gay and lesbian relationships are ethically and morally wrong."
American Politics/ Hard Left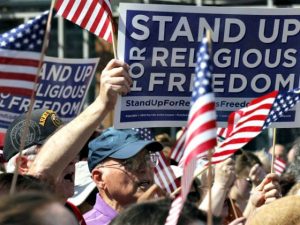 Trump Appoints Religious Liberty Defender Roger Severino to Head HHS Office for Civil Rights 04/14/17  This is wonderful news. We need more people like Severino in high levels of government to keep the Hard Left away from power and decision making.
It is so wonderful to see changes like this coming to America and freeing us from the death grip of the Hard Left!
"President Donald Trump has appointed freedom of conscience and religious liberty defender Roger Severino to head the Office for Civil Rights (OCR) at the Department of Health and Human Services (HHS).
Severino, the former director of the Richard and Helen DeVos Center for Religion and Civil Society at the Heritage Foundation, has been especially known for his criticism of Obamacare's "nondiscrimination" regulations on the basis of "gender identity." The guidelines propose to penalize healthcare professionals who are morally and professionally opposed to sex change surgeries and treatments."
American Politics/ ProLife
President Trump Just Empowered the States to Defund Planned Parenthood 04/14/17  What a blessing this is. The President is following through with a campaign promise. God is going to bless him and the nation for this action. I believe that PP is one of the most evil organizations in the world. It specializes in killing babies in the womb and kills about 330,000 a year! This is a mass murdering machine. Through the years, how many millions of little babies have they killed?
I fought PP in York, PA for many years. In the end, I won a federal lawsuit against the City of York for violating my rights. You can see all this at: ProLife Battles at York, PA
"President Donald Trump just moved Planned Parenthood funding to the state level, in essence defunding the abortion giant at the federal level.
The bill allows states to withhold federal money from Planned Parenthood.
PBS reports Trump, signed the measure in private and reversed the Obama administration's regulation that required state and local governments to distribute federal dollars for family planning services—including contraception, sexually transmitted diseases, fertility, pregnancy care, and breast and cervical cancer screening—to qualified health providers, irrespective of whether the providers also performed abortions, PBS reports.
Planned Parenthood clinics received $20.5 million of the $252.6 million distributed under the so-called Title X Family Planning grant program in the 2014 fiscal year, according to Health and Human Services Department figures."
Miscellaneous
HOW TO QUICKLY REMOVE ASSAD FROM SYRIA  I didn't think the incident on the United Flight was too serious until I found out the man was 69. He suffered a concussion, broken nose and lost some teeth.
The following shows how Assad can be removed!!!
2 Samuel 1:27  How are the mighty fallen, and the weapons of war perished!