Orlando Terrorist Attack Is Deadly Threat to Left's Agenda
                   Verse of the Day
 Matthew 24:7-8 For nation shall rise against nation, and kingdom against kingdom: and there shall be famines, and pestilences, and earthquakes, in divers places.  All these are the beginning of sorrows.
Commentary

Real Islam is showing its colors in America. The Hard Left loves Islam and homosexuality so what are those under a reprobate mind going to do? This had to come as the two are incompatible. I think that they will eventually side with the homosexuals but it will be too late. There are millions of Muslims in America and they can do serious damage to the nation.
No matter happens, we must keep our eyes focused on the Lord Jesus coming for us!
May the Holy God of Israel bless and protect you.
Zechariah 14:9 And the LORD shall be king over all the earth: in that day shall there be one LORD, and his name one.
Hard Left – Agenda Derailed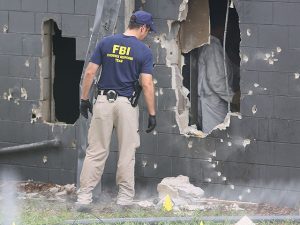 Orlando Terrorist Attack Is Deadly Threat to Left's Agenda 06/13/16  This is a really good article showing how Muslim terrorism is real putting the Hard Left agenda in trouble. They love Islam because it is a part of destroying America, but the violence and terrorism really are hurting their agenda.
"The Left is being forced to acknowledge that the Orlando terrorist attack is an existential threat to its agenda, amid an election already focused on America's inability to control world affairs and its own borders.
The Left's agenda to eradicate the nation state through open borders and disarmament is in real trouble after a known radicalized Islamist, with a connection to a suicide bomber, whose father broadcast a radio show supporting the Taliban, who was given security clearances and weapons licenses to work on DHS contracts, claimed allegiance to ISIS while methodically slaughtering 50 Americans in Orlando.
Prior to the Orlando attack, data revealed that terrorism and national security ranked second behind economic growth as the most important priority for all Americans, according to the Wall Street Journal/NBC News poll.
But that was because just 11 percent of US Democrats ranked terrorism and national security as their highest priority. In contrast, 33 percent of Republicans and 26 percent of independents ranked terrorism and national security as their highest priority.
Although there have not been any new polls since the attack to gauge changes in US voters' attitudes, the traumatic loss of life and visible gore is bound to have substantial psychological and political consequences.
Following the deadliest mass shooting in US history, gun sales immediately spiked, and the price of firearms makers' stocks surged on June 13. Smith & Wesson Holding Corp's stock leaped 11.6 percent, while Sturm Ruger & Co Inc. shares jumped 10.7 percent."
Hard Left – Delusions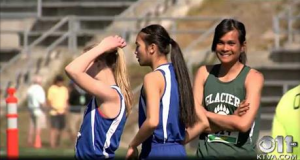 Family Group Cries Foul as Male Who Identifies as Female Competes Against Girls in State Track Meet 06/14/16  I guess now that there is no end to the delusions overtaking America. The Hard Left has destroyed God's creation of male and female along with the family unit, so now the sky is the limit for the delusions that Americans will come under.
According to the Bible, God has special delusions ready for those that reject him and his Word. Those people you see living in these delusions have been judged by the Lord and herded into their special delusion. I imagined that some are sealed into it unto judgment.

Isaiah 66:4  I also will choose their delusions, and will bring their fears upon them; because when I called, none did answer; when I spake, they did not hear: but they did evil before mine eyes, and chose that in which I delighted not.

"A family group in Alaska is crying foul after it became aware that a male student at Haines High School who identifies as female is being permitted to compete against girls on the school's track team and at the state championship.
Nattaphon "Ice" Wangyot, 18, a senior at the high school, recently qualified for the 100-meter and 200-meter finals, but some female students question whether it is fair for him to compete on a girls' team.
"I'm glad that this person is comfortable with who they are and they're able to be happy in who they are, but I don't think it's competitively completely 100-percent fair," Saskia Harrison of Fairbanks Hutchison High School told KTVA-TV.
"Genetically, a guy has more muscle mass than a girl, and if he's racing against a girl, he may have an advantage," said Peyton Young of Eagle River High School.
But Wangyot says that he takes female hormones regularly to suppress his testosterone levels, and finds support in his coaches.
"Some hateful people make me stronger and stronger," he told reporters. "So I want to say 'thank you' for everybody."
I've posted this to show the depth of the delusion that has overtaken the minds of the Hard Left. They are under a full delusion and promote their agenda with lies.
Remember this, they are driven by hell to fully enact their agenda and will destroy anyone who gets in their way. They are determined to destroy the real church of Jesus Christ in America.

This delusion they are in now in will lead them right into the final one. This is the future of these people.
2 Thessalonians 2:9-10 Even him, whose coming is after the working of Satan with all power and signs and lying wonders, And with all deceivableness of unrighteousness in them that perish; because they received not the love of the truth, that they might be saved.
(11,12) And for this cause God shall send them strong delusion, that they should believe a lie: That they all might be damned who believed not the truth, but had pleasure in unrighteousness.

"In perhaps one of the most disgusting attempts to push a political agenda on the blood of slain Americans in Orlando, The Charlotte Observer published an article attempting to link the Orlando terror attack to many Americans' concerns about perverted sexual predators taking advantage of legislation and ordinances that would allow transgender men to use ladies' restrooms and dressing rooms.
The paper published an article from the McClatchy Washington Bureau asking it readers, "Hundreds of Bills To Curb LGBT Rights Preceded Orlando Attack. Is There a Link?" The paper then reports, "While other motives may have inspired the attack…" about the act of Islamic terrorism for which ISIS has taken credit."
The reprobates love PP and do all they can to protect and promote it, just like they do with Islam.

"One of the charges against the pro-life Planned Parenthood video maker has been dropped.
Lawyers for David Daleiden provided Breitbart Texas with a copy of the order from the Harris County criminal court judge dismissing the Class A misdemeanor charge for prohibition of the purchase and sale of human organs.
The judge ruled that the court does not have jurisdiction over the case. The judge ruled that the indictment was based on Texas Penal Code section 48.02 but the indictment did not reference the exception named within the Penal Code section.
The judge ruled that "The indictment's failure to negate this exception renders it void." A prosecutor must negate the existence of this exception and prove beyond a reasonable doubt the defendant's conduct does not fall within the exception."
American Politics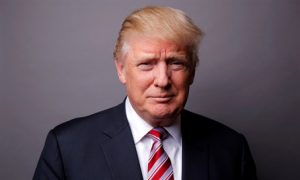 Trump: Sometimes Obama supports Muslims more than Israel 04/16/14
Obama loves Islam and Muslims. He loves the Muslim Brotherhood and has them in the White House and State Department. He supported the Muslim Brotherhood when they took over Egypt!
He says nothing when the Muslims are slaughtering the Christians in Muslim countries.
He has put Israel in great danger with is love for the Muslims. I am thankful that Trump ts standing for the truth of what Obama is.
1 Corinthians 15:25

  For he must reign, till he hath put all enemies under his feet.
"Republican presidential candidate Donald Trump said on Monday that President Barack Obama sometimes "seems more in support of Muslims than Israel".

"For example the Iran deal, which was one of the worst deals in history, gave $150 billion dollars to a radical regime, which will allow them to fund terrorist activities as well as pursue their stated goal of 'full annihilation and destruction' of Israel. It is great for Iran and bad for Israel and the United States," he told Bloomberg Politics in a statement sent by his spokeswoman Hope Hicks.

The statement to Bloomberg came in response to a question about what Trump meant by quotes earlier on Monday suggesting that Obama identified with radicalized Muslims who have carried out terrorist attacks in the United States and being complicit in the mass shooting at a gay nightclub in Orlando over the weekend.

"Well there are a lot of people that think maybe he doesn't want to get it," Trump said, according to The Washington Post. "A lot of people think maybe he doesn't want to know about it. I happen to think that he just doesn't know what he's doing, but there are many people that think maybe he doesn't want to get it. He doesn't want to see what's really happening. And that could be."

Guthrie asked Trump why that would be, and the presumptive Republican presidential nominee responded, "Because Savannah, Savannah, why isn't he addressing the issue? He's not addressing the issue. He's not calling it what it is. This is radical Islamic terrorism. This isn't fighting Germany; this isn't fighting Japan, where they wear uniforms."

Trump has criticized Obama for his failure to identify radical Islamic terrorism as the culprit for the Orlando shooting. The attack was carried out by American-Muslim terrorist Omar Mateen, who according to reports pledged allegiance to the Islamic State (ISIS) terrorist group."
 American Politics/ Islam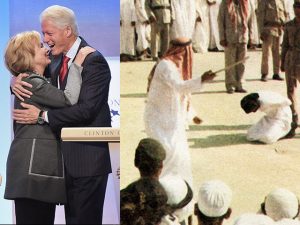 Hillary Clinton Took Millions from Anti-LGBT Countries That Jail and Execute Gays 06/14/16  This article is about homosexuality, but look at the money that was given to the Clintons. This explains why she is so supportive of the Muslims. Could it be because of the $millions they gave to her?
How ugly is this? She is running for president, and foreign countries have given her and Bill $millions! This is corruption at the highest level and God is now revealing it for everyone to see!
The Lord is good to bring this all out into the light. We are seeing the horrors of what is going on behind the scenes in America.
Luke 12:2-3  For there is nothing covered, that shall not be revealed; neither hid, that shall not be known. Therefore whatsoever ye have spoken in darkness shall be heard in the light; and that which ye have spoken in the ear in closets shall be proclaimed upon the housetops.

"In her response to the Islamic terror attack in Orlando, Hillary Clinton called on the governments of Saudi Arabia, Qatar, and Kuwait to stop allowing their citizens to fund terrorists and to "stop supporting radical schools and mosques." However, she failed to mention that the Clinton Foundation has spent years accepting millions in donations from countries that throw homosexuals in prison, fine them, sentence them to hard labor, and even execute them for the "crime" of being gay.
For years, Hillary Clinton's own global foundation welcomed big-dollar donations from countries with some of the worst LGBT-rights records in the world. And it's worth noting that the Clintons have routinely failed to disclose all the information concerning donations to their foundation.
Below is a list of eight nations that Hillary Clinton's foundation took contributions from while those counties' leaders were enforcing harsh punishments on lesbian, gay, bi-sexual, and transsexual people.
Saudi Arabia donated up to $50 million to the Clintons
Islamic Sharia Law in Saudi Arabia enforces penalties for homosexual sex, ranging from public flogging to banishment from the country to death. A 2013 International Lesbian Gay Bisexual Trans and Intersex Association report says: "There is no codifed Penal Law in Saudi-Arabia. Instead, the country applies strict Islamic Sharia law. According to the interpretation sodomy is criminalized. For a married man the penalty is death by stoning, while the penalty for an unmarried man is 100 blows of the whip as well as banishment for a year. For a non-Muslim, who commits sodomy with a Muslim, the penalty is death by stoning. Moreover are all sexual relations outside of marriage illegal in Saudi-Arabia according to the Sharia law, including sexual relations between women."
 Islam – The Truth
Muslim congressman brands Trump 'narcissistic fascist' 06/14/16  Trump is telling the truth about Islam and how dangerous it is, and the Hard Left is coming apart over this. Finally, someone is speaking the truth and he can't be stopped. Islam must survive by suppressing the truth and promoting lies. The same with the Hard Left.
Trump has a platform and he will not back down. I never really thought I would ever see something like this on a national level. The entire world is being exposed to the truth about Islam. I think that Trump is giving hope to the oppressed masses in Europe.
"Rep. Keith Ellison, the Democratic congressman from Minnesota who holds the title as the nation's first Muslim member of Congress, condemned Donald Trump for his response to the Orlando mass murders, saying the presumptive Republican presidential nominee is nothing more than a "fascist" who has no business running for the nation's highest public office.
"It is clear that we have a narcissistic, fascist who has claimed the Republican nomination," Ellison said, during an interview with Chris Hayes on MSNBC. "That's a fact. The question is what are we going to do about it as a nation."
"Why, oh, why can't his sympathies run to [the victims of the LGBT and Latino communities] for just a moment? The whole nation should be grieving with them," Ellison said, on MSNBC. "The fact his mind is not concerned itself with what they need, comforting them, is deep and disturbing. And then turn it into a villainous rampage against other Americans who have absolutely nothing to do with this, and I mean Muslims now, it's just outrageous."
Like the reporting you see here? Sign up for free news alerts from WND.com, America's independent news network.
Ellison instead called for more gun control as the way to solve mass murders like the one in Orlando that left 49 dead and 53 injured, including the gunman, a Muslim man named Omar Mateen who reportedly called 9-1-1 during the attack to pledge his allegiance to ISIS.
"We need to make those investments [in gun control]," Ellison said, the Hill reported. "We need action. We need to turn to each other, not on each other, as our narcissist candidate suggests."
Ex-Muslim's Post Says What Others Are Afraid to Say about Orlando Massacre 06/14/16  The truth about Islam is now getting out full blast. Will the Church make a stand and save itself and the nation from the ravages of Islam? Do the Church and Americans care anymore?
Are we going to surrender to Islam as Europe has, or we going to stand and block Islam from destroying the nation? Remember, that the Lord sends Islam as judgment on wicked nations. This battle is spiritual. Where is the Church and its pastors?
"Isik Abla is now a Christian TV host. She told CBN News that the Orlando attack should be called exactly what it was: radical Islam.
"Islam is a dangerous ideology, not only a religion and that Islam cannot exist without being radical," Abla said.
"It is an ideology to destroy. It's mission is to destroy America," she added.
Abla said she posted the video about the truth of Islam as a wakeup call to America.
"This has been my heart's cry and I have been so passionate since September 11 because this is the country that I found freedom. This is the country I found Christianity, I found Jesus Christ and I got free," she said.
"When I was in my own country I had no voice I was less than a cow and in this beautiful free country I found freedom and I have a voice. And when this happened, I said, 'No, no, no no, America cannot afford this anymore. America cannot afford one more September 11 anymore,'" she continued."
Islamic Terrorism/ Christianity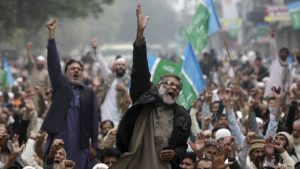 Anti-Terror Crackdown: Over 5,000 People Arrested in Bangladesh to Protect Christians 06/14/16  This is wonderful but only temporary. The problem is that Islam is at the root of the attacks and violence against Christians. After this calms down, the Muslims will pick right back up.
"Authorities in Bangladesh arrested more than 5,000 people over the weekend in connection to Islamic terror, seeking to stand up to the growing wave of attacks against minorities, including Christians and atheists, in the South Asian country.
The Telegraph reported that a number of those arrested in police raids are known Islamic militants who have organized a series of attacks on minority communities in the past year.
The murder of the wife of a police superintendent who had been investigating such attacks is believed to have prompted the large-scale response, which also led to shootouts with some of the militants, in which five suspected terrorists were killed.
Prime Minister Sheikh Hasina vowed to catch "each and every killer," Sky News added.
"It may take time, but God willing, we will be able to bring them under control," Hasina added.
"Where will the criminals hide? Each and every killer will be brought to book."
 Psalm 54:5  He shall reward evil unto mine enemies: cut them off in thy truth