PIZZAGATE and the Worldwide Elite Pedophile Network
                 Verse of the Day
Proverbs 21:3  To do justice and judgment is more acceptable to the Lord than sacrifice.

Commentary
This is one of the most horrific subjects ever covered, pedophilia. What has been exposed in Wikileaks emails is not new in terms of activities, but the explicit and growing nature of them is dreadful. Elites around the world are reveling in the abuse and in some cases, the torture and death of children. The videos below are not easy to watch but they are VERY important to see so that you understand just what is occurring among high level politicians in America and around the world – and how long it has been going on.
Much of it is tied to satanic ritual abuse, which goes hand-in-hand with pedophilia in many of the exposed emails. This evil is spreading and by the grace of God is being more widely exposed – although for those interested in the subject, what has been occurring has been being exposed at some level and by some sources for years. This is a hard subject but if the Church has any role at all, it is to be salt and light, to expose the works of darkness and to stand against it in faith and in the power of Christ. We need to pray fervently that these activities and all of these networks are brought down, and that God intervenes in the lives of the victims who still are alive.
This corruption runs deep and is the epitome of evil. It involves the powerful and influential, but the power of God is greater and his justice will prevail if we stand against this and make it an ongoing matter of prayer. Then we have to speak out and take any opportunity we're given to act in any way we can to stop what is happening. It's our moral duty as Christians.
Proverbs 21:16  It is joy to the just to do judgment: but destruction shall be to the workers of iniquity.
American Politics/ Paganism/ Pedophilia
NEVER Take Your Children To THIS ´Pizza Party´ (2016) 
#Pizzagate — Do NOT drink the "earthquake juice" on "earthquake nights! 11/20/16  Dutch Sinse is reporting on a pedophile ring involving Clinton that sexually exploits children during major earthquakes! This was uncovered by Wikileaks and he picked up on it. This massive pedophile network in Washington, DC is real and it needs to be exposed just as Hillary and the Democrats were.
Ephesians 5:11-13 And have no fellowship with the unfruitful works of darkness, but rather reprove them. For it is a shame even to speak of those things which are done of them in secret. But all things that are reproved are made manifest by the light: for whatsoever doth make manifest is light.
Paganism/ Pedophilia/ New World Order – World Government
Lawyers, politicians among 20 men arrested in Norwegian pedophile network probe 11/20/16  Although this happened in Norway, it is a worldwide problem that politicians and the powerful are drawn to sexually abusing children. For years, I have watched in America, and when the pedophilia rings are broken there are always politicians, and members of the legal system, etc. involved.
As the Lord is draining the swamp in Washington, please pray that he also rids us of the pedophiles in high places in government. There must be a special place in hell for the pedophiles.
Luke 17:2  It were better for him that a millstone were hanged about his neck, and he cast into the sea, than that he should offend one of these little ones.

"Norwegian police are investigating a pedophile network suspected to involve at least 51 people, and which includes the abuse of infants and at least one case of a suspect acknowledging abusing his own children.
Police have arrested 20 men so far in western Norway, with three convictions, in Norway's largest abuse case to date, Deputy Police Chief Gunnar Floystad said. The 31 other suspects are from other regions in Norway.
Floystad told reporters Sunday that many of the suspects are highly educated, and include lawyers and politicians. He said he could not reveal more details pending the conclusion of the investigation, known as "Dark Room," which began in 2015."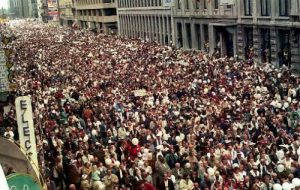 275,000 in Belgium Protest Handling of Child Sex Scandal 10/21/1996  What's being uncovered with Wikileaks about the pedophile rings and abuse of children by high government officials is nothing new. It has been going on for many years, stretching farther back than the Boys Town/Franklin Scandal in the 1980's (see video below). This article is from the New York Times in 1996, reporting on the widespread outrage and protests in Belgium which broke out upon news of the same type of activities, and the massive cover-up and whitewash by government officials in the Dutroux scandal. Ultimately, it took until 2004 to convict Dutroux, and he was not one of the influential politicians implicated – only a low-level player. For more information, see Murderpedia.
"Tens of thousands of Belgians gathered in the heart of Brussels today, waving white balloons and white flowers in a popular outpouring of anger and frustration over a widening child sex scandal.
The "White March," as it was called by organizers, was one of the largest in the country's recent history, drawing some 275,000 Belgians and supporters from neighboring countries, the police said.
It capped a week of spontaneous protests that erupted after Belgium's highest court removed a magistrate widely seen as a hero in the scandal, Jean-Marc Connerotte, from investigations into a pedophile and child pornography ring. So far, 13 people have been charged in the case, which involves the kidnapping, sexual abuse and killing of several children, with at least seven young girls still missing.
The court ruled that Mr. Connerotte had compromised his impartiality by accepting a free dinner at a fund-raiser for the parents of missing children.
The ruling prompted the public, already outraged by reports of the crimes and the slowness of investigators to respond, to take to the streets. The dismissal also followed press reports that Mr. Connerotte was on the verge of disclosing the names of senior government officials who had been recognized on confiscated videotapes, and during allegations of a high-level cover-up."
Pedophilia/ American Politics
CONSPIRACY OF SILENCE- Banned Discovery Channel Documentary  This is the iconic documentary of the Franklin Scandal – the use and abuse of children from Boys Town, Nebraska and the many deaths surrounding attempts to investigate and stop what was occurring. It's not easy to watch, but it's important to know part of the history of pedophilia in this country and how widespread it is among the elite.
"At the last minute before broadcast, the Discovery Channel pulled this documentary, Conspiracy of Silence, without explanation or comment.
Conspiracy of Silence is a 56 minute documentary film detailing an alleged child sex scandal that involved many children from Nebraska institution, Boys Town and Lawrence King, or Lawrence "Larry" King. The organized child sex parties implicated the Reagan and Bush White House during the 1980s. King was the ringleader of the sex ring which had links to other fellow political conservatives in Washington D.C. including Republican lobbyist Craig J. Spence, Sen. Elizabeth Dole's staff, along with members of the financial elite of Nebraska.
It features former CIA Director William Colby talking about the high-level child kidnap and sex-slave ring. A grand jury was rigged, so that instead of investigating the charges, it turned around and charged the victim/witnesses with perjury. One girl went to jail rather than recant her charges and has never recanted.
The chief investigator for the Nebraska State Legislature committee which was investigating the charges was killed in a small plane crash, just after he obtained evidence he considered irrefutable. He previously worried about his plane being sabotaged.
The documentary was produced over the course of ten months by British corporation Yorkshire Television for broadcast in the US on May 3, 1994 on the Discovery Channel.
However, the documentary was never aired. This is because Congress threatened more restrictive television laws. Most copies of the finished product were destroyed by parties unknown, but a mostly completed work print of the documentary was sent anonymously to former State Senator Nebraska attorney John DeCamp a year after all copies were supposedly destroyed.
Then-Nebraska State Senator John DeCamp, who continues to be the kids' lawyer, pro bono, wrote the best-selling The Franklin Coverup, now out in an updated edition. The former CIA director Bill Colby ambiguously acknowledged to John DeCamp that the scenario described is real, and not long thereafter Colby turned up dead under suspicious circumstances."


James 1: 22-23  But be ye doers of the word, and not hearers only, deceiving your own selves. For if any be a hearer of the word, and not a doer, he is like unto a man beholding his natural face in a glass: