Planned Parenthood: Did 321,384 Abortions; Got $543.7 Million Tax Dollars
Verse of the Day
Hosea 4:1 Hear the word of the LORD, ye children of Israel: for the LORD hath a controversy with the inhabitants of the land, because there is no truth, nor mercy, nor knowledge of God in the land.  (2) By swearing, and lying, and killing, and stealing, and committing adultery, they break out, and blood toucheth blood.
Commentary
Is there any way to shut down this killing machine? There must be a special place in hell for those who promote, protect and make money from killing babies in the womb. PP killing is a on par with what the Nazis did to political prisoners and the Jews. They are mass murderers who have been made legal by the Supreme Court of Sin and by the Democratic Party death cult. The hardcore Democrats are like devotees to the Bhagwan
I actually see the hardcore Dems as a political cult with their minds given over to the cult and its leader. This explains their actions and the frenzy of support for this death party. These hardcore follow the Democratic Party like a religion. Picture here reminds me of a Democratic Party cult devotee.
Hard Left/ ProLife
Planned Parenthood: We Did 321,384 Abortions; Got $543.7 Million in Tax Dollars 01/02/18
Proverbs 8:36  But he that sinneth against me wrongeth his own soul: all they that hate me love death.

" Planned Parenthood says its affiliates did 321,384 abortions in the fiscal year that ended on Sept. 30, 2016, according to its newly released 2016-2017 annual report. In the same report, Planned Parenthood says its affiliates received $543.7 million in payments from government—"Government Health Services Reimbursements & Grants," the report calls them—in the year that ended on June 30, 2017."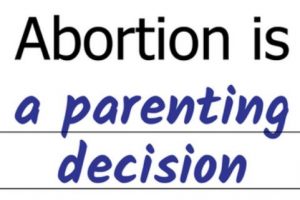 Abortion Clinic Launches Billboard Ad Campaign Saying Abortion is a Good "Parenting Decision" 01/04/18  The Hard Left promotes, protects and simply loves abortion. It seems to be at the very core of what the Hard Left is about. No matter how many babies are killed, it has no impact on their thinking. Abortion is the Hard Left.
Romans 1:28  And even as they did not like to retain God in their knowledge, God gave them over to a reprobate mind, to do those things which are not convenient; Being filled with all unrighteousness, fornication, wickedness, covetousness, maliciousness; full of envy, murder, debate, deceit, malignity; whisperers, Backbiters, haters of God, despiteful, proud, boasters, inventors of evil things, disobedient to parents

"Killing a baby in the womb is a good parenting decision. It's a blessing. It's normal. It's a family value.
These essentially are the messages of a new billboard campaign by Ohio's largest abortion business, Preterm. The ads celebrate and normalize abortion, leaving out the part about the baby's death.
The AP reports Preterm recently paid for 16 billboards in the Cleveland area that display the words "Abortion is …" followed by different phrases, such as "a parenting decision," "a blessing," "liberty" and "your right." Other phrases include "life-saving," "necessary" and "a second chance."
None of the billboards explain what an abortion actually is: the killing of a unique, living human being in the womb. In most cases, abortions occur after the unborn baby's heart already is beating."
World War 3/ North Korea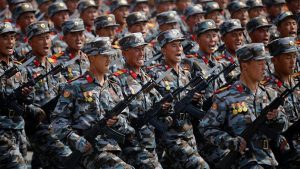 Hungry North Korean soldiers are being given leave to find food, report says 01/02/18  If this is true, there can't be much time left for Kim to go to war. He can't fight with a starving army! This is going to come to a head this year. Napoleon said, "An army marches on its stomach."
"Soldiers in North Korea's army are being given months off at a time to scrounge around fields to find food, according to a new report that describes the dire state of the reclusive country's food rations.
A photo purportedly showing North Korean soldiers rummaging through a corn field was published recently on Daily NK, a Seoul-based website that covers the North through a network of informants.
"The officers know better than anyone that they must feed their soldiers in order to maintain morale, and that rations of cornmeal with very few calories only serve to instill disillusionment among them," a source from the northern Ryanggang Province told the website."
Jerusalem
In late-night vote, Knesset passes law to hinder East Jerusalem withdrawal 01/03/18  This is sealing Jerusalem as Israel's capital and it can't be divided.
I can see the Palestinians now being crushed in many ways. It appears the US is going to cut funding to them, and it seems they are not getting support from the Arab nations. If they go to war against Israel, it will be their doom. There is no future for them. They have played all sorts of games with Israel, but now the door is closed. Watch Israel move to annex much of the West Bank!
Zechariah 12:6  In that day will I make the governors of Judah like an hearth of fire among the wood, and like a torch of fire in a sheaf; and they shall devour all the people round about, on the right hand and on the left: and Jerusalem shall be inhabited again in her own place, even in Jerusalem.

"Lawmakers approved a bill in the early hours Tuesday that requires a special two-thirds majority vote in the Knesset to relinquish any part of Jerusalem to the Palestinians under a future peace accord.
The law, which was proposed by Jewish Home MK Shuli Moalem-Refaeli and had the coalition's backing, is designed to make it much harder to divide the city, which Israel claims as its undivided capital. The Palestinians claim East Jerusalem as the capital of a future state.
The legislation, an amendment to the Basic Law on Jerusalem, requires 80 of the 120 MKs to support relinquishing any part of the city."
As France Has Done to Israel
France: Israeli, US rhetoric on Iran 'would lead us to war' 01/04/18  The French and Europeans have an appeasement mindset. The French want to play nice with the Iranians, so they don't start a war! Iran is already at war, but these weak minded French have no courage to stand up. This is the appeasement of Hitler all over again!
Iran clearly has said it wants to develop nuclear weapons to conquer the world for Islam. It wants to destroy Israel and the United States, yet the French are afraid of standing up to Iran. There is no courage in these people, and now the Lord is pouring the Muslims into France to finish them off! God is using the Muslims to break the French.
Proverbs 29:25  The fear of man bringeth a snare: but whoso putteth his trust in the LORD shall be safe.

"French President Emmanuel Macron on Wednesday criticized Israel, the United States, and Saudi Arabia for encouraging the Iranian anti-regime protests, saying the three countries could "lead us to war."
"The official line pursued by the United States, Israel and Saudi Arabia, who are our allies in many ways, is almost one that would lead us to war," Macron said, according to Reuters.
Calling for dialogue with the Islamic Republic, Macron said France wanted to avoid "surreptitiously rebuilding an 'axis of evil,'" a reference to countries singled out by former US president George W. Bush including Iran, North Korea, and Iraq.
American Politics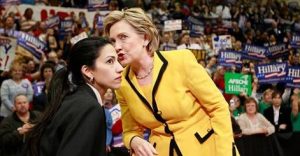 Trump calls for legal action against Huma Abedin, James Comey 01/02/18  What will it take for Attorney General Sessions to move on the Clinton Crime Cartel?
"President Trump called on Huma Abedin, a former Clinton aide, Tuesday to be jailed for allegedly giving out classified information.
"Crooked Hillary Clinton's top aid, Huma Abedin, has been accused of disregarding basic security protocols. She put Classified Passwords into the hands of foreign agents. Remember sailors pictures on submarine? Jail! Deep State Justice Dept must finally act? Also on Comey & others," Mr. Trump tweeted.
Reports over the weekend showed Ms. Abedin forwarded emails that included passwords to government systems to her Yahoo email account before millions of Yahoo accounts were hacked. The emails were released as part of a Judicial Watch lawsuit.
Mr. Trump also mentioned former FBI Director James B. Comey in his tweet saying that he too needs to be looked into for his actions in the Clinton email case. Mr. Comey drafted a letter clearing Mrs. Clinton, the Democratic presidential nominee, of any wrongdoing prior to the investigation's completion in 2016."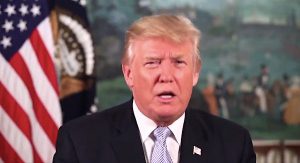 Tables turn: Now FBI probed for election interference 01/02/18  This is a very good article if you are interested in following how the FBI has been refusing to cooperate with Congress. The reason the FBI is stalling has to be that the criminals within it are caught out in the open with their crimes.
The Director of the FBI, along with Sessions, has to force their agencies to release these documents. The result should make it very easy for Sessions to appoint a Special Prosecutor to drain the DC swamp. Remember this is the Clinton Crime Cartel, and it rules the swamp, so it is not easy to drag these critters out.
Proverbs 11:1  A false balance is abomination to the LORD: but a just weight is his delight.
If a false scale is an abomination to Lord, it is hard to imagine what he thinks of the Clinton Crime Cartel!
"What began as an investigation of Russian interference in the 2016 election has now become a probe into how federal law enforcement conspired to stop Donald Trump from becoming president.
The House Permanent Select Committee on Intelligence has expanded its investigation that began with claims of Russian collusion and a fraudulent memo paid for by Trump opponents to one that focuses on members of federal law enforcement – both in the U.S. Justice Department and the FBI – and how they actively worked against the Trump campaign and the eventual Trump presidency.
In a startling turnabout, committee Chairman Devin Nunes, R-Calif., is accusing the Justice Department and the FBI of misleading him in "a pattern of behavior that can no longer be tolerated." He charges that Justice claimed it possesses no documents related to the infamous Trump dossier, then, under pressure, produced "numerous" such papers."
Hard Left
8th-grade 'privilege test' calls out straight white males, intact families, people with money 01/02/17  Somehow we have to organize against this and stop it. The word privilege is an insult because if white people don't work or obtain an education, they end up in poverty. The Left hates the middle class because they can't control us like they control the poor Mexican people.  This is an insult to the middle class and needs to be tackled head on and stopped.
Revelation 5:9  And they sung a new song, saying, Thou art worthy to take the book, and to open the seals thereof: for thou wast slain, and hast redeemed us to God by thy blood out of every kindred, and tongue, and people, and nation;

"A "privilege test" was given to 150 eighth-grade students at a Wisconsin public school in December and consisted of 55 statements participants checked off such as:
I am white
I am a man
I am heterosexual
I feel comfortable in the gender I was born in
My family and I have never lived below the poverty line
My parents are still married
I do not have any physical disabilities"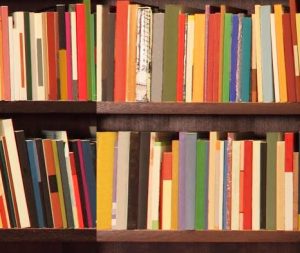 How Hatred of Whites Takes Over A Campus 01/02/18  The takeover of colleges by the Hard Left is real. It is a social and cultural war where they hate us and want to destroy everything about America. They hate God and most of all they want to destroy anything connected to him and his word. The is the reprobate mind in action!
Romans 1:28-30  And even as they did not like to retain God in their knowledge, God gave them over to a reprobate mind, to do those things which are not convenient; Being filled with all unrighteousness, fornication, wickedness, covetousness, maliciousness; full of envy, murder, debate, deceit, malignity; whisperers, Backbiters, haters of God, despiteful, proud, boasters, inventors of evil things, disobedient to parents,

"This isn't happening at all campuses, however, not by a long shot. In fact, it's a minority, or so I suspect…we have thousands of colleges in this country, and these reports only come from a few hundred places. What separates these weird places from the normal (ish) campuses is they are converged, i.e., taken over by Leftist lunatics.
The takeover of campuses by Leftists is normally a slow process. First they take over the hiring committee or HR departments, then after that point only Leftists are hired, to the exclusion of any other political belief. The average of Leftist to Conservatives among faculty is around 12 to 1, but that's an average: on a converged campus it may be 20 to 1, or even higher. That's just faculty. Thanks to departmental hiring policies and the tendency of faculty to stay with a school a long time, the convergence of faculty is hard pressed to become complete in less than a couple generations."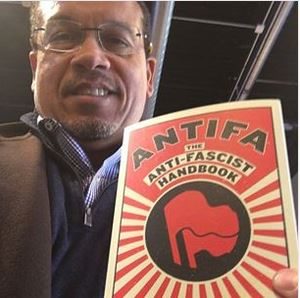 Congressman Keith Ellison Poses With Antifa Handbook 01/03/18  He is a traitor in our midst. He is a hardcore Muslim supporting Antifa. I am not surprised by this, but it is shocking that the nation has fallen this far.
"Democratic National Committee Deputy Chair Keith Ellison endorsed Antifa on Wednesday, tweeting a picture of himself smiling with an Antifa handbook.
Ellison posted a picture with "Antifa: The Anti-Fascist Handbook" and asserted that the book would "strike fear in the heart" of President Donald Trump.
Antifa is a far-left group that uses violence to achieve progressive political ends, including starting riots and fires at the University of California, Berkeley. While the group claims to be anti-Fascist, they routinely shut down the speech of people they disagree with. Antifa clashed with far-right protesters in Charlottesville, Virginia, last year."

2 Corinthians 3:17   Now the Lord is that Spirit: and where the Spirit of the Lord is, there is liberty.