Portland Protesters Burn Bibles, American Flags in the Streets
1 Peter 1:23 Being born again, not of corruptible seed, but of incorruptible, by the word of God, which liveth and abideth for ever.
Commentary
I've warned and warned about how much the Hard Left hates us because we stand for the Lord and his word. It did not take long for the Communist terrorists to start burning the Bibles along with the American flag. The terrorists understand the Bible's influence on the American culture; therefore, it must be destroyed.
The terrorists have reached a new plateau in rebellion. Their ultimate target is us, and kill as many of us as necessary to purge America of Christians who won't submit to the state. The state is their God; it is Caesar.
This is going to come to ahead because they are taking the battle to us. You must realize this they hate us as much as the Nazis did the Jews.
We need revival for survival, and I have prayer live on FB and YouTube 9 PM tonight EST for the outpouring of the Holy Spirit. Everyone is welcome to attend. WE have no option but to cry out to the Lord for the sin of the nation and God's mercy on us.
May the Holy God of Israel bless and protect you.
Acts 4:31 And when they had prayed, the place was shaken where they were assembled together; and they were all filled with the Holy Ghost, and they spake the word of God with boldness.
URGENT: COMMUNIST TERRORISTS BURN BIBLES
Ephesians 6:10

Finally, my brethren, be strong in the Lord, and in the power of his might. (11) Put on the whole armour of God, that ye may be able to stand against the wiles of the devil.
"Protesters flocked to the Justice Center and the federal courthouse in Portland again on Friday night, lighting fires and burning American flags and Bibles in the streets.
According to the Portland Police, which did not engage with demonstrators, the crowd lit several fires, including a large bonfire in the middle of the street in front of the federal courthouse. One video shows protesters feeding a small fire with Bibles, which were engulfed in flames"
DRAINING THE DC SWAMP?
Wow, this could really mean something. It appears Durham is near the end of his investigation and he wants to interview the target! There is no doubt in my mind that Brennan will not talk, and if taken before a Grand Jury, he would take the Fifth!
I really think this is great news and sparked some hope in me for justice in the DC swamp!
"US Attorney John Durham's probe is nearing a conclusion. According to reports Durham as asked to interview former corrupt CIA Director John Brennan. Brennan has acknowledged that he is in the "crosshairs" of the criminal inquiry into the Russia investigation led by Durham. He recently claimed, and the White House acknowledged, that he asked the CIA for his official records, including his personal notes and any classified CIA documents that he had signed to help him write his upcoming memoir, but the agency denied his request.
Last year, the New York Times reported that Durham asked for Brennan's electronic communications, phone records, and other documents from the CIA, something NBC News confirmed on Wednesday."
AMERICAN CONTINUED MELTDOWN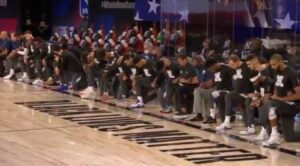 "Every Player, Coach and Ref Takes a Knee During National Anthem Before Pelicans-Jazz Game (VIDEO)"
This slow death of the nation is painful to watch, although, when it comes to professional sports, its death can't come fast enough.
"Every single player, coach and ref took a knee during the National Anthem at the Pelicans-Jazz game on Thursday.
Every single member of Utah Jazz and New Orleans Pelicans wore a Black Lives Matter t-shirt and took a knee on the court in the NBA's first game back. "Black Lives Matter" was painted on the court in large glossy letters.The NBA has made it clear that they not only support Communist China, they also support overt Marxists hell-bent on overthrowing the US government."
ATTACK ON PATRIOT DOCTORS
"Emergency Room Dr. Simone Gold Fired from Hospital After Attending White Coat Summit — Says She Has Hired Lin Wood to Represent Her (VIDEO)"
These tyrants are using this virus to control our lives and destroy the economy. They want to destroy anyone who gets in the way of their agenda. They are so evil it is easy to see their agenda.
Remember, because of what these tyrants are doing, 10s of thousands of people died! They are evil in the real sense like the Nazis.
"Dr. Simone Gold, a board certified emergency physician, spoke this week at the White Coat Summit. After over 18 million views of their conference on Monday Google, YouTube and Facebook removed their videos.
On Thursday night Dr. Gold told Tucker Carlson that she was fired from her position after 20 years as an emergency room physician because she appeared at the White Coat Summit this week.Dr. Simone Gold also told Tucker Carlson she has hired respected Attorney Lin Wood to represent her."
TRAITORS EVERYWHERE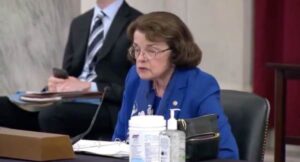 "Democrat Senator Dianne Feinstein Praises Communist China: "Growing Into a Respectable Nation" (VIDEO)"
Notice how she speaks so well of the Communist Chinese while hating Trump and conservatives! How many are there just like her.
"Two years ago it was revealed Dianne Feinstein had a Communist Chinese spy by her side for nearly 20 years.

Feinstein reportedly 'found out' that her staffer was a Chinese spy in 2013–while she was the Chairman of the Senate Intelligence Committee.
Dianne Feinstein and her 3rd husband Richard Blum whom she married in 1980 made MILLIONS off of their financial interests in China. Richard Blum made millions of dollars off of his Chinese investments–his investments in China flourished after his wife, Dianne Feinstein became a US Senator in 1992. The Chinese spy mysteriously appeared on the scene in 1993 just ONE YEAR after Feinstein was elected to the Senate in 1992."
THE 666 SURVEILLANCE SYSTEM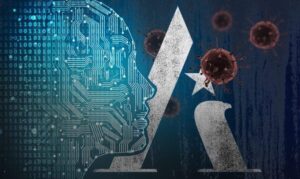 "The US National Security State Is Using Coronavirus To Drive Authoritarian Technocracy"
There is an all-out push to advance the 666 System going on. It is coming from many angles, so the completion must be very near. What a blessing that we understand God's word and link what is happening to Bible prophecy. The incredible speed at which this is coming together tells us the end is fast approaching! This is exciting times we are living in.
Daniel 12:9

And he said, Go thy way, Daniel: for the words are closed up and sealed till the time of the end. (10) Many shall be purified, and made white, and tried; but the wicked shall do wickedly: and none of the wicked shall understand; but the wise shall understand.
"It is imperative to understand that the "Great Panic of 2020" is engineered around the pandemic by Technocrats who are driven to take over and control the whole planet, and especially the United States.
The US government is already compliant toward Technocracy, but the American people are not. Until the soul of liberty is crushed in America, Technocrats will not have their way with us or the rest of the world. ⁃ TN Editor Last year, a U.S. government body dedicated to examining how artificial intelligence can "address the national security and defense needs of the United States" discussed in detail the "structural" changes that the American economy and society must undergo in order to ensure a technological advantage over China, according to a recent document acquired through a FOIA request.
This document suggests that the U.S. follow China's lead and even surpass them in many aspects related to AI-driven technologies, particularly their use of mass surveillance. This perspective clearly clashes with the public rhetoric of prominent U.S. government officials and politicians on China, who have labeled the Chinese government's technology investments and export of its surveillance systems and other technologies as a major "threat" to Americans' "way of life."
PRO LIFE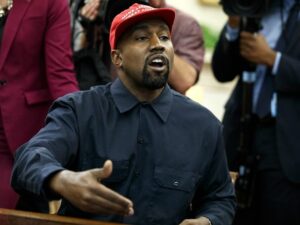 "Kanye West: 'I'm Concerned for the World that Feels you Shouldn't Cry About' Abortion"
I've been following him, and I think he has a real heart of the Lord. The crying out of the babies shows he has a real soft heart. He is confused about something, but I think is heart is right.
"Rapper and fashion mogul Kanye West took to Twitter on Friday to proclaim to his 30 million followers that he is concerned for anyone in the world who does not cry about abortion.
"I cried at the thought of aborting my first born and everyone was so concerned about me… I'm concerned for the world that feels you shouldn't cry about this subject," the Grammy-winner said."
If you like our ministry, please consider making a 

donation

to keep us going. May the Holy God of Israel bless you!
Revelation 22:20 He which testifieth these things saith, Surely I come quickly. Amen. Even so, come, Lord Jesus.