Researcher: Cologne Attacks Show German Men Have Forgotten How To Fight
                                        Verse of the Day
Zechariah 10:5 And they shall be as mighty men, which tread down their enemies in the mire of the streets in the battle: and they shall fight, because the LORD is with them, and the riders on horses shall be confounded.
Commentary
I think that the Hard Left mindset also has seeped into the minds of many American men without them knowing it. Real men stand and protect their wives, families and values, but something has happened.
Huge numbers of men seem to be weakened and have lost what it means to be a real man in God's eyes. We cannot allow our females to be molested in the ladies' rooms or locker rooms. It is cowardliness on our part. We cannot let the delusion of the reprobate mind force the women into combat when they are not qualified. We must stand up for the females against this attack or we are no longer real men, but more like the effeminate "men" of the Hard Left.
It is either take a stand now or really surrender to them. They are not going to stop advancing their agenda until we stop them. If you don't stand now, they will be right in your face with another attack until either you surrender like the Europeans have done, or stand against them in the name of Jesus.
Oh, where are the vast numbers of pastors who should be standing? Are they sitting out this battle like so many others? There is something radically wrong with these pastors, who think this battle has nothing to do with them. I see them just like the pastors who were powerless and folded before Hitler. God sees them as hirelings, and not shepherds of his sheep.
May the Holy God of Israel bless and protect you.
1 Chronicles 28:1 And David assembled all the princes of Israel, the princes of the tribes, and the captains of the companies that ministered to the king by course, and the captains over the thousands, and captains over the hundreds, and the stewards over all the substance and possession of the king, and of his sons, with the officers, and with the mighty men, and with all the valiant men, unto Jerusalem.
Hard Left – Emasculated Men
Researcher: Cologne Attacks Show German Men Have Forgotten How To Fight 05/21/16  This is part of the 'fruit" of the Hard Left: weakening men so much that they no longer have courage. I see this in America all of the time. So many men now are cowardly, and this is the main reason the reprobates are able to advance their agenda so easily.
If American men will not stand up for the protection of the their wives, daughters and granddaughters from perverts in the restrooms, then they are really not men anymore. These "men" are just shells of real men.

I see the same from the pulpits. There are very few real shepherds in the pulpits, who will not compromise truth, but will stand against the wicked.
Proverbs 28:1  The wicked flee when no man pursueth: but the righteous are bold as a lion.

"A respected violence researcher has declared that the Cologne sex attacks show German men have forgotten how to fight, and it's a good thing.
Jörg Baberowski gave a speech recently at the Philosophy Festival in Cologne on Thursday night saying that the New Years Eve sex attacks in Cologne prove that German males have forgotten how to stand up for themselves.
He said the fact that the German men had not come to the aid of the women being sexually assaulted by large gangs of migrants showed a reluctance to be violent and commented: "We see that men in Germany no longer know how to deal with violence," Stern reports.
However, immediately following the remark Baberowski, who is a historian at the Humboldt University in Berlin, said "thank god" that German men no longer know how to stand up for themselves or face violent conflict.
He claimed that is was good that German men relied solely on the state to take care of them and protect them. He claimed that the New Years' attacks were a failure of the state to protect its citizens and that if the government can't guarantee that safety then the confidence the citizens have it it will be shaken."
Hard Left/ Transgendered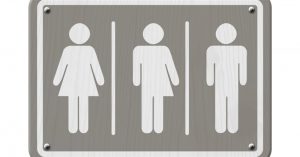 GOP Lawmaker Calls for 'Civil Disobedience' on Transgender Bathroom Directive 05/20/16   In the end, it might come down to resistance against the federal government on many fronts. They are bringing the fight to us and they are relentless.
1 Thess 5:23  And the very God of peace sanctify you wholly; and I pray God your whole spirit and soul and body be preserved blameless unto the coming of our Lord Jesus Christ.

"CBN News reports that Representative Steve King, R-Iowa, has said that federally-funded schools are not required to comply with a law that is "unconstitutional."
"There's no reason for us to follow an unconstitutional edict from the president, who is on his way out the door," King said in a radio interview Tuesday.
King is among a group of Republicans who are arguing against Obama's transgender bathroom directive. He said he would likely call a hearing on the issue in which he will discuss how to stop this directive from being applied in schools across the nation.
"So we're going to explore that more fully," he said. "I need to be more astute at how movements begin, the genesis of these kinds of policies, so that we can go find them before they proliferate and become contagious across the countryside."
Transgendered – Obama – Impeachment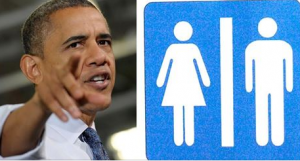 Republican Oklahoma lawmakers urge Obama impeachment over bathroom directive 05/21/16  This is a wonderful idea, but it should have been done years ago. He has done so much damage to the nation that it can't be undone.
Proverb 29:2  When the righteous are in authority, the people rejoice: but when the wicked beareth rule, the people mourn.

"A group of Republican Oklahoma lawmakers introduced a resolution Thursday urging the state's congressional delegation to start an effort to impeach President Obama over the White House's directive to allow transgender students to use the bathroom of their gender identity.
The Obama administration issued the recommendation to all public schools last week that transgender students must be allowed to use the bathroom of their choosing. The directive has caused fury among lawmakers across the nation.
Reuters reported the bill introduced in Oklahoma calls on the state's members of the House of Representatives to file articles of impeachment against Obama, Attorney General Loretta Lynch, Secretary of Education John B. King and several others.
Lawmakers on Friday also introduced a separate measure that would allow students to use religious grounds to have separate but equal bathrooms to segregate them from transgender students."
Hard left/ Islam/ Homosexuality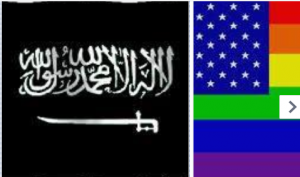 Muslim states block LGBT groups from UN meeting, drawing protest from US 05/18/16  This article is about the great dilemma of the Hard Left. They love both Islam and all of the homosexual agenda. But, the Muslims want to kill the homosexuals, so at some point the Left has to choose sides.
They don't see this yet because the Muslims are not powerful enough, but they are making huge strides in Europe. As the Muslims gain power, the homosexuals have to go back into the closets. What will the Left do?
The Muslims don't have enough power yet in America. so they will fake agreeing with homosexual "human rights" until the time is right. In reality, those that are under the Hard Left delusion are really stupid and totally blinded to the realty of the Muslim agenda.
2 Thess 2:10  And with all deceivableness of unrighteousness in them that perish; because they received not the love of the truth, that they might be saved.
(11,12) And for this cause God shall send them strong delusion, that they should believe a lie: That they all might be damned who believed not the truth, but had pleasure in unrighteousness.

"A group of 51 Muslim states has blocked 11 gay and transgender rights organizations from attending a meeting at the United Nations next month on ending AIDS, sparking protests from the European Union, Canada and the U.S., who say the exclusion will "only impede global progress in combating the HIV/AIDS pandemic."
Egypt, a member of the Organization of Islamic Cooperation (OIC), wrote to the president of the U.N.'s General Assembly to object to the participation of the groups, Reuters reports. The OIC also includes Saudi Arabia, Iran, Turkey, Syria and Iraq as member states.
In Egypt's letter, a reason for the OIC's rejection of the groups was not specified, but Samantha Power, the U.S. ambassador to the United Nations, said the groups appeared to have been blocked for their role in LGBT advocacy.
"Given that transgender people are 49 times more likely to be living with HIV than the general population, their exclusion from the high-level meeting will only impede global progress in combating the HIV/AIDS pandemic," Power wrote in a letter to General Assembly President Mogens Lykketoft."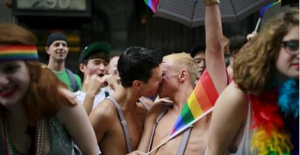 CDC: Southerners' 'Racism' And 'Homophobia' Cause Gay Men's High HIV Rates 05/22/16  Notice that with the reprobate mind they try and blame all of their problems on normal people instead of on the sinful act. It is the act they commit that is the cause of the disease, but instead they think of some ingenious way to blame it on us!
This is all part of this delusion they operate under. The truth is that these sinful acts bring disease and death: both now, and then eternal death before God.
Romans 6:23  For the wages of sin is death; but the gift of God is eternal life through Jesus Christ our Lord.

"An issue brief published on Tuesday by the U.S. Centers for Disease Control claimed that that Southerners' "racism," and "homophobia" may be causing high HIV rates in the South that are disproportionately high among African-Americans and homosexuals.
According to the issue brief, Southern states have 37 percent of the U.S. population and 44 percent of all HIV infected people living in America. HIV rates among gay men and African-Americans account for the lion's share of those infected with HIV.
"African Americans are severely affected by HIV in the South, accounting for 54 percent of new HIV diagnoses in 2014," the brief notes.
The majority of those diagnoses were among black gay men, the CDC reports: "Black gay, bisexual, and other men who have sex with men (MSM) face an especially heavy burden, accounting for 59 percent of all HIV diagnoses among African Americans in the South."
According to the 2010 Census, 55 percent of African-Americans live in the South.
White gay men accounted for the second-highest number of new HIV diagnoses in the South in 2014, followed closely by gay Latino men and black heterosexual women, and less closely by black heterosexual men.
The CDC claims that one of the "factors driving the Southern HIV epidemic" could be the apparent bigotry of Southerners.
"Issues such as homophobia and transphobia, racism, and general discomfort with public discussion of sexuality may be more widespread in the South and can lead to higher levels of stigma," the CDC claims. And increased levels of stigma — according to the CDC brief — "may limit people's willingness to seek HIV testing, care, or prevention services."
Islam – War with the West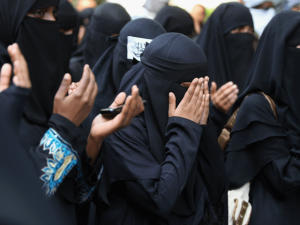 Czech Politician: West Will Have To 'Crush' Islam 05/21/16  Europe seems unable to deal with outbursts of evil. It played with Communism, and, in fact, it was Germany that gave life to that in Russia during WW1.
The Europeans were unable to unite to stop Hitler in the early stages of his Nazi takeover. They lacked the courage; the Europeans seem unable to recognize evil until it is to late.
This now is happening with Islam. Islam is evil right in front of their eyes, and the the Hard Left controlling most of the countries actually love Islam. This is just one massive delusion because they have rejected God, and the Lord has turned them over to it for their destruction.
This politician is 100 percent spot on! Will they listen to her? I doubt it.
"Islam is a "criminal" ideology which deserves to be ranked with "Nazism, fascism and communism", is "incompatible with the principles of European law" and, like its totalitarian predecessors, must inevitably be defeated.
So argues Czech lawyer, activist and politician Klára Samková in a hard hitting lecture she delivered earlier this week in the Czech Parliament to an audience including (some rather bemused) ambassadors from Muslim countries – including the Turkish ambassador who, with several others, walked out half way through.
Her speech – translated here by Luboš Motl – is well worth reading because it addresses issues almost never aired in polite circles in Western democracies, which find it convenient to dismiss them as extremist or Islamophobic or needlessly inflammatory.
Is Islam compatible with Western democracy? Is it capable of reform? Can this end happily?"
As Sweden Has Done to Israel
Islamists Infiltrate the Swedish Government: One Month of Islam and Multiculturalism in Sweden: April 2016 05/16/16  I follow events happening in Sweden because it is one of nations leading the charge against Israel. What has happened is the Lord has judged Sweden with Muslims, and they are destroying Sweden. In many respects they are taking over the nation.
Sweden is dying right before our eyes at the very time it is trying to divide Jerusalem and create a Palestinian state!
"The library in Arvika surprised patrons by offering Arabic language courses. Many Swedes wondered if offering courses in Swedish to the Arabic-speaking immigrants would not be more productive. The library, however, does not offer any such service.
The Immigration Service released a new report on April 8, entitled "Are You Married?", which showed how its own case officers allow child marriages.
Swedish authorities have approved hundreds of polygamous marriages among immigrants, law professor Göran Lind revealed on April 4.
An asylum seeker was arrested April 23 for kicking his wife in the head, among other things. According to police, the man became angry with his wife because she was trying to learn Swedish."
Israel
How Israel is turning part of the Negev Desert into a cyber-city 05/20/16  This is a very interesting article about how advanced Israel's technology has become.
Zechariah 12:6  In that day will I make the governors of Judah like an hearth of fire among the wood, and like a torch of fire in a sheaf; and they shall devour all the people round about, on the right hand and on the left: and Jerusalem shall be inhabited again in her own place, even in Jerusalem.

"Here in the middle of the Negev Desert, a cyber-city is rising to cement Israel's place as a major digital power. The new development, an outcropping of glass and steel, will concentrate some of the country's top talent from the military, academia and business in an area of just a few square miles.
No other country is so purposefully integrating its private, scholarly, government and military ­cyber-expertise.
Israel is a nation of 8 million people with little in the way of natural resources. But in global private investment into cyber­security firms, it is second only to the United States, with half a billion dollars flowing to the sector annually. Israel has not only vowed to repel the thousands of daily hack attacks against targets as diverse as the electric grid and ATMs, but it has also promised to build its commercial cybersector into an economic powerhouse.
More quietly, the Jewish state is also at the cutting edge of cyberoffense, developing stealthy computer weapons to penetrate its enemies' networks. The United States and Israel, working together, launched the world's most destructive cyberweapon known to date, Stuxnet, which was let loose on Iran's Natanz nuclear enrichment facility to devastating effect."
World War 3
NATO finalises military build-up to counter Russia 05/19/16  Can war be far off? Putin is not bluffing and the Russian economy is growing weaker. If he is going to move west, it has to be fairly soon.
"NATO foreign ministers were on Thursday finalising the alliance's biggest military build-up since the end of the Cold War to counter what they see as a more aggressive and unpredictable Russia.
NATO chief Jens Stoltenberg said the two-day meeting would address "all the important issues" to prepare for a "landmark" summit in Poland in July.
There, NATO leaders will formally endorse the revamp which puts more troops into eastern European member states as part of a "deter and dialogue" strategy, meant to reassure allies they will not be left in the lurch in any repeat of the Ukraine crisis.
"We will discuss how NATO can do more to project stability… and at the same time address how NATO can continue to adapt to a more assertive Russia to find the right balance between defence and dialogue," Stoltenberg told reporters.
US Secretary of State John Kerry, attending the Brussels talks, said NATO was building a "robust" defensive posture on its eastern flank and urged member states to meet pledges to increase defence spending.
The alliance needs to "continue to strengthen our deterrence capabilities through a more robust forward presence," he said.
"NATO is open to a political dialogue with Russia but we will refrain from business as usual until the Minsk commitments are fully implemented," Kerry added.
Under the Minsk process, Moscow agreed to a ceasefire in Ukraine and to halt support for separatist pro-Russian rebels that have carved out an enclave in the east of the country.
– Mutual suspicions –
Stoltenberg told a later press conference that the alliance's AWACS monitoring aircraft could be flown over "NATO territory and international airspace" to help the fight against the jihadist Islamic State group."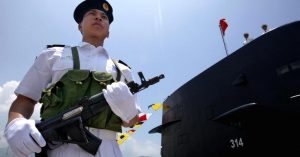 China says it's ready if US 'stirs up any conflict' in South China Sea 05/19/16  The Chinese must feel strong enough to take on the US, as the rhetoric is really warlike. Always remember that while Obama is president, America looks very weak to Russia, China, North Korea and Iran. They feel they can do whatever they want.
With rhetoric like this, can World War 3 be far off?
"China's attempts to claim a nearly 1.4-million-square-mile swathe of open ocean are without precedent and probably without legal merit, but Beijing continues to assert its right to the economically critical zone — and increasingly puts its claims in military terms.
Speaking to a small group of reporters in Beijing on Thursday, a high-ranking Chinese official made his warning clear: The United States should not provoke China in the South China Sea without expecting retaliation.
"The Chinese people do not want to have war, so we will be opposed to [the] U.S. if it stirs up any conflict," said Liu Zhenmin, vice minister of the Ministry of Foreign Affairs. "Of course, if the Korean War or Vietnam War are replayed, then we will have to defend ourselves."
The so-called "nine-dash line" that China has drawn over most of the South China Sea — a gargantuan territorial claim that stretches about 1,200 miles from its shores — would give Beijing control over a zone that's estimated to handle about half of global merchant shipping, a third of the planet's oil shipping, two-thirds of global liquid natural gas shipments, and more than a 10th of Earth's fish catch.
The Obama administration, backed by several Asian governments and entities such as the Brookings Institution, argues that such massive ocean claims at great distance from land are "inconsistent with international lclaims at great distance from land are "inconsistent with international law."
Isaiah 1:4  Ah sinful nation, a people laden with iniquity, a seed of evildoers, children that are corrupters: they have forsaken the Lord, they have provoked the Holy One of Israel unto anger, they are gone away backward.