Russia says US air strikes in Syria came 'within an inch' of military clash with their forces
Verse of the Day
Isaiah 17:1 The burden of Damascus. Behold, Damascus is taken away from being a city, and it shall be a ruinous heap.

Commentary
Syria is one of the flashpoints for WW3 and right now it is red hot. The US and Russia are now almost rubbing elbows in Syria. This is extremely dangerous since this conflict could explode into a confrontation between the US and Russia. The utter destruction of Damascus is a key sign of the Day of the Lord and the Second Coming of Jesus Christ.

This also is happening at the same time that the problem with North Korea is red hot. Remember China backs North Korea like Russia backs Syria.
May the Holy God of Israel bless and protect you.
Revelation 19:15 And out of his mouth goeth a sharp sword, that with it he should smite the nations: and he shall rule them with a rod of iron: and he treadeth the winepress of the fierceness and wrath of Almighty God.
World War 3 – Urgent

Russia says US air strikes in Syria came 'within an inch' of military clash with their forces 04/07/17
Matthew 24:6-7  And ye shall hear of wars and rumours of wars: see that ye be not troubled: for all these things must come to pass, but the end is not yet. For nation shall rise against nation, and kingdom against kingdom: and there shall be famines, and pestilences, and earthquakes, in divers places.

"Russian Prime Minister Dmitry Medvedev has said the US air strike on a Syrian air base came "within an inch" of militarily clashing with their forces.
He said the action taken by the Americans was in breach of international law and their own internal procedures, and accused Washington of "barely avoiding combat clashes with Russia".
In a post on Facebook, Mr Medvedev said the air strike had "completely ruined relations" between the two superpowers.
However, the US says it warned Russia one hour before it fired 59 tomahawk cruise missiles at the Shayrat air base. Syria claims US air strike killed 7 people, including 4 children
Satellite imagery suggests the base that was struck is home to Russian special forces and military helicopters, part of the Kremlin's effort to help the Syrian government fight Islamic State and other militant groups."
Trump's strike signals to Russia, Iran, Hezbollah, Assad: The party's over 04/07/17  We are now in a totally different political situation in the Middle East. The President is standing against the enemies and standing with our allies. What a change in less than 3 months. The attack on Syria also was a direct warning to Iran and North Korea.
Isaiah 17:1  The burden of Damascus. Behold, Damascus is taken away from being a city, and it shall be a ruinous heap.

"Nonetheless, the overnight US raid was dramatic and remarkable, especially when compared to the policy of Trump's predecessor, Barack Obama, which might best be summed up in the single word "inaction."
In less than three months, the much-mocked President Trump has achieved in the Middle East what Obama never sought, or even wanted to do: He has gained the trust of Egypt's President Abdel-Fattah el-Sissi, Jordan's King Abdullah II and Saudi Arabia's King Salman. Even the leadership of the Palestinian Authority is unstintingly in its praise of his Middle East policies and his efforts to revive the peace process with Israel.
The pragmatic Sunni camp, which felt itself so at odds with Obama, finally senses that it is being heard and heeded in Washington. The US administration is building relations with the correct side in this region, rather than gambling, as Obama did, on the political Islam characterized by the Muslim Brotherhood."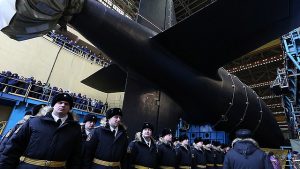 Russia launches its most powerful nuclear submarine to date 04/06/17
"A new nuclear-powered Russian submarine is unveiled, capable of reaching speeds of up to 31 knots and carrying hundreds of torpedoes that could hit the east coast of America from the middle of the Atlantic."
 

Israel/ The Coming Middle East War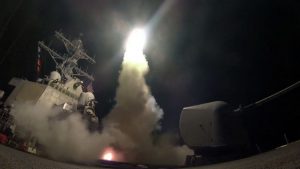 In Israeli eyes, Trump's Tomahawks correct the course of history 04/07/17  Israel supports the attack on Syria. It seems that everything is getting lined up for war. Russia, Syria, Iran and Hezbollah versus the US, Israel and maybe some of the Sunni nations.
"From an Israeli perspective, US President Donald Trump corrected the course of history in ordering airstrikes against the Syrian regime late Thursday.
The mere fact that the global superpower took action in the face of Bashar Assad's use of chemical weapons against civilians — regardless of what military goals the operation accomplished — sends a powerful message that will reverberate beyond Syria, leaders and officials in Jerusalem said.
"In both word and action, President Trump sent a strong and clear message today that the use and spread of chemical weapons will not be tolerated," Prime Minister Benjamin Netanyahu said in a statement backing the airstrikes on the regime-held Shayrat Airfield, north of Damascus. "Israel fully supports President Trump's decision and hopes that this message of resolve in the face of the Assad regime's horrific actions will resonate not only in Damascus, but in Tehran, Pyongyang and elsewhere."
Defense Minister Avigdor Liberman called the missile strike "an important, necessary and moral message by the free world, led by the United States," that shows it "will not tolerate the war crimes of the horrific regime of Bashar Assad."
World War 3/ North Korea
U.S. Military In North Korea: 'Ready To Fight Tonight' 04/05/17  This is an excellent video showing the US military in North Korea.
Homosexuality
LGBT Czar On Indoctrinating Children: The Younger The Better 04/05/17  Good video showing the agenda of how the Hard Left want to indoctrinate children into accepting the homosexual lifestyle and condition them for it.
Hard Left/ Transgendered
Target CEO Admits Bathroom Policy Announcement Was Huge Mistake 04/07/17  This is a very interesting article which states that Target is starting to really feel the effects of the boycott. This is great news. The boycott is a real weapon that we can use to break the backs of businesses that promote the Hard Left agenda.
Ephesians 5:11  And have no fellowship with the unfruitful works of darkness, but rather reprove them.

"A very damaging article just out from the Wall Street Journal (WSJ) clearly shows that Target CEO Brian Cornell regrets his company's policy announcement welcoming men to use women's restrooms and fitting rooms.
WSJ interviewed a representative from the American Family Association (AFA), who launched the immensely successful #BoycottTarget initiative nearly a year ago. The 1.5 million-signature boycott has sent the strong message to the retailer that its misguided and potentially dangerous bathroom policy is the reason millions of families are no longer shopping there."
Hard Left
Limbaugh: Political left operates like radical Islam 04/05/17  I have been saying this for a long time, but Rush has a different take on it. He is correct, except that the Hard Left is heading for violence like radical Islam does to advance its agenda.
I don't think that Rush yet understands just how evil these people are and how much they hate us. Their hatred now is starting to manifest, but the fullness is coming. Always remember that the Hard Left loathes and despises us with the same hatred that the Nazis had for the Jews. We are now starting to see this hatred manifest. They will act on this hatred; just give them a little time. Rush will come to see just how much they hate us.
Psalm 2:1  Why do the heathen rage, and the people imagine a vain thing? The kings of the earth set themselves, and the rulers take counsel together, against the LORD, and against his anointed, saying, Let us break their bands asunder, and cast away their cords from us. He that sitteth in the heavens shall laugh: the Lord shall have them in derision. Then shall he speak unto them in his wrath, and vex them in his sore displeasure.

"In America, Limbaugh explained, government officials are required to swear an oath to the U.S. Constitution because "that's the glue that keeps everything together."
"[T]hat is supposed to be the compact that unites all of us," he said. "Winning or losing, we are united as Americans, defined by our Constitution. Swearing the oath announces the understandings based on which we become 'We, the People.'"
But if America sees a massive movement that rejects and undermines the Constitution, that unity comes into serious question, he said. And once that group becomes a majority of the population, America loses its indivisibility as "We, the People."
"This behavior is very, very close to Shariah Islam," Limbaugh said. "There is no authority but Islam. It's a core tenet: The ruler must be obeyed as long as he complies and enforces Shariah. And if the ruler abandons Shariah, they assassinate him, like in the case of [former Egyptian President] Anwar el-Sadat … Now, they don't do assassinations here, but if the left's leader abandons them, you know what happens to them. They're immediately forgotten, destroyed, cast aside and ruined."
Hard Left in the Military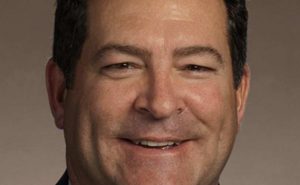 Trump picks Christian pro-life conservative to replace homosexual as Army Secretary 04/06/17  This is exactly what the nation needs: men in top positions like this one. God can bless America with people like this leading the nation.
"President Trump has chosen a Tea Party, pro-life conservative Christian and former U.S. Army flight surgeon as Secretary of the Army in a move that LGBTQ activists denounced, according to news sources.
If approved by the Senate, Tennessee State Sen. Mark Green, a Clarksville Republican, would fill the spot occupied by Eric Fanning, who was appointed in 2016 by former President Obama as the first "out" homosexual to hold the post.
Open homosexuality was not allowed in the Armed Forces until Obama signed a bill ending "Don't Ask, Don't Tell" in 2011. As LifeSiteNews reported, Fanning was a leading pro-"transgender" advocate in the military and a key player behind Obama's policy change allowing gender-confused individuals to serve openly."
Christian Apostasy
Norway Evangelicals Withdrawing From Franklin Graham Festival Because of Trump Support? 04/06/17  I think that Norway represents all of European Christianity. Norway is extremely anti-Israel; where is the Norwegian church? Norway has unfettered abortion; where is the Norwegian church? Norway is open about homosexuality; does this offend the values of the Norwegian church?
I follow the news all the time and not once have I come across the Norwegian church make a public stand against anything that offends the Lord. There maybe a small group, but nothing that caught the news. Yet, they are ready to condemn Graham for supporting Donald Trump. The reason for this is Muslim immigration! They just love the Muslims in Norway, yet have little fire in the belly to support Israel.
Now you can see why Europe is in the spiritual and social condition it is in! The church is leading them into suicide by Muslims.
John 15:19  If ye were of the world, the world would love his own: but because ye are not of the world, but I have chosen you out of the world, therefore the world hateth you.

"Fisher-Høyrem also cited several Norwegian evangelical leaders, Christian members of Parliament, and even the head of Norway's largest Christian think tank who share Graham's core theological convictions but no longer want to be connected to him.
"It is precisely because these conservative Evangelical leaders care about the Christian witness and the importance of conservative Christian values in society that they are saying they cannot be associated with Franklin Graham.
While they all agree that the Christians should pray for political leaders and that God can use the worst leaders for his purpose, they have said Franklin's increasingly unChristian rhetoric and claim that God intervened to ensure Trump won have undermined Franklin's credibility and witness," Fisher-Høyrem wrote.
Graham also backed Trump's controversial immigration order — that halted the United States' entire refugee resettlement program for 120 days and blocked citizens of seven Muslim-majority countries from entering for 90 days — earlier this year, though some evangelicals opposed it. He argued that borders need to be secured and that everyone needs to go through a screening process to make sure "the philosophies of those entering our country are compatible with our Constitution."

Proverbs 14:34  Righteousness exalteth a nation: but sin is a reproach to any people.