Russia to treat US jets in Syria as 'targets' after America guns down first regime warplane
                                  Verse of the Day
Matthew 24:6-7  And ye shall hear of wars and rumours of wars: see that ye be not troubled: for all these things must come to pass, but the end is not yet. For nation shall rise against nation, and kingdom against kingdom
Commentary
Lately, I was thinking that Russia and Syria were quiet with no significant events, and now this! Will Russia attempt to shoot down US planes? This is now a real flashpoint for WW3.
May the Holy God of Israel bless and protect you.
Isaiah 2:4 And he shall judge among the nations, and shall rebuke many people: and they shall beat their swords into plowshares, and their spears into pruninghooks: nation shall not lift up sword against nation, neither shall they learn war any more.
World War 3
Russia to treat US jets in Syria as 'targets' after America guns down first regime warplane 06/19/20
"Russia has said it will treat US warplanes operating in parts of Syria where its air forces are also present as "targets" amid a diplomatic row caused by the downing of a Syrian jet.
The country's defence ministry said it would track US-led coalition aircraft with missile systems and military aircraft, but stopped short of saying it would shoot them down. A hotline set up between Russia and
"All kinds of airborne vehicles, including aircraft and UAVs of the international coalition detected to the west of the Euphrates River will be tracked by the Russian SAM systems as air targets," the Russian Defence Ministry said in a statement.
The warning followed after a US F-18 Super Hornet shot down a Syrian army SU-22 jet on Sunday in the countryside southwest of Raqqa – the first such downing of a Syrian jet by the US since the start of the country's civil war in 2011."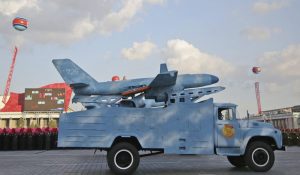 US shoots down Iranian drone in Syria 06/20/17  This is the latest update about what is happening in the Middle East. This is really serious between the US and Russia.
"A U.S. aircraft shot down an armed Iranian drone advancing on coalition forces in southern Syria on Tuesday, Fox News confirmed.
The armed pro-regime Shaheed-129 UAV was shot down by a U.S. F-15E Strike Eagle about 12:30 a.m. after it displayed hostile intent and advanced on Coalition forces. This is the second the U.S. shot down an Iranian drone in less than a month.
The coalition forces were manning an established combat outpost to the northeast of At Tanf where they are training and advising partner ground forces in the fight against ISIS. This is the same location where another pro-regime UAV dropped munitions near Coalition forces before it was shot down on June 8.
The F-15E intercepted the armed UAV after it was observed advancing on the coalition position. The armed UAV was shot down when it continued to advance on the coalition's position without diverting its course."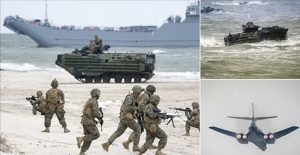 Are you watching, Mr Putin? US supersonic bombers spearhead amphibious assault in exercise involving 6,000 troops and 50 ships in Russia's 'backyard' 06/19/17  There was just a massive NATO war game very close to the Russian border. This is in addition to the Syrian plane that was just shot down.
"American nuclear bombers have been seen taking part in a vast US-led military exercise in the Baltics.
B-1, B-2 and B-52 bombers are currently taking part in BALTOPs, the annual live training exercise involving 14 nations and thousands of soldiers, according to US Air Force Lieutenant General Richard Clark.
Lieutenant General Clark, commander of the German-based 3rd Air Force, said bombers are participating in exercises with NATO partners and other allies.
Dramatic new photos showed some of the 6,000 service members, as well as dozens of planes and ships taking part in the exercise in Ustka, Poland.
They have emerged in the same week as a Russian jet intercepted a US bomber flying over the Baltic Sea, which Clark referred to as 'standard practice' and 'no cause for concern'."
NATO's Stronger Baltic Force Riles Russia 06/19/17  It seems like NATO is fully ready for war with Russia, while the Russians say they are ready for war. What is needed is the spark to set it off.
Joel 3:9  Proclaim ye this among the Gentiles; Prepare war, wake up the mighty men, let all the men of war draw near; let them come up:
"The North Atlantic Treaty Organization said its deterrent force is fully in place in the Baltic area with the addition of a Canadian-led battle group in Latvia, enhancing deployments criticized by Russia.
A ceremony on Monday, featuring parading troops from Latvia, Canada, Poland, Italy, Spain, Slovenia and Albania, marked complete deployment of the fourth and final alliance battle group to the Baltic region. In all, NATO has positioned some 4,500 troops in Latvia, Lithuania, Estonia and Poland.
Allied and Russian forces have both been building up in the Baltic region. The deployments have raised the risk of miscalculation, some analysts said, but both sides have said they are necessary defensive initiatives.
The U.S. has deployed a tank brigade to Central and Eastern Europe and is conducting exercises in the Baltic Sea region. This month, the U.S. flew B-2 stealth bombers to Europe for what American military officials called a demonstration of reassurance for allies. The U.S. has also deployed other bombers and Army units for exercises in the Baltic Sea area."
Israel/ The Coming Middle East War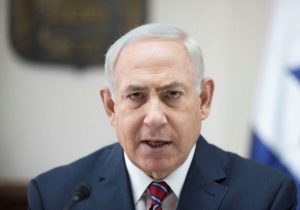 Netanyahu to Iran: We're watching your every move 06/19/17  Iran is becoming very aggressive in Syria. Israel is warning Iran about threatening moves in Syria. This is yet another hot spot to start the all-out Middle East war.
Psalm 83:13-15  O my God, make them like a wheel; as the stubble before the wind. As the fire burneth a wood, and as the flame setteth the mountains on fire; So persecute them with thy tempest, and make them afraid with thy storm.

"Prime Minister Benjamin Netanyahu warned Iran following its missile strike in Syria Monday that the Islamic Republic should not be threatening Israel.
Speaking to his Likud faction at the Knesset, he said Israel is always watching every step Iran takes in the region. He said this included Iran's attempts to entrench itself in Syria and to transfer advanced weapons to Hezbollah.
"We are following their actions and we are following their words," Netanyahu said. "I have one message to Iran: Don't threaten Israel." Netanyahu also used the meeting to respond to recent criticism from Bayit Yehudi leader Naftali Bennett and leaders of the settlement movement."
Jerusalem
Jerusalem: A consensus issue at last 06/19/17  The Israelis never will divide Jerusalem, so there will not be a peace agreement with the Muslims. I believe that God is going to break the back of Islam over Jerusalem. When they move in a jihad to take Jerusalem and make it the capital of a caliphate, God will intervene and put an end to Islam.
Zechariah 14:12  And this shall be the plague wherewith the LORD will smite all the people that have fought against Jerusalem; Their flesh shall consume away while they stand upon their feet, and their eyes shall consume away in their holes, and their tongue shall consume away in their mouth.
"Jerusalem is our birthright and a part of every one of us. Jerusalem is our link to the past and our conduit to a bright future. As such, it is our responsibility to spread the message that Jerusalem is simply non-negotiable and indivisible, and the outpouring of support that we saw in the Old City throughout May and that we continue to see every day online gives us hope that we are truly making a difference.
It is essential that we all speak out and remind the world that Jerusalem is not merely a city, but an eternal symbol of the Jewish nation's deep roots in the Land of Israel. Because if the status of Jerusalem were to be called into question, the Jewish people's right to exist in Israel – and elsewhere – would immediately follow suit. It is a consensus issue because it is a matter of national survival. We must stand united with Jerusalem so that our undivided Jerusalem continues to keep us whole."
Hard Left/ Islam
Britain Mosque Terror: What They're NOT Telling You 06/20/17  Please watch this video because it is an eye-opener on just how far gone Europe is. As you watch this video, you will see how the Hard Left just loves Islam, while at the same time it is trying to destroy their own people.
The Hard Left simply hates Western Culture and its roots in Christianity. They love Islam, which is very obvious. They are almost Muslims already. I think with a little push, all the Hard Left in Europe, and probably America, would become Muslims. In many ways they are already acting like Muslims and voluntarily submitting to Sharia law.
"To equate the sporadic threat of 'right wing terror' with the mechanized, industrial level bloodshed carried out in the name of Islam is intellectually dishonest and crass.
Yet more leftists are calling for Paul Joseph Watson and Tommy Robinson to be arrested than have ever called for actual terrorists to be deported."
Hard Left/ Christianity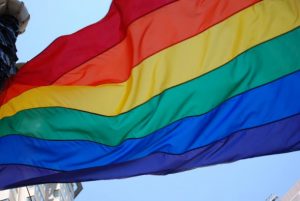 LGBT Groups: Conservative Christians 'Have No Place in Government' 06/19/17  The reprobates are raging that this seminar showed the real family with a father and children. They loath the real family because it is God's plan for mankind. If reprobates have their way, they will drive real Christians out of government and then out of the nations. They have murder in their hearts because we believe God's word.
Genesis 2:24  Therefore shall a man leave his father and his mother, and shall cleave unto his wife: and they shall be one flesh.
"LGBT activist groups are outraged that the Trump administration's Department of Education invited speakers from two prominent conservative Christian family organizations to participate in a panel discussion on fatherhood held in advance of Father's Day last week
Politico reports that experts from the Family Research Council and Focus on the Family were invited to speak at a day-long conference hosted by the Education Department that addressed how fathers can be engaged in their children's lives.
However, the pro-LGBT advocacy group Human Rights Campaign believes that the organization's' beliefs in traditional marriage and opposition to same-sex marriage should make their employees disqualified from being given a government-funded platform to voice their views on marriage and family.
"To provide a taxpayer-funded platform for these organizations is outrageous," Human Rights Campaign said in a statement provided to Politico. "Families in this country are increasingly diverse, and include those with same-sex parents, and those led by single parents."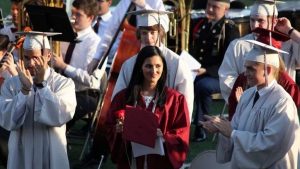 School: You may not recite prayer in the name of Jesus Christ 06/18/17  Because the schools are blocking students from praying in the name of Jesus, then it will not be long before prays in the name of allah will be said! God is turning the entire school system over to the homosexual agenda and Muslims. Pick your poison!
Psalm 144:15  Happy is that people, that is in such a case: yea, happy is that people, whose God is the LORD.

"Moriah Bridges wanted to thank God for His immeasurable blessings on Beaver High School's graduating class. But she could not, because it was against the law.
The Pennsylvania teenager wanted to offer thanksgiving to the Almighty for parents and coaches and teachers. But again, she could not, because it was against the law.
"Make us selfless. Make us just. Make us successful people, but more than that, make us good people," Moriah wanted to pray. But that too, was determined to be unlawful.
This is the America – the land of the free, the home of the brave. But it is also a place where a young teenager girl is not permitted to mention the name of Jesus Christ or anything remotely religious in a graduation speech at a public high school.
Moriah Bridges, a member of the 2017 graduating class, was asked to provide what they call the closing exercise at Beaver High School's graduation on June 2.
She crafted a lovely prayer that mentioned her "Heavenly Father" and her "Lord." "Lord, surround us with grace and favor everywhere we go," she prayed. "Soften our hearts to teach us love and compassion, to show mercy and grace to others the way that you showed mercy and grace to us, even to the ultimate sacrifice. Help us love our brothers and our sisters deeply. Lead us to bless them."
Earthquakes
Dutchsinse on ZeroHedge.com regarding Yellowstone + Update New deep M6.1 Earthquake 06/19/17  He again is warning of a possible a 7.7 magnitude or greater off the coast of Washington that could trigger significant earthquakes along the West Coast. He also has warning of a large earthquake in Europe. When he warns like this, he is usually right on, so pay attention to his warnings. His warning to America starts at the 29 minute mark. If you have contacts in Europe, you might want to forward this to them.
I will keep you updated with his warnings since the danger continues until the end of the month.
Ezekiel 38:2-3
 Son of man, set thy face against Gog, the land of Magog, the chief prince of Meshech and Tubal, and prophesy against him,
And say, Thus saith the Lord God; Behold, I am against thee, O Gog, the chief prince of Meshech and Tubal: