'Senator from Punjab': How Hillary Clinton Masterminded a Global Scheme to Replace American Workers
Verse of the Day
Revelation 18:8 Therefore shall her plagues come in one day, death, and mourning, and famine; and she shall be utterly burned with fire: for strong is the Lord God who judgeth her.
Commentary
Two of the Bible verses I've posted are about the world-wide Babylonian economic system. In the first, God is going to completely destroy this system just prior to the Second Coming of Jesus Christ. In the second verse, God is telling us not to love this system. We are to live in this world and not love it.
The lead article is about how Hillary Clinton sold out America to help create this coming one world economic system. I also think that along with the way she took massive amounts of bribes to sell out the nation, there is no doubt that many in the American political class took bribes to sell out America and advance the one world government.  What a corrupt government we have lived under, and now God is exposing the entire corrupt system for all to see. I really do thank the Lord for doing this for us!
Proverbs 17:23 A wicked man taketh a gift (bribe) out of the bosom to pervert the ways of judgment.
May the Holy God of Israel bless and protect you.
Revelation 18:4 And I heard another voice from heaven, saying, Come out of her, my people, that ye be not partakers of her sins, and that ye receive not of her plagues.
American Politics/ New World Order – World Government
'Senator from Punjab': How Hillary Clinton Masterminded a Global Scheme to Replace American Workers 09/21/16  This is the first that I was aware of how Clinton sold America out to India! She sold out America to anyone who would bribe her! I read this article in amazement.
When I read this, I immediately thought of Speaker of the House Paul Ryan, who supports all these polices that Clinton promoted! He is a sellout, one worlder just like Clinton!
"At a 2006 fundraiser, Hillary Clinton jokingly told donors that she could "easily" see herself as the elected representative of foreign citizens in the Indian region of Punjab.

As India Abroad reported at the time: "At the fundraiser hosted by Dr Rajwant Singh at his Potomac, Maryland, home… Clinton began by joking that, 'I can certainly run for the Senate seat in Punjab and win easily,' after being introduced by Singh as the Senator not only from New York but also Punjab."

It was apparently a line Clinton used more than once. The Sikh Council writes that at a 2005 event in the U.S. Senate, Clinton said: "I am delighted to be the Senator from Punjab as well as from New York."
American Politics/ Islam
Palestinian Terrorist's Wife to Address Clinton Foundation 09/20/16  Clinton loves Islam, Muslims and especially the Muslim Brotherhood. This is why she is no friend of Israel and the Jews.
Look at how bold and out in the open she is about this!
"Donald Trump is criticizing Hillary Clinton over the fact that the Clinton Foundation is honoring a Palestinian teacher whose husband is a convicted terrorist on Tuesday evening.
Hanan an-Hroub is scheduled to speak at a Clinton Global Initiative event in New York after winning a $1 million teaching award from another charity that donates to the Clinton Foundation. Her husband, Omar al-Hroub, spent 10 years in an Israeli prison for his role in a 1980 bombing that killed six Israelis.
The event is going ahead as planned, in spite of the recent Islamist terrorist bombings in New York and New Jersey, which injured dozens."
Islam
Minnesota's Somali Americans: Sharia Law Preferable to American Law 09/21/16  This is a great video showing the real intentions of the Muslims in America. I have that nationwide the Muslims think like this. If they believe in Sharia law, they should be blocked from America,as this law is a direct threat to all Americans.
"Filmmaker Ami Horowitz was alarmed by the growing number of Somali Americans living in Minneapolis who have joined up with the Islamist-terror groups ISIS and al-Shabaab. So he recently traveled to that city to speak with members of the community about how much American values resonated with them, their feelings about sharia law and terrorism, and whether they'd prefer to live in Somalia or America. Their answers were revealing."
Islam – Europe
70% of European Jews won't go to shul on High Holy Days despite heightened security 09/20/16  Immediately prior to WW1 and WW2, there were tremendous outbreaks of antisemitism in Europe. It now is happening once again, which indicates that WW3 is very close.
"Seventy percent of European Jews will not go to synagogue on Rosh Hashana or Yom Kippur this year, according to a poll released Tuesday. The survey was conducted last week by the European Jewish Association (EJA) and the Rabbinical Center of Europe (RCE) among a representative sample of 700 capital cities and communities in the periphery throughout Europe – from Britain in the west to Ukraine in the east.
Respondents –which numbered 78– included rabbis as well as Jewish community leaders, both religious and secular. The margin of error was ±4.9%. The pollsters explained that while the number of respondents is far lower than the number of communities represented, each respondent speaks for multiple communities as within certain cities and areas, many communities share similar characteristics."
Israel
NEW RESEARCH CONFIRMS U.N. OBSESSION WITH ISRAEL 09/21/16  This is a tremendous article showing how the UN has focused on Israel like on no other nation. There are powerful forces in the UN that want to destroy Israel. From watching the action of the UN, it is easy to see how one day all the nations will be against Jerusalem. I don't think that this day is too far off.
Zechariah 12:3 And in that day will I make Jerusalem a burdensome stone for all people: all that burden themselves with it shall be cut in pieces, though all the people of the earth be gathered together against it.

"Professor Kontorovich's research confirms the U.N. obsession with Israel. In a Wall Street Journal opinion piece (September 14, 2016), Kontorovich and Grunseid point out that "Israel is referred to as the 'occupying power' 530 times in U. N. General Assembly (UNGA) resolutions. Yet, in seven major instances of past or present prolonged military occupation – Indonesia in East Timor, Turkey in northern Cyprus, Russia in areas of Georgia, Morocco in western Sahara, Vietnam in Cambodia, Armenia in Azerbaijan, and Russia in Ukraine's Crimea – the number is zero. The UNGA has not called any of these countries an "occupying power.' Not even once."
According to the research study, since 1967, "General Assembly (GA) resolutions have referred to Israeli-held territories as 'occupied' 2,342 times, while the territories mentioned above are referred to as 'occupied' a mere 16 times combined. The term appears in 90% of resolutions dealing with Israel, and only in 14% of the much smaller number of resolutions dealing with all the other situations. Similarly, U.N. Security Council (UNSC) resolutions refer to the disputed territories (Judea and Samaria) in the Arab-Israeli conflict as 'occupied' 31 times, but only a total of five to all seven other conflicts combined."
Shai ben-Tekoa, author of Phantom Nation: Inventing the "Palestinians" as the Obstacle to Peace, asserted that in categorizing 870 UNSC and GA resolutions on Israel since the U.N.'s founding in 1945 (through 1989), forty-two percent were neutral, while of the remaining fifty-eight percent, 96% criticized Israel, leaving 4% critical of an Arab state or states. The Palestinian Liberation Organization (PLO) was never criticized."
God's Final Judgment on America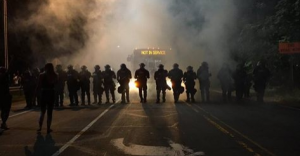 Charlotte faces aftermath of protests ignited by police shooting; 12 officers injured 09/21/16  I want to draw your attention to Charlotte and refresh your memory that this city is the epicenter of the transsexual movement. This was the first city to allow men in the ladies room. Charlotte is the eye of the hurricane and now look at it!
"All lanes of Interstate 85 were reopened early Wednesday but still littered with some rocks and glass after a night of protests over an officer-involved shooting of an African-American man in the University City area. The officer was also African-American.
Twelve police officers were injured Tuesday night in a series of clashes, and reports were coming in early Wednesday of motorists on Interstate 85 being hurt and their vehicles damaged when protestors threw rocks, bottles and traffic cones off interstate overpasses onto traffic below.
At least seven of the police officers needed to be hospitalized after the clashes, including one who was hit in the face with a rock.
Mayor Jennifer Roberts sent out a message on Twitter early Wednesday, noting: "I will continue to work with our manager and (police) chief…We are reaching out to community to ask for calm."
In addition to Interstate 85, protestors attacked and looted the Walmart on North Tryon Street at about 3:30 a.m. The store was closed early Wednesday, with wooden pallets piled in front of the doors and shopping carts blocking the driveway into the lot."
Christianity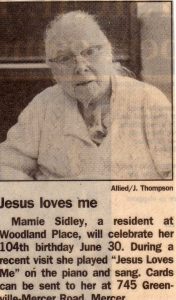 Precious 111-Year-Old Woman Reciting Psalm 23 Goes Massively Viral  This is a wonderful video showing a woman 111 years old reciting Psalm 23, yet her mind is gone from dementia! But she still knows the word of God!
[Editor's note] Along those lines, here's a newspaper clipping of my beloved grandmother, originally from Glasgow, Scotland just before her 104th birthday, singing "Jesus Loves Me." She too had declining faculties as she became very aged, but she still was singing the song on her deathbed. It's a departure we all should long for someday; and what a glorious heritage to leave behind! – Georgann Ryan
Psalm 119:11 Thy word have I hid in mine heart, that I might not sin against thee

"The Lord is my shepherd, I shall not want." So begins the video of Hester Ford reciting Psalm 23.
The video of hope and faith has 9.3 million views of Ford proclaiming the Lord's protection in light of multiple attacks on the United States.
Her family says dementia has taken its toll on the elderly woman, but she has hidden the Word of the Lord in her heart."
World War 3/ North Korea Watch
US general: North Korea 'will' develop nuclear capabilities to hit America 09/20/16  There is no doubt the North Koreans will develop a nuclear weapon, along with a long range missile to reach America. They are working day and night to do this. They are not going to stop this program until we stop them, which means all-out war.
"The U.S. general expected to take over the military's nuclear forces had a sobering assessment of North Korea's capabilities, telling Senate lawmakers on Tuesday that the rogue nation "will" build up the capabilities to hit the United States.
"What concerns me most is: They will get there. They're gonna get there. And then once they have those capabilities, what are they going to do with them? That's my biggest concern," Gen. John Hyten, commander of the Air Force Space Command, told the Senate Armed Services Committee. Hyten has been nominated to lead U.S. Strategic Command.
His comments came after North Korean state media reported the dictator Kim Jong Un oversaw a ground test of a new rocket engine and ordered a satellite launch preparation, an indication the country might soon conduct a prohibited long-range rocket launch."
World War 3
We Are Headed For War-Paul Craig Roberts 09/21/16  This shows in the insanity of Obama and the Hard Left. Obama is doing everything to weaken the military and at the same time to provoke Russia into war!
He is stripping the power out of the military and yet goes ahead with missiles on the Russian border. The Russians warned that if we do this, it would lead to war! Obama is truly insane and lives in a Hard Left reprobate-minded delusion.
"Former Assistant Treasury Secretary (in the Reagan Administration) Dr. Paul Craig Roberts has a stark warning for the world. Dr. Roberts says, "We changed our nuclear doctrine. It used to be we used nuclear weapons only in retaliation.
There was no first use, but the George W. Bush regime, the Neocons, changed our nuclear doctrine. It's now a preemptive first strike. So, this tells both the Russians and Chinese they could get a preemptive first strike. Then, we tell the Russians we are putting missiles right on your border. You won't have two minutes' notice. They can't accept that. It's too much risk from a crazy country (U.S.) that won't negotiate with them. . . .
So, we're headed for war. I think the only thing that would block it is if one or two of the European governments realize that they have nothing whatsoever to gain with a conflict with Russia. . . . The only thing they could do to prevent a nuclear war is to pull out of NATO."
Jeremiah 30:11 For I am with thee, saith the Lord, to save thee: though I make a full end of all nations whither I have scattered thee, yet I will not make a full end of thee: but I will correct thee in measure, and will not leave thee altogether unpunished.