Shame on the Silent Christian Leaders Who Refuse to Stand Against Government Tyranny
Verse of the Day
John 10:12  But he that is an hireling, and not the shepherd, whose own the sheep are not, seeth the wolf coming, and leaveth the sheep, and fleeth: and the wolf catcheth them, and scattereth the sheep.
Commentary
God heard our cry and spared us from Hillary and her minions. The reprobates are entrenched and need to be beaten on many levels. God's sheep are doing the fighting while so many of the shepherds are hiding. We need shepherds in the pulpits and not hirelings. Barronelle Stutzman is a heroine for the Lord and worth dozens of the hirelings. Are there any real pastors left in the State of Washington?

If you think you are a real pastor, please contact me and let me know what you did to stand with this heroine!
May the Holy God of Israel bless and protect you.
Proverbs 28:1 The wicked flee when no man pursueth: but the righteous are bold as a lion.
Christian Apostasy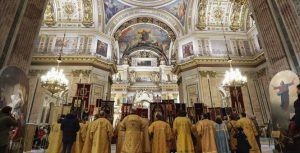 Shame on the Silent Christian Leaders Who Refuse to Stand Against Government Tyranny 02/120/17 
"There is only one thing more appalling than the Washington Supreme Court's 9-0 ruling against religious liberty on Friday. It is the silence of Christian leaders across America, leaders who choose convenience over confrontation, leaders who would rather be popular than prophetic, leaders who prefer the favor of people over the favor of God. Shame on these silent leaders. Today is a day to stand.
There are, of course, the handful of expected Christian voices protesting the court's outrageous decision, as these justices ruled unanimously against florist Barronelle Stutzman, claiming that she discriminated against a longtime gay customer (named Robert Ingersoll) when she told him she couldn't make the floral arrangement for his upcoming gay "wedding," despite the fact that she had served him for years and despite her recommending three other florists who could do the arrangements for his wedding."
Hard Left/ Islam
U.N. leader blames 'Islamophobia' for rising global terror 02/18/17  With the United Nations being led by someone under such a powerful delusion, it is time that we think of pulling out. Notice how he is a socialist and loves the Muslims and defends them at all times. He is exactly like the Hard Left in America.
We should ignore whatever the UN says that is contrary to the interests of America. Right now it is in our best interest to keep as many Muslims out as possible.
"The United Nations — under a new leader who personally oversaw the relocation of millions of Muslim refugees into the U.S., Canada and Europe — is doubling down on its "anti-Islamophobia" campaign against the West.
U.N. Secretary General Antonio Guterres, a Portuguese socialist who headed the U.N's refugee agency before being promoted to secretary general in January, traveled to Saudi Arabia this week where he sat with Saudi royals and cited "Islamophobia" as the reason for increasing terrorism around the world.
"One of the things that fuel terrorism is the expression in some parts of the world of Islamophobic feelings and Islamophobic policies and Islamophobic hate speeches," Guterres said at a joint news conference with Saudi Foreign Minister Adel al-Jubeir.
"He lectured the world about Islamophobia but had nothing to say, no concerns, about the Christophobia exuded by Muslims who have been wiping out entire Christian communities in the Middle East for years," said Corcoran, who blogs at Refugee Resettlement Watch. "Nor did he say anything to them, the Saudis, about refusing to take any of the millions of Muslim refugees created by the Syrian civil war."
Watch VIDEO: 50% French Army Is On FRENCH STREETS & LOOK WHAT MERKEL DID TO FRANCE ! 02/18/17  When you watch this video, think of what the Hard Left wants to do here in America. What the Muslims in France are doing is exactly what the Hard Left wants here. They want to destabilize America and try and bring it down. Wait for the warmer weather and how organized they are, and see their strategy. There is no doubt in my mind that Soros will fund it and Obama will lead it.
When some of the terrorists are killed, Obama will call this proof of Trump's Fascism and call for all-out war. They want Hard Left people killed to make them martyrs and a rallying cry. There is no doubt that this is their intention, but can the Hard Left pull it off? I think before it gets too far, the Patriots will rise up and put an end to it.

It really does look like tremendous bloodshed is coming since the Hard Left will bring the fight to us. They want deaths because this can advance their cause. They are energized by hell and beyond evil. They are the spirit of the French Revolution being turned loose today! America needs intense prayer for the Lord to arrest the anarchist spirit in the Hard Left.
Islam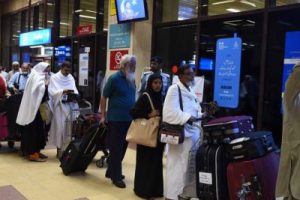 Islamophobic Saudi Arabia Deports 40,000 Muslim Pakistanis, Citing Terrorism Concerns 02/18/17  President Trump should use the Saudi Arabian example to get rid of the dangerous Muslims.
"Saudi Arabia has deported a staggering 40,000 Pakistani migrant workers in the span of just four months, citing terrorism concerns.
The Saudi Gazette reported last week that "a number of Pakistanis were held in the crimes of drug trafficking, thefts, forgery and physical assault." Authorities feared that some of the migrant workers were linked with ISIS, or as the Saudis call the terror group, Daesh. Other migrants were deported due to expired residency and work permits.
"Against this backdrop, Abdullah Al-Sadoun, chairman of the security committee of the Shoura Council, called for thoroughly scrutinizing the Pakistanis before they are recruited for work in the Kingdom," added the Gazette. "He asked for more closer coordination with the concerned authorities in Pakistan to thoroughly check those coming to work in the Kingdom due to the involvement of a number of Pakistanis in security issues."
While the Kingdom has long exported the jihadist ideological cancer of Wahhabism to mosques and Islamic centers across the West, it has prided itself in its effort to rid the homeland of terrorists threatening to undermine the stability and sovereignty of the monarchy.
Counter-terrorism raids are not uncommon in Saudi Arabia. In fact, counter-terrorism agents recently arrested 15 Pakistanis in the Al-Harazat and Al-Naseem districts of Jeddah on terrorism-related charges."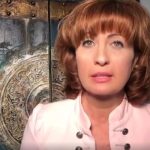 Former Muslim Exposes the plans of Radical Islam. Radical Islam is invading U.S. Like a termite 02/19/18 (Video)  She is very good at warning the danger of Islam in America. This has gone viral with millions of views. The warning is going out across America and now it is our job to act on it.
American Politics/ Christianity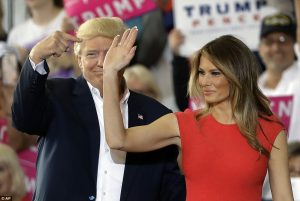 Melania steps up her role as First Lady by leading the Florida crowd in The Lord's Prayer 02/19/17  I was so blessed to hear Melania lead the meeting by reciting the Lord's prayer! The crowd supported her reading with a very nice applause. What a difference from the Obama regime, promoting Islam at every turn. The icing on the cake was that she read from the King James Bible! It doesn't get any better than this.
Psalm 144:15  Happy is that people, that is in such a case: yea, happy is that people, whose God is the LORD.

"First Lady Melania Trump, usually a demure and soft-spoken presence at her husband's side, broke with form, reciting the Lord's Prayer before issuing a scathing rebuke of his enemies and her critics at a campaign-style stop in Florida.
Preceding her husband on the dais at a rally in the city of Melbourne not far from Orlando, the First Lady started her remarks with the words 'let us pray,' before beginning her recitation of the well-known Christian prayer.
Last week, Mrs Trump publicly referenced her religion when she tweeted a photo of Mar-a-Lago saying: 'Proud to share part of my family history with Mrs. Abe @BBTSchurch where @POTUS & I were married, where we celebrate and we pray.'
President Trump fared unprecedentedly well with white evangelical Christians in the 2016 election.
After the prayer, which was followed by a thunderous applause, she launched into an uncharacteristically strident defense of her husband – and her own brief tenure as First Lady. 'The America we envision is one that works for all Americans and where all Americans can work and succeed,' she said."
Israel/ The Coming Middle East War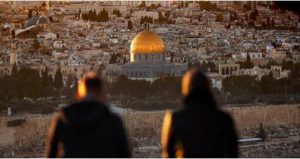 Washington encourages Israel-Arab alliance against Iran 02/19/17  There is a good chance that Israel will unify with the Sunnis to defeat Shiite Iran. Iran is a great danger to both. If Iran is defeated, I don't believe that this unity would last too long.
In the long run, the Sunnis want to destroy Israel and take Jerusalem. Turkey wants to reestablish the Ottoman Empire, which includes Israel. It does look like a vicious war is coming against Iran. The wildcard in this is, what will Russia do? If the Russians back Iran, then this could expand into a world war.
James 5:8  Be ye also patient; stablish your hearts: for the coming of the Lord draweth nigh.

"With a new leader in the White House bent on disrupting the status quo, could it also be time for a fresh approach to Middle East peace?
The United States this week encouraged a "regional" solution to the Israeli-Palestinian conflict, backing a proposal for the Jewish state to unite with Sunni Arab powers against Shiite Iran, their common foe.
The first meeting at the White House between President Donald Trump and Israeli Prime Minister Benjamin Netanyahu took place on Wednesday, with the proceedings dominated by the US leader backing away from longstanding American policy of calling for a "two-state" solution.
Trump's aides contributed to the confusion by stating that Washington remained committed to the two-state solution that remains a staple of Mideast diplomacy, but added that the administration was also open to alternative solutions.
Netanyahu was more specific in proposing a regional alliance to help attain peace in the Middle East — a proposal that Trump called "a terrific thing" during their joint news conference Wednesday."
ProLife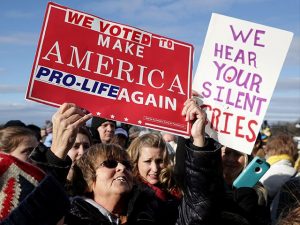 'Jane Roe' of Roe v. Wade Abortion Decision Dies in Texas Facility 02/18/17  Norma was a real example of God's grace and the gift of his salvation. She was Roe in the Supreme Court decision Roe v Wade. Later in life, she repented of what she did and became a great advocate for saving babies and helping mothers. She will be remembered for being the great advocate for life –  and not for Roe v Wade.
Romans 10:13  For whosoever shall call upon the name of the Lord shall be saved.

"A Texas woman who was the "Jane Roe" in the 1973 abortion case of Roe v. Wade died in a Katy assisted living facility facility on Saturday.
Although Norma McCorvey, her real name, became famous for the part she played in the landmark U.S. Supreme Court decision, she became a born-again Christian and spoke out against abortion.
"Texas Right to Life was honored to work alongside Ms. McCorvey for years," Elizabeth Graham of Texas Right to Life told Breitbart Texas. "Jim and I were so blessed to work with her during the last decades of her life on pro-life causes."
Graham added, "Much later, she realized she was just a pawn in the system." Graham said it was important to note that McCorvey never had an abortion, saying she "choose life instead."
World War 3
U.S. carrier group patrols in tense South China Sea 02/19/17
"A United States aircraft carrier strike group has begun patrols in the South China Sea amid growing tension with China over control of the disputed waterway and concerns it could become a flashpoint under the new U.S. administration.
China's Foreign Ministry on Wednesday warned Washington against challenging its sovereignty in the South China Sea.
The U.S. navy said the force, including Nimitz-class aircraft carrier USS Carl Vinson, began routine operations in the South China Sea on Saturday. The announcement was posted on the Vinson's Facebook page.
The strike group's commander, Rear Admiral James Kilby, said that weeks of training in the Pacific had improved the group's effectiveness and readiness.
"We are looking forward to demonstrating those capabilities while building upon existing strong relationships with our allies, partners and friends in the Indo-Asia-Pacific region," he was quoted as saying by the Navy News Service."
 Earthquakes
Nightly Earthquake Update + Forecast — Potential Large Earthquake in Southern Europe 02/17/17  This is update is long, but Dutch gives a lot of great information. I skip through the video to find what I want to listen to. And check out "Zelandia."

 Jeremiah 17:9  The heart is deceitful above all things, and desperately wicked: who can know it?