Sisi asks Obama for military intervention to save Egypt from ISIS
       Verse of the Day
Revelation 22:20 He which testifieth these things saith, Surely I come quickly. Amen. Even so, come, Lord Jesus.
Commentary
The appeal of ISIS continues to grow throughout the Islamic nations. Right now, Egypt feels pressure from ISIS and is requesting aid from Obama. ISIS is becoming a world threat and the more terrorism it commits and the longer it lives on, the more appeal it has for Muslims throughout the world. ISIS is the revival of authentic Islam as practiced and promoted by Muhammad.
We want to live and promote the authentic Christianity promoted by Jesus Christ, which is 180 degrees from ISIS.
May the Holy God of Israel bless and protect you.
Revelation 1:7 Behold, he cometh with clouds; and every eye shall see him, and they also which pierced him: and all kindreds of the earth shall wail because of him. Even so, Amen.
Islam – ISIS
Sisi asks Obama for military intervention to save Egypt from ISIS 03/29/16  Obama is angry at Sisi for removing the Muslim Brotherhood from power. Remember, Obama "loves" the brotherhood!
The Brotherhood is cousins with ISIS. I think that Sisi loathes Obama, but needs the help.
"Egyptian President Abdel Fatteh El-Sisi has sent a secret missive to President Barack Obama asking for urgent US military intervention in support of Egypt's war on the Islamist State in Sinai, before the jihadis pose a real threat to Cairo.
DEBKAfile's exclusive intelligence and counterterrorism sources report that El-Sisi has come to the conclusion that Egyptian army lacks the ability to eradicate the terrorist peril without direct US military support.
In his note, he asks Washington to replicate in Sinai the format of US intervention in the war on ISIS in Iraq and Syria, namely, to send in special operations forces to establish bases and operate drones against jihadist targets. Unless stopped, he warns, the Islamic State is on the point of transforming the Sinai Peninsula into its primary forward base in the Middle East, bolstered by its branches of terror across North Africa, especially in Libya. US intervention is necessary to avert this.

So far, Sisi has received no answer from the White House and no sign of one in the pipeline."
Israel and the Middle East War
Dem. Senator: Investigate Israel's 'gross violations of rights' 04/01/16  Sen Leahy backed Obama with his "Iran deal", and yet notice the venom toward Israel.
Vermont's other senator Bernie Sanders also has venom to Israel. Vermont is deep into homosexual rights and killing babies.
This state is as wicked as it gets, and I wonder how it is going to end up before the Lord?
"Senator Patrick Leahy (D-VT), together with ten House members, has asked the US State Department to investigate claims that Israel has committed "gross violations of human rights," and depending on the results to cut military aid to the Jewish state.
The letter addressed to Secretary of State John Kerry was dated February 17, and was published by Politico on Tuesday night after the news site received it from "an organization that provided input for it."
Leahy's letter targets both Israel and Egypt, and is significant because the senator authored a law conditioning US military aid to foreign countries based on whether their forces commit abuses.
The letter lists claims that Israel's army has conducted "extrajudicial killings," an accusation frequently aired by the Palestinian Authority (PA) to delegitimize the self-defense of citizens and soldiers who have shot attacking Arab terrorists during the recent terror wave raging since last September."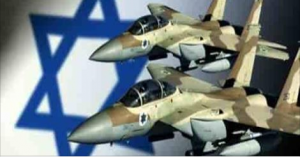 How Powerful Is Israel's Military Compared To Rest Of World? 04/01/16  This is a fulfillment of Bible prophecy because the Bible states when the Jews are back in the land and Israel is a nation, it will be a mighty military power.
Zechariah 12:6  In that day will I make the governors of Judah like an hearth of fire among the wood, and like a torch of fire in a sheaf; and they shall devour all the people round about, on the right hand and on the left: and Jerusalem shall be inhabited again in her own place, even in Jerusalem.
"Israels military is the 9th strongest in the world, according to the international defense site Global Firepower (GFP), which released its annual list on Friday.
In its rankings, GFP said, it only took conventional military capabilities into account when compiling its list, which includes a total of 126 countries.
It also factored in 50 other criteria, such as natural resources, geographical size and economic strength."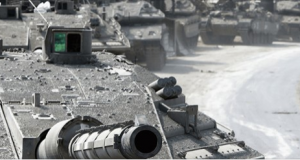 Israel Says Mideast Arms Race Imperils Its Military Edge 04/03/16  An all-out war is coming against Israel by the Muslim nations, but Israel is going to be left standing. I believe that this war is going to put a final end to Islam. Islam's back will be broken over Jerusalem.
Zechariah 12:6  In that day will I make the governors of Judah like an hearth of fire among the wood, and like a torch of fire in a sheaf; and they shall devour all the people round about, on the right hand and on the left: and Jerusalem shall be inhabited again in her own place, even in Jerusalem.
"Israel's neighbors are buying arms on a scale that threatens its regional military superiority, the deputy Israeli air force chief said on Sunday, in remarks that appeared aimed at helping secure more defense aid from a reluctant Washington.
U.S. military payouts to Israel, currently around $3 billion annually, expire in 2018, and Israeli officials have spoken of needing around $4.5 billion. U.S. officials have balked at such an increase.
At the heart of the dispute is how to perpetuate Israel's qualitative military edge – a guarantee that it gets more advanced U.S. weapons than Arab states get. Israel says it needs to bulk up its armed forces, not just upgrade their technologies, to keep ahead of potential foes.
"There are countries here which have plans that are being actualized for arms deals in the hundreds of billions of dollars, for the most advanced Western weaponry and the most advanced Eastern weaponry," Brigadier-General Tal Kelman told a conference to promote Israel's purchase of the advanced U.S. fighter jet the F-35.
Kelman did not specify countries other than Iran, which the Israelis fear will use sanctions relief from last year's nuclear agreement to build up its ballistic missile program and arm Islamist guerillas like Lebanon's Hezbollah militia."
World War 3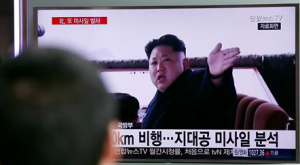 Seoul: N. Korea fires missile and tries to jam GPS signals 04/03/16  North Korea is still testing its missile firing capabilities, as it is preparing much the same way that Russia is. When NK's missile system is ready for war, so will the nation be ready.
Remember, the major goal of NK is the ability to hit the US mainland with a nuclear bomb.
"North Korea fired a short-range missile into the sea and tried to jam GPS navigation signals in South Korea, Seoul officials said, hours after U.S., South Korean and Japanese leaders pledged to work closer together to prevent North Korea from advancing its nuclear and missile programs.
North Korea's official Korean Central News Agency said Saturday that authoritarian leader Kim Jong Un expressed "great satisfaction" after observing a successful live-fire test of a new anti-air weapons system, but didn't say when and where the test took place.
South Korean military officials on Friday said they detected the North firing a surface-to-air missile off its east coast, and it wasn't immediately clear if the two were linked.
South Korean officials said the attempt to jam GPS signals, which began Thursday, did not cause any major disruptions of South Korean military, aviation and sea transport and telecommunication systems.
However, more than 130 fishing boats reported problems with their navigation systems and some were forced to return to their ports, the Ministry of Oceans and Fisheries said."
Financial Armageddon
Wikileaks Reveals IMF Plan To "Cause A Credit Event In Greece And Destabilize Europe 04/01/16  What an amazing article this is. It shows the current situation in Europe is contrived with the purpose of destroying Europe and then using it to create a one world government and economy! One of the keys is the Greece economic crisis, and at the right time, they will collapse Greece and create a European banking crisis! This event appears to be very close.
These internationalists are beyond evil, and maybe there is a special place in hell for them.
Revelation 18:3  For all nations have drunk of the wine of the wrath of her fornication, and the kings of the earth have committed fornication with her, and the merchants of the earth are waxed rich through the abundance of her delicacies. (4) And I heard another voice from heaven, saying, Come out of her, my people, that ye be not partakers of her sins, and that ye receive not of her plagues.
"One of the recurring concerns involving Europe's seemingly perpetual economic, financial and social crises, is that these have been largely predetermined, "scripted" and deliberate acts.
This is something the former head of the Bank of England admitted one month ago when Mervyn King said that Europe's economic depression "is the result of "deliberate" policy choices made by EU elites. It is also what AIG Banque strategist Bernard Connolly said back in 2008 when laying out "What Europe Wants"
To use global issues as excuses to extend its power: environmental issues: increase control over member countries; advance idea of global governance
terrorism: use excuse for greater control over police and judicial issues; increase extent of surveillance global financial crisis: kill two birds (free market; Anglo-Saxon economies) with one stone (Europe-wide regulator; attempts at global financial governance) EMU: create a crisis to force introduction of "European economic government"

This morning we got another confirmation of how supernational organizations "plan" European crises in advance to further their goals, when Wikileaks published the transcript of a teleconference that took place on March 19, 2016 between the top two IMF officials in charge of managing the Greek debt crisis – Poul Thomsen, the head of the IMF's European Department, and Delia Velkouleskou, the IMF Mission Chief for Greece."
  Joel 2:1  Blow ye the trumpet in Zion, and sound an alarm in my holy mountain: let all the inhabitants of the land tremble: for the day of the Lord cometh, for it is nigh at hand;