Sleepwalking into World War 3?
Verse of the Day
Luke 21:9 But when ye shall hear of wars and commotions, be not terrified: for these things must first come to pass; but the end is not by and by. Then said he unto them, Nation shall rise against nation, and kingdom against kingdom:
Commentary
Recently, I've posted many articles about both China and Russia becoming very aggressive and mobilizing for war. In the last few weeks, there is sign after sign about China being fully ready for war and daring any military plane or ship to enter the South China Sea. There is virtually nothing being said in the mainstream media about this. It all is being ignored.
This is all surrealistic to follow.  All of the evidence is out there for anyone to see that WW3 looms directly in front of us, yet the vast amount of Americans have no idea what is dead ahead! Will the Chinese and Russians back down? I doubt it. Nations do not buildup their militarizes and mobilize them for war and then back down unless they get what they want.
America is sleepwalking into WW3, but there is a rude awakening coming.
Stay focused on the coming of the Lord Jesus no matter what happens. He is the anchor of your soul in times of trouble.
May the Holy God of Israel bless and protect you.
Isaiah 2:4 And he shall judge among the nations, and shall rebuke many people: and they shall beat their swords into plowshares, and their spears into pruninghooks: nation shall not lift up sword against nation, neither shall they learn war any more.
World War 3
Fears grow Russia is using the Ukraine battlefield to rehearse for war with the West 08/10/16  In addition to the Ukraine, I've said that Russia was testing its air force in Syria. This is just like before WW2, when Russia and Germany used the Spanish civil war to these their weapons!
I really do believe that Russia is God's rod-of-judgment on the decadent West. Actually Islam is also part of this judgment.
"Fears are growing Russia is using the Ukraine battlefield to rehearse for war with the West.
Vladimir Putin is thought to be testing tools for warfare in the field as he adopts a confrontational foreign policy stance – representing something of a "return to form" reminiscent of the Cold War days.
A leaked British Army document reveals that Russian forces are improving their ability to combine their mighty tanks, artillery and other heavy weaponry with sophisticated electronic warfare.
Specifically they are honing their skills to jam enemy radio signals and render equipment like drones unusable.
The secret document concludes one of Russia's goals in Ukraine is to practise "new methods of warfare as well as testing modern and prohibited weapons".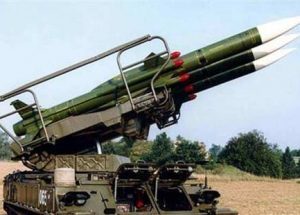 The New Threat of Very Accurate Missiles 08/10/16  This is a good article showing how weapon systems have advanced.
I believe because of the advanced weapons, the next war is going to be relatively short and extremely brutal. According to the Bible, Israel is left standing and many surrounding nations are obliterated!
"Precision-guided medium-range missiles, a relatively new technology, are beginning to proliferate in the Middle East. When they work as designed, they can deliver half a ton of high explosive to within meters of their targets.
This means that for many targets, they are almost as effective as nuclear weapons. With their capacity to destroy capital facilities like power plants, the loss of only a few of which would severely harm Israel's economy, they introduce a new way for Israel to decisively lose a war. Israel will have to get the difficult balance between offense and defense right before the next war or it may not have a second chance."
American Politics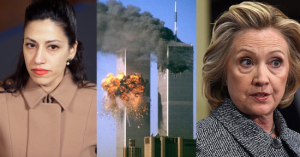 The latest batch of Hillary's emails 08/10/16  It is so clear that we have criminals running Washington, DC. God in his mercy has timed this so we can all see the corruption. It is out in the open and can't be hidden any longer. I think she is under the direct judgment of Lord! What are the American people going to do?
Proverbs 28:5  Evil men understand not judgment: but they that seek the LORD understand all things.

"Judicial Watch released a batch of 296 emails showing Hillary Clinton committing MORE crimes, but they also show how dirty and complicit Huma Abedin has been. The emails of Hillary Clinton go back until 2003, but we are working tirelessly to confirm that they go back further to show what Hillary was doing around 2000-2001. While this photo is unconfirmed, we know Hillary has strong ties to Saudi Arabia, whom was behind 9/11. We are working to confirm."
The Truth About Hillary's Bizarre Behavior 08/04/16  This video by Paul Joseph Watson of Infowars has gone viral, with over 2 million hits already. It explores the strange behavior and physical symptoms that have been seen recently in videos where Hillary has been interacting with the press. Watson consulted physicians and psychiatrists about all of the behaviors seen (and shows clips of each) then gives their responses about the probable causes.
Hard Left
'POC Only': College Students Now Openly Refusing To Live With White People 08/10/16  Fifty years after the civil rights movement, we've come full circle, due to the environment created by the Hard Left mentality and the power elites who use racial division to further their own goals. Note that this is occurring on college campuses; also note the language used in the statements by those who are supposed to be the "educated" in this society. With these people as leaders of the next generation, we need to pray more than ever for God's intervention or eventually we'll see civil war.
"The social justice "safe space" movement took another step "forward" this week with several college students proudly announcing that they were looking for non-white roommates. "People of color are allowed to create safe POC only spaces," one minority student said when called out for the overt racism. "It is not reverse racism or discriminatory, it is self[-]preservation."
The Claremont Independent reported on the "POC only" safe space movement Tuesday, highlighting a series of posts by a group of students at Pitzer College, a private liberal arts college in Claremont, looking for non-white roommates, some of whom were members of the Pitzer Latino Student Union. Coming to the defense were two of the college's resident assistants…
"We don't want to have to tiptoe around fragile white feelings in a space where we just want to relax and be comfortable…"
The Claremont Independent's Elliot Dordick notes that two resident assistants eventually got into the debate to defend anti-white safe spaces. One of the RAs, a Black Student Union member, wrote, "White people have cause [sic] so much mf trauma on these campuses …
The other RA, an Africana Studies major, blamed white people for creating a "toxic environment" that requires minorities to "protect themselves." Here's the charming post that ends with the RA shutting down any further "dialogue" on the issue:
"White people always mad when they don't feel included but at the end of the day y'all are damaging asf [sic] and if a POC feels they need to protect themselves from that toxic environment THEY CAN! Quick to try to jump on a POC but you won't call your friends out when they're being racist asf [sic]. I'm not responding to NO comments and NOPE I don't wanna have a dialogue."
STOP JUDGING: Mother Fights for Her 'Right' to Have Sex with Her Son 08/10/16  This is more of the moral free-fall running rampant in the country, and the delusional state of mind that has overtaken the Hard Left. Have any of these people supporting this seen a child born of incest? God has very good reasons for putting moral boundaries in place, and the state has compelling reasons for following them in the law.
"Remember when those crazy conservatives warned that redefining marriage under the mantra of "love is love" would result in some very unwelcome consequences? Well, a mother in New Mexico is currently fighting the courts and public opinion to have sex with her own teenage son.
Monica Mares reunited with her son Caleb Peterson 18 years after giving him up for adoption, and just weeks later, the duo claimed to be "madly in love." Since incest is a fourth degree felony in New Mexico — and illegal in all 50 states — the couple faces trial in September after being charged with the indiscretion on February 25. If convicted, Mares and Peterson could each face 18 months in the slammer…
Mares, 36, and Peterson, 19, are not only fighting for their "love" in court, but asking the public to help fund their fight for mothers to sleep with their sons all around the country. The couple told The Daily Mail that they went public in an effort to raise awareness for Genetic Sexual Attraction (GSA) relationships…
Mares, a mother of eight other children she's currently not sleeping with, is so dedicated to being with Peterson romantically that she said she'd leave her other children to be with him…Proponents of the "love is love" edict are now coming out swinging for mommy and son to continue their love affair…
Cristina Shy, a leader of a support and advocacy site for incestuous relationships (yes, that's a real thing), has also stepped in to support Mares and Peterson, citing the same-sex marriage Supreme Court ruling as grounds for legalizing incest.
Their case "needs to be brought to the attention of everybody in the country and people need to start thinking differently," explained Shy. "It was the same with gay people just a few years ago and now they can get married, they are accepted," she continued."
Islam – Europe
Islam's "Quiet Conquest" of Europe 08/10/16  Any way you look at it, Islam is at war with the West. It is either by violent Jihad or more stealthy by immigration and turning Europe into a Islamic state. The goal of the Muslims is the same, and it is to conquer Europe!
The Europeans rejected the Lord and the Bible, so now they are being overrun by Muslims with their Koran! There is no way out for the Europeans because there are too many Muslims in Europe with millions more on the way!
Psalm 9:17  The wicked shall be turned into hell, and all the nations that forget God.

"Last month, the Wall Street Journal published an interview with France's director of domestic intelligence, Patrick Calvar. "The confrontation is inevitable," Mr. Calvar said. There are an estimated 15,000 Salafists among France's seven million Muslims, "whose radical-fundamentalist creed dominates many of the predominantly Muslim housing projects at the edges of cities such as Paris, Nice or Lyon. Their preachers call for a civil war, with all Muslims tasked to wipe out the miscreants down the street."
These Salafists openly challenge France's way of life and do not make a secret of their willingness to overthrow the existing order in Europe through violent means, terror attacks and physical intimidation. But paradoxically, if the Islamists' threat to Europe were confined to the Salafists, it would be easier to defeat it.
There is in fact another threat, even more dangerous because it is more difficult to decipher. It has just been dubbed by the magazine Valeurs Actuelles, "the quiet conquest". It is "moderate" Islam's sinuous project of producing submission. "Its ambition is clear: changing French society. Slowly but surely".
Islam/ God's Judgment/ Hard Left

Germany's Migrant Rape Crisis Spirals out of Control 08/09/16  This article is worth reading in full, because these crimes will be coming here if we continue to allow mass immigration. According to reports by Gatestone Institute, daily sexual assaults are occurring across Germany by the more than one million Muslim immigrants that have flooded into Germany. Most never are reported because of official pressure, and of the few that are prosecuted, sentences have been very light, Many are not even deported because they come from "conflict zones."
In addition, the Hard Left mentality that has overtaken Europe is running rampant with victims even apologizing on Facebook for causing "aggressive racism"…"I will not stand by and watch, and it can happen that racists and concerned citizens name you as the problem. You are not the problem. You are usually a wonderful human being who deserves as much as any other to be safe and free." This is politically correct madness, as the judgment of God on a society that has rejected Him. Mass delusion is reigning.
"Germany's migrant rape crisis has now spread to cities and towns in all 16 of Germany's federal states. Germany now finds itself in a vicious circle: most of the perpetrators are never found, and the few who are frequently receive lenient sentences. Only one in 10 rapes in Germany is reported and just 8% of rape trials result in convictions, according to Minister of Justice Heiko Maas.
Up to 90% of the sex crimes committed in Germany in 2014 do not appear in the official statistics, according to André Schulz, the head of the Association of Criminal Police.
"There are strict instructions from the top not to report offenses committed by refugees. It is extraordinary that certain offenders are deliberately NOT being reported about and the information is being classified as confidential." — High-ranking police official in Frankfurt, quoted in Bild…
During the month of July 2016, hundreds of German women and children were sexually assaulted by migrants (see Appendix below). The youngest victim was nine; the oldest, 79. Attacks occurred at beaches, bike trails, cemeteries, discotheques, grocery stores, music festivals, parking garages, playgrounds, schools, shopping malls, taxis, public transportation (buses, trams, intercity express trains and subways), public parks, public squares, public swimming pools and public restrooms. Predators are lurking everywhere; safety nowhere…
On July 24, a 40-year-old migrant from Eritrea raped a 79-year-old woman in a cemetery in Ibbenbüren. The woman, who lives in a local nursing home, was visiting the grave of her late sister at 6AM when the attack occurred. The migrant, who has been living as a refugee in Germany since 2013, was arrested at the scene. He is unlikely to be deported, however, because Eritrea is considered a conflict zone…
Meanwhile, Boris Palmer, the "progressive" mayor of Tübingen, thinks he has found a solution to the problem of migrants who are raping German women and children in public swimming pools. He wants migrants to become swimming pool superintendents."
Ecclesiastes 10:12-13  The words of a wise man's mouth are gracious; but the lips of a fool will swallow up himself. The beginning of the words of his mouth is foolishness: and the end of his talk is mischievous madness.