Some OTC Meds Shrink the Brain
Verse of the Day
3 John 1:2  Beloved, I wish above all things that thou mayest prosper and be in health, even as thy soul prospereth.
Commentary
I felt that this was so important that I needed to get this right out to you. If you take this type of medicine STOP immediately because it damages your brain! The modern "Babylonian" medical system thinks nothing of this and many other of their drugs, which are destroying the health of so many who trust them!
I come across a lot of good health information and post it in my Health blog. I don't get to post this blog too often, so what I decided to do is post important health related information in this blog.
See my Health Blog.
May the Holy God of Israel bless and protect you.
1 Corinthians 15:58 Therefore, my beloved brethren, be ye stedfast, unmoveable, always abounding in the work of the Lord, forasmuch as ye know that your labour is not in vain in the Lord.
Health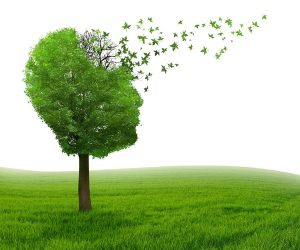 OTC Meds Shrink the Brain 09/07/16 
"If you're a senior citizen — and even if you're not — you may want to avoid some ordinary over-the-counter medications. A study by the Indiana University School of Medicine found that common drugs, including antihistamines and nighttime cold medicines that are probably sitting in your medicine cabinet, contain an anti-cholinergic ingredient. You may take them on a regular basis to treat minor ailments such as colds, flu, allergies, insomnia, motion sickness, and heartburn. But they can greatly increase your risk of dementia if you're older.
Study participants, who were in their early 70s, were part of a national Alzheimer's research project — The Alzheimer's Disease Neuroimaging Initiative — and the Indiana Memory and Aging Study. Researchers studied their brain function using a combination of MRI scans, PET scans, and memory and cognitive tests. They found that those who took anti-cholinergic drugs had smaller brains and larger cavities inside the brain, and performed worse on cognitive tests than those who didn't take the drugs.
The study also found that those who used anti-cholinergic drugs had lower levels of glucose metabolism, which is a biomarker for brain activity, throughout the brain and in the hippocampus, an area associated with memory that is affected early in the Alzheimer's process…
The anti-cholinergic ingredients in question in over-the-counter medicines are diphenhydramine and promethazine. They're used in common medicines, including Benadryl, Dimetapp, Dramamine, Midol PM, Motrin PM, Nytol, Unisom, and Zantac."
Miscellaneous – Healing the Brokenhearted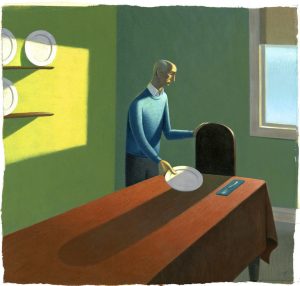 Researchers Confront an Epidemic of Loneliness 09/06/16  In my ministry to heal the brokenhearted, I've prayed for many people. At the root of their problem was loneliness. Often, people from divorced families have a deep loneliness.
In the case of loneliness, what is needed for healing is a close relationship with God as Abba Father. If anyone needs prayer, you can email me at [email protected]
Romans 8:15  For ye have not received the spirit of bondage again to fear; but ye have received the Spirit of adoption, whereby we cry, Abba, Father.

"Researchers have found mounting evidence linking loneliness to physical illness and to functional and cognitive decline. As a predictor of early death, loneliness eclipses obesity.
"The profound effects of loneliness on health and independence are a critical public health problem," said Dr. Carla M. Perissinotto, a geriatrician at the University of California, San Francisco. "It is no longer medically or ethically acceptable to ignore older adults who feel lonely and marginalized."
In Britain and the United States, roughly one in three people older than 65 live alone, and in the United States, half of those older than 85 live alone. Studies in both countries show the prevalence of loneliness among people older than 60 ranging from 10 percent to 46 percent."
Health – Chemical Warfare Against Americans
The Zika Files: DEET is part of a binary chemical weapon targeting your brain for destruction (VIDEO) 09/08/16 
"This video explains why the mainstream media is urging everyone to spray DEET all over their skin while carbamate pesticide chemicals are carpet bombed onto civilian populations (and the food supply). It's all a deliberate act of chemical warfare against YOU, and it's being waged for a specific purpose that's explained at length in the video. (Hint: It's no coincidence a major presidential election that depends on dumbed down voters is taking place in less than 70 days…)"
Pestilence/ Science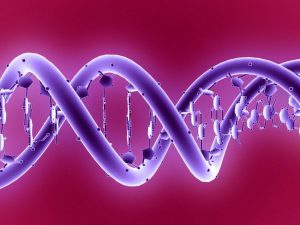 Security services concerned amateur 'biohackers' could create biological weapons, academic says 09/07/16  Definition of pestilence: a contagious or infectious epidemic disease that is virulent and devastating
The Bible states that immediately prior to the Second Coming of Jesus Christ, pestilences are going to kill millions, if not billions of people. I always thought that these plagues would be natural like the bubonic plague.
My thinking has changed on this. There might be natural plagues like the bubonic, but I can see man weaponizing genetics and creating his own plagues! Mankind has the ability to do this, and there is speculation that modern plagues like AIDS or Zika virus are already man made! If ISIS or Iran get a hold of weaponized viruses, there is no doubt that they will use them against the infidels!
Luke 21:10-11  Then said he unto them, Nation shall rise against nation, and kingdom against kingdom: And great earthquakes shall be in divers places, and famines, and PESTILENCES; and fearful sights and great signs shall there be from heaven.

"The security services are concerned that 'biohackers' — groups of ordinary people who use genome editing techniques to alter lifeforms — could develop biological weapons or other potentially dangerous substances, an Oxford University academic has said.
Amateur scientists around the world have started using gene editing techniques after the tools became cheap and readily available.
And while most of these groups are harmless, Professor John Parrington told the British Science Festival in Swansea there were fears among other scientists and the security services that the technology could be used to create a new form of deadly virus.
"Who knows what will happen in the future," he said, raising the prospect of someone making a "biological weapon".
"There's some disquiet among the security services about where this is all leading as you might imagine."
New World Order – World Government
UN Commissioner Warns of 'Weaponized' Populism from Wilders, Trump, Farage Turning 'Into Colossal Violence' 09/08/16  This is a great article to let us look into the minds of the one world government thinkers.
This shows just how dangerous these people are, by what they say about nationalists like Trump. They are not going to give up power easily because they are close to world domination. If Trump wins, this could be very dangerous because they might use force to stop Trump's presidency. These are extremely dangerous people.
2 Timothy 3:1 This know also, that in the last days perilous times shall come. For men shall be lovers of their own selves, covetous, boasters, proud, blasphemers, disobedient to parents, unthankful, unholy, Without natural affection, trucebreakers, false accusers, incontinent, fierce, despisers of those that are good, Traitors, heady, highminded, lovers of pleasures more than lovers of God;

"Speaking at the Peace, Justice and Security Foundation gala in The Hague, Zeid — a Jordanian prince married to an American from Texas, global maternal health activist Sarah Butler — singled out Dutch politician Geert Wilders and "the populists, demagogues and political fantasists" like him.
The commissioner acknowledged he "must be a sort of nightmare" to these populists as he defends the rights of asylum seekers, gays, women and the disabled while being a Muslim "who is, confusingly to racists, also white-skinned; whose mother is European and father, Arab."
He panned Wilders' "lies and half-truths, manipulations and peddling of fear" and recent appearance at the Republican National Convention in Cleveland. "What Mr. Wilders shares in common with Mr. Trump, Mr. [Viktor] Orban [of Hungary], Mr. [Miloš] Zeman [of the Czech Republic], Mr. [Norbert] Hofer [of Austria], Mr. [Robert] Fico [of Slovakia], Madame Le Pen, Mr. Farage, he also shares with Da'esh," he said, using the pejorative Arabic acronym for ISIS."
American Politics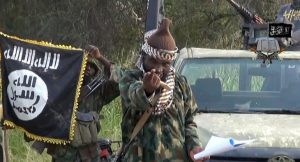 Hillary Obstructed Boko Haram's Terror Designation as Her Donors Cashed In 09/08/16  There is no end to the evil of this woman. She always aligns with the worst elements of Islam. Apparently, her protecting of Boko Haram was because of large donations to the Clinton Foundation!
"And yet, as Boko Haram began to ramp up its terror campaign in 2011 and 2012, Hillary Clinton obstructed the official terror designation of the group over the objections of Congress, the FBI, the CIA and the Justice Department.
A recent series of reports exposes that a close Clinton family confidante — and Hillary campaign bundler — profited from Nigeria's lucrative oil fields. He engaged in multiple illegal deals throughout Africa.
Also, other donors to the Clinton Global Initiative are deeply involved in Nigeria's corrupt oil industry.
Members of Congress discovered in 2014 that the Clinton State Department intentionally lied and downplayed the threat from Boko Haram, and worked to kill bills in both the House and the Senate calling for their designation in 2012.
As Reuters reported, the Justice Department's National Security Division strongly urged the State Department to designate Boko Haram, but then a group of 21 American academics rallied to the State Department's aid by sending a letter to Hillary Clinton strongly arguing against Boko Haram's designation.
We also now know that the Obama administration was sitting on intelligence — obtained as a result of the Bin Laden raid — that revealed Boko Haram's direct connection to al-Qaeda and the international terror network in 2011 and 2012. In other words, Hillary's State Department was arguing that Boko Haram had no such connections, that it wasn't a transnational terror threat, even though the Obama administration — and likely Clinton herself — knew that was false."
The Coming Middle East War/ Israel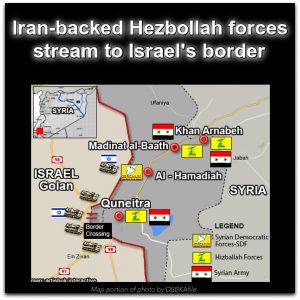 IRAN-BACKED HEZBOLLAH FORCES STREAM TO ISRAEL'S BORDER 09/08/16  Israel is watching troop Syrian movement toward its northern border. Israel has warned Syria that it would attack if Syria positions its army near Israel.
"Iran-backed Hezbollah forces, including Russian-made artillery, are quickly amassing just over a mile from Israel's northern border with Syria. Are they preparing to attack the Jewish State?
A large Hezbollah force, backed by the Syrian army and pro-Iranian Shiite militias, is building up outside Quneitra, just over a mile (2km) from Israel's Golan border. The Lebanese Shiite fighters, under the command of Iranian Revolutionary Guards (IRGC) officers, are streaming into southern Syria, armed with tanks and artillery.
Hezbollah, the "party of Allah," is the terrorist organization based in Lebanon. In a manner similar to Hamas in Gaza, it has virtually taken over the government there, especially in the south where it borders with Israel. Currently, Hezbollah, a known proxy of Iran, is engaged in fighting rebel groups in Syria in order to preserve the government of President Bashar al-Assad, another Iranian proxy."
History/ Jerusalem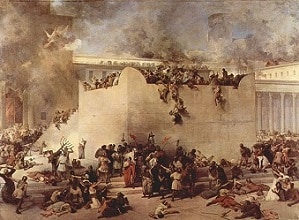 Rome destroyed Jerusalem … Then what? 09/08/16  As usual, Bill Federer does a wonderful job of laying out history. I learned some very interesting information about Jerusalem and the price Rome paid for destroying it.
Psalm 122:6  Pray for the peace of Jerusalem: they shall prosper that love thee.

"For centuries, people across the world desired to pilgrimage to Jerusalem, including Abraham Lincoln.
The Library of Congress has a scrapbook with an account by Rev. N.W. Miner of Springfield, who officiated Lincoln's burial, in which are recalled President Lincoln's last words while at Ford's Theater with his wife:
"Mrs. Lincoln informed me that…the very last moments of his conscious life were spent in conversation with her about his future plans… He said he wanted to visit the Holy Land and see those places hallowed by the footprints of the Saviour. He was saying there was no city he so much desired to see as Jerusalem."

Proverbs 30:8-9  Remove far from me vanity and lies: give me neither poverty nor riches; feed me with food convenient for me: Lest I be full, and deny thee, and say, Who is the Lord? or lest I be poor, and steal, and take the name of my God in vain