Surveillance Cameras Soon Divine Your Personality from Eye Movements
Verse of the Day
Revelation 13:16,17 And he causeth all, both small and great, rich and poor, free and bond, to receive a mark in their right hand, or in their foreheads: And that no man might buy or sell, save he that had the mark, or the name of the beast, or the number of his name. (18) Here is wisdom. Let him that hath understanding count the number of the beast: for it is the number of a man; and his number is Six hundred threescore and six.
Commentary
Just an update and the coming 666 System. Soon cameras like this will be everywhere. There will be no hiding under this system. It is all coming together so fast. I'm delighted that we will be at the Marriage Supper of the Lamb while all this is happening! We will return with Jesus and be with him as he totally destroys the 666 Surveillance System.

May the Holy God of Israel bless and protect you.
Revelation 19:7 Let us be glad and rejoice, and give honour to him: for the marriage of the Lamb is come, and his wife hath made herself ready. (8) And to her was granted that she should be arrayed in fine linen, clean and white: for the fine linen is the righteousness of saints.
The 666 Surveillance System
"Researchers have used artificial intelligence to show that very subtle eye movements, of the sort you might pick up with a camera, can divine aspects of personality much better than random guessing. It's another good example of how the wealth of biometric data that humans produce, once digitized and examined at large scale, can reveal hidden aspects of identity in ways that could be a boon to intelligence gathering.

The German and Australian researchers fitted 42 volunteers with eye-tracking headgear, and had them fill out the NEO Five-Factor Inventory, a personality test that measures traits such as neuroticism, extraversion, openness, agreeableness, and conscientiousness. They then had the subjects go about a normal routine while they quietly collected eye movement data and then used machine learning to categorize the data.

"Thanks to the machine learning approach, we could automatically analyze a large set of eye movement characteristics and rank them by their importance for personality trait prediction. Going beyond characteristics investigated in earlier works, this approach also allowed us to identify new links between previously under-investigated eye movement characteristics and personality traits," they write."
California Fires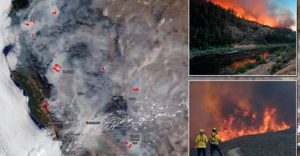 "Dramatic satellite photo shows the destructive reach of the wildfires raging across California into Nevada as Yosemite closes for at least six days due to smoke and families are evacuated" This is exactly like last year only the fires started earlier this year. Vast areas of the state have burned over the last few years. There seems to end to these fires.
The way the fires are going it is just a matter of time before a large city burns.
Leviticus 18:24,25 Defile not ye yourselves in any of these things: for in all these the nations are defiled which I cast out before you: And the land is defiled: therefore I do visit the iniquity thereof upon it, and the land itself vomiteth out her inhabitants.

 "Stunning satellite photos show the smoke from California's wildfires stretching as far east as Utah – an indication of just how devastating the blazes have been. NASA's Aqua satellite, which is used to collect information about the Earth, shows smoke covering most of California. The smoke is seen spreading as far north as Oregon and as far east as Salt Lake City. The image was captured by Aqua on Sunday, according to Space.com.

Firefighters struggling to contain destructive Northern California wildfires found themselves facing a new blaze that erupted Tuesday and drove through a rural area near a national forest."
Hard Left Madness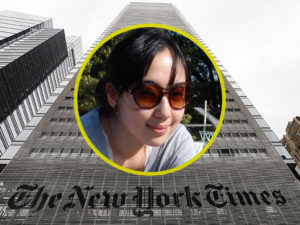 "NYT: New Hire Sarah Jeong 'Regrets' Professing Hate for 'Dumbass F*cking White People" This article shows just how far the Hard Left is fallen into insanity. I think this attack is not against white women but white men. It is not against all white men, but heterosexual, Christian white men.
We are the main targets of these now insane people. If the Hard Left thinks they are going to break us, what a shocking surprise awaits them. These crazed people are stirring up a hornets nest.
We need a revive for survival.
"The New York Times is under fire after excusing Sarah Jeong, its newest editorial hire, for numerous anti-white sentiments — exposing the paper's double standards when it comes to firing new employees over old, controversial tweets.

The New York Times' communications department announced on Wednesday that Jeong will be joining the editorial board as part of a "fab group of recent additions" to the paper's opinions section in September. In scores of tweets, Jeong — as an epic ironic troll without any underlying bigotry, of course — denigrates whites and compares them to dogs. The reporter likened "dumbass fucking white people" sharing their opinions to "dogs pissing on fire hydrants."

In another conversation, Jeong riffed on white people being "only fit to live underground like groveling goblins," which snowballed into a witty rumination on whites smelling like dogs."
Revelation 22:20 He which testifieth these things saith, Surely I come quickly. Amen. Even so, come, Lord Jesus.