The Death of Common Sense
Verse of the Day
Proverbs 1:7 The fear of the LORD is the beginning of knowledge: but fools despise wisdom and instruction.
Commentary
I've posted a great satire about wisdom, or as the article calls it "Common Sense." There is not a lot of wisdom today because so many people are void of God's wisdom in their minds. When we know the world of God and act on it, we will live a life full of wisdom.
May the Holy God of Israel bless and protect you
Proverbs 12:8 A man shall be commended according to his wisdom: but he that is of a perverse heart shall be despised.
Miscellaneous

Hard Left
77% of refugees allowed into U.S. since travel reprieve hail from seven suspect countries 02/12/17  President Trump was correct about the terrorists coming from the nations he wanted to ban. The President is correct time and time again.
"The State Department has more than doubled the rate of refugees from Iraq, Syria and other suspect countries in the week since a federal judge's reprieve, in what analysts said appears to be a push to admit as many people as possible before another court puts the program back on ice.
A staggering 77 percent of the 1,100 refugees let in since Judge James L. Robart's Feb. 3 order have been from the seven suspect countries. Nearly a third are from Syria alone — a country that President Trump has ordered be banned altogether from the refugee program. Another 21 percent are from Iraq. By contrast, in the two weeks before Judge Robart's order, just 9 percent of refugees were from Syria and 6 percent were from Iraq.
"There's no doubt in my mind they would be doing whatever they could to get people in before something changes because, from their perspective, their motivation is to resettle these folks. It would not be the first time that State Department officials have prioritized facilitating someone's entry to the United States over security concerns," said Jessica Vaughan, policy studies director at the Center for Immigration Studies.
Mr. Trump issued an executive order Jan. 27 putting in place the early stages of his extreme vetting policy, including an immediate 90-day pause on admitting visitors from Iraq, Iran, Syria, Sudan, Somalia, Libya and Yemen — all countries where the government says it can't be sure of its vetting procedures."
As France Has Done to Israel
Le Pen: French Jews Will Have to Give Up Israeli Citizenship 02/12/17  If she wins, it will force the Jews to stay and renounce Israel or leave for Israel. This might be God's way to get the French Jews back to Israel.
The French Jews should leave ASAP because it is only going to get worse. The more Muslims pour into France and Europe the more dangerous it becomes for them. The Jewish population in France is about 600,000.
Jeremiah 16:15-17  But, The LORD liveth, that brought up the children of Israel from the land of the north, and from all the lands whither he had driven them: and I will bring them again into their land that I gave unto their fathers. (16) Behold, I will send for many fishers, saith the LORD, and they shall fish them; and after will I send for many hunters, and they shall hunt them from every mountain, and from every hill, and out of the holes of the rocks. (17) For mine eyes are upon all their ways: they are not hid from my face, neither is their iniquity hid from mine eyes.

"In a France ruled by the far-right Marine Le Pen, Jewish citizens will be forced to give up their Israeli citizenship, the Front National party leader said on Thursday.
Le Pen, a leading contender in the upcoming French presidential contest, told France 2 TV that if elected, she will not allow French citizens to hold on to any citizenship in a non-European country. When asked specifically about Israel and Jews, who form a large community in France, the Front National party leader responded: "Israel isn't a member of the European Union, and doesn't consider itself as such," and therefore a dual French-Israeli citizenship will not be allowed."
California Watch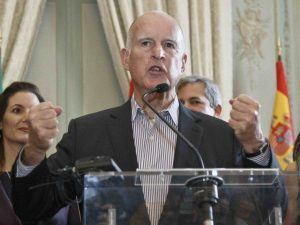 California Governor Jerry Brown Asks President Trump for Help 02/13/17  This is the same governor who just last week was bragging how he was going to stand up to President Trump over sanctuary cities! Look just how fragile California is! What of all this talk about seceding from the Union? I hope that the President does help the people in need.
Proverbs 28:5  Evil men understand not judgment: but they that seek the LORD understand all things.

"On Friday, California Governor Jerry Brown sought federal help from President Trump by asking the Federal Emergency Management Agency (FEMA) to declare "a major disaster" in California in light of the damage done by recent storms.
The East Bay Times reports: "Brown formally requested the declaration for the series of storms striking the state between Jan. 3 and Jan. 12." He noted that "heavy rains, winds and snow, particularly in Northern California, left eight people dead and knocked out power to an estimated 1 million Californian homes and businesses."
Brown's request comes as Gov. Brown has challenged the Trump administration on climate change, immigration, Obamacare, and other issues."
Homosexuality/ Christian Apostasy
UMC Bleeding Members, Money After Consecrating Lesbian Bishop 02/13/17  I believe that they are such apostates that they would rather see the denomination destroyed than admit that homosexuality is sinful.
1 Corinthians 6:9-11  Know ye not that the unrighteous shall not inherit the kingdom of God? Be not deceived: neither fornicators, nor idolaters, nor adulterers, nor effeminate, nor abusers of themselves with mankind, Nor thieves, nor covetous, nor drunkards, nor revilers, nor extortioners, shall inherit the kingdom of God. And such were some of you: but ye are washed, but ye are sanctified, but ye are justified in the name of the Lord Jesus, and by the Spirit of our God.

"When Bishop Karen Oliveto was ordained and consecrated last summer, ripples tore through the denomination, ultimately hurting the Western Jurisdiction.
"As we crossed the threshold, there has been stress in some of our most theologically diverse congregations. Some have lost members. Others have had members withdraw their financial support," the statement says.
"Despite the loss, the Western Sky Area refuses to remove support from Oliveto.
"We believe theological diversity is critical for the vitality of The United Methodist Church. We seek to help our churches as we live into this new future. All our churches throughout the Mountain Sky Area play a vital role in witnessing to the Good News of the Gospel of Jesus Christ in their communities. We remain committed to all churches in our area," the statement continues."
Science: Image of the Beast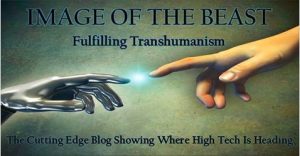 Elon Musk: Humans must merge with machines or become irrelevant in AI age 02/13/17  For many years, I have been teaching that the Image of the Beast was going to be a prototype cyborg, As time goes on, it does appear that is a real possibility. I believe that through people becoming cyborgs there will be a promise of some sort of eternal life.
Just like the 666 Surveillance System is now coming very fast, so is the Image of the Beast. We must be very close to the Second Coming of Jesus Christ.
Revelation 13:14  And deceiveth them that dwell on the earth by the means of those miracles which he had power to do in the sight of the beast; saying to them that dwell on the earth, that they should make an image to the beast, which had the wound by a sword, and did live. And he had power to give life unto the image of the beast, that the image of the beast should both speak, and cause that as many as would not worship the image of the beast should be killed.

"Billionaire Elon Musk is known for his futuristic ideas and his latest suggestion might just save us from being irrelevant as artificial intelligence (AI) grows more prominent.
The Tesla and SpaceX CEO said on Monday that humans need to merge with machines to become a sort of cyborg.
"Over time I think we will probably see a closer merger of biological intelligence and digital intelligence," Musk told an audience at the World Government Summit in Dubai, where he also launched Tesla in the United Arab Emirates (UAE).
"It's mostly about the bandwidth, the speed of the connection between your brain and the digital version of yourself, particularly output."
Musk explained what he meant by saying that computers can communicate at "a trillion bits per second", while humans, whose main communication method is typing with their fingers via a mobile device, can do about 10 bits per second.
In an age when AI threatens to become widespread, humans would be useless, so there's a need to merge with machines, according to Musk."
World War 3/ North Korea watch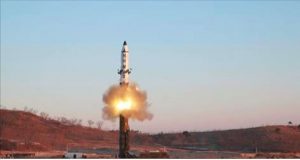 New nuclear-capable missile test a success, North Korea says 02/13/17  All of the experts now are saying that NK is right on the verge of delivering a nuclear weapon that can hit the West Coast of America.
If this is so, then President Trump and our allies might have to move soon against NK in various ways, including war. This is not good.
Revelation 22:20  He which testifieth these things saith, Surely I come quickly. Amen. Even so, come, Lord Jesus.

"North Korea said on Monday it had successfully test-fired a new type of medium- to long-range ballistic missile the previous day, claiming advances in a weapons programme it is pursuing in violation of U.N. resolutions.
North Korea fired the missile on a high arc into the sea early on Sunday, the first probe of U.S. President Donald Trump's vow to get tough on an isolated regime that tested nuclear devices and ballistic missiles last year at an unprecedented rate.
The North's state-run KCNA news agency said leader Kim Jong Un supervised the test of the Pukguksong-2, a new type of strategic weapon capable of carrying a nuclear warhead."

Proverbs 10:13  In the lips of him that hath understanding wisdom is found: but a rod is for the back of him that is void of understanding.