The Guardian: Bible Is the Cause of Christian 'Homophobia'
       Verse of the Day
Jude 1:3 Beloved, when I gave all diligence to write unto you of the common salvation, it was needful for me to write unto you, and exhort you that ye should earnestly contend for the faith which was once delivered unto the saints.
Commentary
The Hard Left is now starting to target the Bible as the source of opposition to the homosexual agenda. For the most part, they had been attacking the believers for this opposition, but now watch for the shift against the Bible itself. The battle lines are being drawn between the reprobate mind and the eternal word of God. God always wins.
May the Holy God of Israel bless and protect you.
Hebrews 4:12 For the word of God is quick, and powerful, and sharper than any twoedged sword, piercing even to the dividing asunder of soul and spirit, and of the joints and marrow, and is a discerner of the thoughts and intents of the heart.
Hard Left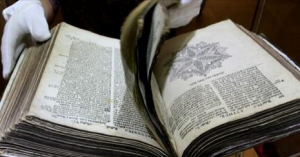 The Guardian: Bible Is the Cause of Christian 'Homophobia' 03/23/16  In the end, the reprobates have to attack the authority of the Bible, which they will. When they see that we will not back down from them and from the authority of the Bible, you will see what iron-fisted fascists they are. They are fully capable of violence and even murder. Homosexuality is a powerful sin that can generate hatred.
Every attack you can think of is coming against the Bible, but in the end they will only destroy themselves.
"Writing for The Guardian, self-identified "Christian dissident" Keith Mascord claims that "homophobic opposition to same-sex marriage" has its roots in adherence to the Bible, and only by leaving the biblical text aside will Christians learn to support "marriage equality." Mascord takes for granted that Christians must be wrong for opposing same-sex marriage and that, therefore, the Bible is wrong as well. He ridicules believers, suggesting that acceptance of the moral instruction found in Sacred Scripture is akin to belief that the earth is at the center of the solar system. "We need to acknowledge that the Bible, for all of its beauty, wisdom and on-going relevance, is an ancient text, pregnant with ancient assumptions and beliefs, many of which we no longer reasonably hold," he writes."
2 Peter 2:6  And turning the cities of Sodom and Gomorrha into ashes condemned them with an overthrow, making them an ensample unto those that after should live ungodly;
Islam – Europe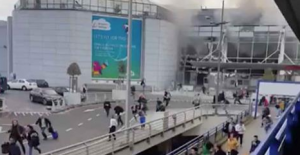 War in Europe After Brussels, it's time for the governments of Europe to fall 03/22/16  Seventy years ago the Europeans were fighting for their lives against the Jew-hating Nazis, and now they are once again fighting for their lives. This time it is the Jew-hating Muslims!
There is something about Europe and world wars, and hating Jews.
"A new Hitler is in Europe. It is not Donald Trump. It is not the "right-wing." The new Hitler is very much like the old Hitler: he hates Jews. He has contempt for the historical patrimony of Western civilization.He means to rule by an iron fist and subordinate every other power to his will. He respects only strength, and despises weakness. The new Hitler is not just one man, but millions — millions who believe in an ideology that teaches warfare against and subjugation of free people under its heel.Historically, Europe saw the threat that the men who held to this ideology posed, and shed blood to resist their advance. Now, the sons and heirs of those who gave their lives to make sure their children and their children's children would live free have flung open the gates and invited in those who would enslave them. They have invited them into their countries in massive numbers, and vilified and ostracized anyone who dared note the lessons of history and the content of the invaders' ideology."
Islam Jihad Caliphate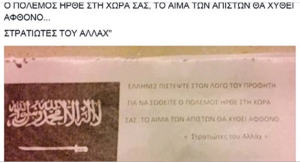 "Refugees" in Greece Distribute Leaflets: "The war has come to your country . . ." 03/23/16  The Muslims heading into Europe contain a "Fifth Column" in order to conquer. Europe is at war with Islam and does not know it, but the Muslims know it.
The European Hard Left mind has them completely blinded to the reality of Islam: thus making them an easy target to conquer. This has to be one of the most foolish events in history: that the Europeans lets tens of millions of Muslims in.
It is too late now to turn this around, as the Muslims have enclaves in all the major European cities and they are in high gear to destroy Europe and turn it into an Islamic hell.
I think that all the homosexuals are now in great danger, along with the "unbelieving women" who walk around uncovered.
What is so amazing is that the Europeans did this to themselves.
"The translation from Greek is "Greek people (Greeks) do believe in prophet's words. The war has come in your country for your salvation. The blood of the non-believers would spill plenty". Signed by "Soldiers of Allah". According to the email we received which sent this leaflet copy, the writer reports: "the vast majority of Greek people has realized long ago that the "refugee" waves are not "innocent". We do not feel safe, although (thank god) we have not had (so far) tragic incidents as in Northern Europe. But we are fully aware that it is just a matter of time for this "cultural" or rather fundamentalist "bomb" to explode on our heads.

We do not like this situation and despite the mainstream media disinformation that "refugees" must be sheltered, we neither approve nor are in favor of the "islamisation" of Europe. We are actually preparing/ prepared for urban warfare as we know "refugees" attacks or clash can (and will) burst at any time." The fact that the leaflet refers to "the war" seems to prove that Islam is, in fact, waging a war against non-Muslim nations and the folks inside Islam already accept this as a fact. Why else would they say such a thing? If war is being waged, then it seems the folks on the wrong end of that war ought to be preparing themselves for it, rather than being told by politicians that the invader/warriors are "refugees" who need "help."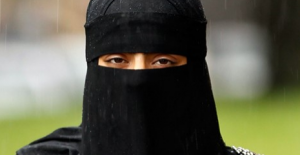 DATA: Young Muslims in the West Are a Ticking Time Bomb, Increasingly Sympathising with Radicals, Terror 03/23/16  Will the West ever wake up to the fact that the vast amount of Muslims will never assimilate into the culture, but want to destroy it and turn it into an Islamic state? This is an Islamic invasion of the West to destroy it, and millions of delusional people and politicians are embracing Islam!
As the West rejects the God of the Bible, Muslims and the Koran are filling the void. The Holy God of Israel has judged the West with Muslims, but the nations can't see it or believe it. They have been blinded for judgment.
With the West, it is suicide by Muslims, which is a slow and painful way to die.
Proverbs 16:25  There is a way that seemeth right unto a man, but the end thereof are the ways of death.
"An ICM poll from 2006 revealed that 20 per cent of British Muslims sympathised with the 7/7 bombers who brought terror to the streets of the British capital, killing 52 and injuring hundreds. This number rose to one in four British Muslims, according to NOP Research for Channel 4. With a British Muslim population of over 3 million today, that translates to roughly three quarters of a million terror-sympathising people in the UK. The number rises for younger British Muslims – a sure sign that radicalisation through schools, mosques, and prisons (often via Saudi-funded groups) is creating a long-term problem in Europe. Thirty-one per cent of younger British Muslims endorsed or excused the 7/7 bombings of 2005, with just 14 per cent of those over 45 doing so. Twenty-seven per cent of those polled in the United Kingdom say they had sympathy with the attacks on Charlie Hebdo – the French satirical magazine that published cartoons of the Muslim prophet Muhammed last year, with 78 per cent supporting punishment for the publication of cartoons featuring Muhammed and 68 per cent supporting the arrest and prosecution of British people who "insult Islam." And this number pales in comparison to global Muslim population figures.According to World Public Opinion (2009) at the University of Maryland, 61 per cent of Egyptians, 32 per cent of Indonesians, 41 per cent of Pakistanis, 38 per cent of Moroccans, 83 per cent of Palestinians, 62 per cent of Jordanians, and 42 per cent of Turks appear to endorse or sympathise with attacks on Americans or American groups."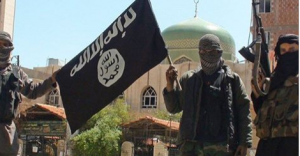 SOUTHCOM: 'Hundreds' in Latin America, Caribbean Have Joined Islamic State 03/22/16  The seeds of ISIS expansion are now being sown in Latin America. The final end of Islam is going to involve world-wide bloodshed. ISIS is spreading all over the world and wherever it is, there is tremendous bloodshed and violence. This is the spirit of Muhammad and the Koran.
"SOUTHCOM Commander Adm. Kurt Tidd, who oversees U.S security in Latin American and the Caribbean, spoke to reporters earlier this month about the ISIS threat to his area of responsibility (AOR).

"I would say it's in the hundreds, and right now, I want to be very, very careful to caveat the confirmed numbers that we continue to talk to is… between 100, 150 range," he told reporters on March 10, referring to the number of individuals from Latin America and the Caribbean who have traveled to join ISIS in Iraq and Syria. He continued: I would also say that we've got other people that have told us that the numbers they're tracking for their country is higher than what we've had. I don't want to get into numbers, that's not the important piece. It is, they are providing foreign fighters. At this point, it's [a] fighter flow from this region over to the main fights that ISIL is engaged in. I know that you are aware that one of the tactics that they've engaged in is to tell potential recruits if you can't come here, conduct attacks locally."
High Technology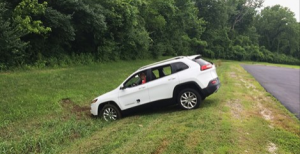 The FBI Warns That Car Hacking Is a Real Risk 03/22/16  This technology could be used by the government to stop any vehicle, or could be used by terrorists to wreck havoc.
This is extremely dangerous.
"It's been eight months since a pair of security researchers proved beyond any doubt that car hacking is more than an action movie plot device when they remotely killed the transmission of a 2014 Jeep Cherokee as I drove it down a St. Louis highway.Now the FBI has caught up with that news, and it's warning Americans to take the risk of vehicular cybersabotage seriously. In a public service announcement issued together with the Department of Transportation and the National Highway Traffic and Safety Administration, the FBI on Thursday released a warning to drivers about the threat of over-the-internet attacks on cars and trucks.The announcement doesn't reveal any sign that the agencies have learned about incidents of car hacking that weren't already public. But it cites all of last year's car hacking research to offer a list of tips about how to keep vehicles secure from hackers and recommendations about what to do if you believe your car has been hacked—including a request to notify the FBI. "Modern motor vehicles often include new connected vehicle technologies that aim to provide benefits such as added safety features, improved fuel economy, and greater overall convenience," the PSA reads. "Aftermarket devices are also providing consumers with new features to monitor the status of their vehicles. However, with this increased connectivity, it is important that consumers and manufacturers maintain awareness of potential cyber security threats."
Revelation 15:4  Who shall not fear thee, O Lord, and glorify thy name? for thou only art holy: for all nations shall come and worship before thee; for thy judgments are made manifest.