The Left's Latest Desperate Tactic – Smear Trump As 'Mentally Ill'
Verse of the Day
Romans 1:28-30 And even as they did not like to retain God in their knowledge, God gave them over to a reprobate mind, to do those things which are not convenient; Being filled with all unrighteousness, fornication, wickedness, covetousness, maliciousness; full of envy, murder, debate, deceit, malignity; whisperers, Backbiters, haters of God, despiteful, proud, boasters…
Commentary
The latest attack on President Trump is that he is mentally ill and should be removed from office! They are suffering from TDS (Trump Derangement Syndrome.) They are mentally ill, and that is caused by sin taking over their minds. The establishment is desperate because the President is destroying their corrupt system. They might try something that would push us into a Constitutional crisis.
They no longer can hide in their delusion and look at how they react! Remember, these are dangerous people who will resort to violence. It appears that the Lord is using President Trump to break them. He forges ahead and they wilt before the pressure.
May the Holy God of Israel bless and protect you.
1 Corinthians 15:58 Therefore, my beloved brethren, be ye stedfast, unmoveable, always abounding in the work of the Lord, forasmuch as ye know that your labour is not in vain in the Lord.
Hard Left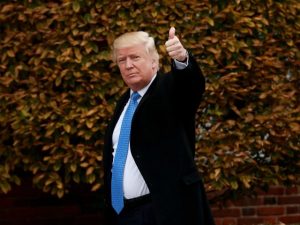 The Left's Latest Desperate Tactic – Smear Trump As 'Mentally Ill' 02/26/17  The latest attack on President Trump is that he is mentally ill and should be removed from office! They are suffering from TDS (Trump Derangement Syndrome.) They are mentally ill, and that is caused by sin taking over their minds. The establishment is desperate because the President is destroying their corrupt system. They might try something that would push us into a Constitutional crisis.
They no longer can hide in their delusion and look at how they react! Remember, these are dangerous people who will resort to violence. It appears that the Lord is using President Trump to break them. He forges ahead and they wilt before the pressure.
Proverbs 28:1 The wicked flee when no man pursueth: but the righteous are bold as a lion.

"Since President Donald Trump took office on January 20, a trend has been emerging in which news media outlets have featured articles quoting health care professionals questioning the billionaire's mental stability in a seeming bid to delegitimize the president.
And now some Democratic politicians – and at least one Republican – are calling for Trump to be subjected to a psychiatric examination to determine whether he is fit for office. Some commentators have even suggested invoking the 25th Amendment of the Constitution, which allows for the commander-in-chief's removal from office if the "president is unable to discharge the powers and duties of his office."
This comes after the left's multiple failed attempts to overthrow Trump's presidency, including the recount efforts supported by Hillary Clinton; a doomed campaign to get Trump's electors to defect before the Electoral College voted in December; and claims that Russian "hacking" impacted the 2016 election."
Understanding the Legality of Trump's Refugee Action 02/07/17  This is a really good article that explains the Federal judge's action in blocking President Trumps immigration order. It cleared it up for me completely.
"The Justice Department argued Monday that President Donald Trump had ample authority to impose a temporary ban on travelers from seven terrorism-compromised countries.
The department filed the written arguments to support its request that an appeals court overrule a federal judge in Seattle who put Trump's executive order on ice Friday. The states of Washington and Minnesota argue that Trump acted unlawfully.
"The state asks the courts to take the extraordinary step of second-guessing a formal national security judgment made by the president, himself, pursuant to broad grants of national security," the government's brief states.
The 9th U.S. Circuit Court of Appeals declined over the weekend to immediately reverse the temporary restraining order granted by U.S. District Judge James Robart, instead instructing both sides to submit written arguments. The appeals court scheduled oral arguments for Tuesday afternoon by phone.
The 9th Circuit has a reputation for liberalism and is the most-reversed appellate court in the country. But Dale Wilcox, executive director and general counsel at the Immigration Reform Law Institute, said Robart's ruling was so extreme that he believes even the 9th Circuit will not let it stand.
"His order did not contain any analysis whatsoever on these issues," he said. "That order is so far out of line with current law that I think even the 9th Circuit, though very liberal, would come down to the right decision."
Hard Left/ Islam
San Diego: Terror-linked Muslim Group's Islamic Indoctrination Training Hits Public Schools 02/08/17  In 1963, prayer and Bible reading were removed from the public schools. Now, in 2017, the Muslims, abortionists and homosexuals are in the public schools. The Lord was removed and the devil filled the void. No Christian should have their children in these schools.
Proverbs 22:6  Train up a child in the way he should go: and when he is old, he will not depart from it.

"In the heat of the 2016 campaign season, San Diego Unified board members voted to put together a plan to stop Islamophobia in schools. Part of that plan was in action Thursday — a week after President Donald Trump signed orders to temporarily ban travel from Muslim-majority countries and crack down on immigration.
Hanif Mohebi of the Council on American-Islamic Relations said he's been called to more than a dozen schools since the election in November to teach students and teachers how to handle bullying of Muslims. Thursday, his audience was a little different: Latino students at Logan Elementary School.
"Where you're sitting, I used to sit there," Mohebi said to the seventh- and eighth-graders. "And without my beard, I used to look exactly like you, and people used to think I'm Mexican. So I've heard all the negative stuff that they will say. And it hurts."
Iran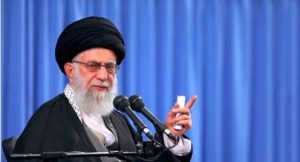 Khamenei Vows Trump Response on Iran Revolution Anniversary 02/07/17  The Muslims like to attack on the anniversary of historical events that are important to them. So, he might try pulling off something on February 10.
"Iran will respond to the growing hostility from President Donald Trump when it celebrates the anniversary of the 1979 Islamic Revolution this week, Supreme Leader Ayatollah Ali Khamenei said in his first public comments since the U.S. imposed new sanctions on his nation.
"He says, 'Be afraid of me,"' Khamenei said, referring to Trump in a speech to air force commanders and personnel posted on his website on Tuesday. "People will respond to this on the anniversary of the revolution with their presence in the streets, and they will show what stance the population takes in the face of threat." Iran marks the revolution that led to its Islamic Republic on Feb. 10."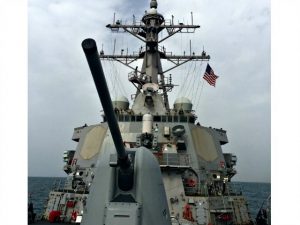 Arabian Gulf War Games 02/07/17  Iran will the lose the coming war, but will survive for the second round, which is found in Ezekiel 38,39. There is no doubt that war is coming between Iran and the USA. Iran will never back down because they believe allah is with them and Shiite Islam is going to rule the world.
Zechariah 14:9  And the LORD shall be king over all the earth: in that day shall there be one LORD, and his name one.

"As U.S. tensions with Iran rose last week, 17 ships from the United States, United Kingdom, France, and Australia launched a major war game just 50 miles from the Iranian coast.
Smack dab in the middle of the gulf, the ships steamed together in wedge formation in the first iteration of the exercise dubbed "Unified Trident."
Israel
UN: Israeli 'Settlements Law' Crosses Red Line, Opens Door For Annexation 02/07/17  The United Nations is about to find out that Israel is God's land and Jerusalem is his city. Wow, what a confrontation this is going to be.
Ezekiel 38:16  And thou shalt come up against my people of Israel, as a cloud to cover the land; it shall be in the latter days, and I will bring thee against my land, that the heathen may know me, when I shall be sanctified in thee, O Gog, before their eyes.

"The United Nations warned Israel on Tuesday that the new Settlements Law helps pave the way for the annexation of the West Bank.
It "opens the potential for the full annexation of the West Bank and therefore undermines substantially the two-state solution," the UN Special Envoy to the Middle East Peace Process Nickolay Mladenov told AFP.
"This is the first time the Israeli Knesset legislates in the occupied Palestinian lands and particularly on property issues," he told AFP.
"That crosses a very thick red line," he said and added that it also increased the possibly that the International Criminal Court would rule on the issue of West Bank settlements."
Homosexuality
UN Gay Rights Envoy: Religious Freedom 'Not an Absolute Right' 02/06/17  Read this very carefully because it states that they want to go after the children to indoctrinate them at an early age. He also lied about the acceptance of homosexuality. This is the reprobate mind put down in writing!
We are now protected from this, but if the Hard Left gains control, they are coming after whomever stands on the Bible for the Lord.
1 John 3:13  Marvel not, my brethren, if the world hate you.

"The United Nations envoy for gay rights has declared that when there is a clash between homosexual rights and religious liberty it must be recalled that "freedom of expression and religious freedom are not absolute rights and may be limited if necessary."
In a recent public consultation, the UN's newly appointed "independent expert" on the defense of LGTB rights, Vitit Muntarbhorn, said that negative moral judgments on homosexual activity were a recent phenomenon, stemming from "colonial law."
"More recently, in colonial law, or remnants of colonial law, gays were criminalized, are criminalized, even though beforehand they were not criminalized," he claimed during the Jan. 25 conference.
When challenged about the clash between LGBT rights and religious freedom by Henk Jan van Schothorst of the Transatlantic Christian Council, Muntarbhorn said that religious freedom is not absolute and must yield to homosexual rights.
"There are some absolute rights," he said in apparent reference to LGBT rights, "but there are some that are not absolute." He went on to explain that "freedom of expression and expression of religion" are not absolute rights and that they can be curtailed when necessary.
While praising a desire to engage with the "heart of religion," Muntarbhorn said this should be done "without the mythology overriding the heart of the religion."
The independent expert also emphasized the role of education so children can be "born and bred from a young age" with the right attitudes toward sexual orientation and identity, a practice that some have denounced as indoctrination or even "gender ideology" or "ideological colonization."
1.5 Million Christians Vow Not to Spend a Penny at This Retailer 02/09/17  This is great news. If we work together, we can break the back of the Hard Left corporations that advance the antichirst agenda. It looks like Target Stores might be going under because of the boycott. Target management is so hardened that it would not budge from its sexual perversion changing room policy.
"While some retailers in general have seen sagging sales, Target is experiencing its lowest stock price in two years, closing at just over 64 on Monday. And the American Family Association (AFA) says the more than 1.4 million shoppers who have signed its #BoycottTarget pledge since April are making a real difference.
"Target executives and marketing leaders thought the announcement of a misguided and potentially dangerous restroom and fitting room policy would make them the darling of the liberal and politically correct shopping world," said AFA President Tim Wildmon. "But in reality, the retailer alienated a huge number of families, with nearly 1.5 million people signing the #BoycottTarget pledge. Now, Target isn't growing at all, but instead, falling short in many areas.
The American Family Association will continue our boycott efforts just as strong in 2017, holding firm to our conviction that men have no place in women's restrooms and dressing rooms at Target—or anywhere else."
Earthquakes
Is another ash cloud about to cause travel chaos? FOUR of Iceland's volcanoes are on the brink of erupting 02/08/17  What you need to know about these volcanoes is that they all are pointed at Europe. If they blow, they will devastate Europe by choking the air and killing of all the crops. I think they will blow in connection with the Europeans touching Israel and Jerusalem.
"With 130 volcanoes – both active and inactive – Iceland is one of the most intensely volcanic places in the world.
An expert has now warned that four of the country's biggest volcanoes are priming to erupt, which could lead to travel chaos.
The volcanoes in question are Katla, Hekla, Bárðarbunga and Grímsvötn – three of which have already erupted in the last 20 years.
The warning follows the 2010's explosive eruption of Icelandic volcano Eyjafjallajökull, which caused more than 10 million air passengers to be stranded and cost the European economy an estimated £4 billion ($4.9 billion)."
Nightly Earthquake Update + Forecast — Europe under EQ watch + 3 new deep EQ locations 02/09/17  Dutch's earthquakes forecasts are the very best. He is getting better and better at his accuracy. I am in awe of how accurate he is. The problem is that his forecasts are about one hour long.
What I suggest is that you scan the post to find the area of the world you want. If you live in New Zealand, you MUST follow Dutch, because of a serious situation developing with earthquakes. Also, it is getting very serious with Italy. I'll let you know if he gives a serious warning about the USA.
Psalm 104:32  He looketh on the earth, and it trembleth: he toucheth the hills, and they smoke.
Psalm 35:20  For they speak not peace: but they devise deceitful matters against them that are quiet in the land.