The World's Most Wanted Terrorist
Verse of the Day
 Exodus 15:3  The LORD is a man of war: the LORD is his name.
Commentary
There is no doubt that Obama was behind this surveillance of President Trump. It all now is coming out in the open. We are in a battle for the soul of America. The Hard Left will try everything to remove President Trump from office. I believe that the Lord called and anointed him for the presidency, and all that attempt to destroy him will be dealt with by the Lord.  Wow, what a time we live in, as the spiritual warfare is right before our eyes.
May the Holy God of Israel bless and protect you.
Jeremiah 33:3 Call unto me, and I will answer thee, and shew thee great and mighty things, which thou knowest not.
Hard Left
The World's Most Wanted "Terrorist"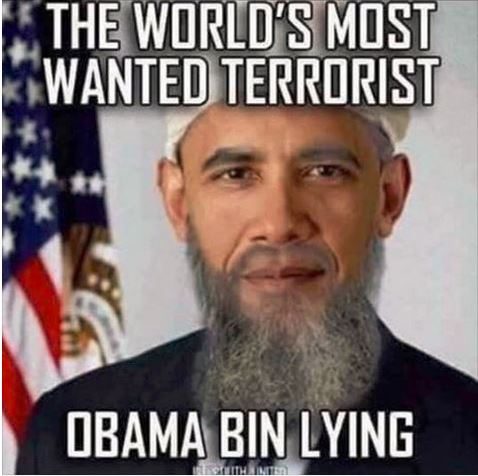 Tucker vs lawmaker who called feds 'Nazis' 03/22/17  Please take time to watch this. It is 10 minutes long. Tucker Carlson did a great job exposing the thinking of a Hard Left mind for all of us to see. These people are dangerous to themselves and to the nation. The problem is that there are untold numbers of them operating in all levels of government.
Hard Left/ American Politics
Coup Plans Discovered Inside State Dept Obama Sleeper Cells 03/23/17  This is a must watch video from Alex Jones Infowars about the Deep State attempted coup against President Trump. They are attempting this right before our eyes. The FBI Director lied before Congress about the President, and this is out in the open for everyone to see.
The CIA, FBI, NSA, etc. were surveilling him and then lied about it before Congress! This is an amazing to time to live, as we can see God arising in our midst and doing mighty things. You must pray for the protection of President Trump.
"Before Obama left office he made sure to leave behind operatives who would do their best to oppose and stop Donald Trump whenever possible."
World War 3/ North Korea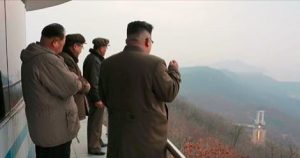 North Korea missile test ends in failure as projectile "explodes within seconds" of launch" 03/22/17  This is the latest update of what is happening with NK. This article comes from a news source that sometimes has vulgar pictures. It was clean when I looked at it to post.
"The latest missile launch ended in catastrophic failure as it appeared the projectile exploded within seconds, say US officials.
The launch made near the city of Wonsan, on North Korea's east coast, was detected by Japanese, South Korean and American systems, leaving those countries scrambling to find out more about the type of missile that was launched and why it failed.
Neighbouring countries were preparing for the possibility of additional launches after the failed weapons test.
North Korea has launched a series of tests in recent months, with Wednesday's launch coming after the nuclear-armed state claimed it had made a major breakthrough in its rocket programme."
North Korea/ Iran
Rex Tillerson's Warnings to North Korea Reached the Middle East 03/22/17  A short video with very good information on the connection between North Korea and Iran.
"Secretary of State Rex Tillerson's recent remarks that two decades of international diplomacy had failed to halt North Korea's nuclear weapons program and its missile testing not only made a splash in the Sea of Japan and in the Far East, they were very carefully noted in the Middle East as well.
For at least two decades now, North Korea has been acting behind the scenes to accelerate the Iranian ballistic missile program and perhaps many other parts of Iran's military industrial base. The first major Iranian ballistic missile – the Shahab-3 – was widely viewed when it was first tested in 1998 to be a knockoff of the North Korean Nodong missile. The missile became operational in the Iranian armed forces in 2003 and Iran today fields one of the largest missile forces in the Middle East, largely because of the help it received from North Korean engineers."
Islam – Jihad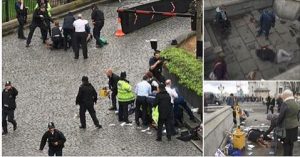 Britain: FOUR dead – including a policeman and a woman – and 20 injured as 'two terrorists' mow down people on Westminster Bridge before one is shot dead attacking police inside Parliament gates 03/22/17  This is the continued war against the West by the Muslims. The President is trying to protect us from them, and we must stand with him. The Hard Left mind is not going to bend on this and they will protect the Muslims until they have to submit to Sharia law, which they will do.
Revelation 21:8  But the fearful, and unbelieving, and the abominable, and murderers, and whoremongers, and sorcerers, and idolaters, and all liars, shall have their part in the lake which burneth with fire and brimstone: which is the second death.

"Four-wheel drive was driven over Westminster Bridge knocking down pedestrians this afternoon
Victims were said to have been left scattered in the road, with one woman knocked into the River Thames
Emergency services treated at least 20 injured people on the bridge, with one woman dead under a bus
'Asian' (code word for Muslim) knifeman got into the grounds of Parliament where he stabbed and killed a police officer
The 'middle-aged' attacker was then shot by armed officers and died after being taken to hospital
Police believe attacker to be a 'lone wolf' – but are refusing to rule out other people being involved
Parliament was suspended and the Prime Minister was rushed from the scene in her official car"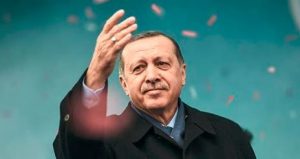 Erdogan warns Europeans' security at risk as EU feud rages 03/22/17  This is what Muslims do to weak infidels! The Muslims are trying to bring all of Europe under Islam! The Europeans are so weak that they are an easy target for the Muslims.
(Flash) There was just an attack against the British Parliament with many dead and injured. It has all the earmarks of a Muslim terrorist attack. Could this be connected to what Erdogan just warned about?)
"Turkish President Recep Tayyip Erdogan warned Wednesday that Europeans risk being unsafe on the world's streets, as a crisis between Ankara and the EU showed no signs of abating.
"If you continue to behave like this, tomorrow in no part of the world, no European, no Westerner will be able to take steps on the street safely and peacefully," Erdogan said during a speech in Ankara.
Erdogan did not expand on what he meant by his comments but appeared to imply that Europeans risked receiving the same treatment that, he says, is endured by Turks and Muslims in Europe.
Relations between Turkey and Europe have been severely strained since Turkish ministers were thwarted from campaigning on the continent for a 'yes' vote in next month's referendum on expanding Erdogan's powers."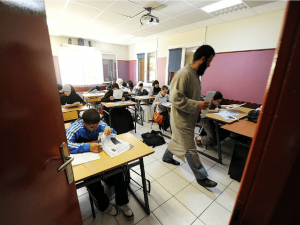 Third of France's Young Muslims Hold Fundamentalist Religious Views 03/22/17  I am surprised that the media let this out. I'm sure that it is the same in the USA, and even a higher percentage want Sharia law.
1 Thessalonians 4:16-17  For the Lord himself shall descend from heaven with a shout, with the voice of the archangel, and with the trump of God: and the dead in Christ shall rise first: Then we which are alive and remain shall be caught up together with them in the clouds, to meet the Lord in the air: and so shall we ever be with the Lord.

"A study looking at the prevalence of radical ideology among high school students has found that French Muslims are much more likely to tolerate violence and to hold fundamentalist religious views than other pupils.
The National Centre for Scientific Research (CNRS) study involved more than 7,000 students, aged between 14 and 16, who were studying at 21 schools and four academies in France.
Sociologists who conducted the survey, Anne Muxel and Olivier Galland, stressed the sample is not representative of French youth as a whole.
The schools included in the study are located in poor areas, with overrepresentation in the student body of pupils from working class backgrounds (41 per cent), students with immigrant backgrounds (38 per cent), and Muslims (25 per cent).
The CNRS reported that 11 per cent of respondents overall adhere to religious fundamentalism, which rises to 32 per cent among Muslim youths."
Israel/ The Coming Middle East War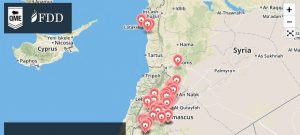 Hezbollah is preparing Syria as second battlefield against Israel 03/22/17  Israel always has to be prepared for war with Hezbollah, Syria and Iran. The big war is coming since Iran will bring the fight to Israel. Syria has a date with Isaiah 17, after which it will cease from being a nation.
Isaiah 17:1  The burden of Damascus. Behold, Damascus is taken away from being a city, and it shall be a ruinous heap.

"Hezbollah intends to wage its next war against Israel from deep within Syria, according to a report on a pro-Hezbollah news site last week.
The report, found on the web site Ya Sour, quoted Hezbollah sources saying the group intends to fire long-range projectiles at the Jewish state from the Qalamoun and Anti-Lebanon Mountain ranges, areas firmly under the Shiite group's control on both the Syrian and Lebanese sides of the border.
There is reason to suspect that Hezbollah has indeed built up a missile arsenal in those areas, particularly as the city of Baalbek, the heartland of its Beqaa Valley stronghold, lies nearby. Israeli airstrikes against the group in Syria have been concentrated in Qalamoun.
Moreover, a spokesman for the opposition's Syrian National Salvation Front, named Fahd al-Masri, said in Dec. 2016 that Hezbollah was nearing completion of a tunnel in the Zabadani valley linking these two areas. Hezbollah seeks to facilitate the transfer of weapons and "reinforce its presence in the strategically important areas" in the western Damascus countryside, which includes Qalamoun, according to al-Masri."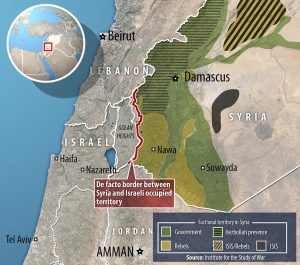 Israel Carries Out Two Strikes Against Assad Regime, Hezbollah Targets in Syria 03/22/17  Israel is not backing down from threats made by the Russians. This is a hot spot which could trigger the all-out war.
Zechariah 12:6  In that day will I make the governors of Judah like an hearth of fire among the wood, and like a torch of fire in a sheaf; and they shall devour all the people round about, on the right hand and on the left: and Jerusalem shall be inhabited again in her own place, even in Jerusalem.

"In the wake of threats by Israeli Defense Minister Avigdor Liberman, the Israel Air Force (IAF) carried out two strikes against Assad regime and Hezbollah targets in Syria on Sunday and early Monday morning. These latest airstrikes come only two days after an IAF raid on Hezbollah weapons shipments in Palmyra, and seemingly as a response to an attempt by the Syrian Air Defense Forces (SADF) to shoot down the attacking Israeli jets.
At approximately 3 PM local time, pro-regime news sources reported that the SADF's Golan Regiment was engaging an Israeli UAV over the town of Khan Arnabeh, in the Syrian Golan's Quneitra Governorate. Shortly after, Syrian army reports emerged claiming the Israelis targeted a vehicle traveling from the town on the road to Damascus, destroying the car and killing its driver, Yasser Hussein al-Sayyed, a SADF Golan Regiment commander. The second air strike reportedly occurred past midnight on Monday morning, with local sources claiming the Israelis targeted Hezbollah and SADF targets in the Qalamoun mountains, near the Syrian-Lebanese border. However, pro-regime sources were quick to deny that the strikes had occurred.
The strikes came mere hours after Liberman threatened to destroy Syria's air defenses "without any hesitation" the next time they fired on Israeli planes. He stressed that Israel was "neither for nor against [Syrian president Bashar] al-Assad," and had no desire for friction with the Russians in Syria. Israel's "main problem" he said, "is the transfer of game-changing weapons from Syria to Lebanon," which would reach Hezbollah. "Therefore, every time we identify a such a transfer, we will act to destroy these equilibrium-breaking weapons. There will be no compromise." Liberman's comments were echoed by IDF Chief of Staff Lt. Gen. Gadi Eizenkot, with similar threats against the government of Lebanon."

Philippians 4:7 And the peace of God, which passeth all understanding, shall keep your hearts and minds through Christ Jesus.