Thousands of Turkey coup prisoners 'raped, starved and hogtied'
Verse of the Day
Hebrews 13:3  Remember them that are in bonds, as bound with them; and them which suffer adversity, as being yourselves also in the body.

Commentary
Various sides and positions are polarizing, whether it's in Turkey or the United States. Because of that, violence is rising everywhere. That shouldn't be surprising because we were told this would occur in the last days. But that doesn't mean we should look at it with a casual eye and just shake out heads. There is torture, brutality and death occurring across the globe, and that is very real for those trapped in various situations and nations. They should be in our prayers as we intercede on their behalf.
Just because we aren't personally experiencing that level of suffering doesn't mean that we can afford to look away and forget. In the United States, what we appear to be seeing is a disintegration within the Democratic Party and the exposure of excessive corruption behind the scenes. Part of that comes from the desperation of those seeking to maintain power and to force their agenda for radical change on the nation. The Hard Left is ruthless in its pursuit of its aims, yet they appear to be stumbling. For that, we must thank God. But though it seems that we may be given a reprieve, we're seeing God's warning about judgment as well, and that too should drive us to our knees. We may be regaining some lost ground, but we haven't won a war. That still continues, and eventually it will become even more fierce.
May the Holy God of Israel bless and protect you.
Jeremiah 6:22-23  Thus saith the Lord, Behold, a people cometh from the north country, and a great nation shall be raised from the sides of the earth.
They shall lay hold on bow and spear; they are cruel, and have no mercy; their voice roareth like the sea; and they ride upon horses, set in array as men for war against thee, O daughter of Zion.
The Coming Middle East War
Thousands of Turkey coup prisoners 'raped, starved and hogtied' 07/24/16  More evidence that Erdogan is forging ahead with his plans to totally destroy any opposition to creation of an Islamic state and caliphate. This is reminiscent of the rule of the Three Pashas 100 years ago which resulted in the Armenian genocide. Over a million people died, and the Turkish brutality has been described as worse than that of the Nazis in WW2. After that horrific episode, the secular Turkish state was founded in place of the Islamic one.
"Turkish troops imprisoned after the failed military coup are being raped, starved and left without water for days, it is claimed.
Many of the 10,000 detainees are locked up in horses' stables and sports halls – some hogtied in horrific stress positions, according to human rights campaigners.
Amnesty International has called for immediate access to prisoners after the coup a week ago which sparked a brutal crackdown and a three-month state of emergency.
More than 200 died in the uprising which aimed to topple dictatorial President Recep Erdogan – and 1,500 were injured.
Amnesty says it has 'credible evidence' Turkish police are holding detainees in stress positions for up to 48 hours, denying them food, water and medical treatment and in the worst cases some have been subjected to severe beatings and torture, including rape."
American Politics/ Islam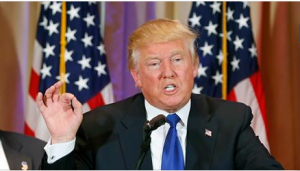 Trump Defends Muslim Ban — Constitution Doesn't Necessarily Give Us the Right to Commit Suicide 07/24/16  The hard left goes crazy over even the suggestion of banning Muslims or limiting immigration. But one look at Europe should be enough for anyone to see the common sense involved in such a policy. The Constitution and Sharia Law are not compatible. Islam isn't merely a religion; it's a political and social system as well, and one which wants to destroy our civilization and our own faith.
"Sunday on NBC's "Meet The Press," while discussing banning Muslims form certain territories, Republican presidential candidate Donald Trump doubled down on a claim he had made a week earlier in an interview with CBS's "60 Minutes" with his vice-presidential pick Gov. Mike Pence (R-IN), which was the Constitution was "great," but it didn't "necessarily give us the right to commit suicide."
Trump said, "I don't think so. I actually don't think it's a pull back in fact, you could say it's an expansion. I'm looking now at territories. People were so upset when I used the word Muslim. Remember this. I'm OK with that because I'm talking territory instead of Muslim. But just remember this, our Constitution is great, but it doesn't necessarily give us the right to commit suicide, OK? We have a religious, everybody wants to be protected, and that's great and that's a wonderful part of our Constitution. I view it differently. Why are we committing suicide? Why are we doing that? I live with our Constitution. I love our Constitution. I cherish our Constitution. We're making it territorial. We have nations and will come out with a number of the places and it's very complex."
American Politics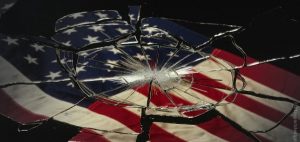 Hillary's 'Stronger Together' theme a joke, says 'Snapping' author 07/24/16  This story would be almost laughable if the thought of Hillary becoming president and continuing the trouble of the last 8 years wasn't so disturbing. The Democratic Party themes are identical to the agenda of the Communist party, which shows the real face of the hard left, and what Democratic elites have become, amidst their catchy slogans and political correctness.
"Just as the Republicans' convention theme was Donald Trump's signature "MAKE AMERICA GREAT AGAIN," the upcoming Democratic convention will likewise be trumpeting, with great fanfare, Hillary Clinton's new slogan: "STRONGER TOGETHER."
Just one problem, said bestselling author and WND Managing Editor David Kupelian, on the "Focus Today" television show: "What have the Democrats been doing for the last few years? They've been dividing everybody! Black against white, demonizing opponents, Republicans are all racists and homophobes and Islamophobes, misogynists and all those big words Hillary uses."
…Then, looking forward to the coming week, Kupelian observes: "If you want to get an idea of just how far to the left the Democrat Party is right now … go online to the Communist Party – forget the Socialist Party – the Communist Party USA, CPUSA.org."
"Do you know what they've got up there [on their website]? Their main themes?" asked Kupelian. "Stop the cops killing innocent black men, bashing Donald Trump and the GOP, global warming, stop Islamophobia, stop homophobia. It is a carbon copy, Perry, of today's Democratic Party."
American Politics/ Christianity/ Islam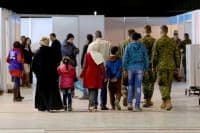 6,726 Syrian Refugees Admitted to U.S. So Far in FY16–But Only 23 Are Christians 07/25/16  Once again the Obama administration is demonstrating its love of the Muslims. There is violence and danger in Syria, especially for Christians, yet they are not being given asylum, while the number of Muslim refugees skyrockets – even though looking at the situation in Europe makes it clear where mass Islamic immigration leads.
"With ten weeks to go until the end of the fiscal year, the Obama administration continues to admit Syrian refugees at an accelerated pace, and has now exceeded two-thirds of President Obama's target of 10,000 by September 30.
The proportion of Christians among those resettled continues to languish below half of one percent, while other non-Sunnis account for just over one percent.
As of Monday, 1,515 Syrian refugees fleeing the civil war in their homeland had been admitted since the beginning of July, and a total of 6,726 since FY 2016 began on October 1, according to State Department Refugee Processing Center data.
Of the July arrivals, 1,501 (99.0 percent) were Sunnis, and three (0.19 percent) were Christians. The other 11 (0.72 percent) were other Muslims.
Of the 6,726 total Syrian refugee arrivals since the beginning of FY 2016, 6,625 (98.4 percent) were Sunnis and 23 (0.3 percent) were Christians – including 15 described simply as "Christian," five Catholics, two Orthodox and one Greek Orthodox adherent.
The remaining 78 (1.1 percent) comprised 49 refugees described in the data simply as "Moslem," 17 Shi'a Muslims, 10 Yazidis, one of "no religion" and one "other religion."
To reach its 10,000 target by September 30, the administration will need to admit average of 1,597 each month for July, August and September. With a week of this month to go, and 1,515 admitted as of early Monday, the July target looks to be easily within reach."
God's Final Warning – California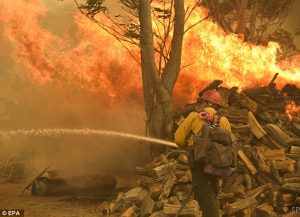 Fast-spreading wildfire north of Los Angeles prompts evacuations 07/25/16  This has the potential to hugely explode and become extremely serious. It's something we're going to watch closely because California is overdue for judgment. After 5 years of drought, the area is like a tinderbox and so far, only about 10% of it has been contained.
"Firefighters struggled on Sunday to contain a fast-spreading wildfire that killed at least one person, destroyed 18 homes, closed a highway and forced hundreds of evacuations in the drought-parched canyons north of Los Angeles.
The Sand Fire grew overnight to 22,000 acres (8,900 hectares), or more than 34 square miles (88 square km), fueled by high winds and parched conditions after years of drought.
It was threatening a string of small communities near Santa Clarita, just outside the Angeles National Forest, the Los Angeles County Sheriff's Department said in a statement.
A 10,262-acre (4,155-hectare) fire was also burning in a coastal area of Monterey County, 300 miles (480 km) northwest of Santa Clarita, prompting authorities to expand evacuation orders to several communities on Sunday afternoon, said Cal Fire spokeswoman Amber Anderson.
One person suffered non-life-threatening injuries and one structure was destroyed, Anderson said.
The Santa Clarita-area fire, first reported on Friday afternoon, has forced at least 1,500 residents to evacuate their homes and destroyed at least 18 homes, the Los Angeles County Fire Department said in a statement."
Islam – Jihad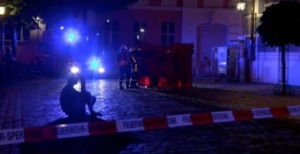 Bavarian bomber pledged allegiance to Islamic State: minister 07/25/16  Yet another terrorist attack in Germany attributed to Muslim immigrants, the fourth in just over a week. News reports say that Prime Minister Angela Merkel now is taking extreme heat for her policy which permitted over 1 million refugees to enter the country last year. The choice for Europe is becoming either submission to Islam or civil war.
"The Syrian who blew himself up in southern Germany, wounding 15 people, had pledged allegiance to Islamic State on a video found on his mobile phone, the Bavarian Interior Minister said on Monday.
On searching the bomber's room, Nuremberg police found diesel, hydrochloric acid, alcohol, batteries, paint thinner and pebbles – the same materials used in the bomb – and computer images and film clips linked to the militant group, they said.
"A provisional translation by an interpreter shows that he expressly announces, in the name of Allah, and testifying his allegiance to (Islamic State leader) Abu Bakr al-Baghdadi … an act of revenge against the Germans because they're getting in the way of Islam," Bavarian Interior Minister Joachim Herrmann told a news conference.
"I think that after this video there's no doubt that the attack was a terrorist attack with an Islamist background."
Islamic State claimed responsibility for the bombing, according to Amaq, a news agency that supports Islamic State…
The attack on Sunday, outside a music festival in Ansbach, a town of 40,000 people southwest of Nuremberg that has a U.S. Army base, was the fourth act of violence by men of Middle Eastern or Asian origin against German civilians in a week."
World War 3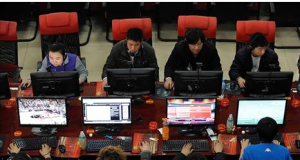 China Bans Internet News Reporting as Media Crackdown Widens 07/25/16  Why is China cracking down on the internet and any news sources aside from those officially sanctioned by the state? When considered along with all of the other recent news about how they are gearing up for war, it could be to keep the population in the dark and in line, to support their coming plans.
"China's top internet regulator ordered major online companies including Sina Corp. and Tencent Holdings Ltd. to stop original news reporting, the latest effort by the government to tighten its grip over the country's web and information industries.
The Cyberspace Administration of China imposed the ban on several major news portals, including Sohu.com Inc. and NetEase Inc., Chinese media reported in identically worded articles citing an unidentified official from the agency's Beijing office. The companies have "seriously violated" internet regulations by carrying plenty of news content obtained through original reporting, causing "huge negative effects," according to a report that appeared in The Paper on Sunday.
The agency instructed the operators of mobile and online news services to dismantle "current-affairs news" operations on Friday, after earlier calling a halt to such activity at Tencent, according to people familiar with the situation. Like its peers, Asia's largest internet company had developed a news operation and grown its team. Henceforth, they and other services can only carry reports provided by government-controlled print or online media, the people said, asking not to be identified because the issue is politically sensitive.
The sweeping ban gives authorities near-absolute control over online news and political discourse, in keeping with a broader crackdown on information increasingly distributed over the web and mobile devices. President Xi Jinping has stressed that Chinese media must serve the interests of the ruling Communist Party."

Psalm 140:1-3  Deliver me, O Lord, from the evil man: preserve me from the violent man;
Which imagine mischiefs in their heart; continually are they gathered together for war.
They have sharpened their tongues like a serpent; adders' poison is under their lips. Selah.