Tillerson: Russia Must Choose Between Assad and US
Verse of the Day
1 Thessalonians 1:10 And to wait for his Son from heaven, whom he raised from the dead, even Jesus, which delivered us from the wrath to come. 
Commentary
This is really good article on the confrontation with Russia. Just as before WW2 an axis of evil formed, and now we see it again. Hitler, Mussolini and Tojo formed a league to conquer the world and fight the allies.
Now we see Iran, parts of Iraq, Syria, Lebanon and Hezbollah creating an axis of evil, along with North Korea. Their aim is a Shiite-dominated Middle East and the destruction of Israel and America. The question posed to Putin: are you going to be part of this axis? Wow, it is as if the Lord is warning Russia or giving the Russians a chance to back out before the judgment. We know that the Russians make the wrong choice because this nation is destroyed in Ezekiel 38-39, when it tries to destroy Israel.
May the Holy God of Israel bless and protect you.
Revelation 19:9 And he saith unto me, Write, Blessed are they which are called unto the marriage supper of the Lamb. And he saith unto me, These are the true sayings of God.
World War 3
Tillerson: Russia Must Choose Between Assad and US 04/11/17  According to the Bible, Russia (Gog/Magog) is doomed. This will occur prior to the Second Coming of Jesus Christ.
Ezekiel 38:18-23  And it shall come to pass at the same time when Gog shall come against the land of Israel, saith the Lord GOD, that my fury shall come up in my face. (19-20) For in my jealousy and in the fire of my wrath have I spoken, Surely in that day there shall be a great shaking in the land of Israel; So that the fishes of the sea, and the fowls of the heaven, and the beasts of the field, and all creeping things that creep upon the earth, and all the men that are upon the face of the earth, shall shake at my presence, and the mountains shall be thrown down, and the steep places shall fall, and every wall shall fall to the ground. (21) And I will call for a sword against him throughout all my mountains, saith the Lord GOD: every man's sword shall be against his brother. (22) And I will plead against him with pestilence and with blood; and I will rain upon him, and upon his bands, and upon the many people that are with him, an overflowing rain, and great hailstones, fire, and brimstone. (23) Thus will I magnify myself, and sanctify myself; and I will be known in the eyes of many nations, and they shall know that I am the LORD.

"U.S. Secretary of State Rex Tillerson issued an ultimatum to Russia on Tuesday: Side with the U.S. and likeminded countries on Syria, or embrace Iran, militant group Hezbollah and embattled Syrian leader Bashar Assad.
As he embarked on a trip to Moscow following urgent meetings in Italy with top diplomats, Tillerson said it was unclear whether Russia had failed to take seriously its obligation to rid Syria of chemical weapons, or had merely been incompetent. But he said the distinction "doesn't much matter to the dead."
"We cannot let this happen again," the secretary of state said.
"We want to relieve the suffering of the Syrian people. Russia can be a part of that future and play an important role," Tillerson added in remarks to reporters. "Or Russia can maintain its alliance with this group, which we believe is not going to serve Russia's interests longer term."
Prepare for real war: Russia and Iran warn Trump they will retaliate militarily against US if it crosses their 'red line' again with attacks on Assad in Syria 04/09/17  This is ominous since events seem to be heading toward WW3 at a frightful speed. This war is NOT Armageddon, but it lights the fuse for it. As a result of WW3, the antichrist will rise to power, and all the end time events will come into play. Once this war starts, there is no way to stop it.
Daniel 12:9-10  And he said, Go thy way, Daniel: for the words are closed up and sealed till the time of the end. Many shall be purified, and made white, and tried; but the wicked shall do wickedly: and none of the wicked shall understand; but the wise shall understand.

"Russian and Iranian forces last night warned Donald Trump they would retaliate with military action if he launched more airstrikes on Syria.
In an ominous threat raising the prospect of war, they said the US President had crossed a 'red line' with his surprise missile bombardment on Bashar al-Assad's forces.
'From now on we will respond with force to any breach of red lines and America knows our ability to respond well,' the military chiefs said in a joint statement with Hezbollah.
The Russian Embassy in London last night suggested there could be 'real war' if Moscow is presented with an ultimatum over Syria.
But Boris Johnson will today lead a push for Russia to face tough new sanctions unless it withdraws its support for Assad."
Israel/ The Coming Middle East War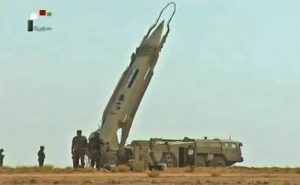 Syria Says It Will Rain Scud Missiles On Israel If Airstrikes Don't Stop 04/10/17  I have found some excellent military sites. Since I believe that the war in the Middle East is now very close, along with that North Korea, I'm going to closely monitor these sites and post really good articles. This will keep you on the cutting edge of what is happening.
Jeremiah 51:20-21  Thou art my battle axe and weapons of war: for with thee will I break in pieces the nations, and with thee will I destroy kingdoms; And with thee will I break in pieces the horse and his rider; and with thee will I break in pieces the chariot and his rider;

"Multiple outlets are reporting that Russia has delivered a message to the Israel government on behalf of Syria's Assad regime stating that any more Israel Air Force strikes into Syrian territory will be answered with a barrage of Scud missiles. In particular, it describes what will be targeted and why. If a Israel air strike hits civilian infrastructure, Syria will launch missiles aimed at Israel's port in Haifa as well as its nearby petrochemical plant. If strikes hit Syrian military-related targets, the Scud missiles will be targeted at Israel Defense Force bases.
The message brings a whole new level of potential escalation to what have been brewing tensions between Damascus and Jerusalem. It started on March 17th when Israeli warplanes were fired upon by Syrian surface-to-air missile sites after executing an air strike in southern Syria. The IAF had made dozens of similar bombing runs over the last five years, focused on taking out weapons shipments destined for Iranian-backed Hezbollah fighters in Lebanon. The Syrian SAMs missed their targets but one was intercepted by an Israel Arrow anti-ballistic missile system battery—a system that is designed to take out ballistic missiles like the Scud, not a Soviet-era SA-5 SAM."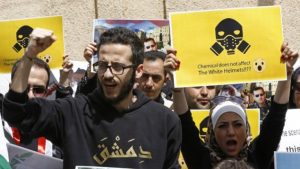 Protesting US airstrikes, Syrians chant 'Death to Israel' 04/11/17  According to the Bible, Damascus and Syria are doomed, with it never to be a nation again. This next war with Israel will be Syria's last.
Isaiah 17:1  The burden of Damascus. Behold, Damascus is taken away from being a city, and it shall be a ruinous heap.

"Dozens of Syrian students on Saturday gathered outside the offices of the United Nations in Damascus to protest a US missile attack on an air base. The protesters held banners and chanted "Death to America" and "Death to Israel."
One of the banners they carried read: "The Iraqi scenario will not be repeated in Syria." They were referring to the 2003 US-led invasion of Iraq after Washington accused Saddam Hussein of hiding weapons of mass destruction — a belief that later turned out to be incorrect."
The Coming Middle East War
ASSAD'S POLITICAL Chemical Warfare 04/10/17  I've had a difficult time figuring out why Assad used the chemical weapons, but now I understand what he was doing. He attacked a Sunni area that he wants cleansed for Shiites coming from Iraq. It appears that he wanted to use fear to drive out the Sunnis! This is all part of his plan to rule over Syria with new demographics.
So, in the end it was for ethnic cleansing: Shiites ethnically cleansing Sunnis! Think what they would do the infidel Christians and Jews!
Psalm 71:4  Deliver me, O my God, out of the hand of the wicked, out of the hand of the unrighteous and cruel man.

"ASSAD'S GAS delivery is part of a strategic vision. The location of the attacks this week, the town of Khan Sheikhoun, is just east of the Nusayriyah Mountains, the Alawite minority's stronghold east of Syria's Mediterranean coastline. At the same time, the town also sits smack on the M5 highway, Syria's most important artery, which runs from the Jordanian border through Damascus and Homs to Aleppo.
The gas attack and the hospital bombings that followed it are part of an ethnic-cleansing effort that is designed to chase Sunni populations to the east of this north-south axis and replace them with Shi'ite Arabs from Iraq.
The quest to remap Syria ethnically has been raised by Iranian negotiators in talks with the Syrian opposition. The Iranian rationale is clear. Having already consolidated its political grip on Baghdad, Tehran now wants to extend its reach to the Mediterranean, by cultivating a belt of predominantly Shi'ite communities checkered by an assortment of subservient non-Sunni minorities.
Assad's interest in this scheme is obvious. He will rule over a shrunken but much more cohesive Syria."
World War 3/ North Korea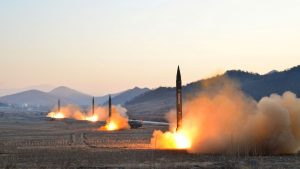 Nasty, brutish, and short—what the next Korean War will look like 04/10/17  This is a very informative article with great information about what a war with North Korea would look like. It would be a war of the high tech US against a low tech North Korea, with huge amounts of personnel and material. It most likely would be short and brutal.
"But at the same time, a conflict seems to be a growing possibility, with North Korea practicing to hit US bases in Japan and Trump boasting this month that "if China is not going to solve North Korea, we will." Trump and Abe spoke again (paywall) about the North Korean threat April 8.
Then, just days after the US launched its go-it-alone airstrike against the Assad regime in Syria, the US navy said it had diverted a carrier group led by the nuclear-powered USS Carl Vinson to steam toward the Korean peninsula. "The president has asked to be prepared to give him a full range of options to remove that threat to the American people and to our allies and partners in the region," H. R. McMaster, Trump's national security adviser, said on Fox News Sunday.
So it's worth asking: What might a conflict with North Korea actually look like?"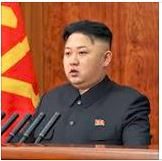 North Korea state media warns of nuclear strike if provoked as U.S. warships approach 04/11/17  The latest update on North Korea: any incident could start the war. If Kim Jong Un can use nuclear weapons, he will. I always have believed that NK was a puppet of China.
Revelation 22:20  He which testifieth these things saith, Surely I come quickly. Amen. Even so, come, Lord Jesus.

"North Korean state media on Tuesday warned of a nuclear attack on the United States at any sign of U.S. aggression as a U.S. Navy strike group steamed towards the western Pacific.
U.S. President Donald Trump, who has urged China to do more to rein in its impoverished neighbour, said in a Tweet North Korea was "looking for trouble" and the United States would "solve the problem" with or without China's help.
Tension has escalated sharply on the Korean peninsula with talk of military action by the United States gaining traction following its strikes last week against Syria and amid concerns the reclusive North may soon conduct a sixth nuclear test.
North Korea's official Rodong Sinmun newspaper said the country was prepared to respond to any aggression by the United States.
"Our revolutionary strong army is keenly watching every move by enemy elements with our nuclear sight focused on the U.S. invasionary bases not only in South Korea and the Pacific operation theatre but also in the U.S. mainland," it said.
South Korean acting President Hwang Kyo-ahn warned of "greater provocations" by North Korea and ordered the military to intensify monitoring and to ensure close communication with the United States."
Hard Left/ Homosexuality
Anti-Trump 'resistance' leader faces child-rape accusation 04/11/17  He is the mayor of Seattle, so we know that everyone in his administration is just like him or agrees with the Hard Left agenda. These are the only type of people he wants around him. It really looks like Seattle is fast heading to becoming a third world city. There is no way for this city but down.
Proverbs 11:11  By the blessing of the upright the city is exalted: but it is overthrown by the mouth of the wicked.

"Only three days before a 46-year-old man filed a lawsuit accusing him of child rape and "molestation," Seattle Mayor Ed Murray was featured in a national interview story as one of the faces of the Democratic Party's resistance to President Trump.
The Politico story April 3 said Murray was "positioning himself at the forefront of the pushback" to Trump.
His city had sued the federal government to stop the crackdown on "sanctuary cities," and he had teamed with Washington's governor and attorney general to oppose Trump's temporary travel ban, resulting in a ruling by a federal judge in Seattle to temporarily halt the president's executive order.
Murray, who is running for re-election this year, told Politico he was "beginning to think we're dealing with America's first authoritarian administration."
But last Thursday, a local man filed a lawsuit against the 61-year-old mayor, claiming Murray raped and molested him when the man was a teenager."
Hard Left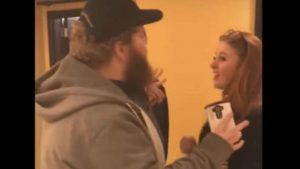 THREATS TO CONSERVATIVE STUDENTS 04/11/17  The Hard Left mind is very dangerous, and there is a progress to developing a reprobate mind. This mind will resort to violence when confronted with truth, finding no way to stop the truth.
In America we are way beyond the stage of violence. Many of the "teachers/propagandists" in these colleges are full blown reprobates, so they will justify and support the violence. As time goes on, I will be posting Romans 1 more and more. It is so fitting for what is happening to the American mind:
Romans 1:28  And even as they did not like to retain God in their knowledge, God gave them over to a reprobate mind, to do those things which are not convenient; Being filled with all unrighteousness, fornication, wickedness, covetousness, maliciousness; full of envy, murder, debate, deceit, malignity; whisperers, backbiters, haters of God, despiteful, proud, boasters, inventors of evil things, disobedient to parents, Without understanding, covenantbreakers, without natural affection, implacable, unmerciful:

"Whether it is female Republican students at places like St. Olaf College and Cornell University being accosted, cursed at, threatened with physical violence and, in the latter case, actually assaulted; Cal State Fullerton Trump supporting students being assaulted by an instructor; a riot at Berkeley; or College Republicans being targeted by name as "fascists" and encouragements made to make their personal information public so that decent folks can "punch fascists"—bullying, intimidation, and threats of violence against conservative students have become staples of campus life.
While this phenomenon is an outrage in itself, equally outrageous is the fact that it has been permitted to occur and recur.
It's inconceivable that college administrators and faculty would permit these outrages if white Republican conservative students were the perpetrators and their victims were, say, black, gay, or transgendered.
But because it is only conservative and moderate students who are being victimized by leftists, not only has no real action been initiated to stop these attacks. In some instances, faculty and administrators have even encouraged them."
Christianity/ Islam
Where should we pray?': Furious families of Coptic Christians killed in ISIS massacre blame Egyptian authorities for failing to protect them as victims of second Palm Sunday blast are laid to rest 04/10/17  This is the best article I found about the attack. Please don't think this just started with ISIS. For decades, the Christians have been under attack by the Muslims.
All churches in America should have security in place. If a church doesn't, the pastor is not protecting the sheep. If you go to church, ask the pastor about the security. If there is none, then demand it.

There are enough Muslims in America to wreck havoc and churches are really soft targets in which many could be killed. We must think like this now because America is not immune to the terrorism.
John 15:18  If the world hate you, ye know that it hated me before it hated you.

"Angry families of those killed in blast in Alexandria accused Egyptian authorities of failing to protect them
Many of them gathered at a monastery in Egypt's second city for an emotional funeral service this afternoon
Earlier, mourners gathered at Coptic Church of Mar Girgis for a funeral after suicide bomber killed 27 in Tanta
The terrorist slipped past security during the Palm Sunday mass and blew himself up near the altar
Second blast went off in St Mark's Cathedral in Alexandria about two hours later, killing 17 and injuring 48
Isis, which recently warned that it would step up violence against Egypt's Christians, claimed responsibility
Egyptian President El-Sissi has decided to declare a state of emergency for three months"
Islam – Sweden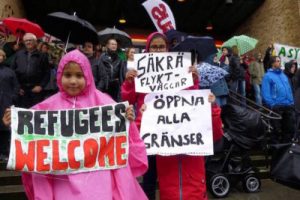 Dear Islamic terrorists, don't strike Sweden. It is already Eurabia. 04/11/17  At this point in time, it seems impossible for the Swedes to stop the Islamization of their country. It is so far gone, and something has died inside the vast number of Swedes. They seem to have lost the will to live and survive. They will submit to Sharia law sice they are already well down the road to it.
The Swedes hate Israel but love abortion and homosexuality, so the Lord has rewarded them with Islam.
Proverbs 28:5  Evil men understand not judgment: but they that seek the LORD understand all things.

"Please don't strike Sweden again. It has been already conquered. "Eurabia is a place in Sweden," as the Wall Street Journal once entitled an article.
Dear Islamic terrorists, you already have Gothenburg, Sweden's second city and a jihadist hub. That city has sent more terrorists per capita to fight with the Islamic State than any other city in Europe. So leave the Swedes in peace; they just boast of being pacifist and neutral.
In 1994, Sweden became the first country in the world in which half of the Parliament was composed of women. Since then it has broken all world records for gender equality. How did this experiment become the country that is second in the world in its number of rapes, second only to Lesotho? The Swedish Social Democratic paradise is an inferno of sexual attacks. But don't worry, dear Islamic terrorists: the multicultural Swedes are closing their eyes to the Muslim sexual attacks in their cities.
Don't worry about Israel, either: Jews are already leaving Malmö, and the Swedish government is the most anti-Semitic in Europe. Sweden was officially the first European country to recognize the "State of Palestine." Meanwhile, the churches of Sweden, the most atheistic country in Europe, are heading toward a hybridization of Christianity and Islam."

Ezekiel 38:16  And thou shalt come up against my people of Israel, as a cloud to cover the land; it shall be in the latter days, and I will bring thee against my land, that the heathen may know me, when I shall be sanctified in thee, O Gog, before their eyes.