Trump Derangement Syndrome (TDS) gone wild
Verse of the Day
Isaiah 57:20-21 But the wicked are like the troubled sea, when it cannot rest, whose waters cast up mire and dirt. There is no peace, saith my God, to the wicked. 
Commentary
The more the President stands up to and exposes the Hard Left for its lies, the more they are breaking. It appears that many in the Hard Left are now starting to break under the realization that the President won and his agenda can't be stopped. Just image what these people will be like in four years! The psychiatrists must be working 24/7 and the drug companies will have to to hire another shift just to keep up with the requests for drugs!
It looks like a mass psychosis now has taken over the minds of the Left, and they can't cope with reality. One of their delusions was smashed and they have no place to turn. This is really sad, but maybe as they start breaking, they will turn to the Lord.
May the Holy God of Israel bless and protect you.
Isaiah 26:3  Thou wilt keep him in perfect peace, whose mind is stayed on thee: because he trusteth in thee.
Hard Left/ American Politics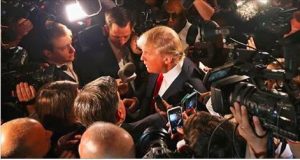 Trump Derangement Syndrome gone wild 02/21/17
"Those who claim to have diagnosed the syndrome say it is rapidly spreading, and, judging by its reported symptoms, recent evidence indicates it may have spread even to Fox News, after talk-radio star Rush Limbaugh called out one of the network's star for twisting the president's words.
The complaints about the president from the left appear to be growing increasingly fantastic. In just the last week, the New Republic has run articles speculating the president may have a more than 30-year-old case of untreated syphilis, and that he has "turned the GOP into the party of eugenics."
Dr. Steven Beutler wrote in the New Republic on Friday that "Trump's bizarre, volatile behavior" could not be diagnosed "from a distance," but then he goes on to diagnose the president from a distance as possibly suffering from untreated syphilis, perhaps contracted in the 1980s.
He claimed Trump has shown such symptoms of the potentially deadly disease as irritability, loss of ability to concentrate, delusional thinking, grandiosity, squinting, insomnia and impaired memory, insight and judgment.
Beutler warned, "The importance – both to Trump and the nation – of establishing or ruling out this diagnosis cannot be overstated."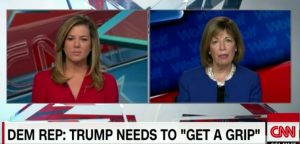 Democrats Suggest Invoking The 25th Amendment Unless Trump "Gets A Grip" 02/21/17
The total meltdown of the Hard Left continues. There delusion was smashed and they can't adjust to President Trump. They are frantic to have him removed from office!
Now they are trying to use the 25th Amendment to remove him!
Philippians 4:7  And the peace of God, which passeth all understanding, shall keep your hearts and minds through Christ Jesus.

"Rep. Earl Blumenauer (D-Ore.) in a floor speech this week called for a review of the Constitution's procedures for removing a president. He warned the 25th Amendment of the Constitution falls short when it comes to mental or emotional fitness for office.
Sen. Al Franken (D-Minn.) during a weekend interview with CNN's "State of the Union" said that "a few" Republican colleagues have expressed concern to him about Trump's mental health.
And Rep. Ted Lieu (D-Calif.) plans to introduce legislation that would require the presence of a psychiatrist or psychologist in the White House.
Justifying their questions by pointing to Trump's habit of making demonstrably false claims.
"It's not normal behavior. I don't know anybody in a position of responsibility that doesn't know if they're being rained on. And nobody I work with serially offers up verifiably false statements on an ongoing basis,"
And now that narrative has grown louder as CNN's State of The Union just discussed invoking the 25th Amendment unless President Trump "gets a grip"
Islam/ American Politics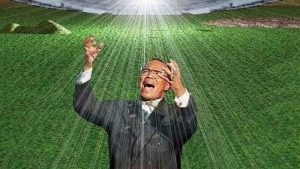 DETROIT DEMOCRATS ATTEND ANTI-SEMITIC SPEECH BY NATION OF ISLAM LEADER 02/21/17  I already posted about this, but at the time I did not know that Democratic party memebers had flocked to the meeting. Look at how fast the Democratic Party is being merged with the Muslims! They rejected the Lord, so now they are getting allah. We can see the Lord's judgments all around us!!!
Joshua 24:15  And if it seem evil unto you to serve the LORD, choose you this day whom ye will serve; whether the gods which your fathers served that were on the other side of the flood, or the gods of the Amorites, in whose land ye dwell: but as for me and my house, we will serve the LORD

"On stage with Farrakhan during his speech were some local religious and political leaders, including Detroit City Council President Brenda Jones, and state Sen. Bert Johnson, D-Highland Park.
An assistant to Detroit Mayor Mike Duggan also spoke, reading a city proclamation for Saviours' Day.
Speaking at the event, Jones praised members of the Nation of Islam, urging them to help rebuild Detroit, which Farrakhan has called for in recent years.
"We need your help," Jones said to the crowd. "Come home. Build your house here."
As is usual, Farrakhan attacked the Jews during his bigoted rant.
Farrakhan also said, "I want to disabuse the Jews today of the false claim that you are the chosen of God."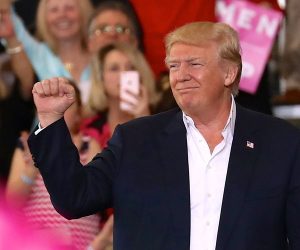 Trump Blasts 'Fake News Media' Over Sweden Flap 02/20/17  If you follow my posts, you might recall how I've followed what the Muslims are doing to Sweden. This nation leads the charge against Israel, while the Lord is sending huge numbers of Muslims into the nation for judgment. These Muslims are wrecking havoc with crime and raping the "infidel women."
The President mentioned this Friday night and the fake media went ballistic. It is true what he said, but the great news is that huge numbers of Americans are now aware of what the Muslims are doing to Sweden. Americans must be made aware of what the Muslims are doing to Europe, because when they have the numbers they will try and do the same things in America.
"President Donald Trump continued his assault on the "fake news media" Monday morning. He took to Twitter at 9:15 a.m. over news coverage of the impact of immigration in Sweden.
Monday's tweet followed Trump's post from the night before, in which he clarified his remark Saturday, made in the context of past terror attacks in Europe: "Look what's happening last night in Sweden."
A White House spokeswoman said Trump was "talking about rising crime and recent incidents in general and not referring to a specific incident."
But on Twitter, Trump made reference to something he saw on Fox News Channel. It appears Trump was referring to Fox host Tucker Carlson's interview on Friday night with filmmaker Ami Horowitz, who made a documentary about refugees in Sweden.
Carlson's report said Sweden had accepted more than 160,000 asylum-seekers last year but that only 500 of the migrants had found jobs in Sweden, and went on to say that a surge in violence had followed."
Islam/ As Sweden Has Done to Israel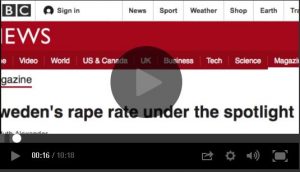 Sweden now rape capital amidst Muslim immigration 02/21/17  This is a very insightful video which we'd encourage you to watch. Unfortunately it can't be embedded here, so you'll have to go to the linked page to view it – but it's worth it because it has such good reporting. Rape was unheard of in Sweden until the Muslims came. Stockholm now is known as the rape capital. Because the rapes involve Muslims, the Hard Left in Sweden and America rush to deny it is happening and to protect the Muslims.
It is common for Muslims to rape the "unbelieving" women wherever they mix. This goes back to Muhammad and early Islam. The Europeans are so weak-minded and defeated that they are unable to stand against the Muslim invaders. Let us hope that the Americans are not as weak-minded as the Europeans.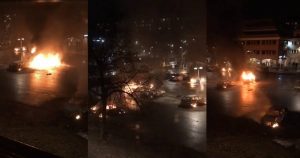 Trump Was Right': Migrants Riot, Loot, Fight With Police And Set Cars On Fire In Sweden 02/21/17  God has a sense of humor. Just as the Hard Left both in America and Sweden denounced President Trump for commenting on all of the Muslim crime in Sweden, riots broke out! The President was 100 percent correct about what the Muslims are doing in Sweden.
If you have followed my postings, you will know I report on the disintegration of Sweden both as a nation and in its culture! Sweden is under God's judgment for rejecting him and being the leading nation coming against Israel. The more Sweden comes against Israel, it seems the more Muslims God sends for judgment!
Psalm 34:21  Evil shall slay the wicked: and they that hate the righteous shall be desolate.

"While the media was busy Monday trying to dismiss Trump's claims of troubles in Sweden, riots were breaking out in the immigrant suburb of Rinkeby in Stockholm.
It is now very unsettled in the immigrant suburb of Rinkeby in Stockholm. Police officers have been subjected to stone throwing, warning shots have been fired, shops have been looted, shopkeepers are beaten and several cars on fire. A huge police operation at the site.
The unrest will begin at 20:18 in connection with a police patrol will arrest a wanted person at the metro station in Rinkeby.
– Then it pops up a number of people starts throwing stones at police. The police feel repressed as the fires warning shots. A policeman hit on the arm by a thrown stone, and it is unclear injured mode right now, says Lars Bystrom at Stockholm police for free times."
The Coming Middle East War/ Israel
Saudi Arabia and Israel issue twin warnings on Iran 02/21/17  This is a giant step for bringing the two together. This statement shows just how serious the threat is from Iran. I can see a coalition forming against Iran. In the end, the Arabs will unite for an all-out war against Israel. They will fail, but I believe that this war will light the fuse to Armageddon.
Revelation 16:16  And he gathered them together into a place called in the Hebrew tongue Armageddon.

"Defense Minister Avigdor Liberman and Saudi Foreign Minister Adel al-Jubeir each highlighted Iran as the main threat to regional stability on Sunday at the Munich Security Conference but fell short of saying they would cooperate to thwart Tehran.
Highlighting the extent to which the two countries' views of Iran concur, each speaker cast Iran as a threat to the existence of his country; said the 2015 nuclear agreement had not moderated its behavior; and called for a tough international role – including economic pressure – to confront the Islamic Republic's ambitions.
Saudi Arabia retained its caution about being identified with Israel. While Liberman called for an alliance with Sunni states, Jubeir did not directly respond when asked if he envisions a coalition with Israel against Tehran."
Islam/ Christianity
US Mosque Holds Memorial For Jihad Assassin Who Murdered Pakistani Governor Because He Opposed Blasphemy Law under Sharia 02/21/17  This is REAL Islam! This mosque is celebrating the death of an assassin who murdered a Muslim reformer. The governor was trying to protect a Christian woman, Asia Bebe, who was sentenced to death for giving a public witness for Jesus!
If the Muslims in this mosque were in charge, they would be doing to us what they are doing to Asia Bebe. This is state sponsored terrorism based on the Koran! This is real Islam in action.
1 Thessalonians 5:23  And the very God of peace sanctify you wholly; and I pray God your whole spirit and soul and body be preserved blameless unto the coming of our Lord Jesus Christ.

"Just to be clear, this jihad assassin was not your run-of-the-mill everyday Islamic savage. No, Mumtaz Qadri shot Muslim reformer Salman Taseer, a governor of Pakistan who supported repealing the death penalty for blasphemy under Islam.
This is why we don't see more Muslim reformers. Not only are they targeted for death, but they are celebrated by "moderates" here in America. Taseer dared to oppose the blasphemy law that Muslims in Pakistan have used for years now to persecute and attack Christians. This is the sharia behind the Charlie Hebdo slaughter and the multiple death attempts on my life.
And a Maryland mosque is mourning the devout murderer. A Maryland-based mosque held a memorial celebration Sunday for an Islamist assassin who was convicted of murdering a Pakistani governor for criticizing the country's blasphemy laws.
The Gulzar E Madina mosque hosted an "Urs" for convicted murderer Mumtaz Qadri, reported Ehsan Rehan of the Rabwah Times, a Pakistan-based news agency. Urs is a traditional death anniversary usually reserved for Sufi saints celebrated by Muslims in South Asia.
A Pakistani high court charged Qadri with murder after he killed Salman Taseer, the former governor of Pakistan's Punjab province. Qadri, who was part of Taseer's bodyguard, shot him 27 times with an AK-47 assault rifle in the middle of a market in the Pakistani capital of Islamabad. Qadri surrendered to police immediately, Taseer died of his wounds.
Qadri said he killed Taseer in response to the governor's defense of Asia Bibi, a Christian woman who was convicted of blaspheming the prophet Muhammad after an argument erupted when she brought water to a female Muslim coworker."
American Politics/ Israel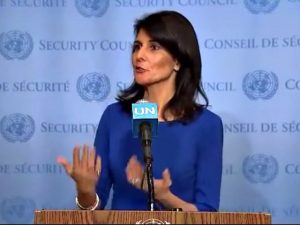 UN Ambassador Nikki Haley Rips Security Council's 'Breathtaking' Anti-Israel Bias 02/20/17  This is so exciting, watching the Trump administration bringing truth to the lying, Israeli-hating United Nations. They must have seethed with hatred when Haley laid the truth out before them. This is so good, and I soak it all in with joy. Imagine the truth being spoken to the delusional UN!
"United States Ambassador to the United Nations Nikki Haley issued a scathing criticism of the UN Security Council over their "anti-Israel" bias on Thursday after emerging from her first regular monthly meeting at the international body.
"I have to admit; it was a bit strange," Haley said of the council's agenda.
The former South Carolina governor noted that while it is the UN Security Council's mission to discuss ways to maintain international peace and security, their meeting on the Middle East failed to address some of the region's most pressing issues — namely, Hezbollah's illegal buildup of rockets in Lebanon, the money and weapons the Iran regime is supplying to its terrorist entities throughout Latin America and the Middle East, ways to defeat the Islamic State, and how to hold Syrian dictator Bashar al-Assad accountable for the deaths of hundreds of thousands of his countrymen.
"Instead, the meeting focused on criticizing Israel, the one true democracy in the Middle East," Haley said. She added that while she is "new" to the United Nations, she is well-seasoned in her understanding of the UN Security Council's generations-long bias against Israel. "I'm here to say the United States will not turn a blind eye to this anymore," she said. "I'm here to underscore the ironclad support of the United States for Israel."
She called out the "breathtaking" double standards inherent in the Security Council."
New World Order – World Government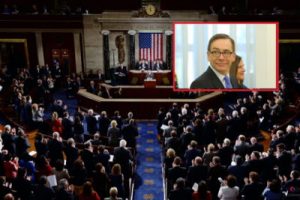 Lawmakers probe US embassy funding George Soros groups 02/21/17  President Trump's blessings never cease! Imagine George Soros' criminal organizations all closed and him in jail! He has to be the most evil man in the world, and all we want is for the Lord to bring him to justice.
Revelation 22:20  He which testifieth these things saith, Surely I come quickly. Amen. Even so, come, Lord Jesus.

"Leading Republican House representative Christopher Smith announced an investigation in the activities of the US Embassy in Macedonia, and the allegations that it has acted in an openly partisan way in the past years, supporting the left wing SDSM party. The call comes after the Embassy failed to respond to a letter signed by Smith and five other GOP representatives, who demanded answers over meddling in domestic politics, but also over Embassy funding for activities of the George Soros led Foundation Open Society Macedonia.
"The US Ambassador should have absolutely no role in forming a Government and taking sides in putting together a coalition. That is not the place of the United States of America or its representative in Skopje. I asked specific questions in this letter. We asked, the group of members of the House of Representatives whether or not there was any collaboration with the center-left parties on when elections should take place. We should have no role in that! We should be talking about free and fair elections, unfettered access to the media, but in no way should we take sides. So, if this Ambassador has taken sides, he should be fired! He should be fired immediately!", representative Smith told the Macedonian Television correspondent in Washington D.C.
Representative Smith reacts following numerous reports that the US Embassy has extended significant funds to activities of NGO groups associated with the Soros network. According to Smith, if the US Government gives funding to NGO activities, they should go to non-partisan and neutral groups, and not to the Soros led groups for whom there are long-standing allegations that they are coordinating their actions with the social-democratic SDSM party."

Titus 1:16  They profess that they know God; but in works they deny him, being abominable, and disobedient, and unto every good work reprobate.