TRUMP FIRES WARNING SHOT: Slams Crooked Hillary, FISA Abuse and Mueller 'Witch Hunt' – WARNS=> "STAY TUNED
Verse of the Day
Proverbs 11:5 The righteousness of the perfect shall direct his way: but the wicked shall fall by his own wickedness.
Commentary
It really does appear that President Trump is getting ready to move against Mueller and DC Swamp that put him in power. I hope he uses military tribunals to drain the DC swamp and destroy the deep state.
This is starting to get very exciting as it feels the President is about to go on the offensive! What a time we live in. I hope that draining the swamp also means breaking every pedophile ring operating in it!
We need revival for survival and now.
Galatians 6:7,8 Be not deceived; God is not mocked: for whatsoever a man soweth, that shall he also reap.For he that soweth to his flesh shall of the flesh reap corruption; but he that soweth to the Spirit shall of the Spirit reap life everlasting.
Draining the DC Swamp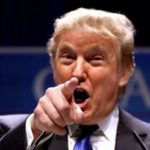 "TRUMP FIRES WARNING SHOT: Slams Crooked Hillary, FISA Abuse and Mueller 'Witch Hunt' – WARNS=> "STAY TUNED!"
"President Trump fired a warning shot Thursday after slamming Mueller's illegal witch hunt, Crooked Hillary and FISA abuse. "Stay tuned!" warned President Trump. This warning from the President comes on the heels of one of his personal attorneys, Rudy Giuliani saying the witch hunt is about to blow up in the faces of the Deep State plotters.

Investigative reporter, Paul Sperry also just warned the President is about to declassify the Carter Page FISA renewal app signed by Rod Rosenstein and a tranche of Bruce Ohr docs. Here we go…

Trump tweeted: This is an illegally brought Rigged Witch Hunt run by people who are totally corrupt and/or conflicted. It was started and paid for by Crooked Hillary and the Democrats. Phony Dossier, FISA disgrace and so many lying and dishonest people already fired. 17 Angry Dems? Stay tuned!"
War: Israel vs Gaza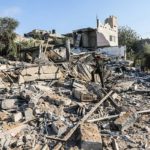 "IDF says war in Gaza approaching, communities near Strip could be evacuated" Hamas is pushing for a war. Israel does not want the war, but it appears there is no choice. In the past, Israel stated the next war with Hamas will be the last. Hamas works closely with Iran, so it appears that Iran gave the go ahead for war.
Zechariah 12:6 In that day will I make the governors of Judah like an hearth of fire among the wood, and like a torch of fire in a sheaf; and they shall devour all the people round about, on the right hand and on the left: and Jerusalem shall be inhabited again in her own place, even in Jerusalem.

"A senior army official warned Thursday morning that Israel was nearing a full-blown military confrontation in the Gaza Strip after hundreds of rockets were launched overnight by Palestinian terror groups, adding that the government could begin evacuating communities near the coastal enclave in preparation. "We are rapidly nearing a confrontation," the IDF senior officer said, speaking on condition of anonymity. "Hamas is making serious mistakes, and we may have to make it clear after four years that this path doesn't yield any results for it and isn't worth it."

Authorities said over 150 rockets and mortar shells were launched at Israeli communities since Wednesday evening. The barrages by the Hamas terror group continued throughout the night and into Thursday.
Warning: Hard Left Hatred for Christians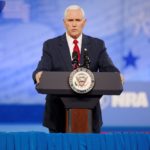 "The New York Times' Hit Piece On Mike Pence Is Anti-Christian Bigotry, Plain And Simple" Most on the right don't understand the position of the NY Times with the Hard Left thinking. To the Left, it is like their Bible. It is the flagship of the Left; therefore, whatever the NYT prints is very important for us to understand.
This article fits a pattern against Christians and white males in particular. Just the other day, the Times hired an Asian racist named Sara Jeong. She calls for the killing of the police and directly attacks white males. She did not narrow the attack on white Christians males, but I'm sure this is on the way.
Now this vicious attack on Vice President Pence. It is not only an attack on him personally but also on his beliefs. The actions of the Times is now signaling to the Hard Left it is time to focus on white Christian males as the source of all evil in America. The reprobate minded people following the Times have gotten this message loud and clear.
I told you over and over that the Hard Left loathes and despises us as much as the Nazis did the Jews. They are taking the fight to us. Right now, we have President Trump for cover, but that doesn't mean there could be trouble all over the nation, especially in Hard Left strongholds.
We need revival for survival and now.
Revelation 16:5 And I heard the angel of the waters say, Thou art righteous, O Lord, which art, and wast, and shalt be, because thou hast judged thus. (6) For they have shed the blood of saints and prophets, and thou hast given them blood to drink; for they are worthy.

"The New York Times' Frank Bruni really upped his game this week. In an atrociously brutal piece, he called Vice President Mike Pence a "holy terror," claiming he's multiple degrees more sinister than President Trump, the otherwise most sinister person on the planet. Bruni actually warns the best case against impeaching Trump is the much greater danger of Pence.

So what makes Pence so evil, other than the fact that he is, as Bruni has it, "self-infatuated," "a bigot," a "liar" and "cruel"? Pence's original and most damning sin is that he's a Christian who actually believes what Christians actually believe. Imagine that.

Bruni adds that Pence is a greater threat to the universe than Trump because he holds, "…the conviction that he's on a mission from God and a determination to mold the entire nation in the shape of his own faith, a regressive, repressive version of Christianity."
Christianity in America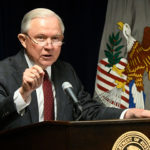 "Jeff Sessions Calls Out SPLC; Conservative Leaders Optimistic FBI Will Cut Ties" Maybe Sessions can help stem the tide of hatred toward the church. Anything he does can help. This is all part of President Trump keeping his promise to the believers while he was running for President.
"Attorney General Jeff Sessions criticized the left-wing Southern Poverty Law Center (SPLC) by name Wednesday as he spoke at the Religious Liberty Summit of the Alliance Defending Freedom (ADF), the successful Christian public interest law firm the SPLC designates a "hate group."

The ADF earned its SPLC "Anti-LGBT Hate Group" designation after a string of Supreme Court victories that enraged the far left, most notably the successful defense of a Christian Colorado baker who refused to adorn a cake with phrases condoning homosexual marriage in this year's Masterpiece Cakeshop v. Colorado Civil Rights Commission.

His address to the ADF summit included Sessions first public mention of the SPLC since Fox News's Tucker Carlson revealed the group's ongoing, but ill-defined, relationship with the FBI last month. Just days after that report, on July 30, the attorney general seemed to make oblique reference to the SPLC as he announced his new DOJ Religious Liberty Task Force. "We have gotten to the point where … one group can actively target religious groups by labeling them a "hate group" on the basis of their sincerely held religious beliefs," Sessions said."
California Fire Update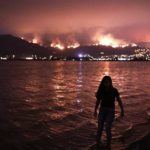 "14,000 fight California fires, some from prisons or overseas" This is just an update on the fires. I expect that come September when the Santa Ana winds hit, the fires will really grow enormous. This winds can grow to 70 mph for days on end.
We need revival for survival and now.
Psalm 107:33,34 He turneth rivers into a wilderness, and the watersprings into dry ground; A fruitful land into barrenness, for the wickedness of them that dwell therein.

"Firefighters said for the first time Wednesday that they have made good progress battling the state's largest-ever wildfire but didn't expect to have it fully under control until September. The blaze north of San Francisco has grown to the size of Los Angeles since it started two weeks ago, fueled by dry vegetation, high winds and rugged terrain that made it too dangerous for firefighters to directly attack the flames now spanning 470 square miles (1,217 square kilometers).

Crews, including inmates and firefighters from overseas, have managed to cut lines around half the fire to contain the flames, the California Department of Forestry and Fire Protection said. The blaze about 100 miles (160 kilometers) north of San Francisco around the resort region of Clear Lake has destroyed 116 homes and injured two firefighters."
Hard Left: Destruction of Children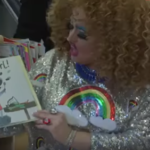 "K-12 Schools Bringing In Drag Queens To Teach Gender Ideology" The "drag queen" declares to the children there is no such thing as boys and girls! What a revelation this to the world!
This is all part of God turning the Hard Left over to reprobate minds and delusions, but the sad part is the children are being corrupted. Their parents are letting the devil right at them. The children have no defense against satan and will be corrupted at a very early age.
Luke 17:1 Then said he unto the disciples, It is impossible but that offences will come: but woe unto him, through whom they come! (2) It were better for him that a millstone were hanged about his neck, and he cast into the sea, than that he should offend one of these little ones.

 "K-12 schools are bringing drag queens into the classroom to teach gender ideology, a Thursday video revealed. Teachers are praising "Drag Queen Story Hour," according to a clip released by videographer Sean Fitzgerald and the David Horowitz Freedom Center. The program "captures the imagination and play of the gender fluidity of childhood and gives kids glamorous, positive, and unabashedly queer role models."

Maurice Sendak Community School, a public school located in Brooklyn, New York, hosted a drag queen and first grade teacher Alexis Hernandez marveled at the event in a testimonial published on Drag Queen Story Hour's website.

"Drag Queen Story Hour gave my first graders a fun and interactive platform to talk and think about social and emotional issues like acceptance, being yourself, and loving who you are," Hernandez said. "During our debrief … [students] were preaching the incredible lessons they had learned, like 'it's OK to be different,' and 'there's no such thing as "boy" and "girl" things.'"
B. Hussein Speaks out in Foreign Countries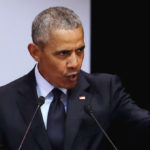 "Obama Officially Backs 'White Genocide' in South Africa The problem is along with this law massive genocide is happening to the white farmers. The white farmers are fleeing to Russia which means a disaster for SA. It means a collapse of its food supply and increased poverty.
In 2008, Mugabe of Zimbabwe did the same thing to the white farmers. Overnight the nation went from food exporting to food importing. This was a total disaster for the nation. In 2017, the white farmers were invited back to try and get the food supply stabilized. It will take time.
"Former US President Barack Obama has officially endorsed South Africa's leaders for introducing new laws to seize land from White farmers. The South African Government amended the country's constitution this week, allowing for the seizure of farmland owned by White people, without compensation.

On Tuesday, South Africa's President Cyril Ramaphosa vowed to confiscate farmland owned by the White farmers since 1600s, and "return" it to the country's Black population, by introducing a constitutional amendment in parliament. Race killings and violent land grabs have reached epidemic levels in the country, with some referring to the crisis as "White genocide."
Revelation 22:20 He which testifieth these things saith, Surely I come quickly. Amen. Even so, come, Lord Jesus.