Trump: Israel should keep building in Judea and Samaria

                               Verse of the Day
Obadiah 1:15 For the day of the LORD is near upon all the heathen: as thou hast done (to Israel), it shall be done unto thee: thy reward shall return upon thine own head.
Commentary
Now that Donald Trump is the Republican candidate for president, I want to watch him closely. We all know what Clinton represents, so there is not much sense in reporting on her.
With Trump there are three main issues, abortion, the homosexual agenda and Israel. There are other issues that are important to the nation, but these three are what triggers God's judgment on a nation.
Initially, Trump said something about Israel that did not sit well with me. Lately, he has been saying all the right things. I hope that he fully supports Israel and stops this crazy two-state solution, which every president since George H.W. Bush has pushed on Israel.
May the Holy God of Israel bless and protect you.
Genesis 12:3 And I will bless them that bless thee, and curse him that curseth thee: and in thee shall all families of the earth be blessed.
American Politics – Israel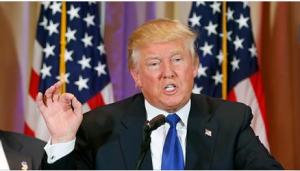 Trump: Israel should keep building in Judea and Samaria 05/03/16  One of the requirements for me to vote for Trump is that he has to be right with Israel. It is statements and positions in this article that seems to indicate he is coming around.
Genesis 12:3  And I will bless them that bless thee, and curse him that curseth thee: and in thee shall all families of the earth be blessed.

"Republican presidential frontrunner Donald Trump has said Israel should continue building in Judea and Samaria, insisting the Jewish state should "keep moving forward" in response to Arab terrorism.
Speaking to the UK's Daily Mail, Trump emphasized his support for the State of Israel, and appeared to veer away from previous comments in which he declared that he would stay "neutral" on the Arab-Israeli conflict.
Trump referenced the "thousands of missiles being launched into Israel," by Arab terrorists prior to the 2014 Gaza war, asking rhetorically: "Who would put up with that? Who would stand for it?"
He also said he would sharply depart from the policies of the current White House, which has put enormous pressure on Israel to halt all construction – in Jewish areas only – in Judea and Samaria.
Asked if he similarly thought a building freeze was a good idea, Trump responded: "No, I don't think it is, because I think Israel should have – they really have to keep going. They have to keep moving forward."
Hard Left – Fascism
Want to talk about Jesus? You'll need a permit for that at NC State 05/03/16  This another clear picture of what the Hard Left has in store for Christians. They are playing "hard ball" and fully intend on stripping us of our rights.
Proverbs 11:21  Though hand join in hand, the wicked shall not be unpunished: but the seed of the righteous shall be delivered.

"A permit is required before students can talk about Jesus at North Carolina State University, according to a lawsuit filed in federal court.
Grace Christian Life, a registered student group at NC State, filed suit over a policy requiring a permit for any kind of student speech or communication anywhere on campus – including religious speech.
In September 2015, the student group was told that without a permit, they must stop approaching other students inside the student union to engage in religious discussions or invite them to attend group events.
"It's an amazingly broad speech restriction, Alliance Defending Freedom attorney Tyson Langhofer told me. "Public universities are supposed to be the marketplace of ideas, not places where students need a permit just to exercise their constitutionally protected freedoms."
Hard Left – Transgenderism/ Homosexuality

Johns Hopkins Psychiatrist: Transgender is 'Mental Disorder;' Sex Change 'Biologically Impossible' 05/03/16  What Dr. McHugh reported is pure blasphemy to the Hard Left ears. They will not tolerate the reporting of such facts.
They will move to destroy him or ignore him. Most likely nothing will happen with this information and it will be ignored.
As the darkness closes in on America, reports like this will receive swift action, like the Gestapo would do to anything said against the Nazi regime. Truth is not allowed under the Hard Left delusional thinking unless it might advance their agenda or appear to advance it.
John 18:37  Pilate therefore said unto him, Art thou a king then? Jesus answered, Thou sayest that I am a king. To this end was I born, and for this cause came I into the world, that I should bear witness unto the truth. Every one that is of the truth heareth my voice.

"Dr. Paul R. McHugh, the former psychiatrist-in-chief for Johns Hopkins Hospital and its current Distinguished Service Professor of Psychiatry, said that transgenderism is a "mental disorder" that merits treatment, that sex change is "biologically impossible," and that people who promote sexual reassignment surgery are collaborating with and promoting a mental disorder.
Dr. McHugh, the author of six books and at least 125 peer-reviewed medical articles, made his remarks in a recent commentary in the Wall Street Journal, where he explained that transgender surgery is not the solution for people who suffer a "disorder of 'assumption'" – the notion that their maleness or femaleness is different than what nature assigned to them biologically.
He also reported on a new study showing that the suicide rate among transgendered people who had reassignment surgery is 20 times higher than the suicide rate among non-transgender people. Dr. McHugh further noted studies from Vanderbilt University and London's Portman Clinic of children who had expressed transgender feelings but for whom, over time, 70%-80% "spontaneously lost those feelings."
Transgender Pride Flag Raised at Boston City Hall 05/04/16  I had no idea there was a "transgendered" flag!
I see that flag flying over Boston as a sign of conquest. When a nation is victorious in war, it raises its flag over the capital of the conquered nation to show it is defeated. This is what I see in Boston. The reprobate mind has conquered this city and is now showing the world its victory.

It will be short lived because the Holy God of Israel will have the last word, while his church is powerless because it is prayer-less.
Jude 1:7  Even as Sodom and Gomorrha, and the cities about them in like manner, giving themselves over to fornication, and going after strange flesh, are set forth for an example, suffering the vengeance of eternal fire.
"Mayor Marty Walsh says a transgender pride flag raised Monday over Boston City Hall plaza will continue to fly until everyone is equal under the law in Massachusetts.

The Democratic mayor and other elected officials joined activists in raising the flag of blue, pink, and white horizontal stripes as state lawmakers continue to weigh a bill that would extend protections to transgender individuals in public places.

Republican Gov. Charlie Baker hasn't said whether he would sign the measure, which would expand a 2011 state law banning discrimination against transgender people in the workplace and housing by also prohibiting discrimination in restaurants, malls and other public accommodations, including restrooms or locker rooms."
NC's HB2 transgender law violates Civil Rights Act, feds say 05/04/16  This is what happens when the Hard Left runs the government. They will let nothing interfere with their agenda. They are determined to crush all opposition.
I hope that you see the clear pattern that I have been posting. The Hard Left can "taste" the kill and are moving to fully implement their agenda and crush anyone in the way. Remember, their final target is us. I've been telling you this over and over. Their goal is to crush the Church as they loathe us.

The real Christians are still playing church, while the devil is using his agents to advance the reprobate agenda, which ultimately ends with the physical destruction of those who stand with God and his Word.
The only reason satan can do this is because the church has rolled over and is playing dead.
"The department gave state officials until Monday to address the situation "by confirming that the State will not comply with or implement HB2."

The letter says HB2, which pre-empted Charlotte's anti-discrimination ordinance, violates Title IX of the Civil Rights Act, which bars discrimination in education based on sex, and Title VII, which bars employers from discriminating.

If that determination is upheld, North Carolina could lose millions in federal school funding. During the current school year, state public schools received $861 million in federal funding.

The Republican-controlled General Assembly passed HB2 in March in reaction to Charlotte's recent extension of its anti-discrimination ordinance, which would have allowed transgender people to use the bathroom of their gender identity. Among other things, the bill defined gender by the sex people were born with.

House Speaker Tim Moore called the Justice Department letter "a huge over-reach (by) the federal government."

"It looks an awful lot like politics to me," Moore, a Kings Mountain Republican, told reporters. "I guess President Obama, in his final months in office, has decided to take up this ultra-liberal agenda."
Hard Left – Education
Obama slaps 'Scarlet T' on Christian colleges 05/04/16  This is yet another bold example of the Hard Left marginalizing Christians and our beliefs. They are out in the open and bold about attacking us and our values.
Remember, this is all heading to physical persecution of Christians. These are evil people who despise us like the Nazis did the Jews.
"The Department of Education, under the leadership of Barack Obama, whose pro-homosexual agenda has been unparalleled, has launched a website critics say is dedicated to the "shaming" of Christian colleges that follow biblical principles rather than a leftist social agenda.
"It looks like the Department of Education got a new boss: the Human Rights Campaign," wrote Family Research Council President Tony Perkins in a Washington Update commentary this week.
Perkins, referring to the leading "gay"-rights group, was spotlighting what he called a "shame list" posted online by the Department of Education of colleges that have sought exemptions to Title IX requirements that provide special treatment to transgenders.
Perkins points out that Congress approved an exemption to certain requirements for faith-based educational institutions well before Obama "started strong-arming the education system to adopt his radical views of 'sexual orientation' and 'gender identity.'"
In short, Obama tried to force schools to embrace "gender-free bathrooms and sports teams," the commentary explains."
Missouri State booted student from counseling program over Christian beliefs, says lawsuit 05/03/16  This is yet another attack on Christians because we believe and live the word of God. The actual attack is against God and his Word.
The reprobates are now in the process of demonizing and marginalizing us, and when this is completed they will move to social persecution, then physical assaults, and final murder. Their minds are so darkened with hatred against God that they easy could cross the line to violence and murder.
Just look at how the Nazis acted, and it easy to see where the Hard Left is headed – and how fast.
John 3:19  And this is the condemnation, that light is come into the world, and men loved darkness rather than light, because their deeds were evil. (20) For every one that doeth evil hateth the light, neither cometh to the light, lest his deeds should be reproved.

"Should Christians who oppose same-sex marriage based on religious beliefs be allowed to obtain degrees in counseling?
That's the question at the heart of a lawsuit filed in federal court by a former student at Missouri State University who claims he was kicked out of a master's program in counseling because of his religious beliefs.
Andrew Cash claims he was "targeted and punished for expressing his Christian worldview regarding a hypothetical situation concerning whether he would provide counseling to a gay/homosexual couple."
MSU spokeswoman Suzanne Shaw told the News-Leader that the "university strictly prohibits discrimination on the basis of religion or any other protected class." She would not comment on specifics of the case.
According to the lawsuit, Dr. Kristi Perryman, the counseling department's internship coordinator, confronted Cash about his views toward counseling gay people.
Cash told her he would counsel them individually on a variety of issues but not as a couple. He said he would refer them elsewhere."
Hard Left
Christian 'Extremists' Opposing Gay Marriage May Be Criminalised By Radical Islam Bill 05/04/16  This is taking place in Great Britain. The Hard Left thinks exactly the same way everywhere. If they are planning it in Britain, there is no doubt that they are planning this for us in America.
"A Christian group has warned that people opposing gay marriage could be criminalised as the government moves to redefine "non-violent Extremism" in a forthcoming bill.
The new counter extremism bill, to be presented in the Queens speech on May 18th, is said to be part of David Cameron's "legacy programme" so he is remember for tackling the "struggle of a generation" against radical Islam.
It has been delayed, however, as legislators struggle to formulate a working definition of "extremism".
Simon Calvert, deputy director of public affairs at The Christian Institute, has told Christian Today that an "overemphasis on what it calls non-violent extremism" could see Christians persecuted by the new law, too.
"Sadly when the government says it wants to promote British Values it seems to mean gay rights. Trying to force Christians to sign up to LGBT rights won't do anything to stop Islamist terrorists murdering innocent civilians", he insisted.
Explaining: "The government talks about tackling extremism and preventing people promoting hatred."
Islam – Brazil
Hezbollah: Iran's Henchmen in Brazil 05/03/16  Brazil is one of the most anti-Israel nations in South America, and now Iran Shiite Islam is taking root.
This is yet another angle of judgment on this nation for coming against Israel and promoting national sin such as the homosexual agenda. Remember that God sends Islam as curse upon nations.
"Across Latin America, Iran's public face appears innocuous: mosques, cultural centers, schools, halal meat inspectors, religious literature, social work and even Boy Scout groups. Yet beneath the veneer of piety, outreach and interfaith dialogue, Tehran leverages connections with anti-American regimes and movements to gain a foothold in the region, and to indoctrinate local Muslims in its brand of revolutionary Islam. Rather than relying on the traditional tools of statecraft, Iran advances its agenda with mosques and missionaries.
Tehran's use of Iranian and Lebanese Shia clerics as unofficial agents of the Iranian revolution is not new. The first such cleric to reach Latin America was Mohsen Rabbani, who in 1983 came to Argentina to lead the Al-Tawhid mosque and serve as a halal meat inspector in Buenos Aires. Both tasks appeared innocuous enough, but Rabbani was intimately involved in the 1994 bombing of a Jewish cultural center in the Argentine capital that killed eighty-five people and injured over three hundred.
Rabbani was not alone. Shortly after his arrival to Buenos Aires, another cleric, Sheikh Taleb Hussein al-Khazraji, made his way to Brazil. Both Rabbani and Khazraji were cited by the slain Argentine prosecutor Alberto Nisman in his 2013 report on Iran's Latin American networks. According to Nisman, "Interpol [Brasília] informed that Khazraji was an employee of the Iranian government and. . . was engaged in recruiting highly politicized believers to get them close to Teheran." An integral part of their task was to dramatically expand Iran's support base both among local Shia immigrants and through missionary work.
They succeeded. Though Rabbani left Latin America due to mounting suspicions over his involvement in the Jewish center bombing, he continues to run his recruitment program from Iran's center of religious learning in Qom. Khazraji remains entrenched in the Shia community of São Paulo, Brazil, where he pursues his clerical tasks and the production of promotional literature in Portuguese."
Earthquakes – California
San Andreas fault 'locked, loaded and ready to roll' with big earthquake, expert says 05/04/16  There have been huge earthquakes this year all across the ring of fire in the Pacific, but the West Coast remains quiet. There is no doubt that massive earthquakes are coming to California, the state of sin. This state mocks God and leads the way in advancing the homosexual agenda and killing babies.
I fully believe that the "big one" is going to hit on a day of state sin, such as "Gay Pride Day." California never will recover from this because God will drive the people from this state in judgment.
For the people who fear the Lord, God will warn them. I hope that they take action on the warning.
Leviticus 18:24,25  Defile not ye yourselves in any of these things: for in all these the nations are defiled which I cast out before you: And the land is defiled: therefore I do visit the iniquity thereof upon it, and the land itself vomiteth out her inhabitants.

"Southern California's section of the San Andreas fault is "locked, loaded and ready to roll," a leading earthquake scientist said Wednesday at the National Earthquake Conference in Long Beach.
The San Andreas fault is one of California's most dangerous, and is the state's longest fault. Yet for Southern California, the last big earthquake to strike the southern San Andreas was in 1857, when a magnitude 7.9 earthquake ruptured an astonishing 185 miles between Monterey County and the San Gabriel Mountains near Los Angeles.
It has been quiet since then — too quiet, said Thomas Jordan, director of the Southern California Earthquake Center.
"The springs on the San Andreas system have been wound very, very tight. And the southern San Andreas fault, in particular, looks like it's locked, loaded and ready to go," Jordan said in the opening keynote talk.
Other sections of the San Andreas fault also are far overdue for a big quake. Further southeast of the Cajon Pass, such as in San Bernardino County, the fault has not moved substantially since an earthquake in 1812, and further southeast toward the Salton Sea, it has been relatively quiet since about 1680 to 1690."

Hosea 6:5  Therefore have I hewed them by the prophets; I have slain them by the words of my mouth: and thy judgments are as the light that goeth forth.