Trump on Israel: There's a 'Big Beautiful Difference' Between My Administration and Obama's
Verse of the Day
Psalm 122:6   Pray for the peace of Jerusalem: they shall prosper that love thee.

Commentary
President Trump said great things in Israel, especially about Jerusalem, but he did not recognize Jerusalem as the capital and move the US Embassy to it!
Any peace process is DOA. He did not pressure Israel, but no peace plan can succeed because Israel will not divide Jerusalem, and the Palestinians believe it's their capital. In the end, it will all come down to Jerusalem. I will watch Trump closely to see how far he goes with the peace plan, but right now I don't think he is interfering with God's plan for Israel.
According to US law, on June 1, Jerusalem will be recognized as Israel's capital unless it is waived by President Trump. I hope that he recognizes Jerusalem as Israel's capital.
May the Holy God of Israel bless and protect you.
Luke 21:24  And they shall fall by the edge of the sword, and shall be led away captive into all nations: and Jerusalem shall be trodden down of the Gentiles, until the times of the Gentiles be fulfilled.
As America Has Done to Israel
Trump on Israel: There's a 'Big Beautiful Difference' Between My Administration and Obama's 05/23/19
 

"I am honored to be in the ancient city of Jerusalem to address the Israeli people and all people in the Middle East who yearn for security, prosperity and peace," he said.
"Jerusalem is a sacred city. Its beauty, splendor and heritage are like no other place on earth. What a heritage, what a heritage. The ties of the Jewish people to this holy land are ancient and eternal. They date back thousands of years, including the reign of Kind David, whose star now flies proudly on Israel's blue and white flag."
"Israel is testament to the unbreakable spirit of the Jewish people," he continued. "From all parts of this great country, one message resounds, and that is the message of hope. Down through the ages, the Jewish people have suffered persecution, oppression, and… [others have] sought their destruction," he said.
"I make this promise to you: My administration will always stand with Israel." This remark was met with a lingering round of applause and another handshake from Prime Minister Benjamin Netanyahu.
Trump continued: "America's security partnership with Israel is stronger than ever. Under my administration, you see the difference — big, big beautiful difference — including the Iron Dome missile defense program, which has been keeping the Israeli people safe from short-range rockets launched by Hezbollah and Hamas, and David's Sling, which guards against long range missiles."
After reiterating his commitment to driving out terror, the president referred to attacks committed on Israeli civilians: "Israelis have experienced firsthand the hatred and terror of radical violence. Israelis are murdered by terrorists wielding knives and bombs. Hamas and Hezbollah launch rockets into Israeli communities where schoolchildren have to be trained to hear the sirens and to run to the bomb shelters with fear but with speed. ISIS targets Jewish neighborhoods, synagogues… and Iran's leaders routinely call for Israel's destruction."
"Not with Donald J. Trump," he declared, earning a standing ovation and a fist pump from Netanyahu.
Trump smiled at the audience on their feet and said, "I like you too."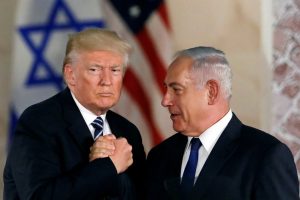 Simply by saying he loves it and stands with it, Trump wins over endlessly criticized Israel 05/23/17  He said the right words, but the one thing missing was that he did not recognize Jerusalem as the capital. He did not move the embassy to Jerusalem. Let's hope that the President stands on what he said and is a great blessing to Israel. America's survival could very well hang on what the President does with Israel.
Obadiah 1:15  For the day of the LORD is near upon all the heathen: as thou hast done (to Israel), it shall be done unto thee: thy reward shall return upon thine own head.

"Surely nobody but Donald J. Trump could get a warm laugh from an audience of Israeli notables within seconds of highlighting the Iranian regime's desire to destroy our country. That's what happened deep into the main speech of the president's 28-hour Israel visit, at the Israel Museum in Jerusalem on Tuesday afternoon.
"Iran's leaders routinely call for Israel's destruction," he said bleakly and bitterly, reading from the teleprompters. Then he departed from his prepared text, and added: "Not with Donald J Trump, believe me." The remark was met with cheers and a standing ovation. Netanyahu, on his feet, pumped a fist.
"Thank you," said the US president three times as he waited patiently for the clapping to stop. And then, waving a hand out toward his audience, with a smile, he said, "I like you too." Cue the warm, appreciative rumble of laughter.
Those few seconds rather summed up Trump's visit to Israel — his expressions of instinctive solidarity with the Jewish state, his vow to protect it, and the delight with which the country hosted him — after eight years of what Israelis always felt was somewhat conditional, caveat-filled support from president Barack Obama. "I make this promise to you: My Administration will always stand with Israel," he promised."
American Politics/ Islam
Gen. Keane: Trump Building 'Framework of an Arab NATO' During Mideast Visit 05/22/17  I see this as the formation of an Arab army to fight Iran, and after defeating Iran continuing to the Psalm 83 war against Israel!
The target will be to destroy Israel and take Jerusalem. This Arab army is destroyed in the war. I believe this defeat will break the back of Islam and set the stage for the end time religion, which is paganism.
Luke 21:28  And when these things begin to come to pass, then look up, and lift up your heads; for your redemption draweth nigh.

"President Donald Trump is building a "framework of an Arab NATO" during his visit to the Middle East, Ret. Gen. Jack Keane told Fox News on Sunday.
"Now we have a President with the Sunni Arabs, with Saudi Arabia, which is Iran's strategic opponent in the Middle East, and we're going to stand up against them," Keane said, adding Trump was building "something like the framework of an Arab NATO (that's) ready to be willing to counter the Iranians because they fully intend to dominate the Middle East."
Keane described Trump's first stop in Saudi Arabia as "quite a seminal event that's taking place here." The president met with a warm and enthusiastic welcome upon arriving in Saudi Arabia as part of a multi-nation tour. The atmosphere was quite a change from the policies under former President Barack Obama, Keane explained."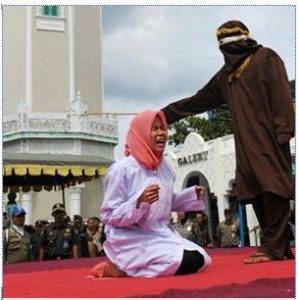 Arkansas Joins Ranks of States Standing Up to Protect Constitutional Rights Against Foreign Law 05/24/17  This is wonderful, that the states are standing against Sharia law. We need to close ranks, so America doesn't become like Europe. Islam needs to be kept at bay and chained. It is too dangerous to mix with the mainstream American culture.
Psalm 144:15  Happy is that people, that is in such a case: yea, happy is that people, whose God is the LORD.

"Thanks to the tenacity and persistence of two key legislators in the Arkansas state capitol, Arkansas has joined the growing ranks of states that have moved to protect their citizens and residents from foreign laws and foreign legal doctrines, including Shariah, in state courts.
Representative Brandt Smith and Senator John Cooper combined to author American Laws for American Courts legislation, similar to legislation that has passed previously in Tennessee, Louisiana, Arizona, Kansas, Oklahoma, North Carolina, Alabama, Mississippi, and Washington.
The U.S. Constitution especially under the Bill of Rights, the first Ten Amendments to the Constitution, has a unique set of rights that are truly unique around the world. Rights like Freedom of Speech, Freedom of the Press, Freedom of Expression covered under the First Amendment, the Right to Bear Arms in the Second Amendment, Due Process, Equal Protection-all of these rights are uniquely American and are specified in our Constitution. Many foreign laws and foreign legal doctrines, including Sharia as just one example, as practiced around the world are in direct contravention of these rights. In fact, such rights do not exist in many foreign laws and foreign legal doctrines. When court cases arise in the United States involving foreign laws, there are inevitable conflicts with the U.S. Constitution."
Islam Jihad – Europe
Manchester Attack: What They're NOT Telling You 05/23/17  This is an excellent presentation of how the Hard Left mind has already succumbed to Islam in Europe. No matter what the Muslim terrorists do, the Hard Left will not condemn Islam.
Morrissey attacks politicians and the Queen over Manchester terrorism response 05/24/17  You MUST read this article. It shows what absolute cowards the British politicians are. The worse the Muslims act, the more cowardly the politicians become. In their minds they already are defeated by the Muslims. We can be thankful that President Trump tells the truth about the Muslims. We need to stand with him against Islam trying to take root in America.
"He also appeared to suggest that a desire to adhere to "political correctness" was behind politicians' unwillingness to specify that the attack was the work of an Islamist extremist, rather than simply an extremist. The same claim is often made by people on the far-right.
"In modern Britain everyone seems petrified to officially say what we all say in private," the singer wrote on his Facebook page. "Politicians tell us they are unafraid, but they are never the victims. How easy to be unafraid when one is protected from the line of fire. The people have no such protections.
"Manchester mayor Andy Burnham says the attack is the work of an 'extremist'. An extreme what? An extreme rabbit?"
Criticising the prime minister, he claimed that "her own life is lived in a bullet-proof bubble, and she evidently does not need to identify any young people today in Manchester morgues".
The musician added: "Also, 'will not break us' means that the tragedy will not break her, or her policies on immigration. The young people of Manchester are already broken – thanks all the same, Theresa."
Morrissey also criticised the London mayor, Sadiq Khan, who he said had failed to condemn the Islamic State group after it claimed responsibility for the attack. A link to the terrorist organisation has not been confirmed by the security services, who are still working to identify whether or not Abedi worked alone or as part of a cell."
World War 3/ North Korea
North Korea just made a huge breakthrough in its nuclear program… here's why you should be worried 05/23/17  NK is getting very close to reaching the US with a nuclear weapon. I have said this before: the major West Coast cities are very wicked before the Lord, and he judges cities like these by fire.
2 Peter 2:6  And turning the cities of Sodom and Gomorrha into ashes condemned them with an overthrow, making them an ensample unto those that after should live ungodly;

"Perhaps anticipating that the Trump administration and regional U.S. allies, including South Korea and Japan, are preparing to preemptively strike its nuclear weapons development program, North Korea is ramping up tests of ballistic missiles even as it works to perfect miniaturization of a nuclear warhead to place atop an ICBM.
The development program got a major boost over the weekend. A ballistic missile launched by the North on May 14 managed to successfully reenter the Earth's atmosphere, a crucial test of performance vital to perfecting the design of a missile intended to hit targets thousands of miles away.
As reported by the U.K.'s Telegraph, the liquid-fueled Hwasong-12 missile's reentry was confirmed by South Korean and U.S. defense officials.
Pyongyang earlier said the missile had reached a height of 1,312 miles before traveling about 490 miles and breaching Japan's exclusive Air Defense Identification Zone then landing in the Sea of Japan, some 60 miles from Russia. (Related: Read Trump administration: Clock has 'run out' on North Korea.)"
North Korea attack drones carrying biological, chemical weapons can strike Seoul within 1 hour 05/23/17
"North Korea's military has 300 to 400 attack drones capable of carrying biological and chemical weapons that could reach the South Korean capital of Seoul within one hour, according to a high-level defector from the isolated regime ruling Pyongyang.
"My guess is that it has 300 to 400 drones," Mr. Han said, adding that the drones are stored underground because U.S. and other reconnaissance satellites are "intensively conducting surveillance" near the Demilitarized Zone that separates the Koreas.
The drones often are moved to different sites and "are in the stage of battle deployment in term[s] of technology," he said. "In an emergency situation, drones can reach Seoul airspace in about one hour."
Pyongyang's drone fleet has been known for some time. Speculation surged in 2014 when three North Korean drones crashed in South Korean territory. Military officials in Seoul said the unmanned vehicles were mounted with cameras and were believed to be surveillance drones.
Mr. Han said the South Korean military may have a system that uses electronic jamming to prevent drone incursions from the North, but he maintained that Pyongyang is capable of flying the vehicles at low altitudes to avoid detection by radars such as the Terminal High Altitude Area Defense (THAAD) system that the U.S. recently deployed to the South."
Hard Left
Dismantling the Marxist Madrassas 05/23/17  Wow, what a concept, calling the Hard Left concentration camps the "Marxist Madrassas!" This is exactly what the universities have become! The Hard Left elites running these "madrassas" will not go away quietly. This is going to be a fight to the finish.
Romans 1:18  For the wrath of God is revealed from heaven against all ungodliness and unrighteousness of men, who hold the truth in unrighteousness;

"Academia is not only a bastion of anti-Trump sentiment, but it has become the most important base of operations, next to the media, for attacks on conservative Americans devoted to saving their country and its traditional religious values.
It is anticipated that Falwell's task force will recommend the increasing use of online courses in order to drive down the costs of higher education for students nationwide. This is a proven method to accomplish what we call "Defunding the Marxist Madrassas." In this way, the academic bastions of Marxist thought that inhibit real diversity in thinking, and even prevent conservatives from coming on campus, can be reduced in their influence and even dismantled.
Dr. Tina Trent, who writes about problems in academia, says that non-ideological and technologically-oriented students are increasingly being drawn to online learning opportunities that prepare them for the real world."
History/ Israel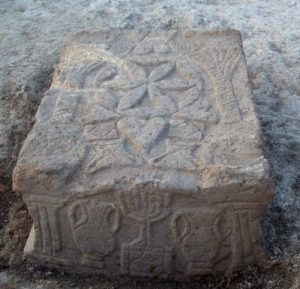 Magdala Stone, known as Jewish-Christian 'crossroads,' gets its public debut 05/24/17
"The discovery of the Magdala Stone in Migdal, Israel, has already reshaped scholarly understanding of 1st century (A.D.) Judaism and early Christianity. The stone was unearthed as part of a routine archaeological examination ahead of the construction of a Catholic retreat center.
Archaeologists from the Israel Antiquities Authority uncovered a well-preserved 1st-century synagogue and a larger town presumed to be the hometown of Mary Magdalene, whom the New Testament describes as one of Jesus Christ's most faithful followers. Some have even speculated Jesus—who grew up in the Galilee region, according to the Christian Gospels—may have even visited or worshipped in the synagogue.
"It was a true miracle when we found the site," said Solana, a Mexican priest who now runs the Catholic retreat center and the archaeological park at Magdala. "Most of the ancient towns have been destroyed and rebuilt several times. It is a really extraordinary thing to have survive."
Luke 21:31-33  So likewise ye, when ye see these things come to pass, know ye that the kingdom of God is nigh at hand.
Verily I say unto you, This generation shall not pass away, till all be fulfilled.
Heaven and earth shall pass away: but my words shall not pass away.