Tsunami of Perversion Rising: Public Sexual Perversion Now Legal
Verse of the Day
 Colossians 3:5-7  Mortify therefore your members which are upon the earth; fornication, uncleanness, inordinate affection, evil concupiscence, and covetousness, which is idolatry: For which things' sake the wrath of God cometh on the children of disobedience: In the which ye also walked some time, when ye lived in them.
Commentary
In this post there are many articles about sexual perversion and how it is sweeping the nation. The bottom has fallen out of Bible-based morality and the promotion of perversion is accelerating. There is a direct correlation between the rise of sexual perversion and the attack on Christianity. The reprobate mind hates us because we are associated with the Lord and his righteousness! This is a battle until the end, and of course we win because of the Second Coming of Jesus Christ with his bride, the Church.
There is not going to be a letup in this battle unless the Church rises up and stands in the name of the Jesus. The battle between good and evil used to be subtle but now it is a war that is out in the open for all to see.  The reprobates are taking the fight to us with a hatred that is matched only by that of the Nazis for the Jews. There is violence in the hearts of the reprobates.
May the Holy God of Israel bless and protect you.
1 Thessalonians 3:13 To the end he may stablish your hearts unblameable in holiness before God, even our Father, at the coming of our Lord Jesus Christ with all his saints.
Hard Left/

One-World Paganism
Tsunami of Perversion Rising: Public Masturbation Now Legal 09/16/16  What the Hard Left is doing in Europe comes to America shortly afterwards. All the laws of sexual decency are being pulled down and replaced with paganism.
I have decided to call the reprobate mind exactly what it is and that is paganism. The reprobates are now reviving the sexual perversions of the ancient pagans like the Romans. They have already taken it past the Romans because Rome never legalized "homosexual marriage."
Unless the Lord sends an outpouring of his Holy Spirit, it will not be long until the West is totally pagan and even to the degree of Sodom, just before the Lord destroyed it.
Proverbs 14:34  Righteousness exalteth a nation: but sin is a reproach to any people.

"Remember when I prophesied about a tsunami of perversion? Well, it looks like it's hitting Italy harder than America, at least this week.
Italy's Supreme Court has ruled masturbating in public is not a crime as long as minors aren't present to see it. Yes, really.
What sparked the Supreme Court to rule on such perversion? A 69-year-old man called "PL" in was caught masturbating in front of students at the University of Catania.
For this perverted act, he was fined about $3,600 and sentenced to three months in prison—and he boldly challenged the sentence all the way up to Italy's highest court.
Sadly, perversion wins again, and PL's case set a new precedent. Now, men can commit this lewd act for the world to see, as long as they are over 18 years old."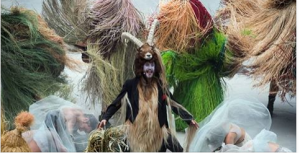 Progressively Regressive Sexuality: A Return to Pagan Morality 09/16/16  What is happening in America is that as the nation rejects God, the people revert to paganism. The default system for man is paganism.
The homosexual agenda and all that goes along with it is right out of pagan Rome. The huge increase in tattoos lines up with paganism also. What I think is happening is that the culture is being prepared for the antichirst and his system. The antichrist's system will be paganism, including emperor worship – which will be the antichrist.
"How often have you heard sexual progressives claim that those of us who hold to traditional sexual morality and marriage are "on the wrong side of history?"
But as one new book points out, it's the proponents of the sexual revolution who are embracing a sexual morality that history left behind millennia ago—in the dusty ruins of the Roman Forum.
Yes, today Western civilization is undergoing a dramatic cultural shift. In just a few short years our society has fundamentally altered the meaning of marriage, embraced the notion that men can become women, and are now promoting the idea that grown men should be welcome to share a bathroom with women and young girls. Not unexpectedly, we're also seeing movement toward the normalization of polygamy, pedophilia, and incest.
It's precisely in times like this that we need some historical perspective. Which is why Lutheran pastor Matthew Rueger's new book, "Sexual Morality in a Christless World," is a timely godsend. In it, Rueger shows how Christian sexual morality rocked the pagan world of ancient Rome. The notions of self-giving love, sexual chastity, and marital fidelity were foreign, even shocking to the people of that time."
American Politics/ One-World Paganism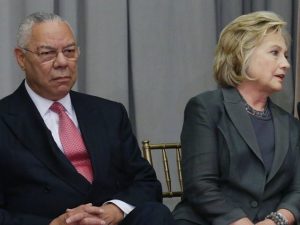 Hacked Colin Powell Email: Bohemian Grove Attendees Will Vote Against Trump, Some Support Third Party Candidate 09/14/16  I am shocked that something about the Bohemian Grove event would make it out into the open! This is a pagan event where our top Luciferian politicians and businessmen go once a year to practice paganism, including all sorts of sexual acts.
Years ago I was called a kook for reporting about it, but this is a real event where they practice paganism. Powell admits to being there and even talks with a Canadian politician about it! There are lots of pagans in high places in America, and they hate us.
"An email hacked from Colin Powell's Gmail account has him writing that he had just returned from the famed Bohemian Grove — a place the Washington Post once described as "where the rich and powerful go to misbehave" — and that most attendees there will not vote for Donald Trump and find him to be a "disaster." Powell further reported that "quite a few will not vote for Hillary and will vote for a third party candidate."
Every July, some of the richest and most powerful men in the world gather at a 2,700 acre campground in Monte Rio, Calif., for two weeks of heavy drinking, super-secret talks, druid worship (the group insists they are simply "revering the Redwoods"), and other rituals.
Their purpose: to escape the "frontier culture," or uncivilized interests, of common men.
The people that gather at Bohemian Grove — who have included prominent business leaders, former U.S. presidents, musicians, and oil barons — are told that "Weaving Spiders Come Not Here," meaning business deals are to be left outside. One exception was in 1942, when a planning for the Manhattan Project took place at the grove, leading to the creation of the atom bomb."
Hard Left
North Carolina's Lt. Governor Just Gave an Epic Response to the NCAA 09/15/16  Wow, what a response from North Carolina to the NCAA about pulling games out of the state. This is just fantastic and it's the truth!
"As a result of the "controversial" House Bill 2, the NCAA yanked seven championship tournament events across several sports, including several 2017 NCAA Men's Basketball Tournament games slated for Greensboro next spring, from the state. The decision applies only for the 2016-17 academic year.
But Lt. Gov. Dan Forest offered an epic response:
The NCAA's action sends a message to every female athlete and female fan attending their events that their privacy and security in a bathroom, shower or locker room isn't worth the price of a ticket to a ballgame.
We have seen the NCAA's attitude toward women before when they stood by and did nothing during the rapes at Baylor. For years, we've seen the NBA turn a blind eye toward women victims of domestic abuse at the hands of their star players.
Why should we be surprised now at the NCAA continuing this pattern of discrimination and degradation of women? The line has now been drawn in the sand, first by Hollywood, now by the NBA and NCAA, either accept their 'progressive sexual agenda' or pay the price.
North Carolina will not play that game. We value our women too much to put a price tag on their heads."
Religious freedom,' 'liberty' just 'code words' for intolerance, U.S. Civil Rights chairman says 09/15/16  I've already posted on this event, but this article gives really good information.
John 15:18  If the world hate you, ye know that it hated me before it hated you.

"It's the area of sexual orientation and gender identity where the greatest conflicts lie, and the report offered little support to those who see their work or artistic expressions — creative photography, cake decorating or flower arranging, for example — as also expressions of their religious belief about marriage being the union of one man and one woman.
Individuals in each of these fields have come under fire from state and local civil rights agencies, with cases going against professionals in New Mexico and Washington state.
USCCR member Gail Heriot, a former George Mason Law School associate dean who now teaches at the University of San Diego, dissented from the majority opinion of the commission, including Mr. Castro's statement.
"I'm troubled by the growing attitude that somehow anti-discrimination laws trump everything. We live in a more complex world than that," she said in a telephone interview.
Others offered a harsher judgment.
"This commission is not only out of touch with reality, but also out of touch with our Constitution," said Mat Staver, chairman of public interest law group Liberty Counsel, based in Orlando, Florida, before going on to call the report "an anti-American, anti-Constitutional, misinformed position."
The emphasis on civil rights over free exercise, civil liberties experts say, could also spill over into other areas, such as religious schools and colleges seeking to hire teachers that affirm the sponsor's doctrinal positions."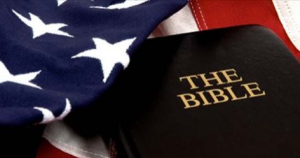 Critics on Civil Rights Report: It's 'Dangerous' — Important to 'Push Back Against This Nonsense' 09/16/16  I already posted on this but this article has great information. The Hard Left completely disregards to the Constitution to promote the homosexual agenda.
We have a Constitutional Right to promote our religion in public and we MUST stand against this attack on our religious freedom.
Please do not give one inch to the reprobates, but stand in the name of Jesus.
Amendment I: Congress shall make no law respecting an establishment of religion, or prohibiting the free exercise thereof; or abridging the freedom of speech, or of the press; or the right of the people peaceably to assemble, and to petition the government for a redress of grievances.

"There is a fundamental struggle in this country between those who believe in individual liberty and those who believe in our ability to practice our faith in the public square, and those who would cleanse the public square of faith and God," Blackwell said.
"Essentially, what these folks are trying to do is to change the meaning of our language; to change the meaning of the very foundation of words and concepts of our Constitution," Blackwell said. "And so in the marketplace of ideas and our public dialogue, agencies and agents like this can cause confusion and lead us down a rabbit hole."
"It very important that we push back against this nonsense," Blackwell said."
Hard Left/ Homosexuality/ Transgendered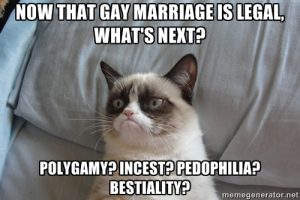 Next Up: Legalization of Incest, Necrophilia, Pedophilia, Zoophilia and More 09/13/16  
See my full teaching on what triggers God's judgment on a nation. What Triggers God's Judgment on a Nation?
I also recommend my teaching Homosexuality vs God's Holiness
I warned this was coming because the Supreme Court legalizing "homosexual marriage" has opened the flood gates of sin upon America.
Unless there is a spiritual revival, it is impossible to stop the nation's descent into hell. America is closing in on the final sin which triggers God wrath on a nation which is bestiality!
The bottom line for the reprobates is pedophilia since this seems to be their goal, which is to turn innocent children into sexual monsters just like they are. Pedophilia is a burning destructive lust right from hell.
Where are the pastors? Where are America's men to stand up against this? The perversion is here now, while God has his finger on a hair-trigger for judgment.
Leviticus 18:20  Moreover thou shalt not lie carnally with thy neighbour's wife, to defile thyself with her.
(21) And thou shalt not let any of thy seed pass through the fire to Molech, neither shalt thou profane the name of thy God: I am the LORD.
(22) Thou shalt not lie with mankind, as with womankind: it is abomination.
(23) Neither shalt thou lie with any beast to defile thyself therewith: neither shall any woman stand before a beast to lie down thereto: it is confusion.
(24,25) Defile not ye yourselves in any of these things: for in all these the nations are defiled which I cast out before you: And the land is defiled: therefore I do visit the iniquity thereof upon it, and the land itself vomiteth out her inhabitants.

"Efforts to normalize sex with animals as an accepted lifestyle choice resulted in one documentary winning an award this year that idolizes a sexual relationship between a man and his bottlenose dolphin lover.
The 40-year movement to legalize sexual interaction with children is working. People are publicly advocating without shame: "I'm a pedophile, but not a monster;" and, "pedophilia is natural and normal for males."
Now, incest activists in the consanguinamorous community argue it's their turn to have their sexual preference and lifestyle choice validated socially and legally.
Because of a case in New Mexico that's making national headlines, incest activists argue exactly what homosexuals argued to normalize incest."
Hard Left/ Christian Apostasy
Sweden: Who Do Christian Leaders Serve 09/16/16  A long time ago the Swedish church abandoned the Bible as the word of God. This church now loves the Palestinians and hates Israel.
God has seemed to have turned it over to a reprobate mind because it is merging with the Hard Left agenda. The Lord Jesus is no longer the Son of God but a social justice warrior! This church is now spiritually dead and buried. This is happening to the apostates in America.
2 Peter 2:1-2  But there were false prophets also among the people, even as there shall be false teachers among you, who privily shall bring in damnable heresies, even denying the Lord that bought them, and bring upon themselves swift destruction. And many shall follow their pernicious ways; by reason of whom the way of truth shall be evil spoken of.

"In Swedish Christianity, Jesus has been reduced from being the son of God, to an activist fighting for multiculturalism and open borders. According to Archbishop Antje Jackelén of the Church of Sweden, Jesus has clear political positions on both migration and integration policies.
According to a senior official in the Church of Sweden, the call to wear a cross to show solidarity with persecuted Christians is "un-Christian".
One might describe the Swedish Christianity as a new religion that worships multiculturalism and leftist values in general.
"The leadership of the Church of Sweden no longer wants to lead a Christian community; they want to lead a general ethical association for humanistic values." — Ann Heberlein, doctor of theology and lecturer at Lund University.
One can have different interpretations of what Jesus did or what opinions he had, but we can all agree that he did not serve the Emperor or other earthly rulers. Too many Christian leaders in Sweden have become the servants of earthly rulers by conveying the message of the political establishment in Sweden."
Christianity
Religion Boosts US Economy More Than Apple, Amazon, and Google Combined 09/16/16  This is a really interesting article since I never thought of what a financial blessing the church is to America!
"The biggest chunk of that comes from health care networks, such as Adventist Health System in Florida, the Baptist Medical Center in San Antonio, Texas, or Riverside Methodist Hospital in Columbus, Ohio. Health care systems like these raise about $161 billion a year.
Congregations raise revenues of $84 billion a year, with $74.5 billion of it coming from individual donations. Religious elementary schools, high schools, and colleges pull in $74 billion, while charities like World Vision, Compassion International, and Samaritan's Purse bring in more than $45 billion.
Collected by churches, charities, and religious institutions, the money provides salaries for religious teachers, doctors, and pastors.
And increasingly, it's spent on social services. The funds pay for food assistance programs, parenting classes, and alcohol and drug abuse recovery programs. They're spent on youth camps, assistance for the unemployed, and classes on finance management. The amount churches spend on social services was more than $9 billion in 2012, up from about $3 billion in 2006 and $2 billion in 1998."

2 Peter 2:6  And turning the cities of Sodom and Gomorrha into ashes condemned them with an overthrow, making them an ensample unto those that after should live ungodly;