U.S. missile defense system is 'simply unable to protect the public'
Verse of the Day
Romans 1:16  For I am not ashamed of the gospel of Christ: for it is the power of God unto salvation to every one that believeth; to the Jew first, and also to the Greek.

Commentary
We've been warning that war is coming, and that the United States is in a precarious position when it does because of the sinfulness of the nation, and its rejection of the God of the Bible. Everything that is occurring socially, culturally and legally is like waving a red flag, daring God to judge us. The articles in this post reinforce that it is indeed close, not just for America but for Europe and much of the world.
After reading the first article, you should be convinced that the only protection is underneath the sheltering wings of the Almighty. Trusting in the government or even the military for protection will not save you. Call out to Him now, while there's still time, and make your life count in light of eternity.
May the Holy God of Israel bless and protect you.
Psalm 57:1  Be merciful unto me, O God, be merciful unto me: for my soul trusteth in thee: yea, in the shadow of thy wings will I make my refuge, until these calamities be overpast.
World War 3
U.S. missile defense system is 'simply unable to protect the public,' report says 07/14/16  This is a very sobering report, knowing that North Korea is working day and night to build a nuclear weapon and the missile to deliver it to the United States. There is no doubt that NK will use it if they have the weapon.
"The system designed to defend American cities and towns against a nuclear attack by North Korea is "simply unable to protect the U.S. public" and will remain ineffective unless Congress exerts rigorous oversight, according to a new report.
The report, to be released Thursday by the Union of Concerned Scientists, recommends that the Obama administration halt the expansion of the Ground-based Midcourse Defense system, known as GMD, until its technical problems have been solved.
"The story of this system is a cautionary tale about how the lack of appropriate oversight of a politically charged missile defense program has led to a system in tatters," said the report, written by three physicists with expertise in missile defense.
"Despite more than a decade of development and a bill of $40 billion, the GMD system is simply unable to protect the U.S. public,'' the authors wrote."
Taiwan Deploys Warship to South China Sea: Hague Ruling 'Seriously Hurt Our Rights' 07/13/16  It now seems that the war ships of the world are being drawn to the South China Sea, just like the armies of the world being drawn toward the Ukraine in Europe and toward Syria in the Middle East. Any one of these could trigger WW3.
Please draw near the Lord because the tension heading toward war is rapidly growing.
"President Tsai Ing-wen of Taiwan personally sent off a naval warship Wednesday morning to patrol Taiping Island, a Taiwanese territory in the South China Sea that Taipei fears they could lose as a result of Tuesday's verdict rejecting China's claims to most of the South China Sea.
"The South China arbitration ruling, especially in the part about Taiping Island, has seriously hurt our rights to the South China Sea islands and their relevant waters," Tsai said in a statement aboard the ship, wishing them well on their mission to "defend Taiwan's territory." She added, "Your patrol mission to the South China Sea, which is being conducted ahead of schedule, is highly significant in view of the new development."
 The Coming Middle East War
The tragedy of Turkey's attempted coup  This is a very good article about the ramifications of the failed coup attempt in Turkey, and what that means for Turkey and for the rest of the world. It's well worth reading for its insightful analysis of how that could set the stage for what may be coming next, in terms of both Europe and the Middle East.
"The military action, the results of which are still unclear, took Turkey out of Europe and placed it squarely in the Middle East. It tore away the country's stability, replacing polarization with what could end up being outright civil war, whether the coup succeeds or not.
All this adds yet another conflict to those already blooming like unholy flowers on Turkish ground: ISIS suicide attacks; renewed fighting with the Kurdish separatist Kurdistan Workers' Party (PKK); wholesale destruction of Kurdish towns by Turkey's security forces, which have been given immunity; not to mention the ongoing low-level violence that infects Turkey's society, especially targeting women. Turkey can no longer be a buffer against violence; it has become a sacrifice on its own altar.
As a result, the reality is that Turkey's usefulness as a "safe" haven for Syrian refugees is now in doubt, destabilizing the already morally suspect EU pact that provides money to Turkey in return for keeping hundreds of thousands of refugees.
Meanwhile, Turkey's descent into what is likely to be a government witch hunt for "putschists" and massive violent reprisals means more anger, more polarization and a destabilized population that is more likely to seek protection from outside.
Groups like ISIS will likely capitalize on this disenchantment to seek more recruits inside Turkey. From there, they will be able to pass to Europe, just as jihadis in past years had moved through Turkey on their way to Syria as the Turkish government turned a blind eye. As the saying goes, the enemy of my enemy is my friend, and ISIS and other jihadis were fighting Kurdish militants, Turkey's biggest bugaboo that blinded it to all other dangers…
The coup plotters' manifesto reportedly stated that they stepped in because, among other things, the president and government have created an autocracy that made the legal system unworkable. This much is true — that over the past five years, the ruling party has systematically throttled the independence of state institutions, the media, education, civil society, and recently two of the highest courts in the land. In short, the AKP has been dismantling Turkey's democratic walls brick by brick."
Israel and the Middle East War
Analysis: Assessing the covert war between the IDF and Hezbollah 07/13/16  This article gives you an update on what is happening between Israel and Hezbollah. According to the Bible, there is an all-out final war coming between Israel and Hezbollah.
I believe this will be part of WW3. Hezbollah will be destroyed totally and never rearmed to fight Israel again.
Obadiah 1:15 For the day of the LORD is near upon all the heathen: as thou hast done, it shall be done unto thee: thy reward shall return upon thine own head.

"Hezbollah rebuilt southern Beirut and Lebanon and restocked its weapons depots, while the IDF began training and arming itself for the next potential phase of hostilities.
A decade after the Second Lebanon War, Israel and Hezbollah have kept their guns silent, and the northern border has experienced an unprecedented period of mostly incident-free years.
Hezbollah rebuilt southern Beirut and Lebanon and restocked its weapons depots, while the IDF began training and arming itself for the next potential phase of hostilities.
Yet under the surface, it seems, a covert struggle could be raging right now between them, with neither side interested in escalating the 'low-flame' affair into an open conflict."
As France Has Done to Israel
Paris 'Is a Nightmare Now' 07/13/16  I've posted this article because I want you to see the curse that has come over France, and especially Paris, for touching Jerusalem. France is leading the EU charge to divide Jerusalem and force Israel to live with a PLO terrorist state.
Look what Paris has become! What the French are trying to turn Jerusalem into is now what Paris looks like! Exactly what they tried to do to Jerusalem now has hit Paris!
This was a slow motion of God's judgment, but over time you can see that God applied Obadiah 1:15 on the French.
Obadiah 1:15 For the day of the LORD is near upon all the heathen: as thou hast done (to Israel), it shall be done unto thee: thy reward shall return upon thine own head.

"I must say, in my whole life I never saw Paris that gloomy," he added.
The designer said the streets of Paris have become significantly more unsafe in the years since he first got his start in the 1950s under the tutelage of French fashion legend Pierre Balmain.
The city has been rocked by terrorist attacks in recent months, including a November 2015 citywide attack that left 130 people dead and more than 360 injured.
"It was another world. There was no feeling of danger, and not even a boy of 16 years old could walk in the street," Lagerfeld told CNN. "Things are changing, but I have a feeling I lived in a world that no longer exists."
Lagerfeld also lamented the weather, strikes and demonstrations in the city but said he doesn't mind all the changes, because he works mostly in his studio and in Rome, where he frequently travels for work."
Hard Left/ Transgendered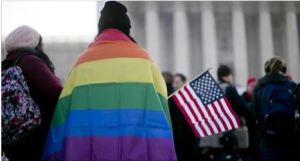 Maryland's Highest Court Establishes 'De Facto Parenthood' in Lesbian Divorce and Custody Case 07/13/16  You head will spin when reading this article about the total sexual confusion the courts have unleashed on America.
I have zero respect for these Hard Left courts other than the power of the state is behind them. They are in total rebellion against God and his word. Their minds are darkened and end up making decisions like this.
Romans 1:22 Professing themselves to be wise, they became fools,

"Maryland's highest court ruled last week that a lesbian woman now identifying as a transgender man has parental standing to sue for visitation rights to a child her lesbian ex-spouse conceived by artificial insemination before they were legally married.
The court overturned its own 2008 decision that recognizing "de facto parents" violated the rights of biological or adoptive parents to govern the custody of their children.
The plaintiff, Michelle Conover (who now goes by Michael), is neither biologically related to Jaxon Conover, the biological son of her ex-spouse, Brittany Conover, nor did she ever legally adopt him during her relationship with the boy's mother, according to court documents."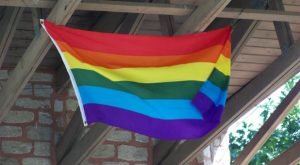 Pastor Resigns, Refuses to Bow to LGBT Agenda in Schools 07/13/16  This situation makes it very clear that the exaltation of sin and the the real Church can't coincide.
The days are upon us when we can't function in government because it is given over to sin and mocking God. When the government is given over to sin, this is the sign that triggers God's judgment on this society. I sense that when it comes to America, God has the nation in the crosshairs and his finger on the trigger!
See my teaching Homosexuality vs God's Holiness
"A popular Baptist pastor has resigned from the school board in Bakersfield, California. The reason: a new California law mandates that middle and high schools teach students how to have safe homosexual sex and how to get an abortion. It also requires schools to teach that gender is not aligned with biological sex. The pastor broke the law by voting against adopting the new legislation into policy and could be sued.
These are unprecedented days for Christians in America. Another California bill would restrict religious liberty to seminaries, jeopardizing the freedom of Christian colleges across the state. The Iowa Civil Rights Commission required that churches adopt transgender bathroom regulations and changed its stance only when a public outcry ensued."
Hard Left/ Christianity
Christian youth choir likened to Nazis, ISIS 07/14/16  This was from Scotland and the reason for this attack was because the group spoke out against homosexuality and abortion. These are two hot button issues with the reprobate mind.
You can see the rising militancy of the reprobates against anything and anyone associated with the Lord. Soon speaking like this will be illegal. This hatred all is heading toward violence to stop the truth from getting out.
Every day I am showing you how the Hard Left is tightening the noose around our necks. If there is no crying out to the Lord, they are going to pull the noose tightly, like the Nazis did to the Jews.
John 3:19-20 And this is the condemnation, that light is come into the world, and men loved darkness rather than light, because their deeds were evil. For every one that doeth evil hateth the light, neither cometh to the light, lest his deeds should be reproved.

"Commentators in Scotland are aghast that a youth choir from a Christian church in America was allowed to perform at a shopping center in Edinburgh, comparing the young people from Texas to Nazis and ISIS.
"What message does it send when a shopping center welcomes this kind of musical Trojan horse into a Scottish city, and where do we draw the line?" wrote Shona Craven, a columnist for The Herald and The National newspapers in Scotland.
"A neo-Nazi puppet show at the Gyle Shopping Center? Magic tricks by Islamic State at Buchanan Galleries? I'm sure most Scots are far too savvy to be taken in by evangelical showmanship, but that's not really the point. As a nation we should be stating clearly: bigots are not welcome here," Craven wrote.
The Scottish Secular Society, according to the Herald newspaper, issued an alert that "southern baptist (sic) ministries in the U.S. were increasingly looking to use their money and religious influence to attempt to change laws in the UK and other countries."
Financial Armageddon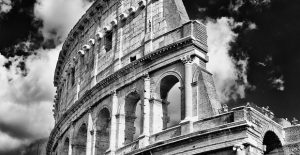 Italy Nears Economic Collapse 07/13/16  This article shows an economic noose is now around the neck of many EU countries. The EU is in big trouble since Spain and Portugal are in the same condition as Italy. It appears that Italy now is going the way of Greece!
Add to this the massive amount of Muslim invaders, and Europe is in big trouble.
James 5:1-3 Go to now, ye rich men, weep and howl for your miseries that shall come upon you. Your riches are corrupted, and your garments are motheaten. Your gold and silver is cankered; and the rust of them shall be a witness against you, and shall eat your flesh as it were fire. Ye have heaped treasure together for the last days

"Bad debts, or "non-performing loans," held by the banking sector total 360 billion euros, which is a remarkable 17 percent of all the outstanding bank loans in Italy and equal to about one-fifth of the annual Italian GDP. It is also many times the level of bad debt held by Italian banks at the peak of the financial crisis in 2008.
Since the beginning of 2016, prices of bank stocks have decreased by more than 50%. In the case of Italy's oldest and most troubled bank, Banca Monte dei Paschi di Siena, its share price has declined more than 75%.
It doesn't help that the Italian economy is struggling mightily to recover from the last financial crisis and is still 8% smaller than it was in 2008 and roughly the same size as it was at the end of the twentieth century.
The Italian government is considering bailing out the banks in defiance of EU rules concerning "bail-ins." These rules require that a bank's creditors, especially bondholders, "take haircuts" before taxpayer funds can be used to "recapitalize" the banks."

China's 'Predatory' Devaluation Exporting Deflation 07/13/17  Trump warned the nation about China doing this. China could start an economic war by devaluing its currency. This also means that the Chinese economy is in trouble and China is trying to boost it. This is not a good sign.

"With a "predatory" currency devaluation following the Brexit, China is now exporting deflation.
Although China still pumps out positive economic data about the success of its export-driven economy, the annual growth rate of the nation's internal investments in fixed capital assets, such as new manufacturing plants and housing, has continually fallen from over 33 percent in 2009 to 9.6 percent in May 2016.
The easiest way for China to continue expanding their exports would have been to devalue the yuan exchange rate to become more price competitive. But at 13.8 percent of the world's export volume in 2015, any Chinese currency devaluation would have been seen as a "predatory" job raid by China's on its top trade partners, the European Union and the United States."

Ezekiel 3:20-21  Again, When a righteous man doth turn from his righteousness, and commit iniquity, and I lay a stumbling-block before him, he shall die: because thou hast not given him warning, he shall die in his sin, and his righteousness which he hath done shall not be remembered; but his blood will I require at thine hand. Nevertheless if thou warn the righteous man, that the righteous sin not, and he doth not sin, he shall surely live, because he is warned; also thou hast delivered thy soul.